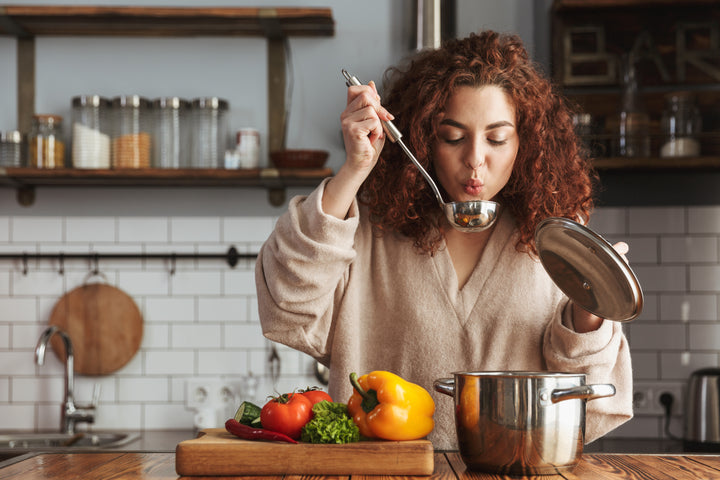 Maitake mushrooms are one of nature's wonders. Their delicate layers resemble a chicken's feathers and have inspired the nickname "hen of the woods." With a delicious flavor when sautéed, they are a favorite of chefs and home cooks alike. They also have a long history of medicinal use in the traditional practices of China and Japan to support a healthy immune system and efficient metabolic functioning. 
As modern science explores the potential of these ancient traditions, we have begun to view functional mushrooms as superfood powerhouses, capable of providing nourishment and helping our bodies weather the challenging conditions that could impact our health. Maitake, in particular, promotes healthy digestion and a balanced gut microbiome, supporting healthy blood sugar levels and aiding in weight management.‡
To access its adaptogenic and metabolic benefits, maitake supplement is best consumed daily as a regular part of your wellness routine.‡ Here is a look at some easy maitake mushroom recipes, as well as some additional ways to include this superfood in your healthy lifestyle.
Delicious and Easy Maitake Mushroom Recipes
Cultivation of maitake mushrooms has dramatically improved their availability. As a culinary mushroom, maitake contributes a savory, umami element to any recipe. Low in calories and nutrient-rich, maitake mushrooms are a flavorful addition to your diet. Those cultivated indoors do not require much cleaning. Here are two maitake mushroom recipes to try with fresh mushrooms:
Simply Sauteed Maitake Mushrooms
Serves 2
Ingredients:
1 T. olive oil
1 T. butter
1 shallot, finely chopped
1 garlic clove, pressed
½ lb. maitake mushrooms, cleaned and chopped
1 tsp. fresh thyme leaves, stripped from the stem
Salt and freshly cracked pepper, to taste
Directions:
Heat olive oil and butter over medium-high heat. Add the shallot and saute for 1-2 minutes; add the garlic and saute, stirring constantly, for 30 seconds. Add the chopped maitake mushrooms and thyme; saute for 4 minutes. Season to taste with salt and freshly cracked pepper. Enjoy as a side dish. 
Chicken-Maitake Lettuce Wraps
Serves 4
Ingredients: 
1 T. avocado or olive oil
1 small onion, chopped
1 c. maitake mushrooms, cleaned and chopped
2-3 cloves garlic, pressed
1 lb. ground chicken
1 c. carrots, shredded
Salt and pepper to taste
¼ c. tamari
2 tsp. sesame oil
1 tsp. rice wine vinegar
1 T. peanut butter
2 tsp. ginger, freshly grated
1 tsp. sambal oelek
3 green onions, sliced (use white parts here, save green parts for the sauce)
1 head of butter lettuce, washed and leaves separated
Sauce Ingredients:
¼ c. tamari
2 tsp. sesame oil
1 tsp. rice wine vinegar
1 tsp. sambal oelek
Green onions prepared above
Optional Garnishes for Serving:
Chopped peanuts
Broccoli or coleslaw mix
More sambal oelek
Directions: 
Place a large skillet over medium heat; cook onion in oil for 3 minutes, stirring occasionally. Add mushrooms, and continue cooking for an additional 3 minutes. Add the pressed garlic and cook, stirring for 30 seconds. Add ground chicken, breaking up and crumbling with your spoon or spatula. When the chicken has browned, add the shredded carrots. Continue cooking for 3 minutes.
Meanwhile, mix the tamari, sesame oil, rice wine vinegar, peanut butter, grated ginger, sambal oelek, and white parts of the green onions in a bowl. At the same time, measure and mix the sauce ingredients in a small serving bowl. Pour the peanut butter mixture into the skillet; heat until bubbly. Season with salt and pepper, and turn off the heat.
Serve the chicken-maitake mixture in lettuce leaf cups, passing sauce and optional garnishes at the table.
Maitake Mushroom Recipes with Whole Food Powder
Though you may find maitake in the produce section at some specialty markets, building it into your wellness routine requires that you have a reliable daily supply. This is where organic, whole food maitake mushroom powder provides a convenient, shelf-stable substitute for fresh mushrooms. If you desire the vegan protein and dietary fiber inherent in mushrooms but do not love the taste or texture of fresh mushrooms, mushroom powder provides a solution for you, as well.
Maitake is among a special group of functional mushrooms classified as adaptogens. These unique superfoods support the body's ability to maintain homeostatic balance and regain equilibrium when faced with stressful challenges.‡ To take advantage of its health benefits, just a teaspoonful of good quality, whole food maitake mushroom powder each day provides immune and metabolic support.‡ Here are two maitake mushroom recipes that incorporate mushroom powder:
Maitake-Dusted Filet Mignon
Serves 2
Ingredients: 
½ stick of butter, softened at room temperature
1 ½ T. chopped fresh herbs (parsley, chives, tarragon, etc.)
1 small garlic clove, pressed
2 filet mignon steaks
1 T. maitake mushroom powder
1 T. olive oil
1 T. butter
Salt and pepper
Directions: 
Make herb butter: mix softened butter with herbs, garlic, salt, and pepper to taste. Set aside.
Season steaks with salt and pepper, then dust both sides with maitake powder. Heat olive oil and butter over medium-high heat in a heavy skillet. Cook steaks to desired degree of doneness. Serve with a generous spoonful of herb butter on top.
Maitake Ramen Bowls
Serves 4
Ingredients: 
1 T. coconut oil
1 bunch scallions, sliced (green and white parts separated)
2 tsp. ginger, freshly grated
2 cloves garlic, pressed
1 c. mushrooms, any variety roughly chopped
4 tsp. maitake mushroom powder
Salt to taste
8 c. vegetable stock
2 T. tamari
1 T. mirin
8 oz. ramen noodles
Baby bok choy, steamed
Optional garnishes: soft boiled eggs, sesame oil, sriracha, dried nori, sesame seeds, etc.
Directions: 
Cook white parts of scallions, grated ginger, garlic, and chopped mushrooms in coconut oil in a dutch oven over medium-high heat, stirring occasionally for 4-5 minutes. Season with mushroom powder and salt to taste. Add the vegetable stock 
(If soft boiled eggs are desired, boil 4 eggs for 6 minutes. Remove with a slotted spoon to an ice bath. Peel and set aside. Cook noodles in the same pot according to package directions. Steam bok choy.)
When ready to serve, turn off the burner and add tamari, and mirin to the broth. Divide noodles between four bowls. Ladle broth over; arrange bok choy and eggs in each bowl. Sprinkle with green parts of scallions. Garnish as desired, and serve with chopsticks.
Considerations When Choosing a Maitake Mushroom Powder
For those seeking the adaptogenic and other health benefits of this functional mushroom, daily consumption is essential.‡ Just about a teaspoonful per day of good quality maitake mushroom powder is all that's required. If you are ready to incorporate maitake mushroom recipes into your wellness routine, there are convenient and affordable products available.
A versatile mushroom powder supplement may be added when cooking soup, stew, gravy, stir fry, risotto, etc.—the possibilities are endless. You can add a scoop to your smoothie or stir it into your morning latte. Whole food mushroom powder that includes both fruit body/primordia and mycelium provides all of the bioactive compounds maitake has to offer.
Just as you would look for fresh mushrooms grown in clean, safe conditions, choosing a quality maitake mushroom powder involves knowing where it came from and how it was prepared. Selecting a mushroom product grown indoors in a controlled environment and produced in a cGMP-certified manufacturing facility ensures that product purity and quality have been optimized. A company that submits its products for third-party testing ensures a commitment to customer safety and satisfaction.
To include maitake mushroom powder in your daily wellness routine, choose a product that offers versatility and convenience. Getting the recommended daily dose of maitake is easy with a shelf-stable, whole food powder supplement cultivated and processed under strict quality standards. 
Om Mushroom offers functional, whole food, organic mushroom powder for your maitake mushroom recipes. Our products are cultivated indoors and tested to ensure they are pure and free from heavy metals, pesticides, and environmental toxins. To ensure you have a regular supply of maitake to support your wellness goals, shop now or subscribe to save!
‡These statements have not been evaluated by the Food and Drug Administration. Functional mushroom products are not intended to diagnose, treat, cure or prevent any disease.