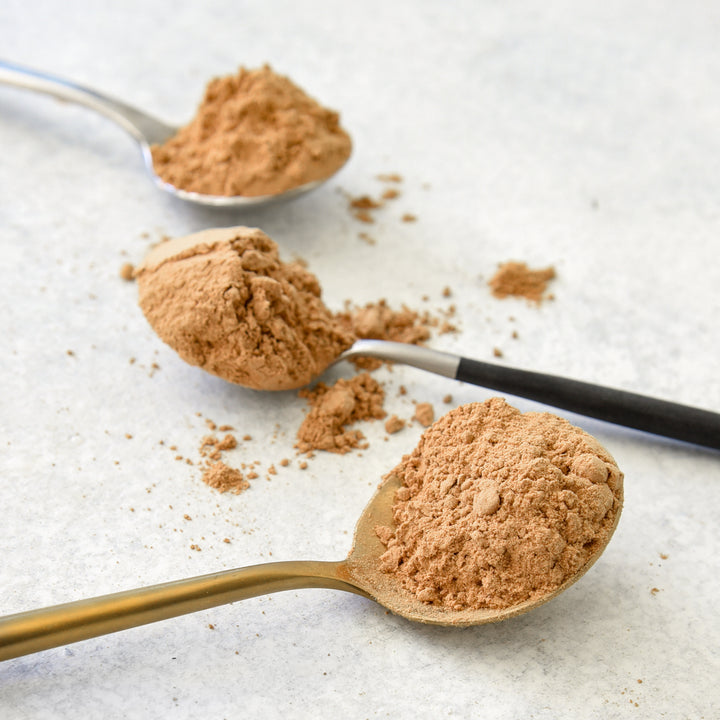 Functional mushrooms can contain a number of nutrients that naturally support your body's systems—including, immune, circulatory, nervous, and digestive systems. To take full advantage of these nutrients and unique bioactive compounds, it's best to include mushroom supplements in your routine every single day. But how?
Different species of functional mushrooms are available as supplements in powdered and capsulated form. With so many different species and brands available, choosing the right mushroom supplement to meet your specific needs can be overwhelming. 
To help you cut through the confusion, this article will discuss the benefits associated with various mushroom species, mushroom supplement benefits, ways to conveniently incorporate them into your daily healthy routine, and how to choose a quality mushroom supplement.  
The Benefits of Mushroom Supplement Types
Functional mushrooms can be processed and prepared in a variety of formats for convenience and enjoyable daily intake. Om Mushroom supplements come in four types—powders, capsules, broths, and drink mixes. Consider the benefits of each. 
| Powders | Capsules | Broths | Drink Mixes |
| --- | --- | --- | --- |
| Offered as single species or blend | Offered as single species or blend | Offered as a blend of functional mushrooms and other ingredients | Offered as a blend of functional mushrooms and other ingredients |
| Smooth texture | No measuring required | 7-10g of protein per serving | Ideal for travel |
| Great for incorporating in drinks and dishes, such as smoothies, coffee, soups, sauces, dressings, and baked goods | Convenient for on-the-go | Conveniently offered in single-serving packets (just add hot water) | Conveniently offered in single-serving packets (just add water or dairy/nut milk and stir) |
When choosing a type of mushroom supplement, it's a good idea to keep your options open. By keeping powders, capsules, and other single-serve formats on hand, you can discover which is most convenient. You want a mushroom supplement type that can easily be incorporated into your daily health routine as supplements tend to be most effective when taken consistently over time. 
A

mushroom powder supplement

is ideal if you're new to supplements. Simply blend a teaspoon (2g) into a cup of coffee, a smoothie, or a soup with ease. We recommend you have a frother on hand to make mixing quick and convenient. Powdered mushroom species range in taste from mild and earthy to somewhat bitter. Mushroom powder is a great option for  people who don't typically prefer the flavor or meaty texture of mushrooms. 
If you already have a handful of supplements you're taking, a

mushroom powder capsule

can easily be added to the mix. Capsules are also a great way to quickly add nutrition when you're on the go. 
Mushroom powder drink mixes

fit into many different lifestyles, whether you're a habitual coffee or tea drinker. You may forget to take a capsule if you're not accustomed to it, but you'd never forget that morning cup of coffee. Powdered drink mixes can also be enjoyed with water or dairy/nut milk.     
Functional Mushroom Species Within Om Mushroom Supplements
There are a number of species of functional mushrooms, each with its own associated benefits. Om Mushroom has leveraged the power of each of these species to incorporate in mushroom supplements for various potential health benefits. Some products feature a single species for very focused benefits, and some products include a blend of mushroom species for more comprehensive benefits. 
The Benefits of Mushroom Supplement Blends
Mushroom supplement blends can be a great place to start if you don't know exactly which functional mushroom species to narrow in on.
These mushroom supplements contain blends of specific mushroom species. Here's a breakdown:
Single-Species Mushroom Supplement Benefits  
Instead of starting out with a blend, some choose a single-species mushroom supplement for its potential benefits. Lion's mane, for example, has been used to support memory, focus, alertness, creativity, and mood. Part of the reason is that lion's mane contains two specific compounds, hericenones and erinacines, which are associated with promoting nerve growth factor (NGF) biosynthesis.‡  
Another popular single-species mushroom supplement, reishi, is used as an immune system potentiator to counter the effects of daily stresses. Reishi mushrooms have nutrients such as beta-glucans—which are high in antioxidants and have the ability to neutralize free radicals.‡
The benefits of mushroom supplements can vary depending on the species or blend. Bioactive compounds within mushrooms are believed to work differently when used in conjunction, and combining them can provide even greater benefits. But, if you're new to mushroom supplements, you may want to test them out one species at a time, trying out the type that works best for you.  
Choosing the Mushroom Supplement to Benefit Your Healthy Lifestyle
You should consult a physician before adding any type of daily supplement to your diet. When choosing a mushroom supplement, it is also important to buy from a trusted source, as the U.S. Food & Drug Administration (FDA) does not regulate dietary supplements. 
When you choose products from Om Mushroom, you can have peace of mind knowing that all mushrooms are:
USDA certified organic

USA-grown in Carlsbad, CA

Third-party tested 

Current Good Manufacturing Practice-regulated

Non-GMO Project Verified

Certified Kosher

Gluten-free

No sugar added

Vegan-friendly

Keto-friendly

Paleo-friendly
One capsule or one teaspoon of powdered mushroom (equivalent to 2grams of functional mushrooms per serving) is all it takes to incorporate mushroom supplements into your daily routine in pursuit of the benefits that matter most to you.  
Om Mushroom offers products created from functional, whole food, organic mushrooms that offer potentially life-changing health benefits. Our mushroom supplements contain the recommended dosage to enhance your body's natural functions. 
References:
‡These statements have not been evaluated by the Food and Drug Administration. Functional mushroom products are not intended to diagnose, treat, cure or prevent any disease.