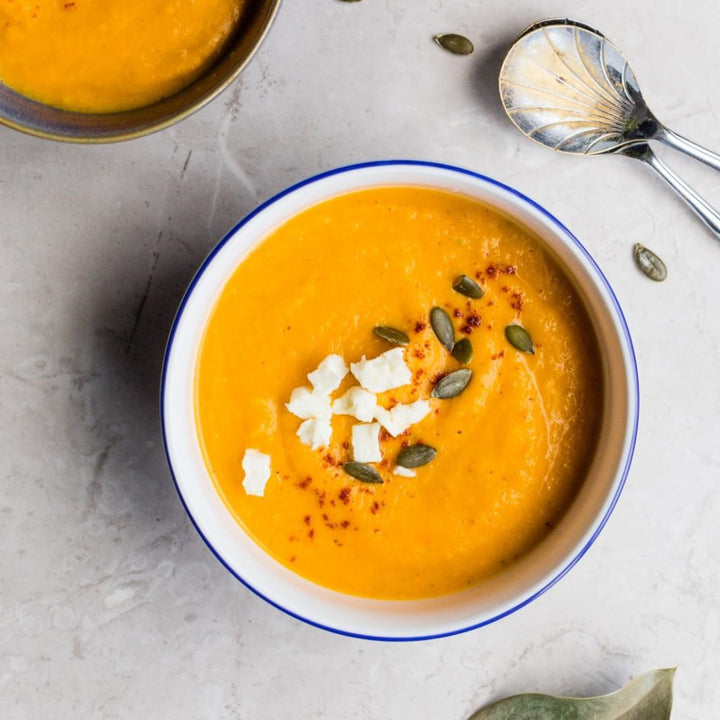 If you're as wild about soup season as we are, you'll love this comforting recipe with pumpkin, a fall all-star. Vibrant curry powder lends extra flavor, while rich coconut milk cools everything down. And it gets even better—a scoop of reishi mushroom powder works as an 
adaptogen
 to help your body stay balanced. Now that's our idea of the ultimate plant-powered meal.
PUMPKIN REISHI SOUP
Yield: 6 to 8 servings Active Time: 
Ingredients
For the soup:
2 large shallots, minced
2 garlic cloves, minced
For the topping:
2 tablespoons extra virgin olive oil
½ pound assorted mushrooms
Directions
Make the soup:
Add olive oil, shallots, and garlic to a large stock pot; sauté until soft, about 4 to 5 minutes. Add mushrooms and salt and cook for another 5 minutes. Add tapioca flour and curry powder; stir until the mushrooms are well coated. Slowly add half the stock, stirring gently, then add remaining stock and bring to a boil. Add the pumpkin, coconut milk, and reishi powder; stir well, then simmer for 10 minutes. Using an immersion blender, blend until soup is smooth.
Make the toppings:
Add olive oil to a large sauté pan set over medium-high heat. Add mushrooms in a single layer, and let sit until caramelized, about 2 to 3 minutes. Toss, and continue sautéing until tender, about 5 to 7 minutes more. Ladle soup into bowls, then top with mushrooms and pumpkin seeds.    
Did you love this recipe? Snap a photo and tag us on Instagram at @ommushrooms or #omdailyritual!