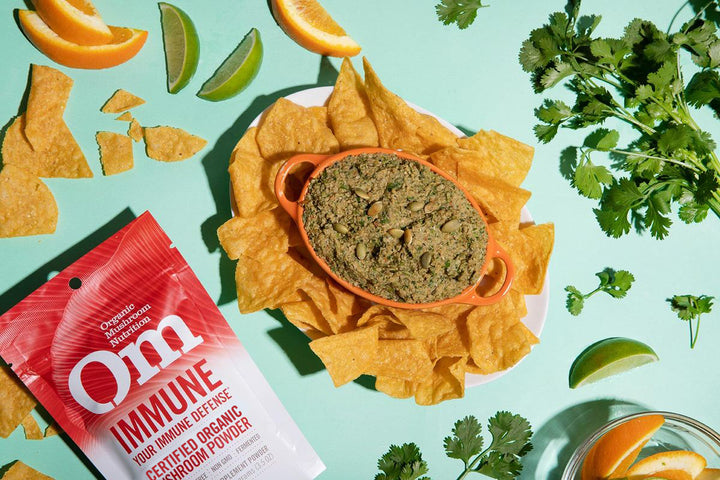 Sikil Pak (Pumpkin Seed Salsa)
Servings: 2 cups
1 Roma tomato
1 bunch green onions, green tops cut off and reserved
1 habanero pepper
2 unpeeled garlic cloves
1 cup roasted unsalted pumpkin seeds, plus more for garnish
½ cup chopped cilantro
2 tablespoons toasted sesame seeds
2 tablespoons Om Immune Mushroom Powder
2 tablespoons fresh lime juice
2 tablespoons fresh orange juice
1 teaspoon fine sea salt
Tortilla chips
Directions
In a large, dry cast-iron skillet or griddle over medium heat, arrange tomato, green onion bottoms, habanero, and garlic. Cook, turning occasionally, until blackened all over, about 10 minutes.
Roughly chop tomato and green onions, remove stem and seeds from habanero, peel garlic, and transfer all to a food processor.
To food processor add pumpkin seeds, cilantro, sesame seeds, mushroom powder, lime and orange juice, and salt. Roughly chop green onion tops and add to food processor.
Pulse until everything is combined and dip is creamy but still a little chunky.
Scrape salsa into a bowl, top with pumpkin seeds, and serve with tortilla chips.