{"id":1919002673248,"title":"Chaga Organic Mushroom Powder","handle":"chaga","description":"\u003ch2\u003eThe Mushroom of Youth\u003c\/h2\u003e\n\u003cp\u003eHighly revered for anti-aging properties to retain your youthful vibrance. This legendary mushroom is known to have some of the highest levels of antioxidants. Helps balance the metabolic system and is a natural adaptogen.‡\u003c\/p\u003e","published_at":"2021-08-19T11:46:55-07:00","created_at":"2019-02-04T15:04:08-08:00","vendor":"Om Mushroom Superfood","type":"Powders","tags":["beauty and radiance","chaga","hair skin and nails","wizard","YGroup_chaga"],"price":1999,"price_min":1999,"price_max":4299,"available":true,"price_varies":true,"compare_at_price":null,"compare_at_price_min":0,"compare_at_price_max":0,"compare_at_price_varies":false,"variants":[{"id":42297475039390,"title":"30 Servings | 2.1 oz (60g) \/ Powder","option1":"30 Servings | 2.1 oz (60g)","option2":"Powder","option3":null,"sku":"60550","requires_shipping":true,"taxable":true,"featured_image":{"id":35048224096414,"product_id":1919002673248,"position":2,"created_at":"2022-12-12T13:08:33-08:00","updated_at":"2022-12-12T13:09:06-08:00","alt":"variant1","width":2400,"height":2400,"src":"\/\/ommushrooms.com\/cdn\/shop\/products\/Om_Chaga_60g_Mockup_Front_15485-003.jpg?v=1670879346","variant_ids":[42297475039390]},"available":true,"name":"Chaga Organic Mushroom Powder - 30 Servings | 2.1 oz (60g) \/ Powder","public_title":"30 Servings | 2.1 oz (60g) \/ Powder","options":["30 Servings | 2.1 oz (60g)","Powder"],"price":1999,"weight":91,"compare_at_price":null,"inventory_management":"shopify","barcode":"856210008479","featured_media":{"alt":"variant1","id":27502206058654,"position":2,"preview_image":{"aspect_ratio":1.0,"height":2400,"width":2400,"src":"\/\/ommushrooms.com\/cdn\/shop\/products\/Om_Chaga_60g_Mockup_Front_15485-003.jpg?v=1670879346"}},"requires_selling_plan":false,"selling_plan_allocations":[{"price_adjustments":[{"position":1,"price":1699}],"price":1699,"compare_at_price":1999,"per_delivery_price":1699,"selling_plan_id":1617985694,"selling_plan_group_id":"979b384c4825f5e2a9173bc9d05530219930e52a"},{"price_adjustments":[{"position":1,"price":1699}],"price":1699,"compare_at_price":1999,"per_delivery_price":1699,"selling_plan_id":1618083998,"selling_plan_group_id":"979b384c4825f5e2a9173bc9d05530219930e52a"},{"price_adjustments":[{"position":1,"price":1699}],"price":1699,"compare_at_price":1999,"per_delivery_price":1699,"selling_plan_id":1618149534,"selling_plan_group_id":"979b384c4825f5e2a9173bc9d05530219930e52a"},{"price_adjustments":[{"position":1,"price":1699}],"price":1699,"compare_at_price":1999,"per_delivery_price":1699,"selling_plan_id":1618215070,"selling_plan_group_id":"979b384c4825f5e2a9173bc9d05530219930e52a"},{"price_adjustments":[{"position":1,"price":1699}],"price":1699,"compare_at_price":1999,"per_delivery_price":1699,"selling_plan_id":1618247838,"selling_plan_group_id":"979b384c4825f5e2a9173bc9d05530219930e52a"},{"price_adjustments":[{"position":1,"price":1699}],"price":1699,"compare_at_price":1999,"per_delivery_price":1699,"selling_plan_id":1618280606,"selling_plan_group_id":"979b384c4825f5e2a9173bc9d05530219930e52a"}],"quantity_rule":{"min":1,"max":null,"increment":1}},{"id":18554015809632,"title":"50 Servings | 3.5 oz (100g) \/ Powder","option1":"50 Servings | 3.5 oz (100g)","option2":"Powder","option3":null,"sku":"60140","requires_shipping":true,"taxable":true,"featured_image":{"id":30676469022878,"product_id":1919002673248,"position":4,"created_at":"2021-09-15T12:30:27-07:00","updated_at":"2022-12-12T13:09:06-08:00","alt":"variant2","width":2400,"height":2400,"src":"\/\/ommushrooms.com\/cdn\/shop\/products\/Chaga100g-006_Front.jpg?v=1670879346","variant_ids":[18554015809632]},"available":true,"name":"Chaga Organic Mushroom Powder - 50 Servings | 3.5 oz (100g) \/ Powder","public_title":"50 Servings | 3.5 oz (100g) \/ Powder","options":["50 Servings | 3.5 oz (100g)","Powder"],"price":2699,"weight":91,"compare_at_price":null,"inventory_management":"shopify","barcode":"857727004091","featured_media":{"alt":"variant2","id":23048408039582,"position":4,"preview_image":{"aspect_ratio":1.0,"height":2400,"width":2400,"src":"\/\/ommushrooms.com\/cdn\/shop\/products\/Chaga100g-006_Front.jpg?v=1670879346"}},"requires_selling_plan":false,"selling_plan_allocations":[{"price_adjustments":[{"position":1,"price":2294}],"price":2294,"compare_at_price":2699,"per_delivery_price":2294,"selling_plan_id":1617985694,"selling_plan_group_id":"979b384c4825f5e2a9173bc9d05530219930e52a"},{"price_adjustments":[{"position":1,"price":2294}],"price":2294,"compare_at_price":2699,"per_delivery_price":2294,"selling_plan_id":1618083998,"selling_plan_group_id":"979b384c4825f5e2a9173bc9d05530219930e52a"},{"price_adjustments":[{"position":1,"price":2294}],"price":2294,"compare_at_price":2699,"per_delivery_price":2294,"selling_plan_id":1618149534,"selling_plan_group_id":"979b384c4825f5e2a9173bc9d05530219930e52a"},{"price_adjustments":[{"position":1,"price":2294}],"price":2294,"compare_at_price":2699,"per_delivery_price":2294,"selling_plan_id":1618215070,"selling_plan_group_id":"979b384c4825f5e2a9173bc9d05530219930e52a"},{"price_adjustments":[{"position":1,"price":2294}],"price":2294,"compare_at_price":2699,"per_delivery_price":2294,"selling_plan_id":1618247838,"selling_plan_group_id":"979b384c4825f5e2a9173bc9d05530219930e52a"},{"price_adjustments":[{"position":1,"price":2294}],"price":2294,"compare_at_price":2699,"per_delivery_price":2294,"selling_plan_id":1618280606,"selling_plan_group_id":"979b384c4825f5e2a9173bc9d05530219930e52a"}],"quantity_rule":{"min":1,"max":null,"increment":1}},{"id":18554015776864,"title":"100 Servings | 7.05 oz (200g) \/ Powder","option1":"100 Servings | 7.05 oz (200g)","option2":"Powder","option3":null,"sku":"60155","requires_shipping":true,"taxable":true,"featured_image":{"id":31046292832414,"product_id":1919002673248,"position":1,"created_at":"2021-10-08T15:57:37-07:00","updated_at":"2021-11-18T13:49:47-08:00","alt":"variant3","width":2400,"height":2400,"src":"\/\/ommushrooms.com\/cdn\/shop\/products\/Chaga_200g_Front.jpg?v=1637272187","variant_ids":[18554015776864]},"available":true,"name":"Chaga Organic Mushroom Powder - 100 Servings | 7.05 oz (200g) \/ Powder","public_title":"100 Servings | 7.05 oz (200g) \/ Powder","options":["100 Servings | 7.05 oz (200g)","Powder"],"price":4299,"weight":181,"compare_at_price":null,"inventory_management":"shopify","barcode":"850030553232","featured_media":{"alt":"variant3","id":23425460633758,"position":1,"preview_image":{"aspect_ratio":1.0,"height":2400,"width":2400,"src":"\/\/ommushrooms.com\/cdn\/shop\/products\/Chaga_200g_Front.jpg?v=1637272187"}},"requires_selling_plan":false,"selling_plan_allocations":[{"price_adjustments":[{"position":1,"price":3654}],"price":3654,"compare_at_price":4299,"per_delivery_price":3654,"selling_plan_id":1617985694,"selling_plan_group_id":"979b384c4825f5e2a9173bc9d05530219930e52a"},{"price_adjustments":[{"position":1,"price":3654}],"price":3654,"compare_at_price":4299,"per_delivery_price":3654,"selling_plan_id":1618083998,"selling_plan_group_id":"979b384c4825f5e2a9173bc9d05530219930e52a"},{"price_adjustments":[{"position":1,"price":3654}],"price":3654,"compare_at_price":4299,"per_delivery_price":3654,"selling_plan_id":1618149534,"selling_plan_group_id":"979b384c4825f5e2a9173bc9d05530219930e52a"},{"price_adjustments":[{"position":1,"price":3654}],"price":3654,"compare_at_price":4299,"per_delivery_price":3654,"selling_plan_id":1618215070,"selling_plan_group_id":"979b384c4825f5e2a9173bc9d05530219930e52a"},{"price_adjustments":[{"position":1,"price":3654}],"price":3654,"compare_at_price":4299,"per_delivery_price":3654,"selling_plan_id":1618247838,"selling_plan_group_id":"979b384c4825f5e2a9173bc9d05530219930e52a"},{"price_adjustments":[{"position":1,"price":3654}],"price":3654,"compare_at_price":4299,"per_delivery_price":3654,"selling_plan_id":1618280606,"selling_plan_group_id":"979b384c4825f5e2a9173bc9d05530219930e52a"}],"quantity_rule":{"min":1,"max":null,"increment":1}}],"images":["\/\/ommushrooms.com\/cdn\/shop\/products\/Chaga_200g_Front.jpg?v=1637272187","\/\/ommushrooms.com\/cdn\/shop\/products\/Om_Chaga_60g_Mockup_Front_15485-003.jpg?v=1670879346","\/\/ommushrooms.com\/cdn\/shop\/products\/Om_Chaga_60g_Mockup_Back_15485-003.jpg?v=1670879346","\/\/ommushrooms.com\/cdn\/shop\/products\/Chaga100g-006_Front.jpg?v=1670879346","\/\/ommushrooms.com\/cdn\/shop\/products\/Chaga100g-006_Back.jpg?v=1670879346","\/\/ommushrooms.com\/cdn\/shop\/products\/Chaga_200g_Back.jpg?v=1670879346","\/\/ommushrooms.com\/cdn\/shop\/products\/Om_Chaga_Tile2.jpg?v=1670879346","\/\/ommushrooms.com\/cdn\/shop\/products\/Om_Chaga_Tile7.jpg?v=1670879346","\/\/ommushrooms.com\/cdn\/shop\/products\/Om_Chaga_Tile3.jpg?v=1670879346","\/\/ommushrooms.com\/cdn\/shop\/products\/Om_Chaga_Tile1.jpg?v=1670879346","\/\/ommushrooms.com\/cdn\/shop\/products\/Om_Chaga200g_Tile1_7250a7ac-ee8e-401e-89b4-22f785e4f76a.jpg?v=1670879346","\/\/ommushrooms.com\/cdn\/shop\/products\/Om_Chaga_Tile6_c501c4f2-8a3b-447b-a62c-a5f2622b0d3d.jpg?v=1670879346","\/\/ommushrooms.com\/cdn\/shop\/products\/Om_Chaga_Tile5_fbb4bdd5-e0ec-4696-8790-68a2e97c97ad.jpg?v=1670879346"],"featured_image":"\/\/ommushrooms.com\/cdn\/shop\/products\/Chaga_200g_Front.jpg?v=1637272187","options":["Size","Format"],"media":[{"alt":"variant3","id":23425460633758,"position":1,"preview_image":{"aspect_ratio":1.0,"height":2400,"width":2400,"src":"\/\/ommushrooms.com\/cdn\/shop\/products\/Chaga_200g_Front.jpg?v=1637272187"},"aspect_ratio":1.0,"height":2400,"media_type":"image","src":"\/\/ommushrooms.com\/cdn\/shop\/products\/Chaga_200g_Front.jpg?v=1637272187","width":2400},{"alt":"variant1","id":27502206058654,"position":2,"preview_image":{"aspect_ratio":1.0,"height":2400,"width":2400,"src":"\/\/ommushrooms.com\/cdn\/shop\/products\/Om_Chaga_60g_Mockup_Front_15485-003.jpg?v=1670879346"},"aspect_ratio":1.0,"height":2400,"media_type":"image","src":"\/\/ommushrooms.com\/cdn\/shop\/products\/Om_Chaga_60g_Mockup_Front_15485-003.jpg?v=1670879346","width":2400},{"alt":"variant1","id":27502206025886,"position":3,"preview_image":{"aspect_ratio":1.0,"height":2400,"width":2400,"src":"\/\/ommushrooms.com\/cdn\/shop\/products\/Om_Chaga_60g_Mockup_Back_15485-003.jpg?v=1670879346"},"aspect_ratio":1.0,"height":2400,"media_type":"image","src":"\/\/ommushrooms.com\/cdn\/shop\/products\/Om_Chaga_60g_Mockup_Back_15485-003.jpg?v=1670879346","width":2400},{"alt":"variant2","id":23048408039582,"position":4,"preview_image":{"aspect_ratio":1.0,"height":2400,"width":2400,"src":"\/\/ommushrooms.com\/cdn\/shop\/products\/Chaga100g-006_Front.jpg?v=1670879346"},"aspect_ratio":1.0,"height":2400,"media_type":"image","src":"\/\/ommushrooms.com\/cdn\/shop\/products\/Chaga100g-006_Front.jpg?v=1670879346","width":2400},{"alt":"variant2","id":23048414920862,"position":5,"preview_image":{"aspect_ratio":1.0,"height":2400,"width":2400,"src":"\/\/ommushrooms.com\/cdn\/shop\/products\/Chaga100g-006_Back.jpg?v=1670879346"},"aspect_ratio":1.0,"height":2400,"media_type":"image","src":"\/\/ommushrooms.com\/cdn\/shop\/products\/Chaga100g-006_Back.jpg?v=1670879346","width":2400},{"alt":"variant3","id":23425452900510,"position":6,"preview_image":{"aspect_ratio":1.0,"height":2400,"width":2400,"src":"\/\/ommushrooms.com\/cdn\/shop\/products\/Chaga_200g_Back.jpg?v=1670879346"},"aspect_ratio":1.0,"height":2400,"media_type":"image","src":"\/\/ommushrooms.com\/cdn\/shop\/products\/Chaga_200g_Back.jpg?v=1670879346","width":2400},{"alt":null,"id":12083998982302,"position":7,"preview_image":{"aspect_ratio":1.0,"height":2560,"width":2560,"src":"\/\/ommushrooms.com\/cdn\/shop\/products\/Om_Chaga_Tile2.jpg?v=1670879346"},"aspect_ratio":1.0,"height":2560,"media_type":"image","src":"\/\/ommushrooms.com\/cdn\/shop\/products\/Om_Chaga_Tile2.jpg?v=1670879346","width":2560},{"alt":null,"id":12084024180894,"position":8,"preview_image":{"aspect_ratio":1.0,"height":2560,"width":2560,"src":"\/\/ommushrooms.com\/cdn\/shop\/products\/Om_Chaga_Tile7.jpg?v=1670879346"},"aspect_ratio":1.0,"height":2560,"media_type":"image","src":"\/\/ommushrooms.com\/cdn\/shop\/products\/Om_Chaga_Tile7.jpg?v=1670879346","width":2560},{"alt":null,"id":12084010713246,"position":9,"preview_image":{"aspect_ratio":1.0,"height":2560,"width":2560,"src":"\/\/ommushrooms.com\/cdn\/shop\/products\/Om_Chaga_Tile3.jpg?v=1670879346"},"aspect_ratio":1.0,"height":2560,"media_type":"image","src":"\/\/ommushrooms.com\/cdn\/shop\/products\/Om_Chaga_Tile3.jpg?v=1670879346","width":2560},{"alt":"variant2","id":11653761400990,"position":10,"preview_image":{"aspect_ratio":1.0,"height":2560,"width":2560,"src":"\/\/ommushrooms.com\/cdn\/shop\/products\/Om_Chaga_Tile1.jpg?v=1670879346"},"aspect_ratio":1.0,"height":2560,"media_type":"image","src":"\/\/ommushrooms.com\/cdn\/shop\/products\/Om_Chaga_Tile1.jpg?v=1670879346","width":2560},{"alt":"variant3","id":23425441300638,"position":11,"preview_image":{"aspect_ratio":1.0,"height":2400,"width":2400,"src":"\/\/ommushrooms.com\/cdn\/shop\/products\/Om_Chaga200g_Tile1_7250a7ac-ee8e-401e-89b4-22f785e4f76a.jpg?v=1670879346"},"aspect_ratio":1.0,"height":2400,"media_type":"image","src":"\/\/ommushrooms.com\/cdn\/shop\/products\/Om_Chaga200g_Tile1_7250a7ac-ee8e-401e-89b4-22f785e4f76a.jpg?v=1670879346","width":2400},{"alt":null,"id":11653761663134,"position":12,"preview_image":{"aspect_ratio":1.0,"height":2560,"width":2560,"src":"\/\/ommushrooms.com\/cdn\/shop\/products\/Om_Chaga_Tile6_c501c4f2-8a3b-447b-a62c-a5f2622b0d3d.jpg?v=1670879346"},"aspect_ratio":1.0,"height":2560,"media_type":"image","src":"\/\/ommushrooms.com\/cdn\/shop\/products\/Om_Chaga_Tile6_c501c4f2-8a3b-447b-a62c-a5f2622b0d3d.jpg?v=1670879346","width":2560},{"alt":"variant1","id":11653761695902,"position":13,"preview_image":{"aspect_ratio":1.0,"height":2560,"width":2560,"src":"\/\/ommushrooms.com\/cdn\/shop\/products\/Om_Chaga_Tile5_fbb4bdd5-e0ec-4696-8790-68a2e97c97ad.jpg?v=1670879346"},"aspect_ratio":1.0,"height":2560,"media_type":"image","src":"\/\/ommushrooms.com\/cdn\/shop\/products\/Om_Chaga_Tile5_fbb4bdd5-e0ec-4696-8790-68a2e97c97ad.jpg?v=1670879346","width":2560}],"requires_selling_plan":false,"selling_plan_groups":[{"id":"979b384c4825f5e2a9173bc9d05530219930e52a","name":"Chaga Organic Mushroom Superfood Powder","options":[{"name":"30 Day(s), 60 Day(s), 90 Day(s), 120 Day(s), 150 Day(s), 180 Day(s)","position":1,"values":["30 Day(s)","60 Day(s)","90 Day(s)","120 Day(s)","150 Day(s)","180 Day(s)"]}],"selling_plans":[{"id":1617985694,"name":"Delivery every 30 Days","description":null,"options":[{"name":"30 Day(s), 60 Day(s), 90 Day(s), 120 Day(s), 150 Day(s), 180 Day(s)","position":1,"value":"30 Day(s)"}],"recurring_deliveries":true,"price_adjustments":[{"order_count":null,"position":1,"value_type":"percentage","value":15}],"checkout_charge":{"value_type":"percentage","value":100}},{"id":1618083998,"name":"Delivery every 60 Days","description":null,"options":[{"name":"30 Day(s), 60 Day(s), 90 Day(s), 120 Day(s), 150 Day(s), 180 Day(s)","position":1,"value":"60 Day(s)"}],"recurring_deliveries":true,"price_adjustments":[{"order_count":null,"position":1,"value_type":"percentage","value":15}],"checkout_charge":{"value_type":"percentage","value":100}},{"id":1618149534,"name":"Delivery every 90 Days","description":null,"options":[{"name":"30 Day(s), 60 Day(s), 90 Day(s), 120 Day(s), 150 Day(s), 180 Day(s)","position":1,"value":"90 Day(s)"}],"recurring_deliveries":true,"price_adjustments":[{"order_count":null,"position":1,"value_type":"percentage","value":15}],"checkout_charge":{"value_type":"percentage","value":100}},{"id":1618215070,"name":"Delivery every 120 Days","description":null,"options":[{"name":"30 Day(s), 60 Day(s), 90 Day(s), 120 Day(s), 150 Day(s), 180 Day(s)","position":1,"value":"120 Day(s)"}],"recurring_deliveries":true,"price_adjustments":[{"order_count":null,"position":1,"value_type":"percentage","value":15}],"checkout_charge":{"value_type":"percentage","value":100}},{"id":1618247838,"name":"Delivery every 150 Days","description":null,"options":[{"name":"30 Day(s), 60 Day(s), 90 Day(s), 120 Day(s), 150 Day(s), 180 Day(s)","position":1,"value":"150 Day(s)"}],"recurring_deliveries":true,"price_adjustments":[{"order_count":null,"position":1,"value_type":"percentage","value":15}],"checkout_charge":{"value_type":"percentage","value":100}},{"id":1618280606,"name":"Delivery every 180 Days","description":null,"options":[{"name":"30 Day(s), 60 Day(s), 90 Day(s), 120 Day(s), 150 Day(s), 180 Day(s)","position":1,"value":"180 Day(s)"}],"recurring_deliveries":true,"price_adjustments":[{"order_count":null,"position":1,"value_type":"percentage","value":15}],"checkout_charge":{"value_type":"percentage","value":100}}],"app_id":"294517"}],"content":"\u003ch2\u003eThe Mushroom of Youth\u003c\/h2\u003e\n\u003cp\u003eHighly revered for anti-aging properties to retain your youthful vibrance. This legendary mushroom is known to have some of the highest levels of antioxidants. Helps balance the metabolic system and is a natural adaptogen.‡\u003c\/p\u003e"}
{"id":1919002640480,"title":"Cordyceps Organic Mushroom Powder","handle":"cordyceps","description":"\u003ch2\u003eThe Performance Mushroom\u003c\/h2\u003e\n\u003cp\u003eOriginally discovered by Tibetan herdsman at high altitudes, Cordyceps optimizes oxygen uptake and delivery to increase vitality and endurance. Awaken energy, improve cardio and ignite your inner strength.‡\u003c\/p\u003e","published_at":"2021-08-19T11:46:53-07:00","created_at":"2019-02-04T15:04:05-08:00","vendor":"Om Mushroom Superfood","type":"Powders","tags":["cordyceps","energy and fitness","wizard","YGroup_cordyceps"],"price":1999,"price_min":1999,"price_max":4299,"available":true,"price_varies":true,"compare_at_price":null,"compare_at_price_min":0,"compare_at_price_max":0,"compare_at_price_varies":false,"variants":[{"id":42297386139806,"title":"30 Servings | 2.1 oz (60g) \/ Powder","option1":"30 Servings | 2.1 oz (60g)","option2":"Powder","option3":null,"sku":"60540","requires_shipping":true,"taxable":true,"featured_image":{"id":35047911096478,"product_id":1919002640480,"position":2,"created_at":"2022-12-12T11:46:26-08:00","updated_at":"2023-07-18T14:46:44-07:00","alt":"variant1","width":2400,"height":2400,"src":"\/\/ommushrooms.com\/cdn\/shop\/products\/Cordyceps_60g_Mockup_Front_faa086c0-5fb7-4b03-84d6-06bcae8170a6.jpg?v=1689716804","variant_ids":[42297386139806]},"available":true,"name":"Cordyceps Organic Mushroom Powder - 30 Servings | 2.1 oz (60g) \/ Powder","public_title":"30 Servings | 2.1 oz (60g) \/ Powder","options":["30 Servings | 2.1 oz (60g)","Powder"],"price":1999,"weight":91,"compare_at_price":null,"inventory_management":"shopify","barcode":"856210008462","featured_media":{"alt":"variant1","id":27501880705182,"position":2,"preview_image":{"aspect_ratio":1.0,"height":2400,"width":2400,"src":"\/\/ommushrooms.com\/cdn\/shop\/products\/Cordyceps_60g_Mockup_Front_faa086c0-5fb7-4b03-84d6-06bcae8170a6.jpg?v=1689716804"}},"requires_selling_plan":false,"selling_plan_allocations":[{"price_adjustments":[{"position":1,"price":1699}],"price":1699,"compare_at_price":1999,"per_delivery_price":1699,"selling_plan_id":1621295262,"selling_plan_group_id":"35084af693f61be0db03295f79d41e72f3aeb987"},{"price_adjustments":[{"position":1,"price":1699}],"price":1699,"compare_at_price":1999,"per_delivery_price":1699,"selling_plan_id":1621393566,"selling_plan_group_id":"35084af693f61be0db03295f79d41e72f3aeb987"},{"price_adjustments":[{"position":1,"price":1699}],"price":1699,"compare_at_price":1999,"per_delivery_price":1699,"selling_plan_id":1621426334,"selling_plan_group_id":"35084af693f61be0db03295f79d41e72f3aeb987"},{"price_adjustments":[{"position":1,"price":1699}],"price":1699,"compare_at_price":1999,"per_delivery_price":1699,"selling_plan_id":1621491870,"selling_plan_group_id":"35084af693f61be0db03295f79d41e72f3aeb987"},{"price_adjustments":[{"position":1,"price":1699}],"price":1699,"compare_at_price":1999,"per_delivery_price":1699,"selling_plan_id":1621557406,"selling_plan_group_id":"35084af693f61be0db03295f79d41e72f3aeb987"},{"price_adjustments":[{"position":1,"price":1699}],"price":1699,"compare_at_price":1999,"per_delivery_price":1699,"selling_plan_id":1621622942,"selling_plan_group_id":"35084af693f61be0db03295f79d41e72f3aeb987"}],"quantity_rule":{"min":1,"max":null,"increment":1}},{"id":18554015907936,"title":"50 Servings | 3.5 oz (100g) \/ Powder","option1":"50 Servings | 3.5 oz (100g)","option2":"Powder","option3":null,"sku":"60170","requires_shipping":true,"taxable":true,"featured_image":{"id":30676497662110,"product_id":1919002640480,"position":4,"created_at":"2021-09-15T12:32:35-07:00","updated_at":"2023-07-18T14:46:44-07:00","alt":"variant2","width":2400,"height":2400,"src":"\/\/ommushrooms.com\/cdn\/shop\/products\/Cordyceps100g-006_Front.jpg?v=1689716804","variant_ids":[18554015907936]},"available":false,"name":"Cordyceps Organic Mushroom Powder - 50 Servings | 3.5 oz (100g) \/ Powder","public_title":"50 Servings | 3.5 oz (100g) \/ Powder","options":["50 Servings | 3.5 oz (100g)","Powder"],"price":2699,"weight":91,"compare_at_price":null,"inventory_management":"shopify","barcode":"892392002003","featured_media":{"alt":"variant2","id":23048436842654,"position":4,"preview_image":{"aspect_ratio":1.0,"height":2400,"width":2400,"src":"\/\/ommushrooms.com\/cdn\/shop\/products\/Cordyceps100g-006_Front.jpg?v=1689716804"}},"requires_selling_plan":false,"selling_plan_allocations":[{"price_adjustments":[{"position":1,"price":2294}],"price":2294,"compare_at_price":2699,"per_delivery_price":2294,"selling_plan_id":1621295262,"selling_plan_group_id":"35084af693f61be0db03295f79d41e72f3aeb987"},{"price_adjustments":[{"position":1,"price":2294}],"price":2294,"compare_at_price":2699,"per_delivery_price":2294,"selling_plan_id":1621393566,"selling_plan_group_id":"35084af693f61be0db03295f79d41e72f3aeb987"},{"price_adjustments":[{"position":1,"price":2294}],"price":2294,"compare_at_price":2699,"per_delivery_price":2294,"selling_plan_id":1621426334,"selling_plan_group_id":"35084af693f61be0db03295f79d41e72f3aeb987"},{"price_adjustments":[{"position":1,"price":2294}],"price":2294,"compare_at_price":2699,"per_delivery_price":2294,"selling_plan_id":1621491870,"selling_plan_group_id":"35084af693f61be0db03295f79d41e72f3aeb987"},{"price_adjustments":[{"position":1,"price":2294}],"price":2294,"compare_at_price":2699,"per_delivery_price":2294,"selling_plan_id":1621557406,"selling_plan_group_id":"35084af693f61be0db03295f79d41e72f3aeb987"},{"price_adjustments":[{"position":1,"price":2294}],"price":2294,"compare_at_price":2699,"per_delivery_price":2294,"selling_plan_id":1621622942,"selling_plan_group_id":"35084af693f61be0db03295f79d41e72f3aeb987"}],"quantity_rule":{"min":1,"max":null,"increment":1}},{"id":18554015875168,"title":"100 Servings | 7.05 oz (200g) \/ Powder","option1":"100 Servings | 7.05 oz (200g)","option2":"Powder","option3":null,"sku":"60185","requires_shipping":true,"taxable":true,"featured_image":{"id":31046326223006,"product_id":1919002640480,"position":1,"created_at":"2021-10-08T16:00:29-07:00","updated_at":"2021-11-18T13:50:16-08:00","alt":"variant3","width":2400,"height":2400,"src":"\/\/ommushrooms.com\/cdn\/shop\/products\/Cordyceps_200g_Front.jpg?v=1637272216","variant_ids":[18554015875168]},"available":true,"name":"Cordyceps Organic Mushroom Powder - 100 Servings | 7.05 oz (200g) \/ Powder","public_title":"100 Servings | 7.05 oz (200g) \/ Powder","options":["100 Servings | 7.05 oz (200g)","Powder"],"price":4299,"weight":181,"compare_at_price":null,"inventory_management":"shopify","barcode":"850030553249","featured_media":{"alt":"variant3","id":23425496154270,"position":1,"preview_image":{"aspect_ratio":1.0,"height":2400,"width":2400,"src":"\/\/ommushrooms.com\/cdn\/shop\/products\/Cordyceps_200g_Front.jpg?v=1637272216"}},"requires_selling_plan":false,"selling_plan_allocations":[{"price_adjustments":[{"position":1,"price":3654}],"price":3654,"compare_at_price":4299,"per_delivery_price":3654,"selling_plan_id":1621295262,"selling_plan_group_id":"35084af693f61be0db03295f79d41e72f3aeb987"},{"price_adjustments":[{"position":1,"price":3654}],"price":3654,"compare_at_price":4299,"per_delivery_price":3654,"selling_plan_id":1621393566,"selling_plan_group_id":"35084af693f61be0db03295f79d41e72f3aeb987"},{"price_adjustments":[{"position":1,"price":3654}],"price":3654,"compare_at_price":4299,"per_delivery_price":3654,"selling_plan_id":1621426334,"selling_plan_group_id":"35084af693f61be0db03295f79d41e72f3aeb987"},{"price_adjustments":[{"position":1,"price":3654}],"price":3654,"compare_at_price":4299,"per_delivery_price":3654,"selling_plan_id":1621491870,"selling_plan_group_id":"35084af693f61be0db03295f79d41e72f3aeb987"},{"price_adjustments":[{"position":1,"price":3654}],"price":3654,"compare_at_price":4299,"per_delivery_price":3654,"selling_plan_id":1621557406,"selling_plan_group_id":"35084af693f61be0db03295f79d41e72f3aeb987"},{"price_adjustments":[{"position":1,"price":3654}],"price":3654,"compare_at_price":4299,"per_delivery_price":3654,"selling_plan_id":1621622942,"selling_plan_group_id":"35084af693f61be0db03295f79d41e72f3aeb987"}],"quantity_rule":{"min":1,"max":null,"increment":1}}],"images":["\/\/ommushrooms.com\/cdn\/shop\/products\/Cordyceps_200g_Front.jpg?v=1637272216","\/\/ommushrooms.com\/cdn\/shop\/products\/Cordyceps_60g_Mockup_Front_faa086c0-5fb7-4b03-84d6-06bcae8170a6.jpg?v=1689716804","\/\/ommushrooms.com\/cdn\/shop\/products\/Om_Cordyceps_60g_Mockup_Back_15475-003.jpg?v=1689716804","\/\/ommushrooms.com\/cdn\/shop\/products\/Cordyceps100g-006_Front.jpg?v=1689716804","\/\/ommushrooms.com\/cdn\/shop\/products\/Cordyceps100g-006_Back.jpg?v=1689716804","\/\/ommushrooms.com\/cdn\/shop\/products\/Cordyceps_200g_Back.jpg?v=1689716804","\/\/ommushrooms.com\/cdn\/shop\/products\/Om_Cordy200g_Tile1_89ab8089-6399-49f2-b7d9-27974a78a802.jpg?v=1689716804","\/\/ommushrooms.com\/cdn\/shop\/products\/Om_Cordy_Tile2.jpg?v=1670880043","\/\/ommushrooms.com\/cdn\/shop\/products\/Om_Cordy_Tile7.jpg?v=1670880043","\/\/ommushrooms.com\/cdn\/shop\/products\/Om_Cordy_Tile4_5234684e-71ad-4c51-860e-b5dcb1b6c0be.jpg?v=1670880043","\/\/ommushrooms.com\/cdn\/shop\/products\/OM_Cordy_Tile6_819bd0b9-6e19-4330-b41c-93dc85b2e87e.jpg?v=1670880043","\/\/ommushrooms.com\/cdn\/shop\/products\/Om_Cordy_Tile1.jpg?v=1670880043","\/\/ommushrooms.com\/cdn\/shop\/products\/Om_Cordy200g_Tile1_740cecb8-5859-4d1f-8c3d-aaa0ce6babd2.jpg?v=1670880043","\/\/ommushrooms.com\/cdn\/shop\/products\/Om_Cordy_Tile5_9cf90058-36ef-4cc2-a7fa-6b68fcc7d70c.jpg?v=1670880043"],"featured_image":"\/\/ommushrooms.com\/cdn\/shop\/products\/Cordyceps_200g_Front.jpg?v=1637272216","options":["Size","Format"],"media":[{"alt":"variant3","id":23425496154270,"position":1,"preview_image":{"aspect_ratio":1.0,"height":2400,"width":2400,"src":"\/\/ommushrooms.com\/cdn\/shop\/products\/Cordyceps_200g_Front.jpg?v=1637272216"},"aspect_ratio":1.0,"height":2400,"media_type":"image","src":"\/\/ommushrooms.com\/cdn\/shop\/products\/Cordyceps_200g_Front.jpg?v=1637272216","width":2400},{"alt":"variant1","id":27501880705182,"position":2,"preview_image":{"aspect_ratio":1.0,"height":2400,"width":2400,"src":"\/\/ommushrooms.com\/cdn\/shop\/products\/Cordyceps_60g_Mockup_Front_faa086c0-5fb7-4b03-84d6-06bcae8170a6.jpg?v=1689716804"},"aspect_ratio":1.0,"height":2400,"media_type":"image","src":"\/\/ommushrooms.com\/cdn\/shop\/products\/Cordyceps_60g_Mockup_Front_faa086c0-5fb7-4b03-84d6-06bcae8170a6.jpg?v=1689716804","width":2400},{"alt":"variant1","id":27502256390302,"position":3,"preview_image":{"aspect_ratio":1.0,"height":2400,"width":2400,"src":"\/\/ommushrooms.com\/cdn\/shop\/products\/Om_Cordyceps_60g_Mockup_Back_15475-003.jpg?v=1689716804"},"aspect_ratio":1.0,"height":2400,"media_type":"image","src":"\/\/ommushrooms.com\/cdn\/shop\/products\/Om_Cordyceps_60g_Mockup_Back_15475-003.jpg?v=1689716804","width":2400},{"alt":"variant2","id":23048436842654,"position":4,"preview_image":{"aspect_ratio":1.0,"height":2400,"width":2400,"src":"\/\/ommushrooms.com\/cdn\/shop\/products\/Cordyceps100g-006_Front.jpg?v=1689716804"},"aspect_ratio":1.0,"height":2400,"media_type":"image","src":"\/\/ommushrooms.com\/cdn\/shop\/products\/Cordyceps100g-006_Front.jpg?v=1689716804","width":2400},{"alt":"variant2","id":23048436809886,"position":5,"preview_image":{"aspect_ratio":1.0,"height":2400,"width":2400,"src":"\/\/ommushrooms.com\/cdn\/shop\/products\/Cordyceps100g-006_Back.jpg?v=1689716804"},"aspect_ratio":1.0,"height":2400,"media_type":"image","src":"\/\/ommushrooms.com\/cdn\/shop\/products\/Cordyceps100g-006_Back.jpg?v=1689716804","width":2400},{"alt":"variant3","id":23425496121502,"position":6,"preview_image":{"aspect_ratio":1.0,"height":2400,"width":2400,"src":"\/\/ommushrooms.com\/cdn\/shop\/products\/Cordyceps_200g_Back.jpg?v=1689716804"},"aspect_ratio":1.0,"height":2400,"media_type":"image","src":"\/\/ommushrooms.com\/cdn\/shop\/products\/Cordyceps_200g_Back.jpg?v=1689716804","width":2400},{"alt":"hide facebook","id":23955436503198,"position":7,"preview_image":{"aspect_ratio":1.0,"height":2400,"width":2400,"src":"\/\/ommushrooms.com\/cdn\/shop\/products\/Om_Cordy200g_Tile1_89ab8089-6399-49f2-b7d9-27974a78a802.jpg?v=1689716804"},"aspect_ratio":1.0,"height":2400,"media_type":"image","src":"\/\/ommushrooms.com\/cdn\/shop\/products\/Om_Cordy200g_Tile1_89ab8089-6399-49f2-b7d9-27974a78a802.jpg?v=1689716804","width":2400},{"alt":null,"id":12098562162846,"position":8,"preview_image":{"aspect_ratio":1.0,"height":2560,"width":2560,"src":"\/\/ommushrooms.com\/cdn\/shop\/products\/Om_Cordy_Tile2.jpg?v=1670880043"},"aspect_ratio":1.0,"height":2560,"media_type":"image","src":"\/\/ommushrooms.com\/cdn\/shop\/products\/Om_Cordy_Tile2.jpg?v=1670880043","width":2560},{"alt":null,"id":12098571010206,"position":9,"preview_image":{"aspect_ratio":1.0,"height":2560,"width":2560,"src":"\/\/ommushrooms.com\/cdn\/shop\/products\/Om_Cordy_Tile7.jpg?v=1670880043"},"aspect_ratio":1.0,"height":2560,"media_type":"image","src":"\/\/ommushrooms.com\/cdn\/shop\/products\/Om_Cordy_Tile7.jpg?v=1670880043","width":2560},{"alt":null,"id":12098569404574,"position":10,"preview_image":{"aspect_ratio":1.0,"height":2560,"width":2560,"src":"\/\/ommushrooms.com\/cdn\/shop\/products\/Om_Cordy_Tile4_5234684e-71ad-4c51-860e-b5dcb1b6c0be.jpg?v=1670880043"},"aspect_ratio":1.0,"height":2560,"media_type":"image","src":"\/\/ommushrooms.com\/cdn\/shop\/products\/Om_Cordy_Tile4_5234684e-71ad-4c51-860e-b5dcb1b6c0be.jpg?v=1670880043","width":2560},{"alt":null,"id":11653766774942,"position":11,"preview_image":{"aspect_ratio":1.0,"height":2560,"width":2560,"src":"\/\/ommushrooms.com\/cdn\/shop\/products\/OM_Cordy_Tile6_819bd0b9-6e19-4330-b41c-93dc85b2e87e.jpg?v=1670880043"},"aspect_ratio":1.0,"height":2560,"media_type":"image","src":"\/\/ommushrooms.com\/cdn\/shop\/products\/OM_Cordy_Tile6_819bd0b9-6e19-4330-b41c-93dc85b2e87e.jpg?v=1670880043","width":2560},{"alt":"variant2","id":11653766512798,"position":12,"preview_image":{"aspect_ratio":1.0,"height":2560,"width":2560,"src":"\/\/ommushrooms.com\/cdn\/shop\/products\/Om_Cordy_Tile1.jpg?v=1670880043"},"aspect_ratio":1.0,"height":2560,"media_type":"image","src":"\/\/ommushrooms.com\/cdn\/shop\/products\/Om_Cordy_Tile1.jpg?v=1670880043","width":2560},{"alt":"variant3","id":23425497530526,"position":13,"preview_image":{"aspect_ratio":1.0,"height":2400,"width":2400,"src":"\/\/ommushrooms.com\/cdn\/shop\/products\/Om_Cordy200g_Tile1_740cecb8-5859-4d1f-8c3d-aaa0ce6babd2.jpg?v=1670880043"},"aspect_ratio":1.0,"height":2400,"media_type":"image","src":"\/\/ommushrooms.com\/cdn\/shop\/products\/Om_Cordy200g_Tile1_740cecb8-5859-4d1f-8c3d-aaa0ce6babd2.jpg?v=1670880043","width":2400},{"alt":"variant1","id":11653766807710,"position":14,"preview_image":{"aspect_ratio":1.0,"height":2560,"width":2560,"src":"\/\/ommushrooms.com\/cdn\/shop\/products\/Om_Cordy_Tile5_9cf90058-36ef-4cc2-a7fa-6b68fcc7d70c.jpg?v=1670880043"},"aspect_ratio":1.0,"height":2560,"media_type":"image","src":"\/\/ommushrooms.com\/cdn\/shop\/products\/Om_Cordy_Tile5_9cf90058-36ef-4cc2-a7fa-6b68fcc7d70c.jpg?v=1670880043","width":2560}],"requires_selling_plan":false,"selling_plan_groups":[{"id":"35084af693f61be0db03295f79d41e72f3aeb987","name":"Cordyceps Organic Mushroom Powder","options":[{"name":"30 Day(s), 60 Day(s), 90 Day(s), 120 Day(s), 150 Day(s), 180 Day(s)","position":1,"values":["30 Day(s)","60 Day(s)","90 Day(s)","120 Day(s)","150 Day(s)","180 Day(s)"]}],"selling_plans":[{"id":1621295262,"name":"Delivery every 30 Days","description":null,"options":[{"name":"30 Day(s), 60 Day(s), 90 Day(s), 120 Day(s), 150 Day(s), 180 Day(s)","position":1,"value":"30 Day(s)"}],"recurring_deliveries":true,"price_adjustments":[{"order_count":null,"position":1,"value_type":"percentage","value":15}],"checkout_charge":{"value_type":"percentage","value":100}},{"id":1621393566,"name":"Delivery every 60 Days","description":null,"options":[{"name":"30 Day(s), 60 Day(s), 90 Day(s), 120 Day(s), 150 Day(s), 180 Day(s)","position":1,"value":"60 Day(s)"}],"recurring_deliveries":true,"price_adjustments":[{"order_count":null,"position":1,"value_type":"percentage","value":15}],"checkout_charge":{"value_type":"percentage","value":100}},{"id":1621426334,"name":"Delivery every 90 Days","description":null,"options":[{"name":"30 Day(s), 60 Day(s), 90 Day(s), 120 Day(s), 150 Day(s), 180 Day(s)","position":1,"value":"90 Day(s)"}],"recurring_deliveries":true,"price_adjustments":[{"order_count":null,"position":1,"value_type":"percentage","value":15}],"checkout_charge":{"value_type":"percentage","value":100}},{"id":1621491870,"name":"Delivery every 120 Days","description":null,"options":[{"name":"30 Day(s), 60 Day(s), 90 Day(s), 120 Day(s), 150 Day(s), 180 Day(s)","position":1,"value":"120 Day(s)"}],"recurring_deliveries":true,"price_adjustments":[{"order_count":null,"position":1,"value_type":"percentage","value":15}],"checkout_charge":{"value_type":"percentage","value":100}},{"id":1621557406,"name":"Delivery every 150 Days","description":null,"options":[{"name":"30 Day(s), 60 Day(s), 90 Day(s), 120 Day(s), 150 Day(s), 180 Day(s)","position":1,"value":"150 Day(s)"}],"recurring_deliveries":true,"price_adjustments":[{"order_count":null,"position":1,"value_type":"percentage","value":15}],"checkout_charge":{"value_type":"percentage","value":100}},{"id":1621622942,"name":"Delivery every 180 Days","description":null,"options":[{"name":"30 Day(s), 60 Day(s), 90 Day(s), 120 Day(s), 150 Day(s), 180 Day(s)","position":1,"value":"180 Day(s)"}],"recurring_deliveries":true,"price_adjustments":[{"order_count":null,"position":1,"value_type":"percentage","value":15}],"checkout_charge":{"value_type":"percentage","value":100}}],"app_id":"294517"}],"content":"\u003ch2\u003eThe Performance Mushroom\u003c\/h2\u003e\n\u003cp\u003eOriginally discovered by Tibetan herdsman at high altitudes, Cordyceps optimizes oxygen uptake and delivery to increase vitality and endurance. Awaken energy, improve cardio and ignite your inner strength.‡\u003c\/p\u003e"}
{"id":1919002443872,"title":"Reishi Organic Mushroom Powder","handle":"reishi","description":"\u003ch2\u003eThe Balancing Mushroom\u003c\/h2\u003e\n\u003cp\u003eHarmonize your longevity, energy and spirit with this superior immunity tonic. Natural adaptogen to help balance mental and physical stress. Nourish your heart and soothe an overactive immune system. Enlighten and relax, find your Savasana.‡\u003c\/p\u003e","published_at":"2021-08-19T11:47:01-07:00","created_at":"2019-02-04T15:03:40-08:00","vendor":"Om Mushroom Superfood","type":"Powders","tags":["reishi","stress management","YGroup_reishi"],"price":1999,"price_min":1999,"price_max":4299,"available":true,"price_varies":true,"compare_at_price":null,"compare_at_price_min":0,"compare_at_price_max":0,"compare_at_price_varies":false,"variants":[{"id":42297461735582,"title":"30 Servings | 2.1 oz (60g) \/ Powder","option1":"30 Servings | 2.1 oz (60g)","option2":"Powder","option3":null,"sku":"60530","requires_shipping":true,"taxable":true,"featured_image":{"id":35048179171486,"product_id":1919002443872,"position":2,"created_at":"2022-12-12T12:53:53-08:00","updated_at":"2022-12-12T12:53:56-08:00","alt":"variant1","width":2400,"height":2400,"src":"\/\/ommushrooms.com\/cdn\/shop\/products\/Reishi_60g_Mockup_Front_559051ed-c158-492d-9c56-8fd0384a079d.jpg?v=1670878436","variant_ids":[42297461735582]},"available":true,"name":"Reishi Organic Mushroom Powder - 30 Servings | 2.1 oz (60g) \/ Powder","public_title":"30 Servings | 2.1 oz (60g) \/ Powder","options":["30 Servings | 2.1 oz (60g)","Powder"],"price":1999,"weight":91,"compare_at_price":null,"inventory_management":"shopify","barcode":"856210008455","featured_media":{"alt":"variant1","id":27502156054686,"position":2,"preview_image":{"aspect_ratio":1.0,"height":2400,"width":2400,"src":"\/\/ommushrooms.com\/cdn\/shop\/products\/Reishi_60g_Mockup_Front_559051ed-c158-492d-9c56-8fd0384a079d.jpg?v=1670878436"}},"requires_selling_plan":false,"selling_plan_allocations":[{"price_adjustments":[{"position":1,"price":1699}],"price":1699,"compare_at_price":1999,"per_delivery_price":1699,"selling_plan_id":1614184606,"selling_plan_group_id":"bfa34c106e9eafdc5ae3f1ced75011db178be5d6"},{"price_adjustments":[{"position":1,"price":1699}],"price":1699,"compare_at_price":1999,"per_delivery_price":1699,"selling_plan_id":1614250142,"selling_plan_group_id":"bfa34c106e9eafdc5ae3f1ced75011db178be5d6"},{"price_adjustments":[{"position":1,"price":1699}],"price":1699,"compare_at_price":1999,"per_delivery_price":1699,"selling_plan_id":1614348446,"selling_plan_group_id":"bfa34c106e9eafdc5ae3f1ced75011db178be5d6"},{"price_adjustments":[{"position":1,"price":1699}],"price":1699,"compare_at_price":1999,"per_delivery_price":1699,"selling_plan_id":1614479518,"selling_plan_group_id":"bfa34c106e9eafdc5ae3f1ced75011db178be5d6"},{"price_adjustments":[{"position":1,"price":1699}],"price":1699,"compare_at_price":1999,"per_delivery_price":1699,"selling_plan_id":1614610590,"selling_plan_group_id":"bfa34c106e9eafdc5ae3f1ced75011db178be5d6"},{"price_adjustments":[{"position":1,"price":1699}],"price":1699,"compare_at_price":1999,"per_delivery_price":1699,"selling_plan_id":1614774430,"selling_plan_group_id":"bfa34c106e9eafdc5ae3f1ced75011db178be5d6"}],"quantity_rule":{"min":1,"max":null,"increment":1}},{"id":18554016661600,"title":"50 Servings | 3.5 oz (100g) \/ Powder","option1":"50 Servings | 3.5 oz (100g)","option2":"Powder","option3":null,"sku":"60260","requires_shipping":true,"taxable":true,"featured_image":{"id":30676718747806,"product_id":1919002443872,"position":4,"created_at":"2021-09-15T12:47:56-07:00","updated_at":"2022-12-12T13:19:54-08:00","alt":"variant2","width":2400,"height":2400,"src":"\/\/ommushrooms.com\/cdn\/shop\/products\/Reishi100g-006_Front.jpg?v=1670879994","variant_ids":[18554016661600]},"available":false,"name":"Reishi Organic Mushroom Powder - 50 Servings | 3.5 oz (100g) \/ Powder","public_title":"50 Servings | 3.5 oz (100g) \/ Powder","options":["50 Servings | 3.5 oz (100g)","Powder"],"price":2699,"weight":91,"compare_at_price":null,"inventory_management":"shopify","barcode":"892392002027","featured_media":{"alt":"variant2","id":23048659796126,"position":4,"preview_image":{"aspect_ratio":1.0,"height":2400,"width":2400,"src":"\/\/ommushrooms.com\/cdn\/shop\/products\/Reishi100g-006_Front.jpg?v=1670879994"}},"requires_selling_plan":false,"selling_plan_allocations":[{"price_adjustments":[{"position":1,"price":2294}],"price":2294,"compare_at_price":2699,"per_delivery_price":2294,"selling_plan_id":1614184606,"selling_plan_group_id":"bfa34c106e9eafdc5ae3f1ced75011db178be5d6"},{"price_adjustments":[{"position":1,"price":2294}],"price":2294,"compare_at_price":2699,"per_delivery_price":2294,"selling_plan_id":1614250142,"selling_plan_group_id":"bfa34c106e9eafdc5ae3f1ced75011db178be5d6"},{"price_adjustments":[{"position":1,"price":2294}],"price":2294,"compare_at_price":2699,"per_delivery_price":2294,"selling_plan_id":1614348446,"selling_plan_group_id":"bfa34c106e9eafdc5ae3f1ced75011db178be5d6"},{"price_adjustments":[{"position":1,"price":2294}],"price":2294,"compare_at_price":2699,"per_delivery_price":2294,"selling_plan_id":1614479518,"selling_plan_group_id":"bfa34c106e9eafdc5ae3f1ced75011db178be5d6"},{"price_adjustments":[{"position":1,"price":2294}],"price":2294,"compare_at_price":2699,"per_delivery_price":2294,"selling_plan_id":1614610590,"selling_plan_group_id":"bfa34c106e9eafdc5ae3f1ced75011db178be5d6"},{"price_adjustments":[{"position":1,"price":2294}],"price":2294,"compare_at_price":2699,"per_delivery_price":2294,"selling_plan_id":1614774430,"selling_plan_group_id":"bfa34c106e9eafdc5ae3f1ced75011db178be5d6"}],"quantity_rule":{"min":1,"max":null,"increment":1}},{"id":18554016628832,"title":"100 Servings | 7.05 oz (200g) \/ Powder","option1":"100 Servings | 7.05 oz (200g)","option2":"Powder","option3":null,"sku":"60275","requires_shipping":true,"taxable":true,"featured_image":{"id":31046698238110,"product_id":1919002443872,"position":1,"created_at":"2021-10-08T16:26:18-07:00","updated_at":"2021-11-18T13:50:37-08:00","alt":"variant3","width":2400,"height":2400,"src":"\/\/ommushrooms.com\/cdn\/shop\/products\/Reishi_200g_Front.jpg?v=1637272237","variant_ids":[18554016628832]},"available":false,"name":"Reishi Organic Mushroom Powder - 100 Servings | 7.05 oz (200g) \/ Powder","public_title":"100 Servings | 7.05 oz (200g) \/ Powder","options":["100 Servings | 7.05 oz (200g)","Powder"],"price":4299,"weight":181,"compare_at_price":null,"inventory_management":"shopify","barcode":"850030553270","featured_media":{"alt":"variant3","id":23425872003230,"position":1,"preview_image":{"aspect_ratio":1.0,"height":2400,"width":2400,"src":"\/\/ommushrooms.com\/cdn\/shop\/products\/Reishi_200g_Front.jpg?v=1637272237"}},"requires_selling_plan":false,"selling_plan_allocations":[{"price_adjustments":[{"position":1,"price":3654}],"price":3654,"compare_at_price":4299,"per_delivery_price":3654,"selling_plan_id":1614184606,"selling_plan_group_id":"bfa34c106e9eafdc5ae3f1ced75011db178be5d6"},{"price_adjustments":[{"position":1,"price":3654}],"price":3654,"compare_at_price":4299,"per_delivery_price":3654,"selling_plan_id":1614250142,"selling_plan_group_id":"bfa34c106e9eafdc5ae3f1ced75011db178be5d6"},{"price_adjustments":[{"position":1,"price":3654}],"price":3654,"compare_at_price":4299,"per_delivery_price":3654,"selling_plan_id":1614348446,"selling_plan_group_id":"bfa34c106e9eafdc5ae3f1ced75011db178be5d6"},{"price_adjustments":[{"position":1,"price":3654}],"price":3654,"compare_at_price":4299,"per_delivery_price":3654,"selling_plan_id":1614479518,"selling_plan_group_id":"bfa34c106e9eafdc5ae3f1ced75011db178be5d6"},{"price_adjustments":[{"position":1,"price":3654}],"price":3654,"compare_at_price":4299,"per_delivery_price":3654,"selling_plan_id":1614610590,"selling_plan_group_id":"bfa34c106e9eafdc5ae3f1ced75011db178be5d6"},{"price_adjustments":[{"position":1,"price":3654}],"price":3654,"compare_at_price":4299,"per_delivery_price":3654,"selling_plan_id":1614774430,"selling_plan_group_id":"bfa34c106e9eafdc5ae3f1ced75011db178be5d6"}],"quantity_rule":{"min":1,"max":null,"increment":1}}],"images":["\/\/ommushrooms.com\/cdn\/shop\/products\/Reishi_200g_Front.jpg?v=1637272237","\/\/ommushrooms.com\/cdn\/shop\/products\/Reishi_60g_Mockup_Front_559051ed-c158-492d-9c56-8fd0384a079d.jpg?v=1670878436","\/\/ommushrooms.com\/cdn\/shop\/products\/Om_Reishi_60g_Mockup_Back_15405-003.jpg?v=1670879994","\/\/ommushrooms.com\/cdn\/shop\/products\/Reishi100g-006_Front.jpg?v=1670879994","\/\/ommushrooms.com\/cdn\/shop\/products\/Reishi100g-006_Back.jpg?v=1670879994","\/\/ommushrooms.com\/cdn\/shop\/products\/Reishi_200g_Back.jpg?v=1670879994","\/\/ommushrooms.com\/cdn\/shop\/products\/Om_Reishi_Tile2.jpg?v=1670879994","\/\/ommushrooms.com\/cdn\/shop\/products\/Om_Reishi_Tile3.jpg?v=1670879994","\/\/ommushrooms.com\/cdn\/shop\/products\/Om_Reishi_Tile6_5236be8c-a669-4e38-a771-34c67fb552b0.jpg?v=1670879994","\/\/ommushrooms.com\/cdn\/shop\/products\/Om_Reishi_Tile1.jpg?v=1670879994","\/\/ommushrooms.com\/cdn\/shop\/products\/Om_Reishi200g_Tile1_7630b6f8-6a5d-4039-85c4-fe1a18e97990.jpg?v=1670879994","\/\/ommushrooms.com\/cdn\/shop\/products\/Om_Reishi_Tile7.jpg?v=1670879994","\/\/ommushrooms.com\/cdn\/shop\/products\/Om_Reishi_Tile5_2e63a025-1223-42a7-9598-df5614f4d361.jpg?v=1670879994"],"featured_image":"\/\/ommushrooms.com\/cdn\/shop\/products\/Reishi_200g_Front.jpg?v=1637272237","options":["Size","Format"],"media":[{"alt":"variant3","id":23425872003230,"position":1,"preview_image":{"aspect_ratio":1.0,"height":2400,"width":2400,"src":"\/\/ommushrooms.com\/cdn\/shop\/products\/Reishi_200g_Front.jpg?v=1637272237"},"aspect_ratio":1.0,"height":2400,"media_type":"image","src":"\/\/ommushrooms.com\/cdn\/shop\/products\/Reishi_200g_Front.jpg?v=1637272237","width":2400},{"alt":"variant1","id":27502156054686,"position":2,"preview_image":{"aspect_ratio":1.0,"height":2400,"width":2400,"src":"\/\/ommushrooms.com\/cdn\/shop\/products\/Reishi_60g_Mockup_Front_559051ed-c158-492d-9c56-8fd0384a079d.jpg?v=1670878436"},"aspect_ratio":1.0,"height":2400,"media_type":"image","src":"\/\/ommushrooms.com\/cdn\/shop\/products\/Reishi_60g_Mockup_Front_559051ed-c158-492d-9c56-8fd0384a079d.jpg?v=1670878436","width":2400},{"alt":"variant1","id":27502253703326,"position":3,"preview_image":{"aspect_ratio":1.0,"height":2400,"width":2400,"src":"\/\/ommushrooms.com\/cdn\/shop\/products\/Om_Reishi_60g_Mockup_Back_15405-003.jpg?v=1670879994"},"aspect_ratio":1.0,"height":2400,"media_type":"image","src":"\/\/ommushrooms.com\/cdn\/shop\/products\/Om_Reishi_60g_Mockup_Back_15405-003.jpg?v=1670879994","width":2400},{"alt":"variant2","id":23048659796126,"position":4,"preview_image":{"aspect_ratio":1.0,"height":2400,"width":2400,"src":"\/\/ommushrooms.com\/cdn\/shop\/products\/Reishi100g-006_Front.jpg?v=1670879994"},"aspect_ratio":1.0,"height":2400,"media_type":"image","src":"\/\/ommushrooms.com\/cdn\/shop\/products\/Reishi100g-006_Front.jpg?v=1670879994","width":2400},{"alt":"variant2","id":23048659763358,"position":5,"preview_image":{"aspect_ratio":1.0,"height":2400,"width":2400,"src":"\/\/ommushrooms.com\/cdn\/shop\/products\/Reishi100g-006_Back.jpg?v=1670879994"},"aspect_ratio":1.0,"height":2400,"media_type":"image","src":"\/\/ommushrooms.com\/cdn\/shop\/products\/Reishi100g-006_Back.jpg?v=1670879994","width":2400},{"alt":"variant3","id":23425871970462,"position":6,"preview_image":{"aspect_ratio":1.0,"height":2400,"width":2400,"src":"\/\/ommushrooms.com\/cdn\/shop\/products\/Reishi_200g_Back.jpg?v=1670879994"},"aspect_ratio":1.0,"height":2400,"media_type":"image","src":"\/\/ommushrooms.com\/cdn\/shop\/products\/Reishi_200g_Back.jpg?v=1670879994","width":2400},{"alt":null,"id":12099301245086,"position":7,"preview_image":{"aspect_ratio":1.0,"height":2560,"width":2560,"src":"\/\/ommushrooms.com\/cdn\/shop\/products\/Om_Reishi_Tile2.jpg?v=1670879994"},"aspect_ratio":1.0,"height":2560,"media_type":"image","src":"\/\/ommushrooms.com\/cdn\/shop\/products\/Om_Reishi_Tile2.jpg?v=1670879994","width":2560},{"alt":null,"id":12099314024606,"position":8,"preview_image":{"aspect_ratio":1.0,"height":2560,"width":2560,"src":"\/\/ommushrooms.com\/cdn\/shop\/products\/Om_Reishi_Tile3.jpg?v=1670879994"},"aspect_ratio":1.0,"height":2560,"media_type":"image","src":"\/\/ommushrooms.com\/cdn\/shop\/products\/Om_Reishi_Tile3.jpg?v=1670879994","width":2560},{"alt":null,"id":11653785911454,"position":9,"preview_image":{"aspect_ratio":1.0,"height":2560,"width":2560,"src":"\/\/ommushrooms.com\/cdn\/shop\/products\/Om_Reishi_Tile6_5236be8c-a669-4e38-a771-34c67fb552b0.jpg?v=1670879994"},"aspect_ratio":1.0,"height":2560,"media_type":"image","src":"\/\/ommushrooms.com\/cdn\/shop\/products\/Om_Reishi_Tile6_5236be8c-a669-4e38-a771-34c67fb552b0.jpg?v=1670879994","width":2560},{"alt":"variant2","id":11653785583774,"position":10,"preview_image":{"aspect_ratio":1.0,"height":2560,"width":2560,"src":"\/\/ommushrooms.com\/cdn\/shop\/products\/Om_Reishi_Tile1.jpg?v=1670879994"},"aspect_ratio":1.0,"height":2560,"media_type":"image","src":"\/\/ommushrooms.com\/cdn\/shop\/products\/Om_Reishi_Tile1.jpg?v=1670879994","width":2560},{"alt":"variant3","id":23425871511710,"position":11,"preview_image":{"aspect_ratio":1.0,"height":2400,"width":2400,"src":"\/\/ommushrooms.com\/cdn\/shop\/products\/Om_Reishi200g_Tile1_7630b6f8-6a5d-4039-85c4-fe1a18e97990.jpg?v=1670879994"},"aspect_ratio":1.0,"height":2400,"media_type":"image","src":"\/\/ommushrooms.com\/cdn\/shop\/products\/Om_Reishi200g_Tile1_7630b6f8-6a5d-4039-85c4-fe1a18e97990.jpg?v=1670879994","width":2400},{"alt":null,"id":12099306684574,"position":12,"preview_image":{"aspect_ratio":1.0,"height":2560,"width":2560,"src":"\/\/ommushrooms.com\/cdn\/shop\/products\/Om_Reishi_Tile7.jpg?v=1670879994"},"aspect_ratio":1.0,"height":2560,"media_type":"image","src":"\/\/ommushrooms.com\/cdn\/shop\/products\/Om_Reishi_Tile7.jpg?v=1670879994","width":2560},{"alt":"variant1","id":11653785944222,"position":13,"preview_image":{"aspect_ratio":1.0,"height":2560,"width":2560,"src":"\/\/ommushrooms.com\/cdn\/shop\/products\/Om_Reishi_Tile5_2e63a025-1223-42a7-9598-df5614f4d361.jpg?v=1670879994"},"aspect_ratio":1.0,"height":2560,"media_type":"image","src":"\/\/ommushrooms.com\/cdn\/shop\/products\/Om_Reishi_Tile5_2e63a025-1223-42a7-9598-df5614f4d361.jpg?v=1670879994","width":2560}],"requires_selling_plan":false,"selling_plan_groups":[{"id":"bfa34c106e9eafdc5ae3f1ced75011db178be5d6","name":"Reishi Organic Mushroom Powder","options":[{"name":"30 Day(s), 60 Day(s), 90 Day(s), 120 Day(s), 150 Day(s), 180 Day(s)","position":1,"values":["30 Day(s)","60 Day(s)","90 Day(s)","120 Day(s)","150 Day(s)","180 Day(s)"]}],"selling_plans":[{"id":1614184606,"name":"Delivery every 30 Days","description":null,"options":[{"name":"30 Day(s), 60 Day(s), 90 Day(s), 120 Day(s), 150 Day(s), 180 Day(s)","position":1,"value":"30 Day(s)"}],"recurring_deliveries":true,"price_adjustments":[{"order_count":null,"position":1,"value_type":"percentage","value":15}],"checkout_charge":{"value_type":"percentage","value":100}},{"id":1614250142,"name":"Delivery every 60 Days","description":null,"options":[{"name":"30 Day(s), 60 Day(s), 90 Day(s), 120 Day(s), 150 Day(s), 180 Day(s)","position":1,"value":"60 Day(s)"}],"recurring_deliveries":true,"price_adjustments":[{"order_count":null,"position":1,"value_type":"percentage","value":15}],"checkout_charge":{"value_type":"percentage","value":100}},{"id":1614348446,"name":"Delivery every 90 Days","description":null,"options":[{"name":"30 Day(s), 60 Day(s), 90 Day(s), 120 Day(s), 150 Day(s), 180 Day(s)","position":1,"value":"90 Day(s)"}],"recurring_deliveries":true,"price_adjustments":[{"order_count":null,"position":1,"value_type":"percentage","value":15}],"checkout_charge":{"value_type":"percentage","value":100}},{"id":1614479518,"name":"Delivery every 120 Days","description":null,"options":[{"name":"30 Day(s), 60 Day(s), 90 Day(s), 120 Day(s), 150 Day(s), 180 Day(s)","position":1,"value":"120 Day(s)"}],"recurring_deliveries":true,"price_adjustments":[{"order_count":null,"position":1,"value_type":"percentage","value":15}],"checkout_charge":{"value_type":"percentage","value":100}},{"id":1614610590,"name":"Delivery every 150 Days","description":null,"options":[{"name":"30 Day(s), 60 Day(s), 90 Day(s), 120 Day(s), 150 Day(s), 180 Day(s)","position":1,"value":"150 Day(s)"}],"recurring_deliveries":true,"price_adjustments":[{"order_count":null,"position":1,"value_type":"percentage","value":15}],"checkout_charge":{"value_type":"percentage","value":100}},{"id":1614774430,"name":"Delivery every 180 Days","description":null,"options":[{"name":"30 Day(s), 60 Day(s), 90 Day(s), 120 Day(s), 150 Day(s), 180 Day(s)","position":1,"value":"180 Day(s)"}],"recurring_deliveries":true,"price_adjustments":[{"order_count":null,"position":1,"value_type":"percentage","value":15}],"checkout_charge":{"value_type":"percentage","value":100}}],"app_id":"294517"}],"content":"\u003ch2\u003eThe Balancing Mushroom\u003c\/h2\u003e\n\u003cp\u003eHarmonize your longevity, energy and spirit with this superior immunity tonic. Natural adaptogen to help balance mental and physical stress. Nourish your heart and soothe an overactive immune system. Enlighten and relax, find your Savasana.‡\u003c\/p\u003e"}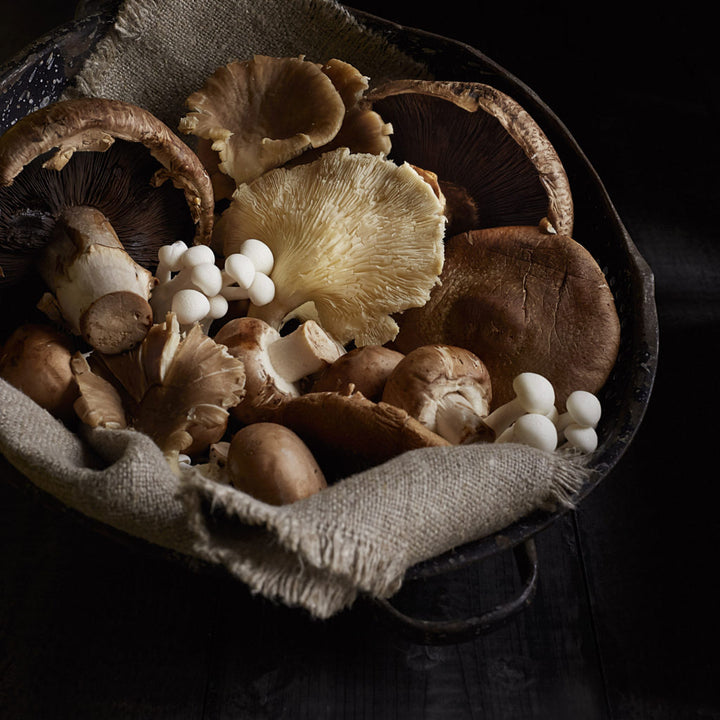 Ingredients
4½ cups Om Veggie Miso Broth
¼ cup raw cashews
1 tsp Om CHAGA mushroom powder
2 Tbsp coconut oil
1/3 cup minced shallot, finely chopped
1 clove garlic, minced
8 oz crimini or Portobello mushrooms, chopped
8 oz shiitake mushrooms, chopped
6 oz maitake mushrooms (or use portobello), chopped
1 Tbsp chopped fresh thyme
Sea salt and freshly ground black pepper
Chopped parsley, for garnish
Directions
This soup is full of secrets. Secret number 1 is the immense healing power of this soup, thanks to all the mushrooms Secret number 2 is that this recipe is much more flexible than you might think: if you're missing a mushroom or two of a certain variety, you can easily swap in another, as long as you keep the same total quantity of fresh and powdered mushrooms that is called for in the recipe (technically, you can even make this Two Mushroom Soup, if it's more your style). And secret number 3 is that mushroom soup is quite possibly the best thing ever, needing very little extra ingredient oomph to get its flavorful point across. Don't thank me for the deliciousness of this soup. Thank the mushrooms!
Combine the broth, cashews, and all three Om mushroom powders in a blender, and process until smooth. Warm the coconut oil in a heavy-bottomed pot on medium heat. Add the shallot and garlic and cook until softened, about 2 minutes. Add all the chopped mushrooms, thyme, and ¼ cup of the cashew-broth mixture and cook, stirring constantly, until the mushrooms have softened, about 3–4 minutes. Add the remaining cashew-broth mixture, season with ½ teaspoon sea salt and a little ground black pepper, and bring to a boil. Reduce the heat to low and simmer, uncovered, for 20 minutes.
Pour half the soup into a blender, and blend until smooth. Add the remaining soup, and blend for just a moment to incorporate, while leaving in some texture from the chopped mushrooms. Add additional water to thin the soup, if needed, and adjust seasoning if desired. Ladle the soup into bowls and serve with a pinch of freshly chopped parsley.  
FEEL-GOOD FACT: Broths are naturally high in minerals and electrolytes. Warmed up, they make an excellent post-exercise drink to aid in recovery and hydration.
Julie Morris is a California-based superfood chef, best-selling author of five cookbooks, and the co-founder of Luminberry – an online center for learning how to cook with superfoods. Having worked in the natural food industry for over a decade, Julie currently enjoys her time as a sought-after recipe developer and consultant for leading food companies and cutting-edge restaurants, and is a frequent media contributor featured in Wall Street Journal, GQ, Clean Eating, SELF, and many more.