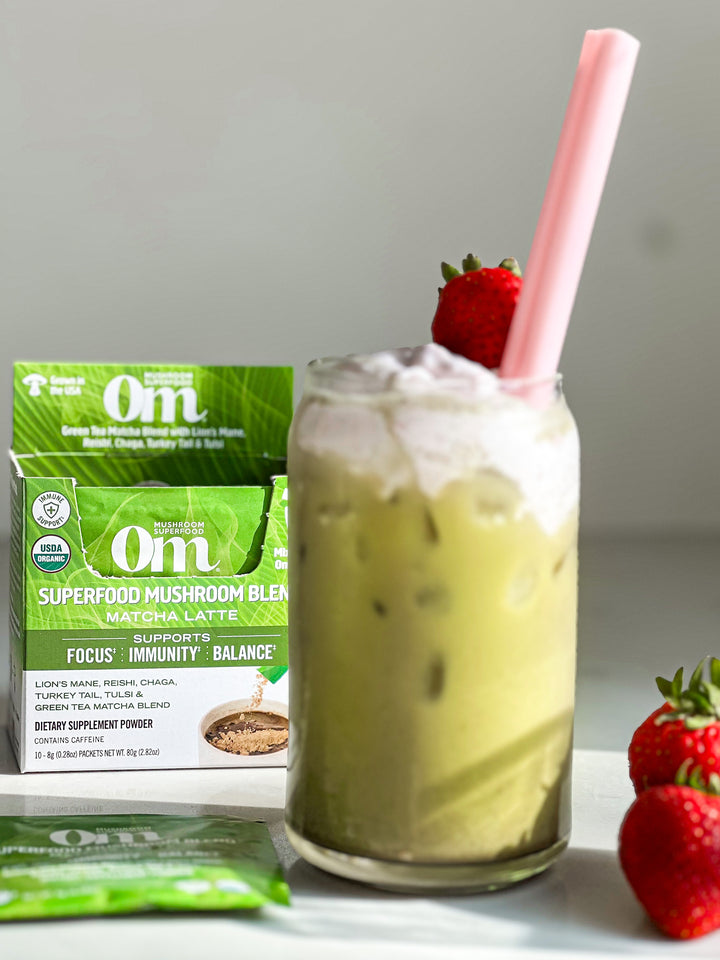 What's better than an iced matcha latte on a hot day? A functional iced matcha latte with strawberry coconut cream. 🍓🍵🥥
This recipe is one you'll be sure to come back to time-and-time again. It combines our Om Mushroom Matcha Latte Blend with whipped coconut strawberry cream and the benefits of Lion's Mane, Chaga, Reishi, and Turkey Tail mushrooms. 
Here's how to make it!
Matcha Latte Ingredients
In a mug, combine the hot water and Om Powdered Matcha Latte powder and use a frother to mix until slightly foamy on top.
Add 1 teaspoon of maple syrup or honey, and give it a quick froth to make sure everything's combined well.
Pour in 6 ounces of oat milk and add ice
Strawberry Whipped Cream Topping 
3-4 medium strawberries, mashed

1 can of cold coconut milk, fat separated from liquid and set aside (liquid can be discarded)

1 teaspoon maple syrup or honey

1/2 tsp of vanilla extract
Separately, in a small bowl, use a hand mixer to whip the mashed strawberries, cold, solid coconut cream, vanilla extract and maple syrup until the mixture looks well fluffy and well combined. Taste and adjust for sweetness preference.

Spoon the strawberry whipped cream topping over the iced matcha mixture. Stir gently and enjoy!