Our founders, Sandra Carter (M.A. MPH, Ph.D.), a health and wellness expert with a PhD in preventative medicine, and Steve Farrar, a mycologist with over 30 years experience growing mushrooms, both have a deep-rooted passion for mushrooms. Om grows 11 species of mushrooms in our Certified 100% Organic, BRCGS AA rated Carlsbad, California facility.
Om Mushroom Growing Process
From Carlsbad, California to Your Home
Why "Om"?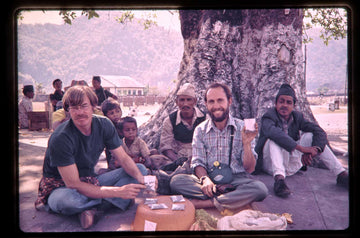 Om co-founder, mycologist Steve Farrar (second from right). At age 24, Steve spent 2 years in the Peace Corps in Nepal helping farmers grow vegetables at high altitudes.
The word "Om" in our brand stands for Organic Mushrooms, as our mushrooms are Certified Organic. There is a deeper meaning to Om, and we acknowledge it has cultural and spiritual significance.
Om is much more than a chant or a symbol. It is a sacred concept, revered for its deep spiritual importance in multiple religions. Om is often recognized as a chant and when said aloud, the Om (Aum) sound vibrates, creating energy and connection.
By choosing Om as our brand name, our intent is for all our products to pay homage to what Om represents—connection, spirituality and the universal possibility for humankind.
We're driven by a passionate desire to foster that spirit by connecting people with their full potential. It starts with personal well-being.
Most importantly, we are open to the conversation and are interested in your feedback and insights.
From Carlsbad, California to Your Home
We grow our mushrooms in an environmentally controlled, BRCGS AA rated indoor farm in Carlsbad, California. Through years of growing experience, the team has developed the expertise to manage the light, temperature, hydration and air flow for each of the 11 species of mushrooms. The ability to grow the mushrooms in a controlled growing environment helps to optimize the growing cycle and bioactive compounds.
Mushrooms are bio-accumulators, which means they will absorb whatever is in their environment. Om's pristine growing facility ensures that no toxins, pesticides or heavy metals will compromise the final product. Often, you'll find traces of these things in mushrooms grown overseas. 
"Om Mushrooms is all about amazing, functional, whole food, organic mushrooms with life changing health benefits."

Sandra Carter -

Founder
Sandra Carter (M.A. MPH, PH.D)

,
Founder and President
Sandra Carter is a health & wellness expert with a PhD in preventative medicine. She has over 35 years of experience in community health, corporate health, research and hospital administration.
Steve Farrar

,
Chief Technical Officer and Renowned Mycologist
Considered a pioneer in the cultivation of mycelial mushrooms, Steve Farrar has over 40 years of experience in specialty agriculture and organic food production systems. He has also been involved in mycology and mushroom production for over 30 years.