{"id":1919002443872,"title":"Reishi Organic Mushroom Powder","handle":"reishi","description":"\u003ch2\u003eThe Balancing Mushroom\u003c\/h2\u003e\n\u003cp\u003eHarmonize your longevity, energy and spirit with this superior immunity tonic. Natural adaptogen to help balance mental and physical stress. Nourish your heart and soothe an overactive immune system. Enlighten and relax, find your Savasana.‡\u003c\/p\u003e","published_at":"2021-08-19T11:47:01-07:00","created_at":"2019-02-04T15:03:40-08:00","vendor":"Om Mushroom Superfood","type":"Powders","tags":["reishi","stress management","YGroup_reishi"],"price":1999,"price_min":1999,"price_max":4299,"available":true,"price_varies":true,"compare_at_price":null,"compare_at_price_min":0,"compare_at_price_max":0,"compare_at_price_varies":false,"variants":[{"id":42297461735582,"title":"30 Servings | 2.1 oz (60g) \/ Powder","option1":"30 Servings | 2.1 oz (60g)","option2":"Powder","option3":null,"sku":"60530","requires_shipping":true,"taxable":true,"featured_image":{"id":35048179171486,"product_id":1919002443872,"position":2,"created_at":"2022-12-12T12:53:53-08:00","updated_at":"2022-12-12T12:53:56-08:00","alt":"variant1","width":2400,"height":2400,"src":"\/\/ommushrooms.com\/cdn\/shop\/products\/Reishi_60g_Mockup_Front_559051ed-c158-492d-9c56-8fd0384a079d.jpg?v=1670878436","variant_ids":[42297461735582]},"available":true,"name":"Reishi Organic Mushroom Powder - 30 Servings | 2.1 oz (60g) \/ Powder","public_title":"30 Servings | 2.1 oz (60g) \/ Powder","options":["30 Servings | 2.1 oz (60g)","Powder"],"price":1999,"weight":91,"compare_at_price":null,"inventory_management":"shopify","barcode":"856210008455","featured_media":{"alt":"variant1","id":27502156054686,"position":2,"preview_image":{"aspect_ratio":1.0,"height":2400,"width":2400,"src":"\/\/ommushrooms.com\/cdn\/shop\/products\/Reishi_60g_Mockup_Front_559051ed-c158-492d-9c56-8fd0384a079d.jpg?v=1670878436"}},"requires_selling_plan":false,"selling_plan_allocations":[{"price_adjustments":[{"position":1,"price":1699}],"price":1699,"compare_at_price":1999,"per_delivery_price":1699,"selling_plan_id":1614184606,"selling_plan_group_id":"bfa34c106e9eafdc5ae3f1ced75011db178be5d6"},{"price_adjustments":[{"position":1,"price":1699}],"price":1699,"compare_at_price":1999,"per_delivery_price":1699,"selling_plan_id":1614250142,"selling_plan_group_id":"bfa34c106e9eafdc5ae3f1ced75011db178be5d6"},{"price_adjustments":[{"position":1,"price":1699}],"price":1699,"compare_at_price":1999,"per_delivery_price":1699,"selling_plan_id":1614348446,"selling_plan_group_id":"bfa34c106e9eafdc5ae3f1ced75011db178be5d6"},{"price_adjustments":[{"position":1,"price":1699}],"price":1699,"compare_at_price":1999,"per_delivery_price":1699,"selling_plan_id":1614479518,"selling_plan_group_id":"bfa34c106e9eafdc5ae3f1ced75011db178be5d6"},{"price_adjustments":[{"position":1,"price":1699}],"price":1699,"compare_at_price":1999,"per_delivery_price":1699,"selling_plan_id":1614610590,"selling_plan_group_id":"bfa34c106e9eafdc5ae3f1ced75011db178be5d6"},{"price_adjustments":[{"position":1,"price":1699}],"price":1699,"compare_at_price":1999,"per_delivery_price":1699,"selling_plan_id":1614774430,"selling_plan_group_id":"bfa34c106e9eafdc5ae3f1ced75011db178be5d6"}],"quantity_rule":{"min":1,"max":null,"increment":1}},{"id":18554016661600,"title":"50 Servings | 3.5 oz (100g) \/ Powder","option1":"50 Servings | 3.5 oz (100g)","option2":"Powder","option3":null,"sku":"60260","requires_shipping":true,"taxable":true,"featured_image":{"id":30676718747806,"product_id":1919002443872,"position":4,"created_at":"2021-09-15T12:47:56-07:00","updated_at":"2022-12-12T13:19:54-08:00","alt":"variant2","width":2400,"height":2400,"src":"\/\/ommushrooms.com\/cdn\/shop\/products\/Reishi100g-006_Front.jpg?v=1670879994","variant_ids":[18554016661600]},"available":true,"name":"Reishi Organic Mushroom Powder - 50 Servings | 3.5 oz (100g) \/ Powder","public_title":"50 Servings | 3.5 oz (100g) \/ Powder","options":["50 Servings | 3.5 oz (100g)","Powder"],"price":2699,"weight":91,"compare_at_price":null,"inventory_management":"shopify","barcode":"892392002027","featured_media":{"alt":"variant2","id":23048659796126,"position":4,"preview_image":{"aspect_ratio":1.0,"height":2400,"width":2400,"src":"\/\/ommushrooms.com\/cdn\/shop\/products\/Reishi100g-006_Front.jpg?v=1670879994"}},"requires_selling_plan":false,"selling_plan_allocations":[{"price_adjustments":[{"position":1,"price":2294}],"price":2294,"compare_at_price":2699,"per_delivery_price":2294,"selling_plan_id":1614184606,"selling_plan_group_id":"bfa34c106e9eafdc5ae3f1ced75011db178be5d6"},{"price_adjustments":[{"position":1,"price":2294}],"price":2294,"compare_at_price":2699,"per_delivery_price":2294,"selling_plan_id":1614250142,"selling_plan_group_id":"bfa34c106e9eafdc5ae3f1ced75011db178be5d6"},{"price_adjustments":[{"position":1,"price":2294}],"price":2294,"compare_at_price":2699,"per_delivery_price":2294,"selling_plan_id":1614348446,"selling_plan_group_id":"bfa34c106e9eafdc5ae3f1ced75011db178be5d6"},{"price_adjustments":[{"position":1,"price":2294}],"price":2294,"compare_at_price":2699,"per_delivery_price":2294,"selling_plan_id":1614479518,"selling_plan_group_id":"bfa34c106e9eafdc5ae3f1ced75011db178be5d6"},{"price_adjustments":[{"position":1,"price":2294}],"price":2294,"compare_at_price":2699,"per_delivery_price":2294,"selling_plan_id":1614610590,"selling_plan_group_id":"bfa34c106e9eafdc5ae3f1ced75011db178be5d6"},{"price_adjustments":[{"position":1,"price":2294}],"price":2294,"compare_at_price":2699,"per_delivery_price":2294,"selling_plan_id":1614774430,"selling_plan_group_id":"bfa34c106e9eafdc5ae3f1ced75011db178be5d6"}],"quantity_rule":{"min":1,"max":null,"increment":1}},{"id":18554016628832,"title":"100 Servings | 7.05 oz (200g) \/ Powder","option1":"100 Servings | 7.05 oz (200g)","option2":"Powder","option3":null,"sku":"60275","requires_shipping":true,"taxable":true,"featured_image":{"id":31046698238110,"product_id":1919002443872,"position":1,"created_at":"2021-10-08T16:26:18-07:00","updated_at":"2021-11-18T13:50:37-08:00","alt":"variant3","width":2400,"height":2400,"src":"\/\/ommushrooms.com\/cdn\/shop\/products\/Reishi_200g_Front.jpg?v=1637272237","variant_ids":[18554016628832]},"available":false,"name":"Reishi Organic Mushroom Powder - 100 Servings | 7.05 oz (200g) \/ Powder","public_title":"100 Servings | 7.05 oz (200g) \/ Powder","options":["100 Servings | 7.05 oz (200g)","Powder"],"price":4299,"weight":181,"compare_at_price":null,"inventory_management":"shopify","barcode":"850030553270","featured_media":{"alt":"variant3","id":23425872003230,"position":1,"preview_image":{"aspect_ratio":1.0,"height":2400,"width":2400,"src":"\/\/ommushrooms.com\/cdn\/shop\/products\/Reishi_200g_Front.jpg?v=1637272237"}},"requires_selling_plan":false,"selling_plan_allocations":[{"price_adjustments":[{"position":1,"price":3654}],"price":3654,"compare_at_price":4299,"per_delivery_price":3654,"selling_plan_id":1614184606,"selling_plan_group_id":"bfa34c106e9eafdc5ae3f1ced75011db178be5d6"},{"price_adjustments":[{"position":1,"price":3654}],"price":3654,"compare_at_price":4299,"per_delivery_price":3654,"selling_plan_id":1614250142,"selling_plan_group_id":"bfa34c106e9eafdc5ae3f1ced75011db178be5d6"},{"price_adjustments":[{"position":1,"price":3654}],"price":3654,"compare_at_price":4299,"per_delivery_price":3654,"selling_plan_id":1614348446,"selling_plan_group_id":"bfa34c106e9eafdc5ae3f1ced75011db178be5d6"},{"price_adjustments":[{"position":1,"price":3654}],"price":3654,"compare_at_price":4299,"per_delivery_price":3654,"selling_plan_id":1614479518,"selling_plan_group_id":"bfa34c106e9eafdc5ae3f1ced75011db178be5d6"},{"price_adjustments":[{"position":1,"price":3654}],"price":3654,"compare_at_price":4299,"per_delivery_price":3654,"selling_plan_id":1614610590,"selling_plan_group_id":"bfa34c106e9eafdc5ae3f1ced75011db178be5d6"},{"price_adjustments":[{"position":1,"price":3654}],"price":3654,"compare_at_price":4299,"per_delivery_price":3654,"selling_plan_id":1614774430,"selling_plan_group_id":"bfa34c106e9eafdc5ae3f1ced75011db178be5d6"}],"quantity_rule":{"min":1,"max":null,"increment":1}}],"images":["\/\/ommushrooms.com\/cdn\/shop\/products\/Reishi_200g_Front.jpg?v=1637272237","\/\/ommushrooms.com\/cdn\/shop\/products\/Reishi_60g_Mockup_Front_559051ed-c158-492d-9c56-8fd0384a079d.jpg?v=1670878436","\/\/ommushrooms.com\/cdn\/shop\/products\/Om_Reishi_60g_Mockup_Back_15405-003.jpg?v=1670879994","\/\/ommushrooms.com\/cdn\/shop\/products\/Reishi100g-006_Front.jpg?v=1670879994","\/\/ommushrooms.com\/cdn\/shop\/products\/Reishi100g-006_Back.jpg?v=1670879994","\/\/ommushrooms.com\/cdn\/shop\/products\/Reishi_200g_Back.jpg?v=1670879994","\/\/ommushrooms.com\/cdn\/shop\/products\/Om_Reishi_Tile2.jpg?v=1670879994","\/\/ommushrooms.com\/cdn\/shop\/products\/Om_Reishi_Tile3.jpg?v=1670879994","\/\/ommushrooms.com\/cdn\/shop\/products\/Om_Reishi_Tile6_5236be8c-a669-4e38-a771-34c67fb552b0.jpg?v=1670879994","\/\/ommushrooms.com\/cdn\/shop\/products\/Om_Reishi_Tile1.jpg?v=1670879994","\/\/ommushrooms.com\/cdn\/shop\/products\/Om_Reishi200g_Tile1_7630b6f8-6a5d-4039-85c4-fe1a18e97990.jpg?v=1670879994","\/\/ommushrooms.com\/cdn\/shop\/products\/Om_Reishi_Tile7.jpg?v=1670879994","\/\/ommushrooms.com\/cdn\/shop\/products\/Om_Reishi_Tile5_2e63a025-1223-42a7-9598-df5614f4d361.jpg?v=1670879994"],"featured_image":"\/\/ommushrooms.com\/cdn\/shop\/products\/Reishi_200g_Front.jpg?v=1637272237","options":["Size","Format"],"media":[{"alt":"variant3","id":23425872003230,"position":1,"preview_image":{"aspect_ratio":1.0,"height":2400,"width":2400,"src":"\/\/ommushrooms.com\/cdn\/shop\/products\/Reishi_200g_Front.jpg?v=1637272237"},"aspect_ratio":1.0,"height":2400,"media_type":"image","src":"\/\/ommushrooms.com\/cdn\/shop\/products\/Reishi_200g_Front.jpg?v=1637272237","width":2400},{"alt":"variant1","id":27502156054686,"position":2,"preview_image":{"aspect_ratio":1.0,"height":2400,"width":2400,"src":"\/\/ommushrooms.com\/cdn\/shop\/products\/Reishi_60g_Mockup_Front_559051ed-c158-492d-9c56-8fd0384a079d.jpg?v=1670878436"},"aspect_ratio":1.0,"height":2400,"media_type":"image","src":"\/\/ommushrooms.com\/cdn\/shop\/products\/Reishi_60g_Mockup_Front_559051ed-c158-492d-9c56-8fd0384a079d.jpg?v=1670878436","width":2400},{"alt":"variant1","id":27502253703326,"position":3,"preview_image":{"aspect_ratio":1.0,"height":2400,"width":2400,"src":"\/\/ommushrooms.com\/cdn\/shop\/products\/Om_Reishi_60g_Mockup_Back_15405-003.jpg?v=1670879994"},"aspect_ratio":1.0,"height":2400,"media_type":"image","src":"\/\/ommushrooms.com\/cdn\/shop\/products\/Om_Reishi_60g_Mockup_Back_15405-003.jpg?v=1670879994","width":2400},{"alt":"variant2","id":23048659796126,"position":4,"preview_image":{"aspect_ratio":1.0,"height":2400,"width":2400,"src":"\/\/ommushrooms.com\/cdn\/shop\/products\/Reishi100g-006_Front.jpg?v=1670879994"},"aspect_ratio":1.0,"height":2400,"media_type":"image","src":"\/\/ommushrooms.com\/cdn\/shop\/products\/Reishi100g-006_Front.jpg?v=1670879994","width":2400},{"alt":"variant2","id":23048659763358,"position":5,"preview_image":{"aspect_ratio":1.0,"height":2400,"width":2400,"src":"\/\/ommushrooms.com\/cdn\/shop\/products\/Reishi100g-006_Back.jpg?v=1670879994"},"aspect_ratio":1.0,"height":2400,"media_type":"image","src":"\/\/ommushrooms.com\/cdn\/shop\/products\/Reishi100g-006_Back.jpg?v=1670879994","width":2400},{"alt":"variant3","id":23425871970462,"position":6,"preview_image":{"aspect_ratio":1.0,"height":2400,"width":2400,"src":"\/\/ommushrooms.com\/cdn\/shop\/products\/Reishi_200g_Back.jpg?v=1670879994"},"aspect_ratio":1.0,"height":2400,"media_type":"image","src":"\/\/ommushrooms.com\/cdn\/shop\/products\/Reishi_200g_Back.jpg?v=1670879994","width":2400},{"alt":null,"id":12099301245086,"position":7,"preview_image":{"aspect_ratio":1.0,"height":2560,"width":2560,"src":"\/\/ommushrooms.com\/cdn\/shop\/products\/Om_Reishi_Tile2.jpg?v=1670879994"},"aspect_ratio":1.0,"height":2560,"media_type":"image","src":"\/\/ommushrooms.com\/cdn\/shop\/products\/Om_Reishi_Tile2.jpg?v=1670879994","width":2560},{"alt":null,"id":12099314024606,"position":8,"preview_image":{"aspect_ratio":1.0,"height":2560,"width":2560,"src":"\/\/ommushrooms.com\/cdn\/shop\/products\/Om_Reishi_Tile3.jpg?v=1670879994"},"aspect_ratio":1.0,"height":2560,"media_type":"image","src":"\/\/ommushrooms.com\/cdn\/shop\/products\/Om_Reishi_Tile3.jpg?v=1670879994","width":2560},{"alt":null,"id":11653785911454,"position":9,"preview_image":{"aspect_ratio":1.0,"height":2560,"width":2560,"src":"\/\/ommushrooms.com\/cdn\/shop\/products\/Om_Reishi_Tile6_5236be8c-a669-4e38-a771-34c67fb552b0.jpg?v=1670879994"},"aspect_ratio":1.0,"height":2560,"media_type":"image","src":"\/\/ommushrooms.com\/cdn\/shop\/products\/Om_Reishi_Tile6_5236be8c-a669-4e38-a771-34c67fb552b0.jpg?v=1670879994","width":2560},{"alt":"variant2","id":11653785583774,"position":10,"preview_image":{"aspect_ratio":1.0,"height":2560,"width":2560,"src":"\/\/ommushrooms.com\/cdn\/shop\/products\/Om_Reishi_Tile1.jpg?v=1670879994"},"aspect_ratio":1.0,"height":2560,"media_type":"image","src":"\/\/ommushrooms.com\/cdn\/shop\/products\/Om_Reishi_Tile1.jpg?v=1670879994","width":2560},{"alt":"variant3","id":23425871511710,"position":11,"preview_image":{"aspect_ratio":1.0,"height":2400,"width":2400,"src":"\/\/ommushrooms.com\/cdn\/shop\/products\/Om_Reishi200g_Tile1_7630b6f8-6a5d-4039-85c4-fe1a18e97990.jpg?v=1670879994"},"aspect_ratio":1.0,"height":2400,"media_type":"image","src":"\/\/ommushrooms.com\/cdn\/shop\/products\/Om_Reishi200g_Tile1_7630b6f8-6a5d-4039-85c4-fe1a18e97990.jpg?v=1670879994","width":2400},{"alt":null,"id":12099306684574,"position":12,"preview_image":{"aspect_ratio":1.0,"height":2560,"width":2560,"src":"\/\/ommushrooms.com\/cdn\/shop\/products\/Om_Reishi_Tile7.jpg?v=1670879994"},"aspect_ratio":1.0,"height":2560,"media_type":"image","src":"\/\/ommushrooms.com\/cdn\/shop\/products\/Om_Reishi_Tile7.jpg?v=1670879994","width":2560},{"alt":"variant1","id":11653785944222,"position":13,"preview_image":{"aspect_ratio":1.0,"height":2560,"width":2560,"src":"\/\/ommushrooms.com\/cdn\/shop\/products\/Om_Reishi_Tile5_2e63a025-1223-42a7-9598-df5614f4d361.jpg?v=1670879994"},"aspect_ratio":1.0,"height":2560,"media_type":"image","src":"\/\/ommushrooms.com\/cdn\/shop\/products\/Om_Reishi_Tile5_2e63a025-1223-42a7-9598-df5614f4d361.jpg?v=1670879994","width":2560}],"requires_selling_plan":false,"selling_plan_groups":[{"id":"bfa34c106e9eafdc5ae3f1ced75011db178be5d6","name":"Reishi Organic Mushroom Powder","options":[{"name":"30 Day(s), 60 Day(s), 90 Day(s), 120 Day(s), 150 Day(s), 180 Day(s)","position":1,"values":["30 Day(s)","60 Day(s)","90 Day(s)","120 Day(s)","150 Day(s)","180 Day(s)"]}],"selling_plans":[{"id":1614184606,"name":"Delivery every 30 Days","description":null,"options":[{"name":"30 Day(s), 60 Day(s), 90 Day(s), 120 Day(s), 150 Day(s), 180 Day(s)","position":1,"value":"30 Day(s)"}],"recurring_deliveries":true,"price_adjustments":[{"order_count":null,"position":1,"value_type":"percentage","value":15}],"checkout_charge":{"value_type":"percentage","value":100}},{"id":1614250142,"name":"Delivery every 60 Days","description":null,"options":[{"name":"30 Day(s), 60 Day(s), 90 Day(s), 120 Day(s), 150 Day(s), 180 Day(s)","position":1,"value":"60 Day(s)"}],"recurring_deliveries":true,"price_adjustments":[{"order_count":null,"position":1,"value_type":"percentage","value":15}],"checkout_charge":{"value_type":"percentage","value":100}},{"id":1614348446,"name":"Delivery every 90 Days","description":null,"options":[{"name":"30 Day(s), 60 Day(s), 90 Day(s), 120 Day(s), 150 Day(s), 180 Day(s)","position":1,"value":"90 Day(s)"}],"recurring_deliveries":true,"price_adjustments":[{"order_count":null,"position":1,"value_type":"percentage","value":15}],"checkout_charge":{"value_type":"percentage","value":100}},{"id":1614479518,"name":"Delivery every 120 Days","description":null,"options":[{"name":"30 Day(s), 60 Day(s), 90 Day(s), 120 Day(s), 150 Day(s), 180 Day(s)","position":1,"value":"120 Day(s)"}],"recurring_deliveries":true,"price_adjustments":[{"order_count":null,"position":1,"value_type":"percentage","value":15}],"checkout_charge":{"value_type":"percentage","value":100}},{"id":1614610590,"name":"Delivery every 150 Days","description":null,"options":[{"name":"30 Day(s), 60 Day(s), 90 Day(s), 120 Day(s), 150 Day(s), 180 Day(s)","position":1,"value":"150 Day(s)"}],"recurring_deliveries":true,"price_adjustments":[{"order_count":null,"position":1,"value_type":"percentage","value":15}],"checkout_charge":{"value_type":"percentage","value":100}},{"id":1614774430,"name":"Delivery every 180 Days","description":null,"options":[{"name":"30 Day(s), 60 Day(s), 90 Day(s), 120 Day(s), 150 Day(s), 180 Day(s)","position":1,"value":"180 Day(s)"}],"recurring_deliveries":true,"price_adjustments":[{"order_count":null,"position":1,"value_type":"percentage","value":15}],"checkout_charge":{"value_type":"percentage","value":100}}],"app_id":"294517"}],"content":"\u003ch2\u003eThe Balancing Mushroom\u003c\/h2\u003e\n\u003cp\u003eHarmonize your longevity, energy and spirit with this superior immunity tonic. Natural adaptogen to help balance mental and physical stress. Nourish your heart and soothe an overactive immune system. Enlighten and relax, find your Savasana.‡\u003c\/p\u003e"}
{"id":1919002345568,"title":"Turkey Tail Organic Mushroom Powder","handle":"turkey-tail","description":"\u003ch2\u003eImmune Defense Power\u003c\/h2\u003e\n\u003cp\u003eElevate your wellness with one of the most researched of all medicinal mushrooms known for its powerful polysaccharides (immunity activators). The beta glucans and other nutrients found in Turkey Tail support immune health.\u003cspan data-mce-fragment=\"1\"\u003e‡\u003c\/span\u003e\u003c\/p\u003e","published_at":"2021-08-19T11:46:58-07:00","created_at":"2019-02-04T15:03:32-08:00","vendor":"Om Mushroom Superfood","type":"Powders","tags":["immune support","turkey tail","YGroup_turkey-tail"],"price":2699,"price_min":2699,"price_max":4299,"available":true,"price_varies":true,"compare_at_price":null,"compare_at_price_min":0,"compare_at_price_max":0,"compare_at_price_varies":false,"variants":[{"id":18554016858208,"title":"50 Servings | 3.5 oz (100g) \/ Powder","option1":"50 Servings | 3.5 oz (100g)","option2":"Powder","option3":null,"sku":"60290","requires_shipping":true,"taxable":true,"featured_image":{"id":30676752072862,"product_id":1919002345568,"position":2,"created_at":"2021-09-15T12:50:24-07:00","updated_at":"2021-11-18T13:48:51-08:00","alt":"variant1","width":2400,"height":2400,"src":"\/\/ommushrooms.com\/cdn\/shop\/products\/TurkeyTail100g-006_Front.jpg?v=1637272131","variant_ids":[18554016858208]},"available":true,"name":"Turkey Tail Organic Mushroom Powder - 50 Servings | 3.5 oz (100g) \/ Powder","public_title":"50 Servings | 3.5 oz (100g) \/ Powder","options":["50 Servings | 3.5 oz (100g)","Powder"],"price":2699,"weight":91,"compare_at_price":null,"inventory_management":"shopify","barcode":"892392002041","featured_media":{"alt":"variant1","id":23048693383326,"position":2,"preview_image":{"aspect_ratio":1.0,"height":2400,"width":2400,"src":"\/\/ommushrooms.com\/cdn\/shop\/products\/TurkeyTail100g-006_Front.jpg?v=1637272131"}},"requires_selling_plan":false,"selling_plan_allocations":[{"price_adjustments":[{"position":1,"price":2294}],"price":2294,"compare_at_price":2699,"per_delivery_price":2294,"selling_plan_id":1616380062,"selling_plan_group_id":"e6eae5836ffb209b7dd76fa67d0bd442e62959ca"},{"price_adjustments":[{"position":1,"price":2294}],"price":2294,"compare_at_price":2699,"per_delivery_price":2294,"selling_plan_id":1616445598,"selling_plan_group_id":"e6eae5836ffb209b7dd76fa67d0bd442e62959ca"},{"price_adjustments":[{"position":1,"price":2294}],"price":2294,"compare_at_price":2699,"per_delivery_price":2294,"selling_plan_id":1616543902,"selling_plan_group_id":"e6eae5836ffb209b7dd76fa67d0bd442e62959ca"},{"price_adjustments":[{"position":1,"price":2294}],"price":2294,"compare_at_price":2699,"per_delivery_price":2294,"selling_plan_id":1616609438,"selling_plan_group_id":"e6eae5836ffb209b7dd76fa67d0bd442e62959ca"},{"price_adjustments":[{"position":1,"price":2294}],"price":2294,"compare_at_price":2699,"per_delivery_price":2294,"selling_plan_id":1616707742,"selling_plan_group_id":"e6eae5836ffb209b7dd76fa67d0bd442e62959ca"},{"price_adjustments":[{"position":1,"price":2294}],"price":2294,"compare_at_price":2699,"per_delivery_price":2294,"selling_plan_id":1616838814,"selling_plan_group_id":"e6eae5836ffb209b7dd76fa67d0bd442e62959ca"}],"quantity_rule":{"min":1,"max":null,"increment":1}},{"id":18554016825440,"title":"100 Servings | 7.05 oz (200g) \/ Powder","option1":"100 Servings | 7.05 oz (200g)","option2":"Powder","option3":null,"sku":"60305","requires_shipping":true,"taxable":true,"featured_image":{"id":31046725697694,"product_id":1919002345568,"position":1,"created_at":"2021-10-08T16:29:27-07:00","updated_at":"2021-11-18T13:48:51-08:00","alt":"variant2","width":2400,"height":2400,"src":"\/\/ommushrooms.com\/cdn\/shop\/products\/TurkeyTail_200g_Front.jpg?v=1637272131","variant_ids":[18554016825440]},"available":false,"name":"Turkey Tail Organic Mushroom Powder - 100 Servings | 7.05 oz (200g) \/ Powder","public_title":"100 Servings | 7.05 oz (200g) \/ Powder","options":["100 Servings | 7.05 oz (200g)","Powder"],"price":4299,"weight":181,"compare_at_price":null,"inventory_management":"shopify","barcode":"850030553287","featured_media":{"alt":"variant2","id":23425899659422,"position":1,"preview_image":{"aspect_ratio":1.0,"height":2400,"width":2400,"src":"\/\/ommushrooms.com\/cdn\/shop\/products\/TurkeyTail_200g_Front.jpg?v=1637272131"}},"requires_selling_plan":false,"selling_plan_allocations":[{"price_adjustments":[{"position":1,"price":3654}],"price":3654,"compare_at_price":4299,"per_delivery_price":3654,"selling_plan_id":1616380062,"selling_plan_group_id":"e6eae5836ffb209b7dd76fa67d0bd442e62959ca"},{"price_adjustments":[{"position":1,"price":3654}],"price":3654,"compare_at_price":4299,"per_delivery_price":3654,"selling_plan_id":1616445598,"selling_plan_group_id":"e6eae5836ffb209b7dd76fa67d0bd442e62959ca"},{"price_adjustments":[{"position":1,"price":3654}],"price":3654,"compare_at_price":4299,"per_delivery_price":3654,"selling_plan_id":1616543902,"selling_plan_group_id":"e6eae5836ffb209b7dd76fa67d0bd442e62959ca"},{"price_adjustments":[{"position":1,"price":3654}],"price":3654,"compare_at_price":4299,"per_delivery_price":3654,"selling_plan_id":1616609438,"selling_plan_group_id":"e6eae5836ffb209b7dd76fa67d0bd442e62959ca"},{"price_adjustments":[{"position":1,"price":3654}],"price":3654,"compare_at_price":4299,"per_delivery_price":3654,"selling_plan_id":1616707742,"selling_plan_group_id":"e6eae5836ffb209b7dd76fa67d0bd442e62959ca"},{"price_adjustments":[{"position":1,"price":3654}],"price":3654,"compare_at_price":4299,"per_delivery_price":3654,"selling_plan_id":1616838814,"selling_plan_group_id":"e6eae5836ffb209b7dd76fa67d0bd442e62959ca"}],"quantity_rule":{"min":1,"max":null,"increment":1}}],"images":["\/\/ommushrooms.com\/cdn\/shop\/products\/TurkeyTail_200g_Front.jpg?v=1637272131","\/\/ommushrooms.com\/cdn\/shop\/products\/TurkeyTail100g-006_Front.jpg?v=1637272131","\/\/ommushrooms.com\/cdn\/shop\/products\/Om_2400x2400_Front_TT_3d6bec72-86b7-4909-9de4-e8a01260696e.jpg?v=1602131956","\/\/ommushrooms.com\/cdn\/shop\/products\/TurkeyTail100g-006_Back.jpg?v=1664472728","\/\/ommushrooms.com\/cdn\/shop\/products\/TurkeyTail_200g_Back.jpg?v=1664472728","\/\/ommushrooms.com\/cdn\/shop\/products\/Om_2400x2400_Back_TT_3db15c76-7969-442c-9a8c-d15acad65e89.jpg?v=1664472728","\/\/ommushrooms.com\/cdn\/shop\/products\/Om_TurkeyTail_Tile2.jpg?v=1664472728","\/\/ommushrooms.com\/cdn\/shop\/products\/Om_TurkeyTail_Tile4_37ba8eff-9e33-4b0b-bc5c-329b9d5c57a8.jpg?v=1664472728","\/\/ommushrooms.com\/cdn\/shop\/products\/OM_TT_Tile6_eed7ebab-ce04-4608-bed2-f1cc062339d2.jpg?v=1664472728","\/\/ommushrooms.com\/cdn\/shop\/products\/Om_TurkeyTail_Tile1.jpg?v=1664472728","\/\/ommushrooms.com\/cdn\/shop\/products\/Om_TurkeyTail200g_Tile1_3de87d93-b576-43c9-bff8-6df7686c7f16.jpg?v=1664472728","\/\/ommushrooms.com\/cdn\/shop\/products\/Om_TurkeyTail500g_Tile1.jpg?v=1664472728","\/\/ommushrooms.com\/cdn\/shop\/products\/Om_TurkeyTail_Tile7.jpg?v=1664472728","\/\/ommushrooms.com\/cdn\/shop\/products\/Om_TurkeyTail_Tile5.jpg?v=1664472719"],"featured_image":"\/\/ommushrooms.com\/cdn\/shop\/products\/TurkeyTail_200g_Front.jpg?v=1637272131","options":["Size","Format"],"media":[{"alt":"variant2","id":23425899659422,"position":1,"preview_image":{"aspect_ratio":1.0,"height":2400,"width":2400,"src":"\/\/ommushrooms.com\/cdn\/shop\/products\/TurkeyTail_200g_Front.jpg?v=1637272131"},"aspect_ratio":1.0,"height":2400,"media_type":"image","src":"\/\/ommushrooms.com\/cdn\/shop\/products\/TurkeyTail_200g_Front.jpg?v=1637272131","width":2400},{"alt":"variant1","id":23048693383326,"position":2,"preview_image":{"aspect_ratio":1.0,"height":2400,"width":2400,"src":"\/\/ommushrooms.com\/cdn\/shop\/products\/TurkeyTail100g-006_Front.jpg?v=1637272131"},"aspect_ratio":1.0,"height":2400,"media_type":"image","src":"\/\/ommushrooms.com\/cdn\/shop\/products\/TurkeyTail100g-006_Front.jpg?v=1637272131","width":2400},{"alt":"variant3","id":11653793448094,"position":3,"preview_image":{"aspect_ratio":1.0,"height":2400,"width":2400,"src":"\/\/ommushrooms.com\/cdn\/shop\/products\/Om_2400x2400_Front_TT_3d6bec72-86b7-4909-9de4-e8a01260696e.jpg?v=1602131956"},"aspect_ratio":1.0,"height":2400,"media_type":"image","src":"\/\/ommushrooms.com\/cdn\/shop\/products\/Om_2400x2400_Front_TT_3d6bec72-86b7-4909-9de4-e8a01260696e.jpg?v=1602131956","width":2400},{"alt":"variant1","id":23048693317790,"position":4,"preview_image":{"aspect_ratio":1.0,"height":2400,"width":2400,"src":"\/\/ommushrooms.com\/cdn\/shop\/products\/TurkeyTail100g-006_Back.jpg?v=1664472728"},"aspect_ratio":1.0,"height":2400,"media_type":"image","src":"\/\/ommushrooms.com\/cdn\/shop\/products\/TurkeyTail100g-006_Back.jpg?v=1664472728","width":2400},{"alt":"variant2","id":23425899626654,"position":5,"preview_image":{"aspect_ratio":1.0,"height":2400,"width":2400,"src":"\/\/ommushrooms.com\/cdn\/shop\/products\/TurkeyTail_200g_Back.jpg?v=1664472728"},"aspect_ratio":1.0,"height":2400,"media_type":"image","src":"\/\/ommushrooms.com\/cdn\/shop\/products\/TurkeyTail_200g_Back.jpg?v=1664472728","width":2400},{"alt":"variant3","id":11653793644702,"position":6,"preview_image":{"aspect_ratio":1.0,"height":2400,"width":2400,"src":"\/\/ommushrooms.com\/cdn\/shop\/products\/Om_2400x2400_Back_TT_3db15c76-7969-442c-9a8c-d15acad65e89.jpg?v=1664472728"},"aspect_ratio":1.0,"height":2400,"media_type":"image","src":"\/\/ommushrooms.com\/cdn\/shop\/products\/Om_2400x2400_Back_TT_3db15c76-7969-442c-9a8c-d15acad65e89.jpg?v=1664472728","width":2400},{"alt":null,"id":12099386212510,"position":7,"preview_image":{"aspect_ratio":1.0,"height":2560,"width":2560,"src":"\/\/ommushrooms.com\/cdn\/shop\/products\/Om_TurkeyTail_Tile2.jpg?v=1664472728"},"aspect_ratio":1.0,"height":2560,"media_type":"image","src":"\/\/ommushrooms.com\/cdn\/shop\/products\/Om_TurkeyTail_Tile2.jpg?v=1664472728","width":2560},{"alt":null,"id":12099400827038,"position":8,"preview_image":{"aspect_ratio":1.0,"height":2560,"width":2560,"src":"\/\/ommushrooms.com\/cdn\/shop\/products\/Om_TurkeyTail_Tile4_37ba8eff-9e33-4b0b-bc5c-329b9d5c57a8.jpg?v=1664472728"},"aspect_ratio":1.0,"height":2560,"media_type":"image","src":"\/\/ommushrooms.com\/cdn\/shop\/products\/Om_TurkeyTail_Tile4_37ba8eff-9e33-4b0b-bc5c-329b9d5c57a8.jpg?v=1664472728","width":2560},{"alt":null,"id":11653793775774,"position":9,"preview_image":{"aspect_ratio":1.0,"height":2560,"width":2560,"src":"\/\/ommushrooms.com\/cdn\/shop\/products\/OM_TT_Tile6_eed7ebab-ce04-4608-bed2-f1cc062339d2.jpg?v=1664472728"},"aspect_ratio":1.0,"height":2560,"media_type":"image","src":"\/\/ommushrooms.com\/cdn\/shop\/products\/OM_TT_Tile6_eed7ebab-ce04-4608-bed2-f1cc062339d2.jpg?v=1664472728","width":2560},{"alt":"variant1","id":11653793480862,"position":10,"preview_image":{"aspect_ratio":1.0,"height":2560,"width":2560,"src":"\/\/ommushrooms.com\/cdn\/shop\/products\/Om_TurkeyTail_Tile1.jpg?v=1664472728"},"aspect_ratio":1.0,"height":2560,"media_type":"image","src":"\/\/ommushrooms.com\/cdn\/shop\/products\/Om_TurkeyTail_Tile1.jpg?v=1664472728","width":2560},{"alt":"variant2","id":23425898741918,"position":11,"preview_image":{"aspect_ratio":1.0,"height":2400,"width":2400,"src":"\/\/ommushrooms.com\/cdn\/shop\/products\/Om_TurkeyTail200g_Tile1_3de87d93-b576-43c9-bff8-6df7686c7f16.jpg?v=1664472728"},"aspect_ratio":1.0,"height":2400,"media_type":"image","src":"\/\/ommushrooms.com\/cdn\/shop\/products\/Om_TurkeyTail200g_Tile1_3de87d93-b576-43c9-bff8-6df7686c7f16.jpg?v=1664472728","width":2400},{"alt":"variant3","id":13104987046046,"position":12,"preview_image":{"aspect_ratio":1.0,"height":2560,"width":2560,"src":"\/\/ommushrooms.com\/cdn\/shop\/products\/Om_TurkeyTail500g_Tile1.jpg?v=1664472728"},"aspect_ratio":1.0,"height":2560,"media_type":"image","src":"\/\/ommushrooms.com\/cdn\/shop\/products\/Om_TurkeyTail500g_Tile1.jpg?v=1664472728","width":2560},{"alt":null,"id":12099395190942,"position":13,"preview_image":{"aspect_ratio":1.0,"height":2560,"width":2560,"src":"\/\/ommushrooms.com\/cdn\/shop\/products\/Om_TurkeyTail_Tile7.jpg?v=1664472728"},"aspect_ratio":1.0,"height":2560,"media_type":"image","src":"\/\/ommushrooms.com\/cdn\/shop\/products\/Om_TurkeyTail_Tile7.jpg?v=1664472728","width":2560},{"alt":"variant1","id":11653793808542,"position":14,"preview_image":{"aspect_ratio":1.0,"height":2560,"width":2560,"src":"\/\/ommushrooms.com\/cdn\/shop\/products\/Om_TurkeyTail_Tile5.jpg?v=1664472719"},"aspect_ratio":1.0,"height":2560,"media_type":"image","src":"\/\/ommushrooms.com\/cdn\/shop\/products\/Om_TurkeyTail_Tile5.jpg?v=1664472719","width":2560}],"requires_selling_plan":false,"selling_plan_groups":[{"id":"e6eae5836ffb209b7dd76fa67d0bd442e62959ca","name":"Turkey Tail Organic Mushroom Powder","options":[{"name":"30 Day(s), 60 Day(s), 90 Day(s), 120 Day(s), 150 Day(s), 180 Day(s)","position":1,"values":["30 Day(s)","60 Day(s)","90 Day(s)","120 Day(s)","150 Day(s)","180 Day(s)"]}],"selling_plans":[{"id":1616380062,"name":"Delivery every 30 Days","description":null,"options":[{"name":"30 Day(s), 60 Day(s), 90 Day(s), 120 Day(s), 150 Day(s), 180 Day(s)","position":1,"value":"30 Day(s)"}],"recurring_deliveries":true,"price_adjustments":[{"order_count":null,"position":1,"value_type":"percentage","value":15}],"checkout_charge":{"value_type":"percentage","value":100}},{"id":1616445598,"name":"Delivery every 60 Days","description":null,"options":[{"name":"30 Day(s), 60 Day(s), 90 Day(s), 120 Day(s), 150 Day(s), 180 Day(s)","position":1,"value":"60 Day(s)"}],"recurring_deliveries":true,"price_adjustments":[{"order_count":null,"position":1,"value_type":"percentage","value":15}],"checkout_charge":{"value_type":"percentage","value":100}},{"id":1616543902,"name":"Delivery every 90 Days","description":null,"options":[{"name":"30 Day(s), 60 Day(s), 90 Day(s), 120 Day(s), 150 Day(s), 180 Day(s)","position":1,"value":"90 Day(s)"}],"recurring_deliveries":true,"price_adjustments":[{"order_count":null,"position":1,"value_type":"percentage","value":15}],"checkout_charge":{"value_type":"percentage","value":100}},{"id":1616609438,"name":"Delivery every 120 Days","description":null,"options":[{"name":"30 Day(s), 60 Day(s), 90 Day(s), 120 Day(s), 150 Day(s), 180 Day(s)","position":1,"value":"120 Day(s)"}],"recurring_deliveries":true,"price_adjustments":[{"order_count":null,"position":1,"value_type":"percentage","value":15}],"checkout_charge":{"value_type":"percentage","value":100}},{"id":1616707742,"name":"Delivery every 150 Days","description":null,"options":[{"name":"30 Day(s), 60 Day(s), 90 Day(s), 120 Day(s), 150 Day(s), 180 Day(s)","position":1,"value":"150 Day(s)"}],"recurring_deliveries":true,"price_adjustments":[{"order_count":null,"position":1,"value_type":"percentage","value":15}],"checkout_charge":{"value_type":"percentage","value":100}},{"id":1616838814,"name":"Delivery every 180 Days","description":null,"options":[{"name":"30 Day(s), 60 Day(s), 90 Day(s), 120 Day(s), 150 Day(s), 180 Day(s)","position":1,"value":"180 Day(s)"}],"recurring_deliveries":true,"price_adjustments":[{"order_count":null,"position":1,"value_type":"percentage","value":15}],"checkout_charge":{"value_type":"percentage","value":100}}],"app_id":"294517"}],"content":"\u003ch2\u003eImmune Defense Power\u003c\/h2\u003e\n\u003cp\u003eElevate your wellness with one of the most researched of all medicinal mushrooms known for its powerful polysaccharides (immunity activators). The beta glucans and other nutrients found in Turkey Tail support immune health.\u003cspan data-mce-fragment=\"1\"\u003e‡\u003c\/span\u003e\u003c\/p\u003e"}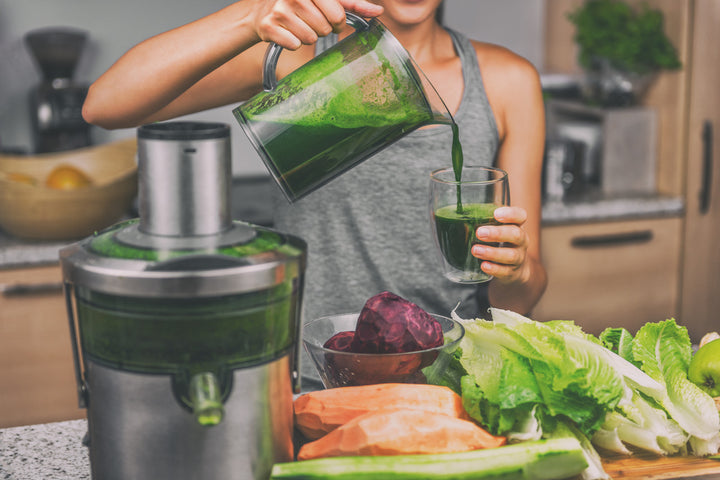 If you're out of summer recipe ideas, look no further than smoothies. Not only are they delicious and refreshing, but they're also incredibly versatile — there's truly something for everyone. Plus, many smoothie ingredients, both traditional and more out-of-the-box, come with a range of health benefits, making this drink the perfect summer immune booster. Keep reading to find out how to build your own healthful smoothie using your favorite ingredients, or whatever you already have in the house.
Start With a Liquid
A liquid is essential for your smoothie to blend properly. When choosing your liquid base, make sure to consider how the taste of it will complement the other ingredients you're using. You could simply use filtered water if you're worried about an overpowering taste — and it will help you stay hydrated, which is important to support immunity. Otherwise, you can use your plant-based milk of choice: coconut milk will lend your smoothie a lovely tropical taste, for example, and is full of healthy fats that can keep you feeling satiated. Coconut cream, fresh-pressed fruit juice (try orange for a vitamin C and potassium boost) and chilled green tea are all great options too.
Get Your Five a Day
Next come your fruits and veggies. Try to include a sweet and meaty fruit like banana or pineapple, but if you're not a fan of those, you could use a less-sweet fruit you like better and add a sweetener like date or honey later. Then add some more fruit you love: berries, for example, are full of antioxidants that can help fight free radicals and oxidation in the body — not to mention that they taste great with a banana base. For even more vitamins and goodness, you can add veggies, too. Kale, spinach and other leafy green superfoods are a classic, since they have a mild taste and pack an immune-supporting punch thanks to their high vitamins A and K content, among other benefits. If you're feeling adventurous, you could even blend in some cauliflower, zucchini or even carrots.
Go for the Chill
You don't have to make your smoothie an iced one if that's not your thing, but many people do go for a chilled element, which makes it especially suitable for summer. You could go all out by using only frozen fruit, or simply pick one like frozen blueberries or banana, or you could use all fresh fruit and add ice instead.
Give It a Boost
Depending on what benefits you're looking to get from your smoothie, there are so many add-ins you could consider. Whatever you're adding, remember to think about how it will taste with all your other ingredients. For a post-workout protein-rich smoothie, go for your favorite protein powder (this protein shake uses chocolate hemp protein powder, for example) or some nut butter for added creaminess. Many functional mushrooms have a mild or slightly sweet flavor that lends itself perfectly to smoothies. Chaga has a subtle and earthy taste — try adding some in powder form for an antioxidant boost. Reishi also has a mild and pleasant taste, which means it will blend well with most smoothie recipes while supporting immunity. Turkey Tail, which is also slightly sweet, will add beneficial polysaccharides, beta glucans and other nutrients to your drink to help protect and boost your immune system. At this stage, you can also add flavorings to taste, such as vanilla essence, cinnamon, fresh mint or cocoa powder.
Over the Top
You could simply drink your smoothie, of course, but why not make a meal of it by adding some fun toppings? A smoothie bowl makes a great summer dinner idea when you're not in the mood for a three-course meal. Just blend your smoothie as usual, then place it in a bowl. Now all that's left to do is add some immune-supporting, delicious toppings of your choosing. Granola is often the first port of call to top a smoothie bowl — with good reason. Why not make your own? You can infuse it with Om powders and reap the health benefits of functional mushrooms that way. Bee pollen is also popular, or you could use cacao nibs, almond slivers, goji berries, coconut, fresh fruit slices…whatever floats your boat!
Smoothies make the ideal summer recipe idea — they're a wonderful way to get creative while mixing up a delicious concoction that also supports your immune system. For more recipe ideas, right this way.
Iris Goldsztajn is a London-based writer and editor with six years of experience creating content for various outlets. Her work has appeared in Cosmopolitan, InStyle, POPSUGAR, Her Campus, ProTravel and more.
References: