"I absolutely love this product. I highly recommend this to anyone who's looking for a change, mentally."

Review by Vinci K. Verified Buyer
"This is the best thing I have done for me. This capsules literally are the best thing that has happened to me. Thanks"

Review by Mayra H. Verified Buyer
"I have so much more energy since starting this supplement, and I love that there is no "mushroom" taste"

Review by Melissa T. Verified Buyer
"My energy level is higher and my sleep more restful. Very convenient to take"

Review by Lynette T. Verified Buyer
---
Total 5 star reviews: 743
Total 4 star reviews: 82
Total 3 star reviews: 31
Total 2 star reviews: 21
Total 1 star reviews: 12
88%
would recommend these products
Customer-uploaded media carousel. Press left and right arrows to navigate. Press space or enter to open more details.
Slide 1 selected
L

Reviewing

Master Blend Organic Mushroom Powder

Wellness Interests

Memory & Focus,

Immune Support,

Stress Relief & Sleep,

Energy & Fitness,

Overall Health

An excellent product!!

So I read the negative reviews before ordering and considered them. 1: taste strong 2: dissolving an issue

I found the taste not that strong considering this is a mushroom powder

The dissolving concern … I mixed with my coffee with blender mushroom latte. Loved it!!

KV

Reviewing

Master Blend Mushroom Capsules

Wellness Interests

Stress Relief & Sleep,

Memory & Focus,

Overall Health,

Immune Support

Great for stress and focus

I've been taking this blend for almost a month now and have really noticed improvement in my concentration, focus, and clarity.

I did take one star off because the serving size is 4 large capsules once a day, which is a lot to get down for me. Smaller sized capsules and a more potent formula for less capsules per serving would be great! They also look exactly like the Zen capsules (which I also take) and it would be easier if each of the capsules was marked in some way or the size was different- something to distinguish each of them.

You DO get a 40 day supply in one bottle, where most supplements are 30 days or less so it's more bang for your buck.

ST

Reviewing

Master Blend Organic Mushroom Powder

Wellness Interests

Overall Health,

Immune Support,

Memory & Focus,

Stress Relief & Sleep,

Energy & Fitness

After a few days, I feel new!

I had no idea what to expect when I ordered this, honestly. I saw it on TikTok, and we all know "TikTok made me buy it!" The TikTok was about OM Lions Mane powder - specifically for nerve pain. She said it worked within a day - so obviously I had to try it for myself. And I am. not disappointed. Already ordered one for my Mom and one for my Sister. We work in the legal field and we're always stressed. This morning I overslept, getting in an actual 8 hours of sleep time! That hasn't happened in such a long time! Low and behold, Reishi helps with stress and sleep! Definitely try this - I can only imagine the effects will be greater over time.

Reviewing

Master Blend Mushroom Capsules

Wellness Interests

Overall Health

Reviewing

Master Blend Organic Mushroom Powder

Wellness Interests

Immune Support,

Memory & Focus,

Overall Health,

Stress Relief & Sleep

Keeps me at my best self

I have been using this master blend mushroom supplement for a while now and I love how it keeps me clear and energetic throughout the day. I feel like I am able to tackle my work and my relationships with more presence and confidence. This has also helped my immune system through a stressful job change and child birth. I buy this as a gift for all my friends at Christmas.
Reviews Loaded
Reviews Added
10 Functional Mushrooms +
3 Botanical Adaptogens
---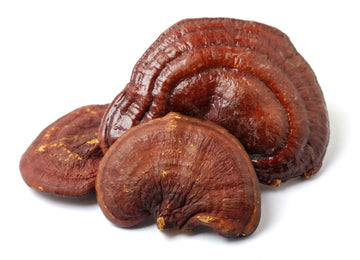 This "superior adaptogen" is known for helping the body adapt to mental and physical stressors, and balance and/or down regulate an overactive immune system. Reishi has also been studied for its cardiovascular health benefits.‡
SUPPORTS
Mental stress‡
Physical stress‡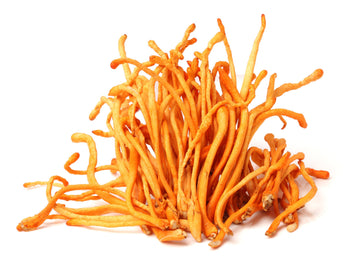 Improves vitality and endurance naturally by supporting respiration, oxygen delivery and ATP synthesis. Cordyceps supports aerobic endurance in athletes and research related to general vitality in senior populations gives this mushroom species broad appeal. Cordyceps is also known for its ability to increase circulation.‡
SUPPORTS
Energy‡
Vitality‡
Endurance‡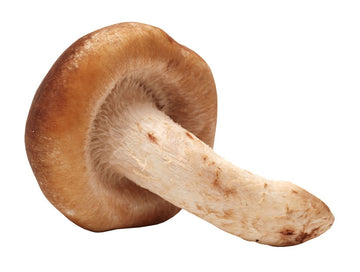 Shiitake has significant therapeutic properties that include liver, cardiovascular and immune support. Research on the properties of its active ingredients has expanded the use of this mushroom to include applications ranging from oral health products to detoxification support.‡
SUPPORTS
Detox‡
Cardiovascular health‡
Immune function‡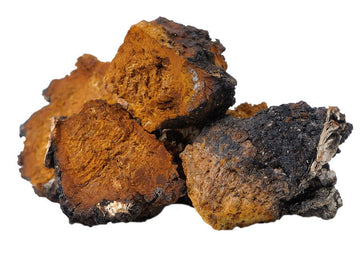 This "king of medicinal mushrooms" has been used extensively by Traditional Healers in North America, Europe and Asia for centuries. Chaga contains a complex array of bioactive compounds with significant antioxidant and immunity-supporting activities.‡
SUPPORTS
Healthy aging‡
Immune function‡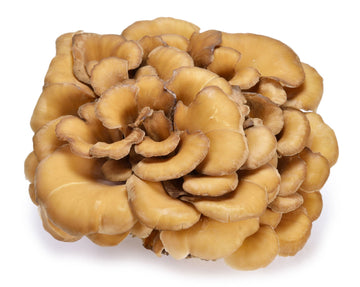 Maitake contains an array of 1,3/1,6 beta-glucan compounds that have a positive impact on immune function. Maitake has also been shown to help support healthy blood-sugar levels and reduce insulin resistance.‡
SUPPORTS
Gut health‡
Healthy blood sugar‡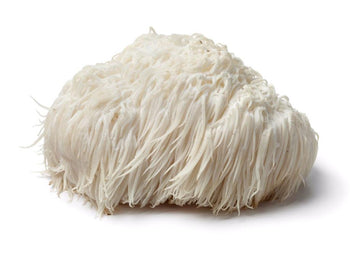 Lion's Mane

2 Key Nootropics
Along with its powerful antioxidants and immune-supporting polysaccharides, Om Lion's Mane contains hericenones (from fruit bodies) and erinacines (from mycelium), two nootropic compounds with neurosupportive properties‡.
SUPPORTS
Memory‡
Focus‡
Clarity‡
Nerve Health‡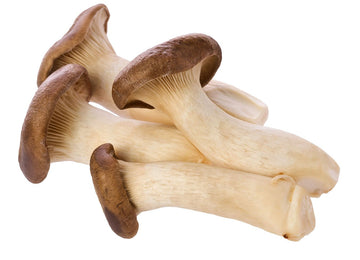 King Trumpet

With L-Ergothioneine
High levels of the antioxidant L-Ergothioneine, a naturally occurring antioxidant amino acid is found in both the mycelium and fruit bodies of King Trumpet. King Trumpet also has been researched for its positive effects on cholesterol management and bone health.‡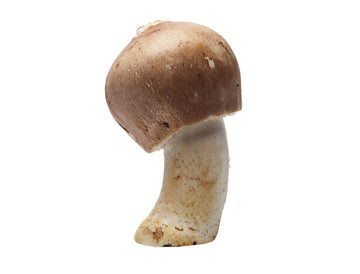 Agaricus Blazei

High Polysaccharides
This tropical species is native to Brazil and is known for its high content of polysaccharide compounds. Agaricus Blazei is also known for its effects on triglycerides and cholesterol management.‡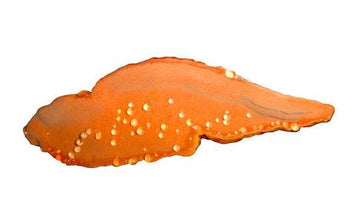 Antrodia
Super Immunity-Enhancing‡
Native to Taiwan, Antrodia has an abundance of research related to its liver protective and immunity-enhancing qualities.‡
SUPPORTS
Liver health‡
Healthy immune‡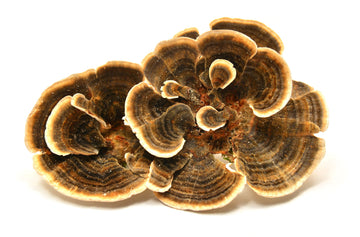 Turkey Tail

A Key Adaptogen
One of the most researched of all medicinal mushrooms for its powerful polysaccharides. The beta glucans and other nutrients found in Turkey Tail support immune health.‡
SUPPORTS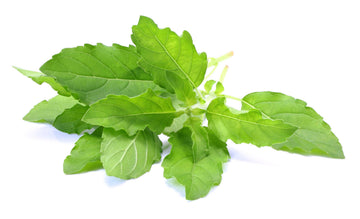 Holy Basil

Botanical Adaptogen
Helps promote resistance to occasional stress and anxiousness‡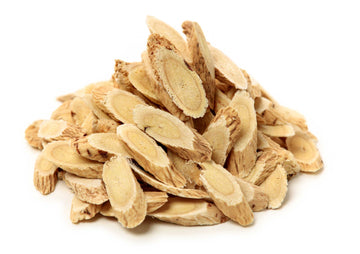 Astragalus

Botanical Adaptogen
Traditionally used as an energy tonic in Chinese medicine‡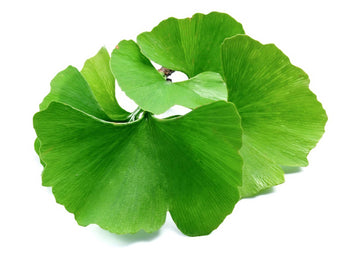 Ginko Biloba

Botanical Adaptogen
Supports cognitive health‡
Non-GMO
Project Verified

Gluten Free

Vegan

Grown in
the USA
Organic, Non-GMO, Gluten Free, Vegan, and Grown in the USA
Who Should Take Master Blend?
Master Blend can help bring more focus, alertness, and clarity during high-pressure or multi-tasking days. If you struggle to maintain concentration and stay in the moment, our daily Master Blend supplement could be a great solution.‡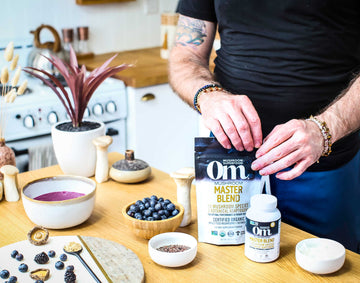 Daily Living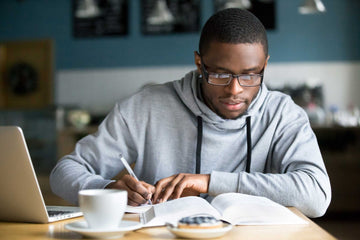 Studying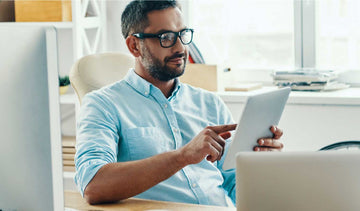 Working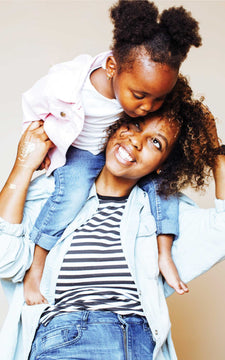 Parenting
How to Use
Take three (3) capsules per day with a glass of water.
Tips for Success
✓

Routine

Set a daily routine you can stick with.
Consistent use is key!

✓

Dosage

Om Master Blend contains 2,000 mg of mushroom powder in every serving for the best results in maintenance of everyday health.‡

✓

Double Up

If you're just starting out with Master Blend, it's recommended that you double your dose for the first three weeks for added results.
Consider keeping capsules and powder on hand for ultimate versatility.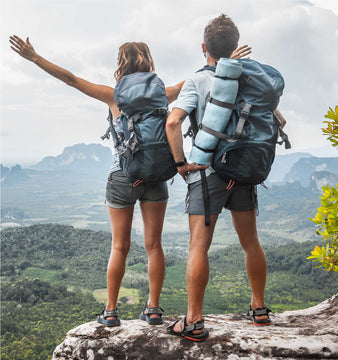 Have Questions?
Not to worry, we're here to help!
More questions? Find answers on our FAQ page, or contact our friendly customer experience team at hello@ommushrooms.com.
Why Choose
Om Mushrooms?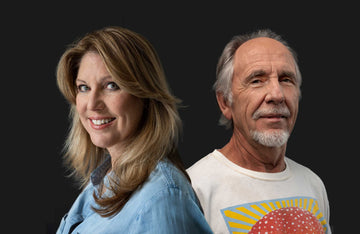 With their deep‑rooted passion for mushrooms, co‑founders Dr. Sandra Carter (M.A., MPH, Ph.D.), a 30+ year health and wellness expert, and Steve Farrar, a renowned mycologist, guide the Om team in creating innovative whole food mushroom products for daily living.
Om Mushrooms is all about amazing, functional, whole food, organic mushrooms with life changing health benefits.

- Dr. Sandra Carter, Co-Founder
From Carlsbad, California to Your Home
Om Mushrooms are grown in our clean, BRCGS-certified indoor farm in Carlsbad, California.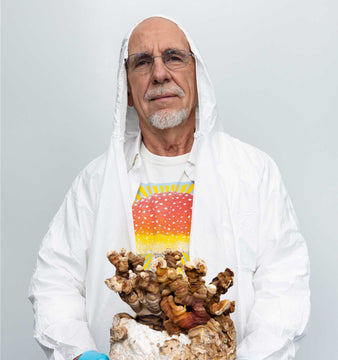 Growth Stage

Each species is grown in a controlled environment that's catered to the mushroom's unique needs.

Dehydration Stage

Mushrooms are harvested then dehydrated at low temperatures to retain the natural bioactive compounds.

Milling Stage

Mushrooms are milled into the powders used in Om products directly onsite.

Package & Ship

Products are packaged and shipped from our indoor farms directly to you!