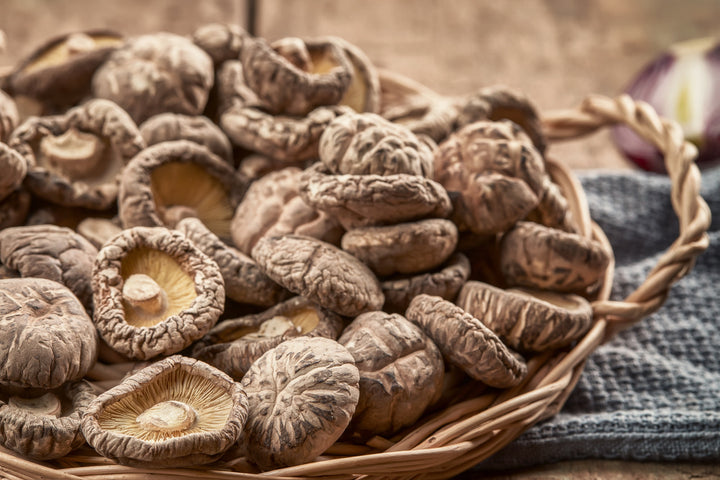 Shiitake mushrooms may already be among the mainstays in your kitchen for their many uses, whether you like throwing them into a stir-fry, risotto or frittatas. As a superfood powerhouse, shiitake mushrooms can advance immunity, support cardiovascular health, and more.
A Brief History of the Shiitake Mushroom
Shiitake is the common Japanese name for Lentinula edodes. It is derived from the mushroom associated with the shii tree. Although Japan is the world leader in production of this type of mushroom, it has been used as a food and medicine for thousands of years in other Far East countries, with its cultivation said to have originated in China during the Sung Dynasty. In 1620, Wu-Rui of the Ming Dynasty wrote that shiitake "accelerates vital energy, wards off hunger, cures colds and defeats body fluid energy." In later years, researchers discovered that the mushroom does indeed have superior nutritional and medicinal value, with the highest level of macronutrients, hefty fiber content, B vitamins and minerals such as copper, selenium, manganese, zinc and folate.
Health Benefits of Shiitake Mushrooms
Shiitake is well-known as an exceptional culinary mushroom with a rich, savory taste and low caloric content but it's now becoming increasingly recognized for its significant therapeutic properties. In addition to the  vitamins and minerals mentioned above, shiitake mushrooms also contain naturally occurring bioactive polysaccharides, such as β-D-glucans, which have been associated with immunity, cardiovascular health and skin health. The unique composition of this functional mushroom has been shown to satiate hunger, which can support weight management and help reduce the accumulation of fat in the liver.
 Shiitake mushrooms have also been shown to help ward off illness with antibacterial, antiviral and antifungal properties. In a University of Florida study, researchers found that participants who ate a cooked shiitake mushroom every day for four weeks enjoyed increased immunity with better-functioning gamma delta T-cells. New research on the properties of active ingredients in shiitake mushrooms include applications ranging from oral health products to detoxification support. The National Institute of Health has supported a grant to the City of Hope for an epidemiological study on the health effects of Shiitake.
Who Should Take Shiitake Mushrooms? 
The nutritional content and immune-supporting effects of shiitake mushrooms make them ideal for anyone seeking whole-body health. However, they may be especially useful for those struggling to maintain a healthy weight or those whose immune systems are easily compromised. With the demands of busy modern life, our immune systems can take a beating, but shiitake mushrooms can help to support your natural defense.
How to Take This Mushroom
Whether you use shiitake mushrooms for culinary purposes or as a supplement, certified organic Om Mushroom Superfood powders can help.
If you'd like to match stronger immunity with stronger hair, skin and nails, try Om Beauty, which combines Shiitake with Chaga, King Trumpet, Maitake and Cordyceps to help defy aging with naturally occurring beta glucans and antioxidants. The supplement can be easily added to your favorite drink or recipe to harness your body's natural defense against pathogens. Om Beauty-Full capsules go a step further by topping that powerful mushroom blend with biotin, a water-soluble vitamin associated with shiny hair and smooth skin, for radiance you can see and feel inside out. If you are looking for a more savory and warm mushroom experience try the just released Mighty Vegi Miso Broth or the Mighty Bone Broth which both include Shiitake. Enjoy! 
Erica Garza is an author and essayist from Los Angeles. Her writing has appeared in TIME, Health, Glamour, Good Housekeeping, Women's Health, and VICE.
References: