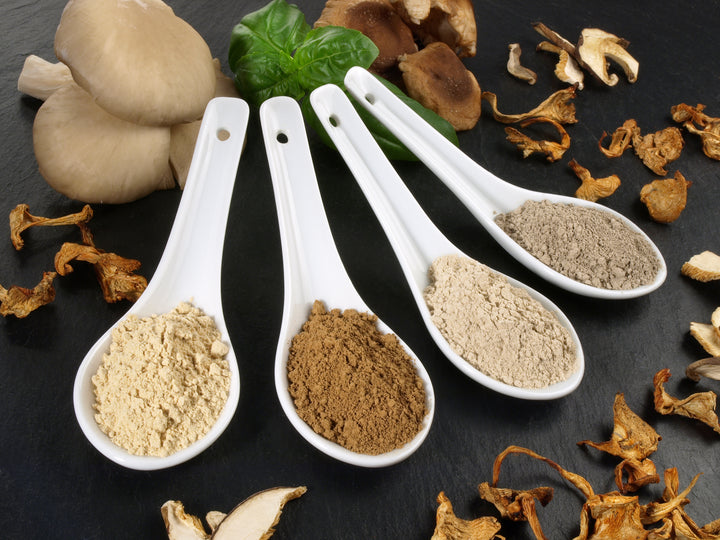 With the heightened desire for immune support and overall health maintenance, it makes sense that sources of vitamin D are a hot topic right now. But, if you're looking for vitamin D because of a deficiency, you won't likely find a sufficient amount in mushrooms. Alternatively, if you're looking for immune support, functional mushrooms have the potential to help.  
There are many health benefits associated with the various species of functional mushrooms. For example, researchers have found that the polysaccharides in turkey tail mushrooms can support immune health, among other benefits. To take advantage of these benefits, you should consume the recommended dosage of 2,000 milligrams or 2 grams per day.‡ 
Mushroom powder offers a convenient way to incorporate the nutrients found in functional mushrooms into your healthy routine to support your body's natural functions.‡ 
Vitamin D, Mushroom Powder, and Immune Support
When it comes to mushrooms specifically, the amount of vitamin D depends on the intensity and length of exposure to ultraviolet (UV) light, and many functional mushrooms' optimal growing conditions don't involve that much direct exposure. So, if you're wondering whether you can get all the recommended daily intake of your vitamin D from mushroom powder alone, the answer is likely "no."
High-quality mushroom powder is, however, dense with nutrients. In fact, it's one of the simplest ways to maximize daily superfood intake, which is key to supporting immunity. The concentration of vitamins and minerals found in superfoods can help keep your body healthy. When incorporated into a well-balanced diet, mushroom superfoods can promote heart health, support weight management, and even help combat the effects of aging.‡ 
Incorporating the recommended dosage of mushroom powder into your daily routine—whether it's a scoop in your favorite warm or cold beverage, or a sprinkle in your favorite dish—allows the naturally occurring compounds and antioxidants to work to improve stamina and support gut health, which, in turn, can correlate with a healthy immune system.‡ 
Other Benefits of Mushroom Powder
Many nutrients can be found in functional mushrooms. These may include beta-glucans, polysaccharides, prebiotic dietary fibers, antioxidants, sterols, triterpenes, peptides, and minerals. When blended into a powdered mushroom superfood, these nutrients can aid in the following ways:   
Energy and vitality support

‡

Encouraged sleep quality for immune system support

‡

Support for natural cellular balance

‡

Digestive health support

‡

Support for cognition and memory function

‡

Anti-aging benefits produced from antioxidant properties

‡

 
For the best results, it's important to consume the recommended dosage of functional mushrooms. Mushroom powder can make it easy to incorporate functional mushrooms into your healthy routine as it can be added to your morning coffee, smoothie, and even some of your favorite dishes. By doing so, you can support your body's natural immune functions.‡
Why Quality Matters for Mushroom Superfood Supplements
The range of benefits that can be seen from the use of functional mushroom powders in your daily diet are immense. While mushrooms are often thought of as a source of vitamin D, they offer a wide variety of nutritional compounds that support healthy immune response. You can explore the unique benefits of different mushroom species to align with your personal wellness goals—be they immunity, vitality, cognitive health, or energy.‡
And, if you're going to experience the full potential of these benefits, it's important to know how the mushroom powder is made. A high-quality supplement will contain whole, adaptogenic mushrooms that are carefully grown and cultivated, tested for efficacy and quality, and packaged here in the United States. 
Om Mushroom offers products created from functional, whole food, organic mushrooms that have life-changing health benefits. Similarly to vitamin D, our mushroom powder helps support a healthy immune response. 
If you're looking to take advantage of the benefits of functional mushroom powder, shop now or subscribe to save!
References:
‡These statements have not been evaluated by the Food and Drug Administration. Functional mushroom products are not intended to diagnose, treat, cure or prevent any disease.