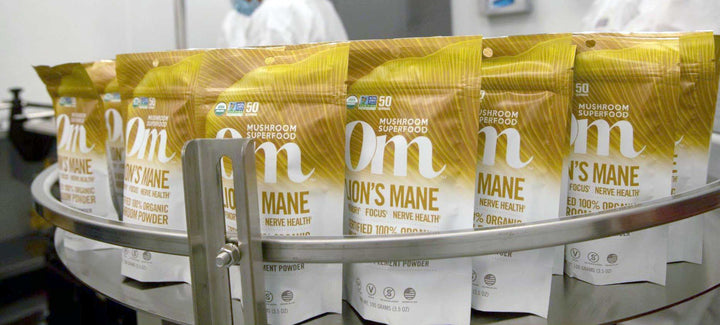 It may surprise you when you find it in your local market's produce section—lion's mane mushrooms are popping up here and there. White and stringy with a taste some people liken to crab or lobster, this edible mushroom can add interest to your recipes. If you are simply experimenting with unusual mushroom species, this occasional find may be enough to satisfy you. But if you are looking for the cognitive support benefit of this functional mushroom, a good quality mushroom supplement is a more reliable choice.
A variety of mushroom species long-revered in Eastern medicine for their nutritional and bioactive compounds are now readily available for purchase in the US. The popularity of functional mushroom supplements continues to grow with sales expected to reach $62 billion by the year 2023. The number of mushroom supplement products is growing to meet this demand.   
Om Mushrooms are cultivated under the direction of experienced mycologists in an indoor farm in Carlsbad, California. Besides ensuring that the safest growing and quality standards are observed, Om is committed to transparency with its customers. Read on to learn where to buy Om Lion's Mane Mushrooms for optimal quality, convenience, and value.
Where to Buy Om Lion's Mane Mushroom for Quality
Mushrooms, and other fungi, are among nature's most prolific recyclers. Along with bacteria, fungi break down dead plant and animal material in their environment and return it to the earth. In doing so, mushrooms tend to bioaccumulate or absorb and accumulate vitamins, minerals, and other nutrients. Unfortunately, they may also absorb toxins from their environment. For this reason, when purchasing mushrooms, it is essential to know your source.‡
Om's lion's mane mushrooms are grown indoors and processed under some of the strictest standards for dietary supplements. By submitting products and processes for independent evaluation, Om demonstrates its commitment to providing customers with the best quality supplements. These include the following third-party product certifications:
The Current Good Manufacturing Practices (cGMP):

The US Food and Drug Administration (FDA) has published safety standards for the manufacturing, packaging, labeling, and storage of dietary supplements. By complying with the cGMP, Om Mushroom ensures that their products meet the highest standards for manufacturing practices.

BRC Global Standard AA Rating:

As the only mushroom company to receive this prestigious rating, Om Mushrooms has demonstrated its commitment to providing the best operational,

food safety

, and quality standards for its customers.

Non-GMO:

Om Mushroom products are verified "not genetically modified" by the non-profit organization,

Non-GMO Project

.

Certified Organic

: Om Mushroom products are grown under the standards for organic certification by the US Department of Agriculture's

National Organic Program

.

Certified Kosher:

Om products bear the kosher stamp of approval indicating that their ingredients, production facilities, and production processes are all in compliance with and overseen by a Rabbinic Agency.
By submitting to each of these individual checkpoints and earning their stamp or certificate, Om Mushroom indicates its commitment to transparency and quality for all of its many products. You can be sure that wherever you buy Om Mushrooms, you are getting a quality product.    
Where to Buy Om Lion's Mane Mushroom for Convenience
Om Lion's Mane Mushroom products are widely available at neighborhood, brick-and-mortar stores as well as from online merchants. 
Stores Near You
When you are out shopping, look for Om Lion's Mane Mushroom Powder and Powder Capsules on the shelves of your favorite retail stores: Whole Foods, Sprouts, Wegmans, The Vitamin Shoppe, Fresh Thyme, CVS, and more. Om products are also available at a wide range of local health food stores in the US and Canada.
Find Your Om
Enter your zip code below to find a store near you!
Invalid ZIP code
Online Retailers
If your local store is out of the desired lion's mane products or you prefer to shop online for the convenience of delivery to your front door, Om products are widely available. These online merchants are just a sample of the many retailers who will ship Om mushroom supplements directly to your home or office: Amazon, The Vitamin Shoppe, iHerb, CVS, Thrive Market (with membership). Each of these online retailers can deliver Om products provided they are in stock. In each case, you are subject to the retailer's customer service and return policies.   
Where to Buy Om Lion's Mane Mushroom for Best Value
Without a doubt, the best place to buy Om Lion's Mane Mushroom products is directly from the source. From the standpoint of price as well as the perspective of supply, buying your supplements from the Om Mushroom website makes a lot of sense. For the best choice of all of their products, the Om website offers a full range of options as well as excellent customer service. In addition, Om provides special offers and incentives that allow you to get the most for your money.
Product Options
Om Mushroom's website provides purchasers with a great deal of support as they shop. Customers have the option of shopping by mushroom species. Besides lion's mane, Om offers reishi, chaga, cordyceps, turkey tail, maitake, as well as multi-mushroom blends. By selecting lion's mane, you will be presented with certified, organic powder in varying sizes and lion's mane capsules in several quantities. 
Another option is to select your goal in order to receive direction to the most beneficial mushroom species for that purpose. When you choose "cognitive support," you are directed to all the products containing lion's mane as a single species and in multi-species blends. You will also see the option of purchasing multi-product bundles carefully curated to highlight support for cognitive function, including memory and mental clarity.
The third option for finding the desired mushroom product is by the format in which you wish to use it. Besides the bulk powders and powder capsules, you may select hot and cold drink mixes and our new Lion's Mane Mushroom Gummies. Om's website also offers detailed information to help consumers learn about their mushroom products, as well as recipes that incorporate different powders.
Subscribe and Save
Unquestionably, the best value comes with Om's Subscribe and Save option. This purchase option includes a 20% discount and free standard shipping (in the continental US) on every order. In addition, all Subscribe and Save members become Om VIPs. This status conveys special perks that may include additional discounts, free samples, and special gifts.
Once you join Subscribe and Save, you select your favorite Om products and the desired delivery frequency. You can modify your order, pause a delivery, or cancel anytime through your VIP account. As an OM insider, you will have early access to new products and the benefits of VIP customer service. 
How to Ensure That You Never Run Out of Om Lion's Mane Products
The best way to ensure you get the most benefit from Om Lion's Mane Mushroom products is with daily use, supporting healthy cognitive functioning. To ensure you never run short, subscribe and save directly from the source. Buying your lion's mane products from Om guarantees the benefit of strict quality standards, maximizes convenience, and ensures the best value for your money.
Om's commitment to responsible sourcing, growing, milling, and packaging is unrivaled. The third-party quality assurance is evidenced by the rigorous independent testing each product undergoes. As a VIP subscriber, you will have easy access to new products as Om continues to innovate to meet the needs and unique lifestyle goals of its consumers.  
If you are wondering where to buy Om Lion's Mane Mushroom products to support your body's natural cognitive functions like memory and mental clarity, look no further than the Om Subscribe and Save program. Choose your favorite whole food, organic mushroom powders and have their life-changing health benefits delivered directly to your door. To take advantage of the benefits of these high-quality functional mushroom products, shop now or subscribe to save to receive the best value!
‡These statements have not been evaluated by the Food and Drug Administration. Functional mushroom products are not intended to diagnose, treat, cure or prevent any disease.