{"id":1919002673248,"title":"Chaga Organic Mushroom Powder","handle":"chaga","description":"\u003ch2\u003eThe Mushroom of Youth\u003c\/h2\u003e\n\u003cp\u003eHighly revered for anti-aging properties to retain your youthful vibrance. This legendary mushroom is known to have some of the highest levels of antioxidants. Helps balance the metabolic system and is a natural adaptogen.‡\u003c\/p\u003e","published_at":"2021-08-19T11:46:55-07:00","created_at":"2019-02-04T15:04:08-08:00","vendor":"Om Mushroom Superfood","type":"Powders","tags":["beauty and radiance","chaga","hair skin and nails","wizard","YGroup_chaga"],"price":1999,"price_min":1999,"price_max":4299,"available":true,"price_varies":true,"compare_at_price":null,"compare_at_price_min":0,"compare_at_price_max":0,"compare_at_price_varies":false,"variants":[{"id":42297475039390,"title":"30 Servings | 2.1 oz (60g) \/ Powder","option1":"30 Servings | 2.1 oz (60g)","option2":"Powder","option3":null,"sku":"60550","requires_shipping":true,"taxable":true,"featured_image":{"id":35048224096414,"product_id":1919002673248,"position":2,"created_at":"2022-12-12T13:08:33-08:00","updated_at":"2022-12-12T13:09:06-08:00","alt":"variant1","width":2400,"height":2400,"src":"\/\/ommushrooms.com\/cdn\/shop\/products\/Om_Chaga_60g_Mockup_Front_15485-003.jpg?v=1670879346","variant_ids":[42297475039390]},"available":true,"name":"Chaga Organic Mushroom Powder - 30 Servings | 2.1 oz (60g) \/ Powder","public_title":"30 Servings | 2.1 oz (60g) \/ Powder","options":["30 Servings | 2.1 oz (60g)","Powder"],"price":1999,"weight":91,"compare_at_price":null,"inventory_management":"shopify","barcode":"856210008479","featured_media":{"alt":"variant1","id":27502206058654,"position":2,"preview_image":{"aspect_ratio":1.0,"height":2400,"width":2400,"src":"\/\/ommushrooms.com\/cdn\/shop\/products\/Om_Chaga_60g_Mockup_Front_15485-003.jpg?v=1670879346"}},"requires_selling_plan":false,"selling_plan_allocations":[{"price_adjustments":[{"position":1,"price":1699}],"price":1699,"compare_at_price":1999,"per_delivery_price":1699,"selling_plan_id":1617985694,"selling_plan_group_id":"979b384c4825f5e2a9173bc9d05530219930e52a"},{"price_adjustments":[{"position":1,"price":1699}],"price":1699,"compare_at_price":1999,"per_delivery_price":1699,"selling_plan_id":1618083998,"selling_plan_group_id":"979b384c4825f5e2a9173bc9d05530219930e52a"},{"price_adjustments":[{"position":1,"price":1699}],"price":1699,"compare_at_price":1999,"per_delivery_price":1699,"selling_plan_id":1618149534,"selling_plan_group_id":"979b384c4825f5e2a9173bc9d05530219930e52a"},{"price_adjustments":[{"position":1,"price":1699}],"price":1699,"compare_at_price":1999,"per_delivery_price":1699,"selling_plan_id":1618215070,"selling_plan_group_id":"979b384c4825f5e2a9173bc9d05530219930e52a"},{"price_adjustments":[{"position":1,"price":1699}],"price":1699,"compare_at_price":1999,"per_delivery_price":1699,"selling_plan_id":1618247838,"selling_plan_group_id":"979b384c4825f5e2a9173bc9d05530219930e52a"},{"price_adjustments":[{"position":1,"price":1699}],"price":1699,"compare_at_price":1999,"per_delivery_price":1699,"selling_plan_id":1618280606,"selling_plan_group_id":"979b384c4825f5e2a9173bc9d05530219930e52a"}],"quantity_rule":{"min":1,"max":null,"increment":1}},{"id":18554015809632,"title":"50 Servings | 3.5 oz (100g) \/ Powder","option1":"50 Servings | 3.5 oz (100g)","option2":"Powder","option3":null,"sku":"60140","requires_shipping":true,"taxable":true,"featured_image":{"id":30676469022878,"product_id":1919002673248,"position":4,"created_at":"2021-09-15T12:30:27-07:00","updated_at":"2022-12-12T13:09:06-08:00","alt":"variant2","width":2400,"height":2400,"src":"\/\/ommushrooms.com\/cdn\/shop\/products\/Chaga100g-006_Front.jpg?v=1670879346","variant_ids":[18554015809632]},"available":true,"name":"Chaga Organic Mushroom Powder - 50 Servings | 3.5 oz (100g) \/ Powder","public_title":"50 Servings | 3.5 oz (100g) \/ Powder","options":["50 Servings | 3.5 oz (100g)","Powder"],"price":2699,"weight":91,"compare_at_price":null,"inventory_management":"shopify","barcode":"857727004091","featured_media":{"alt":"variant2","id":23048408039582,"position":4,"preview_image":{"aspect_ratio":1.0,"height":2400,"width":2400,"src":"\/\/ommushrooms.com\/cdn\/shop\/products\/Chaga100g-006_Front.jpg?v=1670879346"}},"requires_selling_plan":false,"selling_plan_allocations":[{"price_adjustments":[{"position":1,"price":2294}],"price":2294,"compare_at_price":2699,"per_delivery_price":2294,"selling_plan_id":1617985694,"selling_plan_group_id":"979b384c4825f5e2a9173bc9d05530219930e52a"},{"price_adjustments":[{"position":1,"price":2294}],"price":2294,"compare_at_price":2699,"per_delivery_price":2294,"selling_plan_id":1618083998,"selling_plan_group_id":"979b384c4825f5e2a9173bc9d05530219930e52a"},{"price_adjustments":[{"position":1,"price":2294}],"price":2294,"compare_at_price":2699,"per_delivery_price":2294,"selling_plan_id":1618149534,"selling_plan_group_id":"979b384c4825f5e2a9173bc9d05530219930e52a"},{"price_adjustments":[{"position":1,"price":2294}],"price":2294,"compare_at_price":2699,"per_delivery_price":2294,"selling_plan_id":1618215070,"selling_plan_group_id":"979b384c4825f5e2a9173bc9d05530219930e52a"},{"price_adjustments":[{"position":1,"price":2294}],"price":2294,"compare_at_price":2699,"per_delivery_price":2294,"selling_plan_id":1618247838,"selling_plan_group_id":"979b384c4825f5e2a9173bc9d05530219930e52a"},{"price_adjustments":[{"position":1,"price":2294}],"price":2294,"compare_at_price":2699,"per_delivery_price":2294,"selling_plan_id":1618280606,"selling_plan_group_id":"979b384c4825f5e2a9173bc9d05530219930e52a"}],"quantity_rule":{"min":1,"max":null,"increment":1}},{"id":18554015776864,"title":"100 Servings | 7.05 oz (200g) \/ Powder","option1":"100 Servings | 7.05 oz (200g)","option2":"Powder","option3":null,"sku":"60155","requires_shipping":true,"taxable":true,"featured_image":{"id":31046292832414,"product_id":1919002673248,"position":1,"created_at":"2021-10-08T15:57:37-07:00","updated_at":"2021-11-18T13:49:47-08:00","alt":"variant3","width":2400,"height":2400,"src":"\/\/ommushrooms.com\/cdn\/shop\/products\/Chaga_200g_Front.jpg?v=1637272187","variant_ids":[18554015776864]},"available":true,"name":"Chaga Organic Mushroom Powder - 100 Servings | 7.05 oz (200g) \/ Powder","public_title":"100 Servings | 7.05 oz (200g) \/ Powder","options":["100 Servings | 7.05 oz (200g)","Powder"],"price":4299,"weight":181,"compare_at_price":null,"inventory_management":"shopify","barcode":"850030553232","featured_media":{"alt":"variant3","id":23425460633758,"position":1,"preview_image":{"aspect_ratio":1.0,"height":2400,"width":2400,"src":"\/\/ommushrooms.com\/cdn\/shop\/products\/Chaga_200g_Front.jpg?v=1637272187"}},"requires_selling_plan":false,"selling_plan_allocations":[{"price_adjustments":[{"position":1,"price":3654}],"price":3654,"compare_at_price":4299,"per_delivery_price":3654,"selling_plan_id":1617985694,"selling_plan_group_id":"979b384c4825f5e2a9173bc9d05530219930e52a"},{"price_adjustments":[{"position":1,"price":3654}],"price":3654,"compare_at_price":4299,"per_delivery_price":3654,"selling_plan_id":1618083998,"selling_plan_group_id":"979b384c4825f5e2a9173bc9d05530219930e52a"},{"price_adjustments":[{"position":1,"price":3654}],"price":3654,"compare_at_price":4299,"per_delivery_price":3654,"selling_plan_id":1618149534,"selling_plan_group_id":"979b384c4825f5e2a9173bc9d05530219930e52a"},{"price_adjustments":[{"position":1,"price":3654}],"price":3654,"compare_at_price":4299,"per_delivery_price":3654,"selling_plan_id":1618215070,"selling_plan_group_id":"979b384c4825f5e2a9173bc9d05530219930e52a"},{"price_adjustments":[{"position":1,"price":3654}],"price":3654,"compare_at_price":4299,"per_delivery_price":3654,"selling_plan_id":1618247838,"selling_plan_group_id":"979b384c4825f5e2a9173bc9d05530219930e52a"},{"price_adjustments":[{"position":1,"price":3654}],"price":3654,"compare_at_price":4299,"per_delivery_price":3654,"selling_plan_id":1618280606,"selling_plan_group_id":"979b384c4825f5e2a9173bc9d05530219930e52a"}],"quantity_rule":{"min":1,"max":null,"increment":1}}],"images":["\/\/ommushrooms.com\/cdn\/shop\/products\/Chaga_200g_Front.jpg?v=1637272187","\/\/ommushrooms.com\/cdn\/shop\/products\/Om_Chaga_60g_Mockup_Front_15485-003.jpg?v=1670879346","\/\/ommushrooms.com\/cdn\/shop\/products\/Om_Chaga_60g_Mockup_Back_15485-003.jpg?v=1670879346","\/\/ommushrooms.com\/cdn\/shop\/products\/Chaga100g-006_Front.jpg?v=1670879346","\/\/ommushrooms.com\/cdn\/shop\/products\/Chaga100g-006_Back.jpg?v=1670879346","\/\/ommushrooms.com\/cdn\/shop\/products\/Chaga_200g_Back.jpg?v=1670879346","\/\/ommushrooms.com\/cdn\/shop\/products\/Om_Chaga_Tile2.jpg?v=1670879346","\/\/ommushrooms.com\/cdn\/shop\/products\/Om_Chaga_Tile7.jpg?v=1670879346","\/\/ommushrooms.com\/cdn\/shop\/products\/Om_Chaga_Tile3.jpg?v=1670879346","\/\/ommushrooms.com\/cdn\/shop\/products\/Om_Chaga_Tile1.jpg?v=1670879346","\/\/ommushrooms.com\/cdn\/shop\/products\/Om_Chaga200g_Tile1_7250a7ac-ee8e-401e-89b4-22f785e4f76a.jpg?v=1670879346","\/\/ommushrooms.com\/cdn\/shop\/products\/Om_Chaga_Tile6_c501c4f2-8a3b-447b-a62c-a5f2622b0d3d.jpg?v=1670879346","\/\/ommushrooms.com\/cdn\/shop\/products\/Om_Chaga_Tile5_fbb4bdd5-e0ec-4696-8790-68a2e97c97ad.jpg?v=1670879346"],"featured_image":"\/\/ommushrooms.com\/cdn\/shop\/products\/Chaga_200g_Front.jpg?v=1637272187","options":["Size","Format"],"media":[{"alt":"variant3","id":23425460633758,"position":1,"preview_image":{"aspect_ratio":1.0,"height":2400,"width":2400,"src":"\/\/ommushrooms.com\/cdn\/shop\/products\/Chaga_200g_Front.jpg?v=1637272187"},"aspect_ratio":1.0,"height":2400,"media_type":"image","src":"\/\/ommushrooms.com\/cdn\/shop\/products\/Chaga_200g_Front.jpg?v=1637272187","width":2400},{"alt":"variant1","id":27502206058654,"position":2,"preview_image":{"aspect_ratio":1.0,"height":2400,"width":2400,"src":"\/\/ommushrooms.com\/cdn\/shop\/products\/Om_Chaga_60g_Mockup_Front_15485-003.jpg?v=1670879346"},"aspect_ratio":1.0,"height":2400,"media_type":"image","src":"\/\/ommushrooms.com\/cdn\/shop\/products\/Om_Chaga_60g_Mockup_Front_15485-003.jpg?v=1670879346","width":2400},{"alt":"variant1","id":27502206025886,"position":3,"preview_image":{"aspect_ratio":1.0,"height":2400,"width":2400,"src":"\/\/ommushrooms.com\/cdn\/shop\/products\/Om_Chaga_60g_Mockup_Back_15485-003.jpg?v=1670879346"},"aspect_ratio":1.0,"height":2400,"media_type":"image","src":"\/\/ommushrooms.com\/cdn\/shop\/products\/Om_Chaga_60g_Mockup_Back_15485-003.jpg?v=1670879346","width":2400},{"alt":"variant2","id":23048408039582,"position":4,"preview_image":{"aspect_ratio":1.0,"height":2400,"width":2400,"src":"\/\/ommushrooms.com\/cdn\/shop\/products\/Chaga100g-006_Front.jpg?v=1670879346"},"aspect_ratio":1.0,"height":2400,"media_type":"image","src":"\/\/ommushrooms.com\/cdn\/shop\/products\/Chaga100g-006_Front.jpg?v=1670879346","width":2400},{"alt":"variant2","id":23048414920862,"position":5,"preview_image":{"aspect_ratio":1.0,"height":2400,"width":2400,"src":"\/\/ommushrooms.com\/cdn\/shop\/products\/Chaga100g-006_Back.jpg?v=1670879346"},"aspect_ratio":1.0,"height":2400,"media_type":"image","src":"\/\/ommushrooms.com\/cdn\/shop\/products\/Chaga100g-006_Back.jpg?v=1670879346","width":2400},{"alt":"variant3","id":23425452900510,"position":6,"preview_image":{"aspect_ratio":1.0,"height":2400,"width":2400,"src":"\/\/ommushrooms.com\/cdn\/shop\/products\/Chaga_200g_Back.jpg?v=1670879346"},"aspect_ratio":1.0,"height":2400,"media_type":"image","src":"\/\/ommushrooms.com\/cdn\/shop\/products\/Chaga_200g_Back.jpg?v=1670879346","width":2400},{"alt":null,"id":12083998982302,"position":7,"preview_image":{"aspect_ratio":1.0,"height":2560,"width":2560,"src":"\/\/ommushrooms.com\/cdn\/shop\/products\/Om_Chaga_Tile2.jpg?v=1670879346"},"aspect_ratio":1.0,"height":2560,"media_type":"image","src":"\/\/ommushrooms.com\/cdn\/shop\/products\/Om_Chaga_Tile2.jpg?v=1670879346","width":2560},{"alt":null,"id":12084024180894,"position":8,"preview_image":{"aspect_ratio":1.0,"height":2560,"width":2560,"src":"\/\/ommushrooms.com\/cdn\/shop\/products\/Om_Chaga_Tile7.jpg?v=1670879346"},"aspect_ratio":1.0,"height":2560,"media_type":"image","src":"\/\/ommushrooms.com\/cdn\/shop\/products\/Om_Chaga_Tile7.jpg?v=1670879346","width":2560},{"alt":null,"id":12084010713246,"position":9,"preview_image":{"aspect_ratio":1.0,"height":2560,"width":2560,"src":"\/\/ommushrooms.com\/cdn\/shop\/products\/Om_Chaga_Tile3.jpg?v=1670879346"},"aspect_ratio":1.0,"height":2560,"media_type":"image","src":"\/\/ommushrooms.com\/cdn\/shop\/products\/Om_Chaga_Tile3.jpg?v=1670879346","width":2560},{"alt":"variant2","id":11653761400990,"position":10,"preview_image":{"aspect_ratio":1.0,"height":2560,"width":2560,"src":"\/\/ommushrooms.com\/cdn\/shop\/products\/Om_Chaga_Tile1.jpg?v=1670879346"},"aspect_ratio":1.0,"height":2560,"media_type":"image","src":"\/\/ommushrooms.com\/cdn\/shop\/products\/Om_Chaga_Tile1.jpg?v=1670879346","width":2560},{"alt":"variant3","id":23425441300638,"position":11,"preview_image":{"aspect_ratio":1.0,"height":2400,"width":2400,"src":"\/\/ommushrooms.com\/cdn\/shop\/products\/Om_Chaga200g_Tile1_7250a7ac-ee8e-401e-89b4-22f785e4f76a.jpg?v=1670879346"},"aspect_ratio":1.0,"height":2400,"media_type":"image","src":"\/\/ommushrooms.com\/cdn\/shop\/products\/Om_Chaga200g_Tile1_7250a7ac-ee8e-401e-89b4-22f785e4f76a.jpg?v=1670879346","width":2400},{"alt":null,"id":11653761663134,"position":12,"preview_image":{"aspect_ratio":1.0,"height":2560,"width":2560,"src":"\/\/ommushrooms.com\/cdn\/shop\/products\/Om_Chaga_Tile6_c501c4f2-8a3b-447b-a62c-a5f2622b0d3d.jpg?v=1670879346"},"aspect_ratio":1.0,"height":2560,"media_type":"image","src":"\/\/ommushrooms.com\/cdn\/shop\/products\/Om_Chaga_Tile6_c501c4f2-8a3b-447b-a62c-a5f2622b0d3d.jpg?v=1670879346","width":2560},{"alt":"variant1","id":11653761695902,"position":13,"preview_image":{"aspect_ratio":1.0,"height":2560,"width":2560,"src":"\/\/ommushrooms.com\/cdn\/shop\/products\/Om_Chaga_Tile5_fbb4bdd5-e0ec-4696-8790-68a2e97c97ad.jpg?v=1670879346"},"aspect_ratio":1.0,"height":2560,"media_type":"image","src":"\/\/ommushrooms.com\/cdn\/shop\/products\/Om_Chaga_Tile5_fbb4bdd5-e0ec-4696-8790-68a2e97c97ad.jpg?v=1670879346","width":2560}],"requires_selling_plan":false,"selling_plan_groups":[{"id":"979b384c4825f5e2a9173bc9d05530219930e52a","name":"Chaga Organic Mushroom Superfood Powder","options":[{"name":"30 Day(s), 60 Day(s), 90 Day(s), 120 Day(s), 150 Day(s), 180 Day(s)","position":1,"values":["30 Day(s)","60 Day(s)","90 Day(s)","120 Day(s)","150 Day(s)","180 Day(s)"]}],"selling_plans":[{"id":1617985694,"name":"Delivery every 30 Days","description":null,"options":[{"name":"30 Day(s), 60 Day(s), 90 Day(s), 120 Day(s), 150 Day(s), 180 Day(s)","position":1,"value":"30 Day(s)"}],"recurring_deliveries":true,"price_adjustments":[{"order_count":null,"position":1,"value_type":"percentage","value":15}],"checkout_charge":{"value_type":"percentage","value":100}},{"id":1618083998,"name":"Delivery every 60 Days","description":null,"options":[{"name":"30 Day(s), 60 Day(s), 90 Day(s), 120 Day(s), 150 Day(s), 180 Day(s)","position":1,"value":"60 Day(s)"}],"recurring_deliveries":true,"price_adjustments":[{"order_count":null,"position":1,"value_type":"percentage","value":15}],"checkout_charge":{"value_type":"percentage","value":100}},{"id":1618149534,"name":"Delivery every 90 Days","description":null,"options":[{"name":"30 Day(s), 60 Day(s), 90 Day(s), 120 Day(s), 150 Day(s), 180 Day(s)","position":1,"value":"90 Day(s)"}],"recurring_deliveries":true,"price_adjustments":[{"order_count":null,"position":1,"value_type":"percentage","value":15}],"checkout_charge":{"value_type":"percentage","value":100}},{"id":1618215070,"name":"Delivery every 120 Days","description":null,"options":[{"name":"30 Day(s), 60 Day(s), 90 Day(s), 120 Day(s), 150 Day(s), 180 Day(s)","position":1,"value":"120 Day(s)"}],"recurring_deliveries":true,"price_adjustments":[{"order_count":null,"position":1,"value_type":"percentage","value":15}],"checkout_charge":{"value_type":"percentage","value":100}},{"id":1618247838,"name":"Delivery every 150 Days","description":null,"options":[{"name":"30 Day(s), 60 Day(s), 90 Day(s), 120 Day(s), 150 Day(s), 180 Day(s)","position":1,"value":"150 Day(s)"}],"recurring_deliveries":true,"price_adjustments":[{"order_count":null,"position":1,"value_type":"percentage","value":15}],"checkout_charge":{"value_type":"percentage","value":100}},{"id":1618280606,"name":"Delivery every 180 Days","description":null,"options":[{"name":"30 Day(s), 60 Day(s), 90 Day(s), 120 Day(s), 150 Day(s), 180 Day(s)","position":1,"value":"180 Day(s)"}],"recurring_deliveries":true,"price_adjustments":[{"order_count":null,"position":1,"value_type":"percentage","value":15}],"checkout_charge":{"value_type":"percentage","value":100}}],"app_id":"294517"}],"content":"\u003ch2\u003eThe Mushroom of Youth\u003c\/h2\u003e\n\u003cp\u003eHighly revered for anti-aging properties to retain your youthful vibrance. This legendary mushroom is known to have some of the highest levels of antioxidants. Helps balance the metabolic system and is a natural adaptogen.‡\u003c\/p\u003e"}
{"id":1919002640480,"title":"Cordyceps Organic Mushroom Powder","handle":"cordyceps","description":"\u003ch2\u003eThe Performance Mushroom\u003c\/h2\u003e\n\u003cp\u003eOriginally discovered by Tibetan herdsman at high altitudes, Cordyceps optimizes oxygen uptake and delivery to increase vitality and endurance. Awaken energy, improve cardio and ignite your inner strength.‡\u003c\/p\u003e","published_at":"2021-08-19T11:46:53-07:00","created_at":"2019-02-04T15:04:05-08:00","vendor":"Om Mushroom Superfood","type":"Powders","tags":["cordyceps","energy and fitness","wizard","YGroup_cordyceps"],"price":1999,"price_min":1999,"price_max":4299,"available":true,"price_varies":true,"compare_at_price":null,"compare_at_price_min":0,"compare_at_price_max":0,"compare_at_price_varies":false,"variants":[{"id":42297386139806,"title":"30 Servings | 2.1 oz (60g) \/ Powder","option1":"30 Servings | 2.1 oz (60g)","option2":"Powder","option3":null,"sku":"60540","requires_shipping":true,"taxable":true,"featured_image":{"id":35047911096478,"product_id":1919002640480,"position":2,"created_at":"2022-12-12T11:46:26-08:00","updated_at":"2023-07-18T14:46:44-07:00","alt":"variant1","width":2400,"height":2400,"src":"\/\/ommushrooms.com\/cdn\/shop\/products\/Cordyceps_60g_Mockup_Front_faa086c0-5fb7-4b03-84d6-06bcae8170a6.jpg?v=1689716804","variant_ids":[42297386139806]},"available":true,"name":"Cordyceps Organic Mushroom Powder - 30 Servings | 2.1 oz (60g) \/ Powder","public_title":"30 Servings | 2.1 oz (60g) \/ Powder","options":["30 Servings | 2.1 oz (60g)","Powder"],"price":1999,"weight":91,"compare_at_price":null,"inventory_management":"shopify","barcode":"856210008462","featured_media":{"alt":"variant1","id":27501880705182,"position":2,"preview_image":{"aspect_ratio":1.0,"height":2400,"width":2400,"src":"\/\/ommushrooms.com\/cdn\/shop\/products\/Cordyceps_60g_Mockup_Front_faa086c0-5fb7-4b03-84d6-06bcae8170a6.jpg?v=1689716804"}},"requires_selling_plan":false,"selling_plan_allocations":[{"price_adjustments":[{"position":1,"price":1699}],"price":1699,"compare_at_price":1999,"per_delivery_price":1699,"selling_plan_id":1621295262,"selling_plan_group_id":"35084af693f61be0db03295f79d41e72f3aeb987"},{"price_adjustments":[{"position":1,"price":1699}],"price":1699,"compare_at_price":1999,"per_delivery_price":1699,"selling_plan_id":1621393566,"selling_plan_group_id":"35084af693f61be0db03295f79d41e72f3aeb987"},{"price_adjustments":[{"position":1,"price":1699}],"price":1699,"compare_at_price":1999,"per_delivery_price":1699,"selling_plan_id":1621426334,"selling_plan_group_id":"35084af693f61be0db03295f79d41e72f3aeb987"},{"price_adjustments":[{"position":1,"price":1699}],"price":1699,"compare_at_price":1999,"per_delivery_price":1699,"selling_plan_id":1621491870,"selling_plan_group_id":"35084af693f61be0db03295f79d41e72f3aeb987"},{"price_adjustments":[{"position":1,"price":1699}],"price":1699,"compare_at_price":1999,"per_delivery_price":1699,"selling_plan_id":1621557406,"selling_plan_group_id":"35084af693f61be0db03295f79d41e72f3aeb987"},{"price_adjustments":[{"position":1,"price":1699}],"price":1699,"compare_at_price":1999,"per_delivery_price":1699,"selling_plan_id":1621622942,"selling_plan_group_id":"35084af693f61be0db03295f79d41e72f3aeb987"}],"quantity_rule":{"min":1,"max":null,"increment":1}},{"id":18554015907936,"title":"50 Servings | 3.5 oz (100g) \/ Powder","option1":"50 Servings | 3.5 oz (100g)","option2":"Powder","option3":null,"sku":"60170","requires_shipping":true,"taxable":true,"featured_image":{"id":30676497662110,"product_id":1919002640480,"position":4,"created_at":"2021-09-15T12:32:35-07:00","updated_at":"2023-07-18T14:46:44-07:00","alt":"variant2","width":2400,"height":2400,"src":"\/\/ommushrooms.com\/cdn\/shop\/products\/Cordyceps100g-006_Front.jpg?v=1689716804","variant_ids":[18554015907936]},"available":true,"name":"Cordyceps Organic Mushroom Powder - 50 Servings | 3.5 oz (100g) \/ Powder","public_title":"50 Servings | 3.5 oz (100g) \/ Powder","options":["50 Servings | 3.5 oz (100g)","Powder"],"price":2699,"weight":91,"compare_at_price":null,"inventory_management":"shopify","barcode":"892392002003","featured_media":{"alt":"variant2","id":23048436842654,"position":4,"preview_image":{"aspect_ratio":1.0,"height":2400,"width":2400,"src":"\/\/ommushrooms.com\/cdn\/shop\/products\/Cordyceps100g-006_Front.jpg?v=1689716804"}},"requires_selling_plan":false,"selling_plan_allocations":[{"price_adjustments":[{"position":1,"price":2294}],"price":2294,"compare_at_price":2699,"per_delivery_price":2294,"selling_plan_id":1621295262,"selling_plan_group_id":"35084af693f61be0db03295f79d41e72f3aeb987"},{"price_adjustments":[{"position":1,"price":2294}],"price":2294,"compare_at_price":2699,"per_delivery_price":2294,"selling_plan_id":1621393566,"selling_plan_group_id":"35084af693f61be0db03295f79d41e72f3aeb987"},{"price_adjustments":[{"position":1,"price":2294}],"price":2294,"compare_at_price":2699,"per_delivery_price":2294,"selling_plan_id":1621426334,"selling_plan_group_id":"35084af693f61be0db03295f79d41e72f3aeb987"},{"price_adjustments":[{"position":1,"price":2294}],"price":2294,"compare_at_price":2699,"per_delivery_price":2294,"selling_plan_id":1621491870,"selling_plan_group_id":"35084af693f61be0db03295f79d41e72f3aeb987"},{"price_adjustments":[{"position":1,"price":2294}],"price":2294,"compare_at_price":2699,"per_delivery_price":2294,"selling_plan_id":1621557406,"selling_plan_group_id":"35084af693f61be0db03295f79d41e72f3aeb987"},{"price_adjustments":[{"position":1,"price":2294}],"price":2294,"compare_at_price":2699,"per_delivery_price":2294,"selling_plan_id":1621622942,"selling_plan_group_id":"35084af693f61be0db03295f79d41e72f3aeb987"}],"quantity_rule":{"min":1,"max":null,"increment":1}},{"id":18554015875168,"title":"100 Servings | 7.05 oz (200g) \/ Powder","option1":"100 Servings | 7.05 oz (200g)","option2":"Powder","option3":null,"sku":"60185","requires_shipping":true,"taxable":true,"featured_image":{"id":31046326223006,"product_id":1919002640480,"position":1,"created_at":"2021-10-08T16:00:29-07:00","updated_at":"2021-11-18T13:50:16-08:00","alt":"variant3","width":2400,"height":2400,"src":"\/\/ommushrooms.com\/cdn\/shop\/products\/Cordyceps_200g_Front.jpg?v=1637272216","variant_ids":[18554015875168]},"available":true,"name":"Cordyceps Organic Mushroom Powder - 100 Servings | 7.05 oz (200g) \/ Powder","public_title":"100 Servings | 7.05 oz (200g) \/ Powder","options":["100 Servings | 7.05 oz (200g)","Powder"],"price":4299,"weight":181,"compare_at_price":null,"inventory_management":"shopify","barcode":"850030553249","featured_media":{"alt":"variant3","id":23425496154270,"position":1,"preview_image":{"aspect_ratio":1.0,"height":2400,"width":2400,"src":"\/\/ommushrooms.com\/cdn\/shop\/products\/Cordyceps_200g_Front.jpg?v=1637272216"}},"requires_selling_plan":false,"selling_plan_allocations":[{"price_adjustments":[{"position":1,"price":3654}],"price":3654,"compare_at_price":4299,"per_delivery_price":3654,"selling_plan_id":1621295262,"selling_plan_group_id":"35084af693f61be0db03295f79d41e72f3aeb987"},{"price_adjustments":[{"position":1,"price":3654}],"price":3654,"compare_at_price":4299,"per_delivery_price":3654,"selling_plan_id":1621393566,"selling_plan_group_id":"35084af693f61be0db03295f79d41e72f3aeb987"},{"price_adjustments":[{"position":1,"price":3654}],"price":3654,"compare_at_price":4299,"per_delivery_price":3654,"selling_plan_id":1621426334,"selling_plan_group_id":"35084af693f61be0db03295f79d41e72f3aeb987"},{"price_adjustments":[{"position":1,"price":3654}],"price":3654,"compare_at_price":4299,"per_delivery_price":3654,"selling_plan_id":1621491870,"selling_plan_group_id":"35084af693f61be0db03295f79d41e72f3aeb987"},{"price_adjustments":[{"position":1,"price":3654}],"price":3654,"compare_at_price":4299,"per_delivery_price":3654,"selling_plan_id":1621557406,"selling_plan_group_id":"35084af693f61be0db03295f79d41e72f3aeb987"},{"price_adjustments":[{"position":1,"price":3654}],"price":3654,"compare_at_price":4299,"per_delivery_price":3654,"selling_plan_id":1621622942,"selling_plan_group_id":"35084af693f61be0db03295f79d41e72f3aeb987"}],"quantity_rule":{"min":1,"max":null,"increment":1}}],"images":["\/\/ommushrooms.com\/cdn\/shop\/products\/Cordyceps_200g_Front.jpg?v=1637272216","\/\/ommushrooms.com\/cdn\/shop\/products\/Cordyceps_60g_Mockup_Front_faa086c0-5fb7-4b03-84d6-06bcae8170a6.jpg?v=1689716804","\/\/ommushrooms.com\/cdn\/shop\/products\/Om_Cordyceps_60g_Mockup_Back_15475-003.jpg?v=1689716804","\/\/ommushrooms.com\/cdn\/shop\/products\/Cordyceps100g-006_Front.jpg?v=1689716804","\/\/ommushrooms.com\/cdn\/shop\/products\/Cordyceps100g-006_Back.jpg?v=1689716804","\/\/ommushrooms.com\/cdn\/shop\/products\/Cordyceps_200g_Back.jpg?v=1689716804","\/\/ommushrooms.com\/cdn\/shop\/products\/Om_Cordy200g_Tile1_89ab8089-6399-49f2-b7d9-27974a78a802.jpg?v=1689716804","\/\/ommushrooms.com\/cdn\/shop\/products\/Om_Cordy_Tile2.jpg?v=1670880043","\/\/ommushrooms.com\/cdn\/shop\/products\/Om_Cordy_Tile7.jpg?v=1670880043","\/\/ommushrooms.com\/cdn\/shop\/products\/Om_Cordy_Tile4_5234684e-71ad-4c51-860e-b5dcb1b6c0be.jpg?v=1670880043","\/\/ommushrooms.com\/cdn\/shop\/products\/OM_Cordy_Tile6_819bd0b9-6e19-4330-b41c-93dc85b2e87e.jpg?v=1670880043","\/\/ommushrooms.com\/cdn\/shop\/products\/Om_Cordy_Tile1.jpg?v=1670880043","\/\/ommushrooms.com\/cdn\/shop\/products\/Om_Cordy200g_Tile1_740cecb8-5859-4d1f-8c3d-aaa0ce6babd2.jpg?v=1670880043","\/\/ommushrooms.com\/cdn\/shop\/products\/Om_Cordy_Tile5_9cf90058-36ef-4cc2-a7fa-6b68fcc7d70c.jpg?v=1670880043"],"featured_image":"\/\/ommushrooms.com\/cdn\/shop\/products\/Cordyceps_200g_Front.jpg?v=1637272216","options":["Size","Format"],"media":[{"alt":"variant3","id":23425496154270,"position":1,"preview_image":{"aspect_ratio":1.0,"height":2400,"width":2400,"src":"\/\/ommushrooms.com\/cdn\/shop\/products\/Cordyceps_200g_Front.jpg?v=1637272216"},"aspect_ratio":1.0,"height":2400,"media_type":"image","src":"\/\/ommushrooms.com\/cdn\/shop\/products\/Cordyceps_200g_Front.jpg?v=1637272216","width":2400},{"alt":"variant1","id":27501880705182,"position":2,"preview_image":{"aspect_ratio":1.0,"height":2400,"width":2400,"src":"\/\/ommushrooms.com\/cdn\/shop\/products\/Cordyceps_60g_Mockup_Front_faa086c0-5fb7-4b03-84d6-06bcae8170a6.jpg?v=1689716804"},"aspect_ratio":1.0,"height":2400,"media_type":"image","src":"\/\/ommushrooms.com\/cdn\/shop\/products\/Cordyceps_60g_Mockup_Front_faa086c0-5fb7-4b03-84d6-06bcae8170a6.jpg?v=1689716804","width":2400},{"alt":"variant1","id":27502256390302,"position":3,"preview_image":{"aspect_ratio":1.0,"height":2400,"width":2400,"src":"\/\/ommushrooms.com\/cdn\/shop\/products\/Om_Cordyceps_60g_Mockup_Back_15475-003.jpg?v=1689716804"},"aspect_ratio":1.0,"height":2400,"media_type":"image","src":"\/\/ommushrooms.com\/cdn\/shop\/products\/Om_Cordyceps_60g_Mockup_Back_15475-003.jpg?v=1689716804","width":2400},{"alt":"variant2","id":23048436842654,"position":4,"preview_image":{"aspect_ratio":1.0,"height":2400,"width":2400,"src":"\/\/ommushrooms.com\/cdn\/shop\/products\/Cordyceps100g-006_Front.jpg?v=1689716804"},"aspect_ratio":1.0,"height":2400,"media_type":"image","src":"\/\/ommushrooms.com\/cdn\/shop\/products\/Cordyceps100g-006_Front.jpg?v=1689716804","width":2400},{"alt":"variant2","id":23048436809886,"position":5,"preview_image":{"aspect_ratio":1.0,"height":2400,"width":2400,"src":"\/\/ommushrooms.com\/cdn\/shop\/products\/Cordyceps100g-006_Back.jpg?v=1689716804"},"aspect_ratio":1.0,"height":2400,"media_type":"image","src":"\/\/ommushrooms.com\/cdn\/shop\/products\/Cordyceps100g-006_Back.jpg?v=1689716804","width":2400},{"alt":"variant3","id":23425496121502,"position":6,"preview_image":{"aspect_ratio":1.0,"height":2400,"width":2400,"src":"\/\/ommushrooms.com\/cdn\/shop\/products\/Cordyceps_200g_Back.jpg?v=1689716804"},"aspect_ratio":1.0,"height":2400,"media_type":"image","src":"\/\/ommushrooms.com\/cdn\/shop\/products\/Cordyceps_200g_Back.jpg?v=1689716804","width":2400},{"alt":"hide facebook","id":23955436503198,"position":7,"preview_image":{"aspect_ratio":1.0,"height":2400,"width":2400,"src":"\/\/ommushrooms.com\/cdn\/shop\/products\/Om_Cordy200g_Tile1_89ab8089-6399-49f2-b7d9-27974a78a802.jpg?v=1689716804"},"aspect_ratio":1.0,"height":2400,"media_type":"image","src":"\/\/ommushrooms.com\/cdn\/shop\/products\/Om_Cordy200g_Tile1_89ab8089-6399-49f2-b7d9-27974a78a802.jpg?v=1689716804","width":2400},{"alt":null,"id":12098562162846,"position":8,"preview_image":{"aspect_ratio":1.0,"height":2560,"width":2560,"src":"\/\/ommushrooms.com\/cdn\/shop\/products\/Om_Cordy_Tile2.jpg?v=1670880043"},"aspect_ratio":1.0,"height":2560,"media_type":"image","src":"\/\/ommushrooms.com\/cdn\/shop\/products\/Om_Cordy_Tile2.jpg?v=1670880043","width":2560},{"alt":null,"id":12098571010206,"position":9,"preview_image":{"aspect_ratio":1.0,"height":2560,"width":2560,"src":"\/\/ommushrooms.com\/cdn\/shop\/products\/Om_Cordy_Tile7.jpg?v=1670880043"},"aspect_ratio":1.0,"height":2560,"media_type":"image","src":"\/\/ommushrooms.com\/cdn\/shop\/products\/Om_Cordy_Tile7.jpg?v=1670880043","width":2560},{"alt":null,"id":12098569404574,"position":10,"preview_image":{"aspect_ratio":1.0,"height":2560,"width":2560,"src":"\/\/ommushrooms.com\/cdn\/shop\/products\/Om_Cordy_Tile4_5234684e-71ad-4c51-860e-b5dcb1b6c0be.jpg?v=1670880043"},"aspect_ratio":1.0,"height":2560,"media_type":"image","src":"\/\/ommushrooms.com\/cdn\/shop\/products\/Om_Cordy_Tile4_5234684e-71ad-4c51-860e-b5dcb1b6c0be.jpg?v=1670880043","width":2560},{"alt":null,"id":11653766774942,"position":11,"preview_image":{"aspect_ratio":1.0,"height":2560,"width":2560,"src":"\/\/ommushrooms.com\/cdn\/shop\/products\/OM_Cordy_Tile6_819bd0b9-6e19-4330-b41c-93dc85b2e87e.jpg?v=1670880043"},"aspect_ratio":1.0,"height":2560,"media_type":"image","src":"\/\/ommushrooms.com\/cdn\/shop\/products\/OM_Cordy_Tile6_819bd0b9-6e19-4330-b41c-93dc85b2e87e.jpg?v=1670880043","width":2560},{"alt":"variant2","id":11653766512798,"position":12,"preview_image":{"aspect_ratio":1.0,"height":2560,"width":2560,"src":"\/\/ommushrooms.com\/cdn\/shop\/products\/Om_Cordy_Tile1.jpg?v=1670880043"},"aspect_ratio":1.0,"height":2560,"media_type":"image","src":"\/\/ommushrooms.com\/cdn\/shop\/products\/Om_Cordy_Tile1.jpg?v=1670880043","width":2560},{"alt":"variant3","id":23425497530526,"position":13,"preview_image":{"aspect_ratio":1.0,"height":2400,"width":2400,"src":"\/\/ommushrooms.com\/cdn\/shop\/products\/Om_Cordy200g_Tile1_740cecb8-5859-4d1f-8c3d-aaa0ce6babd2.jpg?v=1670880043"},"aspect_ratio":1.0,"height":2400,"media_type":"image","src":"\/\/ommushrooms.com\/cdn\/shop\/products\/Om_Cordy200g_Tile1_740cecb8-5859-4d1f-8c3d-aaa0ce6babd2.jpg?v=1670880043","width":2400},{"alt":"variant1","id":11653766807710,"position":14,"preview_image":{"aspect_ratio":1.0,"height":2560,"width":2560,"src":"\/\/ommushrooms.com\/cdn\/shop\/products\/Om_Cordy_Tile5_9cf90058-36ef-4cc2-a7fa-6b68fcc7d70c.jpg?v=1670880043"},"aspect_ratio":1.0,"height":2560,"media_type":"image","src":"\/\/ommushrooms.com\/cdn\/shop\/products\/Om_Cordy_Tile5_9cf90058-36ef-4cc2-a7fa-6b68fcc7d70c.jpg?v=1670880043","width":2560}],"requires_selling_plan":false,"selling_plan_groups":[{"id":"35084af693f61be0db03295f79d41e72f3aeb987","name":"Cordyceps Organic Mushroom Powder","options":[{"name":"30 Day(s), 60 Day(s), 90 Day(s), 120 Day(s), 150 Day(s), 180 Day(s)","position":1,"values":["30 Day(s)","60 Day(s)","90 Day(s)","120 Day(s)","150 Day(s)","180 Day(s)"]}],"selling_plans":[{"id":1621295262,"name":"Delivery every 30 Days","description":null,"options":[{"name":"30 Day(s), 60 Day(s), 90 Day(s), 120 Day(s), 150 Day(s), 180 Day(s)","position":1,"value":"30 Day(s)"}],"recurring_deliveries":true,"price_adjustments":[{"order_count":null,"position":1,"value_type":"percentage","value":15}],"checkout_charge":{"value_type":"percentage","value":100}},{"id":1621393566,"name":"Delivery every 60 Days","description":null,"options":[{"name":"30 Day(s), 60 Day(s), 90 Day(s), 120 Day(s), 150 Day(s), 180 Day(s)","position":1,"value":"60 Day(s)"}],"recurring_deliveries":true,"price_adjustments":[{"order_count":null,"position":1,"value_type":"percentage","value":15}],"checkout_charge":{"value_type":"percentage","value":100}},{"id":1621426334,"name":"Delivery every 90 Days","description":null,"options":[{"name":"30 Day(s), 60 Day(s), 90 Day(s), 120 Day(s), 150 Day(s), 180 Day(s)","position":1,"value":"90 Day(s)"}],"recurring_deliveries":true,"price_adjustments":[{"order_count":null,"position":1,"value_type":"percentage","value":15}],"checkout_charge":{"value_type":"percentage","value":100}},{"id":1621491870,"name":"Delivery every 120 Days","description":null,"options":[{"name":"30 Day(s), 60 Day(s), 90 Day(s), 120 Day(s), 150 Day(s), 180 Day(s)","position":1,"value":"120 Day(s)"}],"recurring_deliveries":true,"price_adjustments":[{"order_count":null,"position":1,"value_type":"percentage","value":15}],"checkout_charge":{"value_type":"percentage","value":100}},{"id":1621557406,"name":"Delivery every 150 Days","description":null,"options":[{"name":"30 Day(s), 60 Day(s), 90 Day(s), 120 Day(s), 150 Day(s), 180 Day(s)","position":1,"value":"150 Day(s)"}],"recurring_deliveries":true,"price_adjustments":[{"order_count":null,"position":1,"value_type":"percentage","value":15}],"checkout_charge":{"value_type":"percentage","value":100}},{"id":1621622942,"name":"Delivery every 180 Days","description":null,"options":[{"name":"30 Day(s), 60 Day(s), 90 Day(s), 120 Day(s), 150 Day(s), 180 Day(s)","position":1,"value":"180 Day(s)"}],"recurring_deliveries":true,"price_adjustments":[{"order_count":null,"position":1,"value_type":"percentage","value":15}],"checkout_charge":{"value_type":"percentage","value":100}}],"app_id":"294517"}],"content":"\u003ch2\u003eThe Performance Mushroom\u003c\/h2\u003e\n\u003cp\u003eOriginally discovered by Tibetan herdsman at high altitudes, Cordyceps optimizes oxygen uptake and delivery to increase vitality and endurance. Awaken energy, improve cardio and ignite your inner strength.‡\u003c\/p\u003e"}
{"error":"json not allowed for this object"}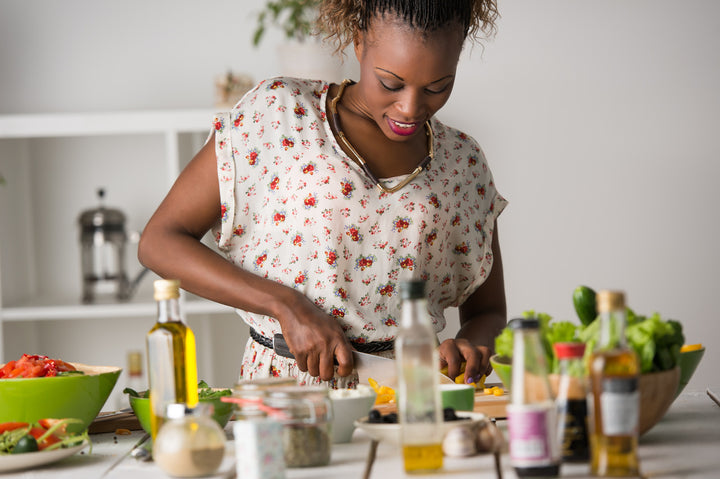 Mushrooms — from Shiitake to King Oyster to Maitake — can be cooked in a variety of ways to add delicious flavor to any meal. Whether you are starting with a recipe or just tossing together a few simple ingredients, try these tips to freshen up your cooking with flavorful mushrooms.
Use Mushrooms as a Meat Substitute
If you'd like a light, vegetarian alternative to burgers, steak or pasta dishes that usually include meat or chicken, look no further than the obliging mushroom! Large portobello mushrooms, sliced thick and seasoned like beef, make a quick and easy burger substitute. Grill a portobello and place it on a bun for a delicious hot sandwich. Shiitake mushrooms can easily take the place of chicken or turkey in a stir-fry served over rice. And crimini mushrooms can be chopped and sautéed to add to pasta dishes and soups in place of chicken or beef. Of course, you can layer functional mushroom powders into recipes that also call for your familiar mushrooms from the grocery store — with their pleasant, earthy flavors, you can accentuate the umami in a dish with easy-to-incorporate powders including Maitake and Lion's Mane.  
Make Mushrooms the Star of the Meal
Beyond their possible uses as a meat substitute, mushrooms are just delicious on their own merits. A big pan of sautéed mushrooms, with a bit of garlic and a splash of soy sauce makes a tasty and filling dish. King Oyster mushrooms, with its soft and tender stem, make a great meat substitute and taste great with teriyaki seasoning. Additional options for a spike of flavor include lemon juice, rosemary, barbecue sauce, butter, and salt and pepper. For mouth-watering stuffed mushrooms, use a simple combination of breadcrumbs, shredded cheese and seasonings.
Mince Mushrooms for Filling
Mushrooms also make a great stuffing or filling for other dishes. Mince the mushrooms and cook them in a pan with butter (or avocado oil, for a healthy vegan alternative) and seasonings. Then add the mushroom filling to tacos in place of ground beef, garnish steak or chicken, fill sloppy joes or add to meatloaf for a new dimension of flavor and nutrition.
Add Raw Mushrooms to Sandwiches and Salads
Any salad or sandwich can be enhanced by the addition of tasty mushrooms. Tossing up a big garden salad for dinner? Top it with thin sliced mushrooms and add a tasty lemon dressing or Creamy Cordyceps Avocado and Jalapeno Sauce (spiked with the benefits of organic Cordyceps) to complement the delicious mushroom flavor. Putting together a tomato mozzarella sandwich? Add some sliced mushrooms on top of the tomatoes and drizzle with olive oil and balsamic vinegar. The soft, chewy texture of mushrooms adds a pleasant contrast to the crunchier vegetables in salads and sandwiches.
Add Powdered Mushrooms to Almost Anything
Perhaps the easiest way to add the nutritious benefits of mushrooms to everyday eating is to use organic functional mushroom powder. Add a scoop of Om Mushroom Superfood powdered mushrooms to the blender and whisk together with strawberry, banana and yogurt for a tasty smoothie. Use almond milk, oat milk or pea milk as an alternative to dairy. Whatever your flavor of the day, give your morning smoothie a boost of mushroom powder for richer flavor. Choose a mushroom variety that meets your health needs — whether it's Lion's Mane for focus and memory, Cordyceps for energy and endurance or Maitake for weight management. At lunch time, sprinkle some mushroom powder on your bowl of salad or stir it into a cup of hot soup. If dinner includes pasta, stir-fried vegetables or soup, try adding your favorite mushroom powder at the end of the cooking time for a boost of antioxidants and an added depth of flavor.
Amy Smith is a writer, educator, and health-conscious mother of five, living on a small homestead in rural Pennsylvania. She produces informative online content for a variety of clients in the fields of natural living, health and wellness, family and parenting.
References: