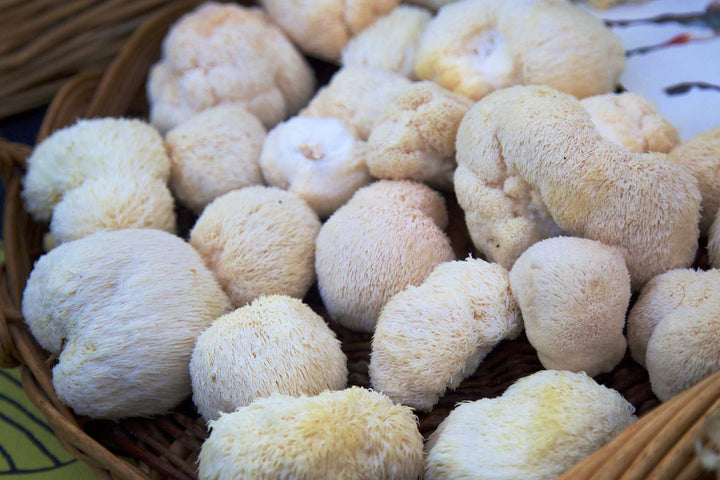 Culinary mushrooms, which are rich sources of nutrition and that contain many potent bioactive compounds, have been thought to provide support for nerve health and cognition.
A 2011-2014 National Health and Nutrition Survey found that there is indeed an association between mushroom consumption and cognitive performance in older US adults, and that higher mushroom intake may reduce the risk of cognitive decline in older adults.‡
Mushroom nootropic products made from select, functional mushroom species have gained popularity for their safe and effective cognitive-enhancing abilities. However, homing in on the right functional mushrooms with the greatest impact on brain health can require a bit of time and research. To simplify things, we've compiled together a list of the best mushroom species with nootropic properties that are currently available on the market, which include lion's mane, reishi, cordyceps, and more.
In this article, we explore the unique health benefits of these single-species mushrooms and explain why they're our top choices for supporting brain function and overall mental clarity.
What Are Mushroom Nootropics?
Before getting started, it is important to discuss what mushroom nootropic products are and what they do. Nootropic mushroom products are derived from various functional mushroom species, including lion's mane, cordyceps, reishi, chaga, and maitake. These extraordinary mushrooms have a well-established reputation for supporting memory, focus, and nerve health. These powerful benefits are attributed to compounds found in functional mushrooms, such as beta-glucans, triterpenes, ergothioneine, hericenones, and erinacines. The cognitive benefits of mushroom nootropics are driving their increased use in supporting a wide range of health benefits.‡ 
The Best Mushroom Nootropics
If you want to try mushroom nootropics, you should do your research first to ensure the best results. We've compiled a list of the best mushroom nootropics on the market right now. The key benefits of each mushroom species are listed in the table.
Mushroom Species

Best Mushroom Nootropics

Lion's mane is regarded as one of the greatest mushroom nootropics due to its ability to boost cognitive performance, increase memory, and stimulate the development of new brain cells. It is also high in antioxidants, making it a popular choice for overall brain health.‡




The main benefits of lion's mane include:

Supports memory and focus‡
Supports nerve health‡

Cordyceps are popular for their potential to enhance athletic performance. Cordyceps may also have antioxidant properties that support brain health.




The main benefits of cordyceps include:

Natural vitality‡
Supports endurance and recovery‡

Reishi has been used in traditional Chinese medicine to reduce stress and anxiety. Reishi has antioxidant properties that may support overall brain health. It may also have immune-boosting properties.‡




The main benefits of reishi include:

Helps manage stress‡
Supports healthy immune function‡
Super adaptogen‡

Chaga is rich in antioxidants and betulinic acid. Chaga can potentially protect against oxidative stress in the brain.‡




The main benefits of chaga include:

Supports healthy immune function‡
Contains potent antioxidants‡
Supports youthful radiance and anti-aging‡
Introducing Mushroom Nootropics Into Your Daily Diet
If you want to incorporate mushroom nootropics into your daily diet, Om Mushroom makes it simple to find the right supplement format for your lifestyle. We have energizing coffee blends for your morning routine, mushroom powders to mix into delicious smoothies, or mushroom gummies for a quick and convenient bite.
While mushroom supplements are widely regarded as safe, you should always consult with a doctor before incorporating them into your diet, especially if you have a pre-existing medical condition or are currently taking medications.
When used with proper guidance and knowledge, adding mushroom nootropics to your diet can be a simple, effective, and rewarding way to improve cognitive performance and support optimal brain health.‡
Om Mushroom offers products created from functional, whole food, organic mushrooms with life-changing health benefits. Our products contain the proper mushroom dosage to enhance your body's natural immune functions. If you want to take advantage of the benefits of the health benefits of mushroom supplements, shop now or subscribe to save!
‡These statements have not been evaluated by the Food and Drug Administration. Functional mushroom products are not intended to diagnose, treat, cure, or prevent disease.
Sources:
British Journal of Nutrition (2022), 128, 2241–2248
Journal of Neurochemistry (2023), 00, 1–18
Planta Med (2020); 86: 1161–1175