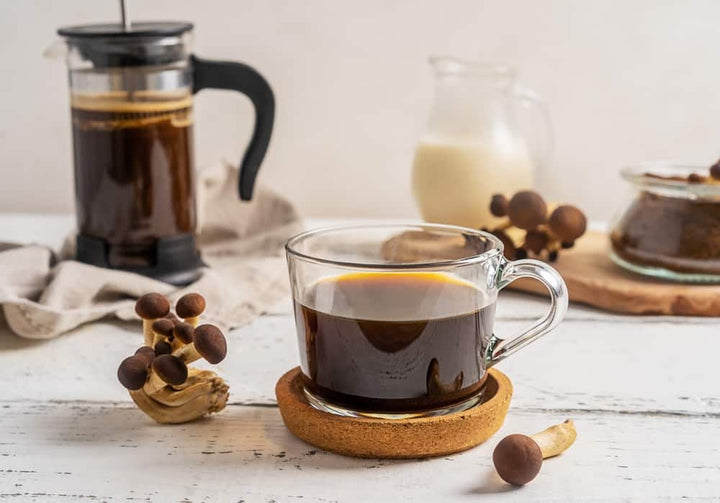 Drinking a hot cup of coffee early in the morning can be a small highlight of the day for coffee lovers. Individuals who want to add more nutrients to their morning routine might find that drinking coffee with adaptogens is the perfect way to restore balance and health.
If you're underwhelmed by capsules, tablets, and powders, or if you're the type who can't slow down for long enough to take daily supplements, an adaptogen coffee blend can help protect your body from daily stress while increasing vitality, focus, and energy levels.‡
What's an Adaptogen?
Adaptogens are plants and herbs that contain nutrients that can help your body respond to stress, anxiousness, and fatigue. Mushrooms are some of the best adaptogen sources, and they're an excellent natural remedy for rebalancing the body.
Adaptogen-containing functional mushrooms have been used in Chinese medicine for centuries, and they have emerged as an increasingly easy, natural, and safe way to combat the negative effects of mental and physical stressors. 
Adaptogens can be added to food and beverages or taken in other forms to help build resistance to stressful situations and maintain mental clarity. They work best when consumed regularly as part of a healthy diet.‡
What Is the Point of Adding Adaptogens to Coffee?
Adaptogens can be taken in several different ways, including as supplements, liquid extracts, tonics, and powders. However, coffee lovers will likely prefer to consume their daily dose of functional mushrooms inside their morning cup of brew.
Om Mushroom® offers a delicious Morning Coffee Blend® that contains lion's mane, cordyceps, turkey tail, and reishi organic superfood mushroom powder, alongside Ginkgo biloba, to help support health, balance, and well-being. Our premium coffee with adaptogens can help support cognitive and immune function and provides steady energy that lasts throughout the day with no afternoon crash. It's easy to make by combining one packet of the morning blend with 10 oz. of hot water or milk.
What Do Adaptogens Do?
Adaptogens are well-studied natural remedies that can be used to combat stress and other bodily imbalances. Stress can negatively impact the nervous, endocrine, and immune systems, resulting in long-term health effects. The goal of taking adaptogens is to benefit from their ability to build resistance to stress.‡
Adaptogen-rich mushrooms can be used to address a variety of health needs and concerns, depending on their species, and these powerful mushroom superfoods each provide unique and special benefits for a host of health needs. 
If you're ready to try mushroom supplements, a cup of coffee with adaptogens can be a rewarding way to add them to your daily diet.
Different Types of Adaptogens
Many different types of adaptogens have been used throughout history, but some are more researched than others.
Some of the most well-known adaptogenic natural remedies, include:
Adaptogenic mushrooms, such as reishi, shiitake, cordyceps, chaga, and maitake
Do You Need to Drink Adaptogen Coffee?
For coffee enthusiasts, a blend of coffee and adaptogens is ideal. But, for others who are concerned about their caffeine intake or want to reduce coffee in their daily diet, adaptogenic mushrooms can be taken several different ways. For instance, Om Mushroom® offers powders, capsules, and other functional beverages that can help you benefit from our adaptogenic mushrooms' ability to promote immunity, vitality, cognitive health, and energy.‡
For those who like the idea of incorporating a nutrient-rich beverage into their morning routine (without the caffeine), our single species and mushroom blend powders can be added to smoothies, teas, and other recipes.
Are Adaptogens for Everyone?
Adaptogens have been used safely in traditional medicine for centuries and are widely regarded as risk-free. Many different types of adaptogenic plants and herbs are commonly used in common recipes and everyday cooking. However, if you are pregnant, nursing, or taking medications that might interact with a natural remedy, always consult with a health practitioner before getting started.
Om Mushroom® offers products created from functional, whole food, organic mushrooms that have life-changing health benefits. Our coffee with adaptogens blend contains the ideal mushroom dosage to enhance your body's natural immune functions. If you're looking to take advantage of the benefits of functional mushroom products, shop now or subscribe to save!
‡
These statements have not been evaluated by the Food and Drug Administration. Functional mushroom products are not intended to diagnose, treat, cure, or prevent any disease.