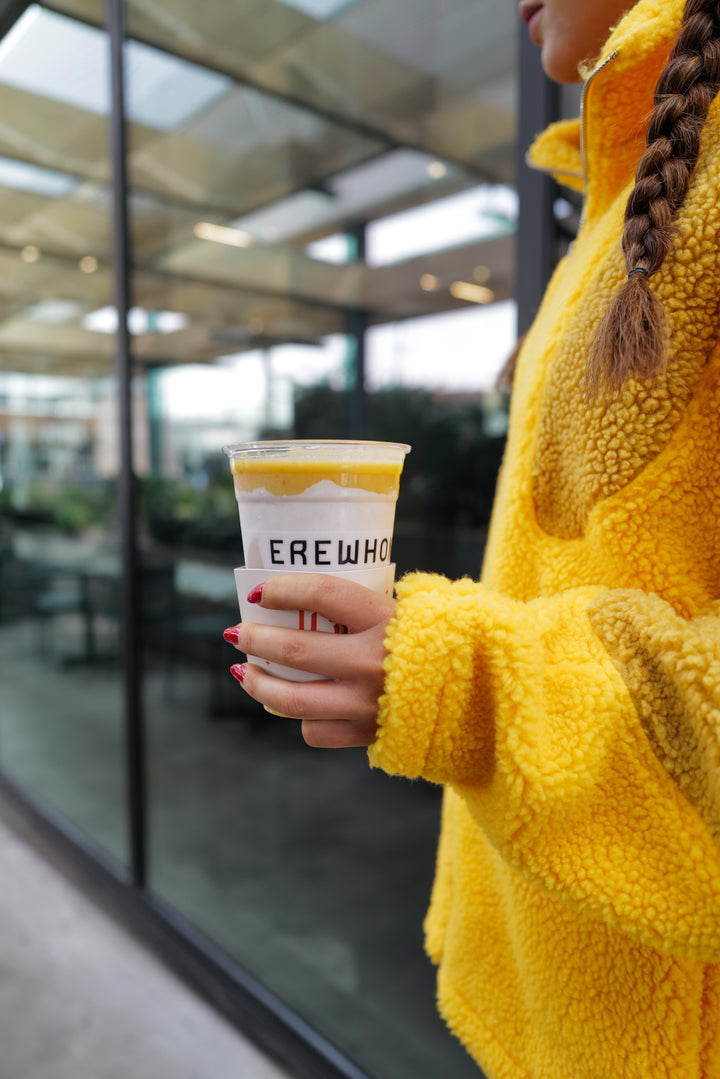 What better way to ring in the New Year than with an irresistibly refreshing drink that helps you look and feel your best? Om Mushroom Superfood® is partnering with Bella Hadid and Erewhon Market to create a one-of-a-kind smoothie that delivers exactly that. The new Erewhon Kinsicle smoothie not only offers a creamy, rich orange creamsicle flavor, but also features Om® Lion's Mane Organic Mushroom Powder to help support memory, focus, and nerve health.‡ Read on to learn more about this exclusive smoothie and how to recreate it for yourself!
Erewhon Smoothie: Create Bella Hadid's New Kinsicle Beverage
The Kinsicle smoothie is available at all eight of Erewhon Market's tonic bars throughout Los Angeles. But if you don't live in the California area or can't wait to try it for yourself, there's good news: You can follow the recipe below to recreate the Kinsicle Erewhon smoothie at home. 
Kinsicle Recipe 
Erewhon also offers nationwide delivery, so if you don't mind the wait, you can have all the ingredients you need delivered right to your door.
Kinsicle Smoothie: The Perfect Addition to Your Diet This Year 
As 2022 winds down and a new year approaches, it's the perfect time to set new wellness resolutions. Adding nutritious and organic foods into your daily routine might be the goal, but it can be challenging due to your busy social and professional life. Smoothies are the perfect solution because they are a convenient way to fit several nutritious ingredients into your daily diet.
California-based Erewhon Market is no stranger to creating viral smoothies that have captured the attention of celebrity influencers such as Hailey Bieber and Kourtney Kardashian. Now, Erewhon will partner with Bella Hadid to incorporate High Rhode—a gently caffeinated, non-alcoholic, made-to-mix beverage—into their latest smoothie. 
This Kinsicle smoothie, named after Kin Euphorics and founded by Bella Hadid and Jen Batchelor, is designed to promote mental clarity and focus. Kin Euphorics offers functional beverages that transform the social ritual of drinking into a euphoric experience, helping people connect to their centers and find balance. 
With Om Lion's Mane Organic Mushroom Powder (which supports memory, focus, and nerve health‡), High Rhode, and other pairings, Erewhon's latest smoothie is exactly what you need to spice up your dry January. 
Why Focus on Brain Health? Lion's Mane's Cognitive-Supporting Benefits 
The brain is the most complex organ in the human body. It plays a fundamental role in our focus, decision-making abilities, and productivity. It's no secret that the food we consume can greatly affect our daily brain function. For example, if you feel groggy or distracted, your diet may be lacking vital bioactive compounds. Receiving the proper amounts of vitamins and nutrients for optimal cognitive functioning is possible through the meals we consume, but sometimes, we need more support. That's where mushroom supplements can help. 
Mushrooms have been valued in Eastern medicine for centuries. Lion's mane specifically is a species revered for its neurohealth properties, giving this fungus its nickname, "the smart mushroom." Lion's mane may help stimulate the synthesis of Nerve Growth Factor (NGF), a vital neuropeptide that promotes the growth, repair, and normal function of nerve cells. Additionally, this smart mushroom may help regenerate damaged nerves. When consumed daily, lion's mane supports memory, focus, and nerve health‡ 
The Kinsicle smoothie offers the beneficial properties of lion's mane mushroom powder paired with the delicious taste of High Rhode, dates, aloe vera juice, vanilla extract, almond milk, coconut yogurt, and orange juice—all smoothly blended together.  
About Om Mushroom Superfood® and Lion's Mane Mushrooms
At Om®, our mushrooms are cultivated under the direction of experienced mycologists in an indoor farm in Carlsbad, California. Our growth process considers important factors such as light, temperature, air quality, and hydration and is fully monitored and controlled for quality assurance.
Lion's mane mushrooms are grown in their own cultivation room and under controlled conditions that satisfy their unique environmental needs. Once they have reached their full growth lifecycle, they are dehydrated with heated, filtered, and UVC-sanitized air and milled into a fine powder for easier consumption. The powder is then packaged and labeled on-site, resulting in a high-quality product that is: 
Grown in the USA
Certified organic
Non-GMO Project Verified
No sugar added
Gluten-free
Vegan
Kosher
Keto-friendly
Paleo-friendly 
Lion's Mane Powder can be easily added to coffee, tea, smoothies, or your favorite recipes. One serving contains 2,000mg of the organic mushroom superfood. For even more convenience, our Lion's Mane Mushroom Capsules can be a quick way to get your daily dose. Just take three capsules per day with a glass of water to help fuel your brain and start your day right. 
Om® offers products created from functional, whole food, organic mushrooms that have life-changing health benefits. If you're looking to take advantage of the benefits of functional mushroom products or learn more about our product featured in Erewhon's smoothie with Bella Hadid, shop now or subscribe to save!
‡These statements have not been evaluated by the Food and Drug Administration. Functional mushroom products are not intended to diagnose, treat, cure or prevent any disease.