{"id":1919002640480,"title":"Cordyceps Organic Mushroom Powder","handle":"cordyceps","description":"\u003ch2\u003eThe Performance Mushroom\u003c\/h2\u003e\n\u003cp\u003eOriginally discovered by Tibetan herdsman at high altitudes, Cordyceps optimizes oxygen uptake and delivery to increase vitality and endurance. Awaken energy, improve cardio and ignite your inner strength.‡\u003c\/p\u003e","published_at":"2021-08-19T11:46:53-07:00","created_at":"2019-02-04T15:04:05-08:00","vendor":"Om Mushroom Superfood","type":"Powders","tags":["cordyceps","energy and fitness","wizard","YGroup_cordyceps"],"price":1999,"price_min":1999,"price_max":4299,"available":true,"price_varies":true,"compare_at_price":null,"compare_at_price_min":0,"compare_at_price_max":0,"compare_at_price_varies":false,"variants":[{"id":42297386139806,"title":"30 Servings | 2.1 oz (60g) \/ Powder","option1":"30 Servings | 2.1 oz (60g)","option2":"Powder","option3":null,"sku":"60540","requires_shipping":true,"taxable":true,"featured_image":{"id":35047911096478,"product_id":1919002640480,"position":2,"created_at":"2022-12-12T11:46:26-08:00","updated_at":"2023-07-18T14:46:44-07:00","alt":"variant1","width":2400,"height":2400,"src":"\/\/ommushrooms.com\/cdn\/shop\/products\/Cordyceps_60g_Mockup_Front_faa086c0-5fb7-4b03-84d6-06bcae8170a6.jpg?v=1689716804","variant_ids":[42297386139806]},"available":true,"name":"Cordyceps Organic Mushroom Powder - 30 Servings | 2.1 oz (60g) \/ Powder","public_title":"30 Servings | 2.1 oz (60g) \/ Powder","options":["30 Servings | 2.1 oz (60g)","Powder"],"price":1999,"weight":91,"compare_at_price":null,"inventory_management":"shopify","barcode":"856210008462","featured_media":{"alt":"variant1","id":27501880705182,"position":2,"preview_image":{"aspect_ratio":1.0,"height":2400,"width":2400,"src":"\/\/ommushrooms.com\/cdn\/shop\/products\/Cordyceps_60g_Mockup_Front_faa086c0-5fb7-4b03-84d6-06bcae8170a6.jpg?v=1689716804"}},"requires_selling_plan":false,"selling_plan_allocations":[{"price_adjustments":[{"position":1,"price":1699}],"price":1699,"compare_at_price":1999,"per_delivery_price":1699,"selling_plan_id":1621295262,"selling_plan_group_id":"35084af693f61be0db03295f79d41e72f3aeb987"},{"price_adjustments":[{"position":1,"price":1699}],"price":1699,"compare_at_price":1999,"per_delivery_price":1699,"selling_plan_id":1621393566,"selling_plan_group_id":"35084af693f61be0db03295f79d41e72f3aeb987"},{"price_adjustments":[{"position":1,"price":1699}],"price":1699,"compare_at_price":1999,"per_delivery_price":1699,"selling_plan_id":1621426334,"selling_plan_group_id":"35084af693f61be0db03295f79d41e72f3aeb987"},{"price_adjustments":[{"position":1,"price":1699}],"price":1699,"compare_at_price":1999,"per_delivery_price":1699,"selling_plan_id":1621491870,"selling_plan_group_id":"35084af693f61be0db03295f79d41e72f3aeb987"},{"price_adjustments":[{"position":1,"price":1699}],"price":1699,"compare_at_price":1999,"per_delivery_price":1699,"selling_plan_id":1621557406,"selling_plan_group_id":"35084af693f61be0db03295f79d41e72f3aeb987"},{"price_adjustments":[{"position":1,"price":1699}],"price":1699,"compare_at_price":1999,"per_delivery_price":1699,"selling_plan_id":1621622942,"selling_plan_group_id":"35084af693f61be0db03295f79d41e72f3aeb987"}],"quantity_rule":{"min":1,"max":null,"increment":1}},{"id":18554015907936,"title":"50 Servings | 3.5 oz (100g) \/ Powder","option1":"50 Servings | 3.5 oz (100g)","option2":"Powder","option3":null,"sku":"60170","requires_shipping":true,"taxable":true,"featured_image":{"id":30676497662110,"product_id":1919002640480,"position":4,"created_at":"2021-09-15T12:32:35-07:00","updated_at":"2023-07-18T14:46:44-07:00","alt":"variant2","width":2400,"height":2400,"src":"\/\/ommushrooms.com\/cdn\/shop\/products\/Cordyceps100g-006_Front.jpg?v=1689716804","variant_ids":[18554015907936]},"available":true,"name":"Cordyceps Organic Mushroom Powder - 50 Servings | 3.5 oz (100g) \/ Powder","public_title":"50 Servings | 3.5 oz (100g) \/ Powder","options":["50 Servings | 3.5 oz (100g)","Powder"],"price":2699,"weight":91,"compare_at_price":null,"inventory_management":"shopify","barcode":"892392002003","featured_media":{"alt":"variant2","id":23048436842654,"position":4,"preview_image":{"aspect_ratio":1.0,"height":2400,"width":2400,"src":"\/\/ommushrooms.com\/cdn\/shop\/products\/Cordyceps100g-006_Front.jpg?v=1689716804"}},"requires_selling_plan":false,"selling_plan_allocations":[{"price_adjustments":[{"position":1,"price":2294}],"price":2294,"compare_at_price":2699,"per_delivery_price":2294,"selling_plan_id":1621295262,"selling_plan_group_id":"35084af693f61be0db03295f79d41e72f3aeb987"},{"price_adjustments":[{"position":1,"price":2294}],"price":2294,"compare_at_price":2699,"per_delivery_price":2294,"selling_plan_id":1621393566,"selling_plan_group_id":"35084af693f61be0db03295f79d41e72f3aeb987"},{"price_adjustments":[{"position":1,"price":2294}],"price":2294,"compare_at_price":2699,"per_delivery_price":2294,"selling_plan_id":1621426334,"selling_plan_group_id":"35084af693f61be0db03295f79d41e72f3aeb987"},{"price_adjustments":[{"position":1,"price":2294}],"price":2294,"compare_at_price":2699,"per_delivery_price":2294,"selling_plan_id":1621491870,"selling_plan_group_id":"35084af693f61be0db03295f79d41e72f3aeb987"},{"price_adjustments":[{"position":1,"price":2294}],"price":2294,"compare_at_price":2699,"per_delivery_price":2294,"selling_plan_id":1621557406,"selling_plan_group_id":"35084af693f61be0db03295f79d41e72f3aeb987"},{"price_adjustments":[{"position":1,"price":2294}],"price":2294,"compare_at_price":2699,"per_delivery_price":2294,"selling_plan_id":1621622942,"selling_plan_group_id":"35084af693f61be0db03295f79d41e72f3aeb987"}],"quantity_rule":{"min":1,"max":null,"increment":1}},{"id":18554015875168,"title":"100 Servings | 7.05 oz (200g) \/ Powder","option1":"100 Servings | 7.05 oz (200g)","option2":"Powder","option3":null,"sku":"60185","requires_shipping":true,"taxable":true,"featured_image":{"id":31046326223006,"product_id":1919002640480,"position":1,"created_at":"2021-10-08T16:00:29-07:00","updated_at":"2021-11-18T13:50:16-08:00","alt":"variant3","width":2400,"height":2400,"src":"\/\/ommushrooms.com\/cdn\/shop\/products\/Cordyceps_200g_Front.jpg?v=1637272216","variant_ids":[18554015875168]},"available":true,"name":"Cordyceps Organic Mushroom Powder - 100 Servings | 7.05 oz (200g) \/ Powder","public_title":"100 Servings | 7.05 oz (200g) \/ Powder","options":["100 Servings | 7.05 oz (200g)","Powder"],"price":4299,"weight":181,"compare_at_price":null,"inventory_management":"shopify","barcode":"850030553249","featured_media":{"alt":"variant3","id":23425496154270,"position":1,"preview_image":{"aspect_ratio":1.0,"height":2400,"width":2400,"src":"\/\/ommushrooms.com\/cdn\/shop\/products\/Cordyceps_200g_Front.jpg?v=1637272216"}},"requires_selling_plan":false,"selling_plan_allocations":[{"price_adjustments":[{"position":1,"price":3654}],"price":3654,"compare_at_price":4299,"per_delivery_price":3654,"selling_plan_id":1621295262,"selling_plan_group_id":"35084af693f61be0db03295f79d41e72f3aeb987"},{"price_adjustments":[{"position":1,"price":3654}],"price":3654,"compare_at_price":4299,"per_delivery_price":3654,"selling_plan_id":1621393566,"selling_plan_group_id":"35084af693f61be0db03295f79d41e72f3aeb987"},{"price_adjustments":[{"position":1,"price":3654}],"price":3654,"compare_at_price":4299,"per_delivery_price":3654,"selling_plan_id":1621426334,"selling_plan_group_id":"35084af693f61be0db03295f79d41e72f3aeb987"},{"price_adjustments":[{"position":1,"price":3654}],"price":3654,"compare_at_price":4299,"per_delivery_price":3654,"selling_plan_id":1621491870,"selling_plan_group_id":"35084af693f61be0db03295f79d41e72f3aeb987"},{"price_adjustments":[{"position":1,"price":3654}],"price":3654,"compare_at_price":4299,"per_delivery_price":3654,"selling_plan_id":1621557406,"selling_plan_group_id":"35084af693f61be0db03295f79d41e72f3aeb987"},{"price_adjustments":[{"position":1,"price":3654}],"price":3654,"compare_at_price":4299,"per_delivery_price":3654,"selling_plan_id":1621622942,"selling_plan_group_id":"35084af693f61be0db03295f79d41e72f3aeb987"}],"quantity_rule":{"min":1,"max":null,"increment":1}}],"images":["\/\/ommushrooms.com\/cdn\/shop\/products\/Cordyceps_200g_Front.jpg?v=1637272216","\/\/ommushrooms.com\/cdn\/shop\/products\/Cordyceps_60g_Mockup_Front_faa086c0-5fb7-4b03-84d6-06bcae8170a6.jpg?v=1689716804","\/\/ommushrooms.com\/cdn\/shop\/products\/Om_Cordyceps_60g_Mockup_Back_15475-003.jpg?v=1689716804","\/\/ommushrooms.com\/cdn\/shop\/products\/Cordyceps100g-006_Front.jpg?v=1689716804","\/\/ommushrooms.com\/cdn\/shop\/products\/Cordyceps100g-006_Back.jpg?v=1689716804","\/\/ommushrooms.com\/cdn\/shop\/products\/Cordyceps_200g_Back.jpg?v=1689716804","\/\/ommushrooms.com\/cdn\/shop\/products\/Om_Cordy200g_Tile1_89ab8089-6399-49f2-b7d9-27974a78a802.jpg?v=1689716804","\/\/ommushrooms.com\/cdn\/shop\/products\/Om_Cordy_Tile2.jpg?v=1670880043","\/\/ommushrooms.com\/cdn\/shop\/products\/Om_Cordy_Tile7.jpg?v=1670880043","\/\/ommushrooms.com\/cdn\/shop\/products\/Om_Cordy_Tile4_5234684e-71ad-4c51-860e-b5dcb1b6c0be.jpg?v=1670880043","\/\/ommushrooms.com\/cdn\/shop\/products\/OM_Cordy_Tile6_819bd0b9-6e19-4330-b41c-93dc85b2e87e.jpg?v=1670880043","\/\/ommushrooms.com\/cdn\/shop\/products\/Om_Cordy_Tile1.jpg?v=1670880043","\/\/ommushrooms.com\/cdn\/shop\/products\/Om_Cordy200g_Tile1_740cecb8-5859-4d1f-8c3d-aaa0ce6babd2.jpg?v=1670880043","\/\/ommushrooms.com\/cdn\/shop\/products\/Om_Cordy_Tile5_9cf90058-36ef-4cc2-a7fa-6b68fcc7d70c.jpg?v=1670880043"],"featured_image":"\/\/ommushrooms.com\/cdn\/shop\/products\/Cordyceps_200g_Front.jpg?v=1637272216","options":["Size","Format"],"media":[{"alt":"variant3","id":23425496154270,"position":1,"preview_image":{"aspect_ratio":1.0,"height":2400,"width":2400,"src":"\/\/ommushrooms.com\/cdn\/shop\/products\/Cordyceps_200g_Front.jpg?v=1637272216"},"aspect_ratio":1.0,"height":2400,"media_type":"image","src":"\/\/ommushrooms.com\/cdn\/shop\/products\/Cordyceps_200g_Front.jpg?v=1637272216","width":2400},{"alt":"variant1","id":27501880705182,"position":2,"preview_image":{"aspect_ratio":1.0,"height":2400,"width":2400,"src":"\/\/ommushrooms.com\/cdn\/shop\/products\/Cordyceps_60g_Mockup_Front_faa086c0-5fb7-4b03-84d6-06bcae8170a6.jpg?v=1689716804"},"aspect_ratio":1.0,"height":2400,"media_type":"image","src":"\/\/ommushrooms.com\/cdn\/shop\/products\/Cordyceps_60g_Mockup_Front_faa086c0-5fb7-4b03-84d6-06bcae8170a6.jpg?v=1689716804","width":2400},{"alt":"variant1","id":27502256390302,"position":3,"preview_image":{"aspect_ratio":1.0,"height":2400,"width":2400,"src":"\/\/ommushrooms.com\/cdn\/shop\/products\/Om_Cordyceps_60g_Mockup_Back_15475-003.jpg?v=1689716804"},"aspect_ratio":1.0,"height":2400,"media_type":"image","src":"\/\/ommushrooms.com\/cdn\/shop\/products\/Om_Cordyceps_60g_Mockup_Back_15475-003.jpg?v=1689716804","width":2400},{"alt":"variant2","id":23048436842654,"position":4,"preview_image":{"aspect_ratio":1.0,"height":2400,"width":2400,"src":"\/\/ommushrooms.com\/cdn\/shop\/products\/Cordyceps100g-006_Front.jpg?v=1689716804"},"aspect_ratio":1.0,"height":2400,"media_type":"image","src":"\/\/ommushrooms.com\/cdn\/shop\/products\/Cordyceps100g-006_Front.jpg?v=1689716804","width":2400},{"alt":"variant2","id":23048436809886,"position":5,"preview_image":{"aspect_ratio":1.0,"height":2400,"width":2400,"src":"\/\/ommushrooms.com\/cdn\/shop\/products\/Cordyceps100g-006_Back.jpg?v=1689716804"},"aspect_ratio":1.0,"height":2400,"media_type":"image","src":"\/\/ommushrooms.com\/cdn\/shop\/products\/Cordyceps100g-006_Back.jpg?v=1689716804","width":2400},{"alt":"variant3","id":23425496121502,"position":6,"preview_image":{"aspect_ratio":1.0,"height":2400,"width":2400,"src":"\/\/ommushrooms.com\/cdn\/shop\/products\/Cordyceps_200g_Back.jpg?v=1689716804"},"aspect_ratio":1.0,"height":2400,"media_type":"image","src":"\/\/ommushrooms.com\/cdn\/shop\/products\/Cordyceps_200g_Back.jpg?v=1689716804","width":2400},{"alt":"hide facebook","id":23955436503198,"position":7,"preview_image":{"aspect_ratio":1.0,"height":2400,"width":2400,"src":"\/\/ommushrooms.com\/cdn\/shop\/products\/Om_Cordy200g_Tile1_89ab8089-6399-49f2-b7d9-27974a78a802.jpg?v=1689716804"},"aspect_ratio":1.0,"height":2400,"media_type":"image","src":"\/\/ommushrooms.com\/cdn\/shop\/products\/Om_Cordy200g_Tile1_89ab8089-6399-49f2-b7d9-27974a78a802.jpg?v=1689716804","width":2400},{"alt":null,"id":12098562162846,"position":8,"preview_image":{"aspect_ratio":1.0,"height":2560,"width":2560,"src":"\/\/ommushrooms.com\/cdn\/shop\/products\/Om_Cordy_Tile2.jpg?v=1670880043"},"aspect_ratio":1.0,"height":2560,"media_type":"image","src":"\/\/ommushrooms.com\/cdn\/shop\/products\/Om_Cordy_Tile2.jpg?v=1670880043","width":2560},{"alt":null,"id":12098571010206,"position":9,"preview_image":{"aspect_ratio":1.0,"height":2560,"width":2560,"src":"\/\/ommushrooms.com\/cdn\/shop\/products\/Om_Cordy_Tile7.jpg?v=1670880043"},"aspect_ratio":1.0,"height":2560,"media_type":"image","src":"\/\/ommushrooms.com\/cdn\/shop\/products\/Om_Cordy_Tile7.jpg?v=1670880043","width":2560},{"alt":null,"id":12098569404574,"position":10,"preview_image":{"aspect_ratio":1.0,"height":2560,"width":2560,"src":"\/\/ommushrooms.com\/cdn\/shop\/products\/Om_Cordy_Tile4_5234684e-71ad-4c51-860e-b5dcb1b6c0be.jpg?v=1670880043"},"aspect_ratio":1.0,"height":2560,"media_type":"image","src":"\/\/ommushrooms.com\/cdn\/shop\/products\/Om_Cordy_Tile4_5234684e-71ad-4c51-860e-b5dcb1b6c0be.jpg?v=1670880043","width":2560},{"alt":null,"id":11653766774942,"position":11,"preview_image":{"aspect_ratio":1.0,"height":2560,"width":2560,"src":"\/\/ommushrooms.com\/cdn\/shop\/products\/OM_Cordy_Tile6_819bd0b9-6e19-4330-b41c-93dc85b2e87e.jpg?v=1670880043"},"aspect_ratio":1.0,"height":2560,"media_type":"image","src":"\/\/ommushrooms.com\/cdn\/shop\/products\/OM_Cordy_Tile6_819bd0b9-6e19-4330-b41c-93dc85b2e87e.jpg?v=1670880043","width":2560},{"alt":"variant2","id":11653766512798,"position":12,"preview_image":{"aspect_ratio":1.0,"height":2560,"width":2560,"src":"\/\/ommushrooms.com\/cdn\/shop\/products\/Om_Cordy_Tile1.jpg?v=1670880043"},"aspect_ratio":1.0,"height":2560,"media_type":"image","src":"\/\/ommushrooms.com\/cdn\/shop\/products\/Om_Cordy_Tile1.jpg?v=1670880043","width":2560},{"alt":"variant3","id":23425497530526,"position":13,"preview_image":{"aspect_ratio":1.0,"height":2400,"width":2400,"src":"\/\/ommushrooms.com\/cdn\/shop\/products\/Om_Cordy200g_Tile1_740cecb8-5859-4d1f-8c3d-aaa0ce6babd2.jpg?v=1670880043"},"aspect_ratio":1.0,"height":2400,"media_type":"image","src":"\/\/ommushrooms.com\/cdn\/shop\/products\/Om_Cordy200g_Tile1_740cecb8-5859-4d1f-8c3d-aaa0ce6babd2.jpg?v=1670880043","width":2400},{"alt":"variant1","id":11653766807710,"position":14,"preview_image":{"aspect_ratio":1.0,"height":2560,"width":2560,"src":"\/\/ommushrooms.com\/cdn\/shop\/products\/Om_Cordy_Tile5_9cf90058-36ef-4cc2-a7fa-6b68fcc7d70c.jpg?v=1670880043"},"aspect_ratio":1.0,"height":2560,"media_type":"image","src":"\/\/ommushrooms.com\/cdn\/shop\/products\/Om_Cordy_Tile5_9cf90058-36ef-4cc2-a7fa-6b68fcc7d70c.jpg?v=1670880043","width":2560}],"requires_selling_plan":false,"selling_plan_groups":[{"id":"35084af693f61be0db03295f79d41e72f3aeb987","name":"Cordyceps Organic Mushroom Powder","options":[{"name":"30 Day(s), 60 Day(s), 90 Day(s), 120 Day(s), 150 Day(s), 180 Day(s)","position":1,"values":["30 Day(s)","60 Day(s)","90 Day(s)","120 Day(s)","150 Day(s)","180 Day(s)"]}],"selling_plans":[{"id":1621295262,"name":"Delivery every 30 Days","description":null,"options":[{"name":"30 Day(s), 60 Day(s), 90 Day(s), 120 Day(s), 150 Day(s), 180 Day(s)","position":1,"value":"30 Day(s)"}],"recurring_deliveries":true,"price_adjustments":[{"order_count":null,"position":1,"value_type":"percentage","value":15}],"checkout_charge":{"value_type":"percentage","value":100}},{"id":1621393566,"name":"Delivery every 60 Days","description":null,"options":[{"name":"30 Day(s), 60 Day(s), 90 Day(s), 120 Day(s), 150 Day(s), 180 Day(s)","position":1,"value":"60 Day(s)"}],"recurring_deliveries":true,"price_adjustments":[{"order_count":null,"position":1,"value_type":"percentage","value":15}],"checkout_charge":{"value_type":"percentage","value":100}},{"id":1621426334,"name":"Delivery every 90 Days","description":null,"options":[{"name":"30 Day(s), 60 Day(s), 90 Day(s), 120 Day(s), 150 Day(s), 180 Day(s)","position":1,"value":"90 Day(s)"}],"recurring_deliveries":true,"price_adjustments":[{"order_count":null,"position":1,"value_type":"percentage","value":15}],"checkout_charge":{"value_type":"percentage","value":100}},{"id":1621491870,"name":"Delivery every 120 Days","description":null,"options":[{"name":"30 Day(s), 60 Day(s), 90 Day(s), 120 Day(s), 150 Day(s), 180 Day(s)","position":1,"value":"120 Day(s)"}],"recurring_deliveries":true,"price_adjustments":[{"order_count":null,"position":1,"value_type":"percentage","value":15}],"checkout_charge":{"value_type":"percentage","value":100}},{"id":1621557406,"name":"Delivery every 150 Days","description":null,"options":[{"name":"30 Day(s), 60 Day(s), 90 Day(s), 120 Day(s), 150 Day(s), 180 Day(s)","position":1,"value":"150 Day(s)"}],"recurring_deliveries":true,"price_adjustments":[{"order_count":null,"position":1,"value_type":"percentage","value":15}],"checkout_charge":{"value_type":"percentage","value":100}},{"id":1621622942,"name":"Delivery every 180 Days","description":null,"options":[{"name":"30 Day(s), 60 Day(s), 90 Day(s), 120 Day(s), 150 Day(s), 180 Day(s)","position":1,"value":"180 Day(s)"}],"recurring_deliveries":true,"price_adjustments":[{"order_count":null,"position":1,"value_type":"percentage","value":15}],"checkout_charge":{"value_type":"percentage","value":100}}],"app_id":"294517"}],"content":"\u003ch2\u003eThe Performance Mushroom\u003c\/h2\u003e\n\u003cp\u003eOriginally discovered by Tibetan herdsman at high altitudes, Cordyceps optimizes oxygen uptake and delivery to increase vitality and endurance. Awaken energy, improve cardio and ignite your inner strength.‡\u003c\/p\u003e"}
{"error":"json not allowed for this object"}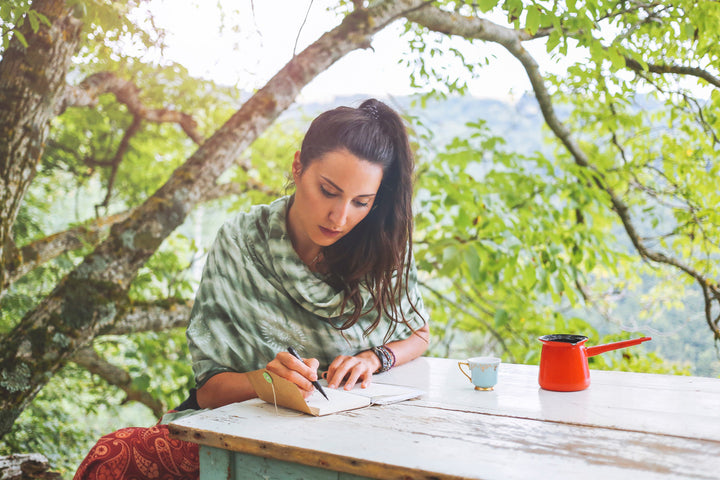 In the first few weeks of the new year, many of us are taking stock of our lives and planning to make a fresh start on good habits with the fresh new year. Unfortunately, we all know that breaking those resolutions can be nearly as common as making them. So how can you stick to your goals for the long term?
Be Realistic
An impossibly high goal is a goal you'll never reach. You can make a list of goals and aspirations, including as many far-fetched scenarios as you like. Then whittle things down with an eye on practicality. Wanting to clean up your diet? Set a goal of replacing your daily candy indulgence with a daily yogurt-and-fruit indulgence.  Or eliminate just one unhealthy food for a month. Or set yourself a one-soda-per-week limit. Wanting to exercise more? Aim for three workouts per week, not seven. Or set a goal of 10 minutes of walking per day. Or plan to take the stairs at work instead of the elevator. By making your goal reachable, you boost your chances of success.
Measure Your Progress
It's all too easy to let that New Year's resolution fade into a distant memory after a few weeks. If you want to see (and stick to) real progress, you'll need to honestly assess how you're measuring up to your goal. If your goals were realistic to begin with, you will be able to quantify your level of success. Make a chart and put it in a visible place or create a checklist on your phone. Set up a reminder to check your progress at regular intervals, such as weekly, and write down how you did during that period. This allows you to see how closely you are sticking to your plan and where you need to put in more effort or consistency.
Reward Yourself
When your progress report is good, celebrate! This doesn't have to mean anything extravagant. Start with simple, sincere mental congratulations to yourself to provide an immediate positive boost. Small tangible rewards can provide further reinforcement. Do you love fancy coffee? A quiet afternoon of window shopping? A date night with your partner? Dinner with friends? Splurge on something special when you reach a milestone, such as one month of sticking to your resolution.
Give Yourself the Gift of Energy
All the great planning, progress checks and self-motivation may not get you across the finish line of your New Year's resolutions if your physical energy level or mental clarity are at a low ebb. And they're more likely to be that way in the middle of winter, with its gray days, lack of sunshine and early sunsets. To help you keep your goals, be sure to care for your physical and mental well-being to ensure you have what it takes to make positive changes and stick to your new plans. This can mean reducing stress in your life, ensuring you get a good night's sleep each night, increasing your water intake and eating a balanced diet rich in whole foods and fresh fruits and veggies. It can also mean adding superfoods, such as functional mushrooms, to your diet. Organic functional mushrooms, like those offered by Om Mushrooms, have great immune benefits to help you fight winter sniffles and sneezes. They've been used traditionally for better cognitive and neurological health and to support increased vitality. Research indicates that among the health benefits of functional mushrooms is an extra boost of support for your mind and body. Remember that as you embark on a year of new and achievable goals.
Amy Smith is a writer, educator, and health-conscious mother of five, living on a small homestead in rural Pennsylvania. She produces informative, well-researched online content for a variety of clients in the fields of natural living, health and wellness, family and parenting.