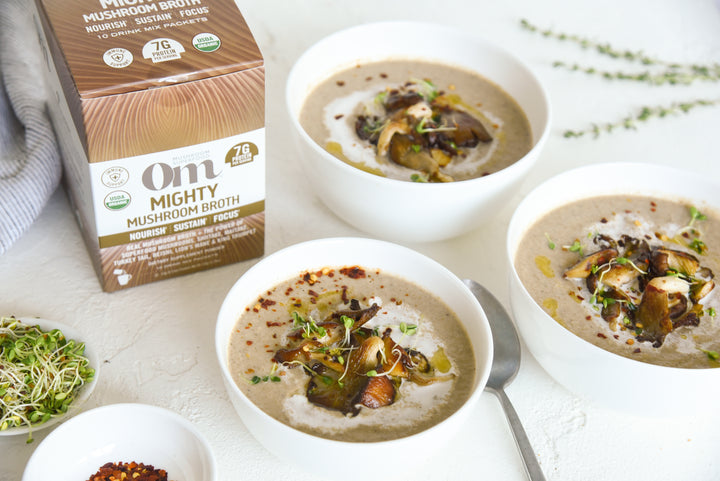 Recipe Type(s): Vegan, Gluten-free
Ingredients
3 tablespoons extra-virgin olive oil, divided
1/2 cup onion, sliced
8 oz. cremini mushrooms, sliced
3 garlic cloves, chopped
1 teaspoon fresh thyme leaves
2 packs Om Mighty Mushroom Broth
1 can of coconut milk
3 cups water
1 head cauliflower, chopped (1/2 pound)
2 tablespoons balsamic vinegar
1/2 teaspoon sea salt
1/8 teaspoon white pepper
5 oz mixed mushrooms, chopped (we used shitake and oyster)
Directions
In a large pot over medium, sauté onion and mushrooms with 2 tablespoons olive oil about 5 minutes until onions are translucent.
Add garlic and thyme and sauté 2 minutes until fragrant.
Add Om Mighty Mushroom Broth and coconut milk, whisking until combined.
Add water, cauliflower, balsamic vinegar, salt and pepper then simmer until cauliflower is very soft, about 10-14 minutes.
Blend with an immersion blender or a regular blender in batches until smooth. Return to pot and cover.
In a pan over medium, sauté mixed mushrooms with remaining 1 tablespoon olive oil for 2-4 minutes on each side until golden and lightly crispy. Season with a large pinch of sea salt.
Serve soup topped with sautéed mixed mushrooms and optionally: a drizzle of coconut milk, a drizzle of olive oil, microgreens and chili flakes.