{"id":1919002673248,"title":"Chaga Organic Mushroom Powder","handle":"chaga","description":"\u003ch2\u003eThe Mushroom of Youth\u003c\/h2\u003e\n\u003cp\u003eHighly revered for anti-aging properties to retain your youthful vibrance. This legendary mushroom is known to have some of the highest levels of antioxidants. Helps balance the metabolic system and is a natural adaptogen.‡\u003c\/p\u003e","published_at":"2021-08-19T11:46:55-07:00","created_at":"2019-02-04T15:04:08-08:00","vendor":"Om Mushroom Superfood","type":"Powders","tags":["beauty and radiance","chaga","hair skin and nails","wizard","YGroup_chaga"],"price":1999,"price_min":1999,"price_max":4299,"available":true,"price_varies":true,"compare_at_price":null,"compare_at_price_min":0,"compare_at_price_max":0,"compare_at_price_varies":false,"variants":[{"id":42297475039390,"title":"30 Servings | 2.1 oz (60g) \/ Powder","option1":"30 Servings | 2.1 oz (60g)","option2":"Powder","option3":null,"sku":"60550","requires_shipping":true,"taxable":true,"featured_image":{"id":35048224096414,"product_id":1919002673248,"position":2,"created_at":"2022-12-12T13:08:33-08:00","updated_at":"2022-12-12T13:09:06-08:00","alt":"variant1","width":2400,"height":2400,"src":"\/\/ommushrooms.com\/cdn\/shop\/products\/Om_Chaga_60g_Mockup_Front_15485-003.jpg?v=1670879346","variant_ids":[42297475039390]},"available":true,"name":"Chaga Organic Mushroom Powder - 30 Servings | 2.1 oz (60g) \/ Powder","public_title":"30 Servings | 2.1 oz (60g) \/ Powder","options":["30 Servings | 2.1 oz (60g)","Powder"],"price":1999,"weight":91,"compare_at_price":null,"inventory_management":"shopify","barcode":"856210008479","featured_media":{"alt":"variant1","id":27502206058654,"position":2,"preview_image":{"aspect_ratio":1.0,"height":2400,"width":2400,"src":"\/\/ommushrooms.com\/cdn\/shop\/products\/Om_Chaga_60g_Mockup_Front_15485-003.jpg?v=1670879346"}},"requires_selling_plan":false,"selling_plan_allocations":[{"price_adjustments":[{"position":1,"price":1699}],"price":1699,"compare_at_price":1999,"per_delivery_price":1699,"selling_plan_id":1617985694,"selling_plan_group_id":"979b384c4825f5e2a9173bc9d05530219930e52a"},{"price_adjustments":[{"position":1,"price":1699}],"price":1699,"compare_at_price":1999,"per_delivery_price":1699,"selling_plan_id":1618083998,"selling_plan_group_id":"979b384c4825f5e2a9173bc9d05530219930e52a"},{"price_adjustments":[{"position":1,"price":1699}],"price":1699,"compare_at_price":1999,"per_delivery_price":1699,"selling_plan_id":1618149534,"selling_plan_group_id":"979b384c4825f5e2a9173bc9d05530219930e52a"},{"price_adjustments":[{"position":1,"price":1699}],"price":1699,"compare_at_price":1999,"per_delivery_price":1699,"selling_plan_id":1618215070,"selling_plan_group_id":"979b384c4825f5e2a9173bc9d05530219930e52a"},{"price_adjustments":[{"position":1,"price":1699}],"price":1699,"compare_at_price":1999,"per_delivery_price":1699,"selling_plan_id":1618247838,"selling_plan_group_id":"979b384c4825f5e2a9173bc9d05530219930e52a"},{"price_adjustments":[{"position":1,"price":1699}],"price":1699,"compare_at_price":1999,"per_delivery_price":1699,"selling_plan_id":1618280606,"selling_plan_group_id":"979b384c4825f5e2a9173bc9d05530219930e52a"}],"quantity_rule":{"min":1,"max":null,"increment":1}},{"id":18554015809632,"title":"50 Servings | 3.5 oz (100g) \/ Powder","option1":"50 Servings | 3.5 oz (100g)","option2":"Powder","option3":null,"sku":"60140","requires_shipping":true,"taxable":true,"featured_image":{"id":30676469022878,"product_id":1919002673248,"position":4,"created_at":"2021-09-15T12:30:27-07:00","updated_at":"2022-12-12T13:09:06-08:00","alt":"variant2","width":2400,"height":2400,"src":"\/\/ommushrooms.com\/cdn\/shop\/products\/Chaga100g-006_Front.jpg?v=1670879346","variant_ids":[18554015809632]},"available":true,"name":"Chaga Organic Mushroom Powder - 50 Servings | 3.5 oz (100g) \/ Powder","public_title":"50 Servings | 3.5 oz (100g) \/ Powder","options":["50 Servings | 3.5 oz (100g)","Powder"],"price":2699,"weight":91,"compare_at_price":null,"inventory_management":"shopify","barcode":"857727004091","featured_media":{"alt":"variant2","id":23048408039582,"position":4,"preview_image":{"aspect_ratio":1.0,"height":2400,"width":2400,"src":"\/\/ommushrooms.com\/cdn\/shop\/products\/Chaga100g-006_Front.jpg?v=1670879346"}},"requires_selling_plan":false,"selling_plan_allocations":[{"price_adjustments":[{"position":1,"price":2294}],"price":2294,"compare_at_price":2699,"per_delivery_price":2294,"selling_plan_id":1617985694,"selling_plan_group_id":"979b384c4825f5e2a9173bc9d05530219930e52a"},{"price_adjustments":[{"position":1,"price":2294}],"price":2294,"compare_at_price":2699,"per_delivery_price":2294,"selling_plan_id":1618083998,"selling_plan_group_id":"979b384c4825f5e2a9173bc9d05530219930e52a"},{"price_adjustments":[{"position":1,"price":2294}],"price":2294,"compare_at_price":2699,"per_delivery_price":2294,"selling_plan_id":1618149534,"selling_plan_group_id":"979b384c4825f5e2a9173bc9d05530219930e52a"},{"price_adjustments":[{"position":1,"price":2294}],"price":2294,"compare_at_price":2699,"per_delivery_price":2294,"selling_plan_id":1618215070,"selling_plan_group_id":"979b384c4825f5e2a9173bc9d05530219930e52a"},{"price_adjustments":[{"position":1,"price":2294}],"price":2294,"compare_at_price":2699,"per_delivery_price":2294,"selling_plan_id":1618247838,"selling_plan_group_id":"979b384c4825f5e2a9173bc9d05530219930e52a"},{"price_adjustments":[{"position":1,"price":2294}],"price":2294,"compare_at_price":2699,"per_delivery_price":2294,"selling_plan_id":1618280606,"selling_plan_group_id":"979b384c4825f5e2a9173bc9d05530219930e52a"}],"quantity_rule":{"min":1,"max":null,"increment":1}},{"id":18554015776864,"title":"100 Servings | 7.05 oz (200g) \/ Powder","option1":"100 Servings | 7.05 oz (200g)","option2":"Powder","option3":null,"sku":"60155","requires_shipping":true,"taxable":true,"featured_image":{"id":31046292832414,"product_id":1919002673248,"position":1,"created_at":"2021-10-08T15:57:37-07:00","updated_at":"2021-11-18T13:49:47-08:00","alt":"variant3","width":2400,"height":2400,"src":"\/\/ommushrooms.com\/cdn\/shop\/products\/Chaga_200g_Front.jpg?v=1637272187","variant_ids":[18554015776864]},"available":true,"name":"Chaga Organic Mushroom Powder - 100 Servings | 7.05 oz (200g) \/ Powder","public_title":"100 Servings | 7.05 oz (200g) \/ Powder","options":["100 Servings | 7.05 oz (200g)","Powder"],"price":4299,"weight":181,"compare_at_price":null,"inventory_management":"shopify","barcode":"850030553232","featured_media":{"alt":"variant3","id":23425460633758,"position":1,"preview_image":{"aspect_ratio":1.0,"height":2400,"width":2400,"src":"\/\/ommushrooms.com\/cdn\/shop\/products\/Chaga_200g_Front.jpg?v=1637272187"}},"requires_selling_plan":false,"selling_plan_allocations":[{"price_adjustments":[{"position":1,"price":3654}],"price":3654,"compare_at_price":4299,"per_delivery_price":3654,"selling_plan_id":1617985694,"selling_plan_group_id":"979b384c4825f5e2a9173bc9d05530219930e52a"},{"price_adjustments":[{"position":1,"price":3654}],"price":3654,"compare_at_price":4299,"per_delivery_price":3654,"selling_plan_id":1618083998,"selling_plan_group_id":"979b384c4825f5e2a9173bc9d05530219930e52a"},{"price_adjustments":[{"position":1,"price":3654}],"price":3654,"compare_at_price":4299,"per_delivery_price":3654,"selling_plan_id":1618149534,"selling_plan_group_id":"979b384c4825f5e2a9173bc9d05530219930e52a"},{"price_adjustments":[{"position":1,"price":3654}],"price":3654,"compare_at_price":4299,"per_delivery_price":3654,"selling_plan_id":1618215070,"selling_plan_group_id":"979b384c4825f5e2a9173bc9d05530219930e52a"},{"price_adjustments":[{"position":1,"price":3654}],"price":3654,"compare_at_price":4299,"per_delivery_price":3654,"selling_plan_id":1618247838,"selling_plan_group_id":"979b384c4825f5e2a9173bc9d05530219930e52a"},{"price_adjustments":[{"position":1,"price":3654}],"price":3654,"compare_at_price":4299,"per_delivery_price":3654,"selling_plan_id":1618280606,"selling_plan_group_id":"979b384c4825f5e2a9173bc9d05530219930e52a"}],"quantity_rule":{"min":1,"max":null,"increment":1}}],"images":["\/\/ommushrooms.com\/cdn\/shop\/products\/Chaga_200g_Front.jpg?v=1637272187","\/\/ommushrooms.com\/cdn\/shop\/products\/Om_Chaga_60g_Mockup_Front_15485-003.jpg?v=1670879346","\/\/ommushrooms.com\/cdn\/shop\/products\/Om_Chaga_60g_Mockup_Back_15485-003.jpg?v=1670879346","\/\/ommushrooms.com\/cdn\/shop\/products\/Chaga100g-006_Front.jpg?v=1670879346","\/\/ommushrooms.com\/cdn\/shop\/products\/Chaga100g-006_Back.jpg?v=1670879346","\/\/ommushrooms.com\/cdn\/shop\/products\/Chaga_200g_Back.jpg?v=1670879346","\/\/ommushrooms.com\/cdn\/shop\/products\/Om_Chaga_Tile2.jpg?v=1670879346","\/\/ommushrooms.com\/cdn\/shop\/products\/Om_Chaga_Tile7.jpg?v=1670879346","\/\/ommushrooms.com\/cdn\/shop\/products\/Om_Chaga_Tile3.jpg?v=1670879346","\/\/ommushrooms.com\/cdn\/shop\/products\/Om_Chaga_Tile1.jpg?v=1670879346","\/\/ommushrooms.com\/cdn\/shop\/products\/Om_Chaga200g_Tile1_7250a7ac-ee8e-401e-89b4-22f785e4f76a.jpg?v=1670879346","\/\/ommushrooms.com\/cdn\/shop\/products\/Om_Chaga_Tile6_c501c4f2-8a3b-447b-a62c-a5f2622b0d3d.jpg?v=1670879346","\/\/ommushrooms.com\/cdn\/shop\/products\/Om_Chaga_Tile5_fbb4bdd5-e0ec-4696-8790-68a2e97c97ad.jpg?v=1670879346"],"featured_image":"\/\/ommushrooms.com\/cdn\/shop\/products\/Chaga_200g_Front.jpg?v=1637272187","options":["Size","Format"],"media":[{"alt":"variant3","id":23425460633758,"position":1,"preview_image":{"aspect_ratio":1.0,"height":2400,"width":2400,"src":"\/\/ommushrooms.com\/cdn\/shop\/products\/Chaga_200g_Front.jpg?v=1637272187"},"aspect_ratio":1.0,"height":2400,"media_type":"image","src":"\/\/ommushrooms.com\/cdn\/shop\/products\/Chaga_200g_Front.jpg?v=1637272187","width":2400},{"alt":"variant1","id":27502206058654,"position":2,"preview_image":{"aspect_ratio":1.0,"height":2400,"width":2400,"src":"\/\/ommushrooms.com\/cdn\/shop\/products\/Om_Chaga_60g_Mockup_Front_15485-003.jpg?v=1670879346"},"aspect_ratio":1.0,"height":2400,"media_type":"image","src":"\/\/ommushrooms.com\/cdn\/shop\/products\/Om_Chaga_60g_Mockup_Front_15485-003.jpg?v=1670879346","width":2400},{"alt":"variant1","id":27502206025886,"position":3,"preview_image":{"aspect_ratio":1.0,"height":2400,"width":2400,"src":"\/\/ommushrooms.com\/cdn\/shop\/products\/Om_Chaga_60g_Mockup_Back_15485-003.jpg?v=1670879346"},"aspect_ratio":1.0,"height":2400,"media_type":"image","src":"\/\/ommushrooms.com\/cdn\/shop\/products\/Om_Chaga_60g_Mockup_Back_15485-003.jpg?v=1670879346","width":2400},{"alt":"variant2","id":23048408039582,"position":4,"preview_image":{"aspect_ratio":1.0,"height":2400,"width":2400,"src":"\/\/ommushrooms.com\/cdn\/shop\/products\/Chaga100g-006_Front.jpg?v=1670879346"},"aspect_ratio":1.0,"height":2400,"media_type":"image","src":"\/\/ommushrooms.com\/cdn\/shop\/products\/Chaga100g-006_Front.jpg?v=1670879346","width":2400},{"alt":"variant2","id":23048414920862,"position":5,"preview_image":{"aspect_ratio":1.0,"height":2400,"width":2400,"src":"\/\/ommushrooms.com\/cdn\/shop\/products\/Chaga100g-006_Back.jpg?v=1670879346"},"aspect_ratio":1.0,"height":2400,"media_type":"image","src":"\/\/ommushrooms.com\/cdn\/shop\/products\/Chaga100g-006_Back.jpg?v=1670879346","width":2400},{"alt":"variant3","id":23425452900510,"position":6,"preview_image":{"aspect_ratio":1.0,"height":2400,"width":2400,"src":"\/\/ommushrooms.com\/cdn\/shop\/products\/Chaga_200g_Back.jpg?v=1670879346"},"aspect_ratio":1.0,"height":2400,"media_type":"image","src":"\/\/ommushrooms.com\/cdn\/shop\/products\/Chaga_200g_Back.jpg?v=1670879346","width":2400},{"alt":null,"id":12083998982302,"position":7,"preview_image":{"aspect_ratio":1.0,"height":2560,"width":2560,"src":"\/\/ommushrooms.com\/cdn\/shop\/products\/Om_Chaga_Tile2.jpg?v=1670879346"},"aspect_ratio":1.0,"height":2560,"media_type":"image","src":"\/\/ommushrooms.com\/cdn\/shop\/products\/Om_Chaga_Tile2.jpg?v=1670879346","width":2560},{"alt":null,"id":12084024180894,"position":8,"preview_image":{"aspect_ratio":1.0,"height":2560,"width":2560,"src":"\/\/ommushrooms.com\/cdn\/shop\/products\/Om_Chaga_Tile7.jpg?v=1670879346"},"aspect_ratio":1.0,"height":2560,"media_type":"image","src":"\/\/ommushrooms.com\/cdn\/shop\/products\/Om_Chaga_Tile7.jpg?v=1670879346","width":2560},{"alt":null,"id":12084010713246,"position":9,"preview_image":{"aspect_ratio":1.0,"height":2560,"width":2560,"src":"\/\/ommushrooms.com\/cdn\/shop\/products\/Om_Chaga_Tile3.jpg?v=1670879346"},"aspect_ratio":1.0,"height":2560,"media_type":"image","src":"\/\/ommushrooms.com\/cdn\/shop\/products\/Om_Chaga_Tile3.jpg?v=1670879346","width":2560},{"alt":"variant2","id":11653761400990,"position":10,"preview_image":{"aspect_ratio":1.0,"height":2560,"width":2560,"src":"\/\/ommushrooms.com\/cdn\/shop\/products\/Om_Chaga_Tile1.jpg?v=1670879346"},"aspect_ratio":1.0,"height":2560,"media_type":"image","src":"\/\/ommushrooms.com\/cdn\/shop\/products\/Om_Chaga_Tile1.jpg?v=1670879346","width":2560},{"alt":"variant3","id":23425441300638,"position":11,"preview_image":{"aspect_ratio":1.0,"height":2400,"width":2400,"src":"\/\/ommushrooms.com\/cdn\/shop\/products\/Om_Chaga200g_Tile1_7250a7ac-ee8e-401e-89b4-22f785e4f76a.jpg?v=1670879346"},"aspect_ratio":1.0,"height":2400,"media_type":"image","src":"\/\/ommushrooms.com\/cdn\/shop\/products\/Om_Chaga200g_Tile1_7250a7ac-ee8e-401e-89b4-22f785e4f76a.jpg?v=1670879346","width":2400},{"alt":null,"id":11653761663134,"position":12,"preview_image":{"aspect_ratio":1.0,"height":2560,"width":2560,"src":"\/\/ommushrooms.com\/cdn\/shop\/products\/Om_Chaga_Tile6_c501c4f2-8a3b-447b-a62c-a5f2622b0d3d.jpg?v=1670879346"},"aspect_ratio":1.0,"height":2560,"media_type":"image","src":"\/\/ommushrooms.com\/cdn\/shop\/products\/Om_Chaga_Tile6_c501c4f2-8a3b-447b-a62c-a5f2622b0d3d.jpg?v=1670879346","width":2560},{"alt":"variant1","id":11653761695902,"position":13,"preview_image":{"aspect_ratio":1.0,"height":2560,"width":2560,"src":"\/\/ommushrooms.com\/cdn\/shop\/products\/Om_Chaga_Tile5_fbb4bdd5-e0ec-4696-8790-68a2e97c97ad.jpg?v=1670879346"},"aspect_ratio":1.0,"height":2560,"media_type":"image","src":"\/\/ommushrooms.com\/cdn\/shop\/products\/Om_Chaga_Tile5_fbb4bdd5-e0ec-4696-8790-68a2e97c97ad.jpg?v=1670879346","width":2560}],"requires_selling_plan":false,"selling_plan_groups":[{"id":"979b384c4825f5e2a9173bc9d05530219930e52a","name":"Chaga Organic Mushroom Superfood Powder","options":[{"name":"30 Day(s), 60 Day(s), 90 Day(s), 120 Day(s), 150 Day(s), 180 Day(s)","position":1,"values":["30 Day(s)","60 Day(s)","90 Day(s)","120 Day(s)","150 Day(s)","180 Day(s)"]}],"selling_plans":[{"id":1617985694,"name":"Delivery every 30 Days","description":null,"options":[{"name":"30 Day(s), 60 Day(s), 90 Day(s), 120 Day(s), 150 Day(s), 180 Day(s)","position":1,"value":"30 Day(s)"}],"recurring_deliveries":true,"price_adjustments":[{"order_count":null,"position":1,"value_type":"percentage","value":15}],"checkout_charge":{"value_type":"percentage","value":100}},{"id":1618083998,"name":"Delivery every 60 Days","description":null,"options":[{"name":"30 Day(s), 60 Day(s), 90 Day(s), 120 Day(s), 150 Day(s), 180 Day(s)","position":1,"value":"60 Day(s)"}],"recurring_deliveries":true,"price_adjustments":[{"order_count":null,"position":1,"value_type":"percentage","value":15}],"checkout_charge":{"value_type":"percentage","value":100}},{"id":1618149534,"name":"Delivery every 90 Days","description":null,"options":[{"name":"30 Day(s), 60 Day(s), 90 Day(s), 120 Day(s), 150 Day(s), 180 Day(s)","position":1,"value":"90 Day(s)"}],"recurring_deliveries":true,"price_adjustments":[{"order_count":null,"position":1,"value_type":"percentage","value":15}],"checkout_charge":{"value_type":"percentage","value":100}},{"id":1618215070,"name":"Delivery every 120 Days","description":null,"options":[{"name":"30 Day(s), 60 Day(s), 90 Day(s), 120 Day(s), 150 Day(s), 180 Day(s)","position":1,"value":"120 Day(s)"}],"recurring_deliveries":true,"price_adjustments":[{"order_count":null,"position":1,"value_type":"percentage","value":15}],"checkout_charge":{"value_type":"percentage","value":100}},{"id":1618247838,"name":"Delivery every 150 Days","description":null,"options":[{"name":"30 Day(s), 60 Day(s), 90 Day(s), 120 Day(s), 150 Day(s), 180 Day(s)","position":1,"value":"150 Day(s)"}],"recurring_deliveries":true,"price_adjustments":[{"order_count":null,"position":1,"value_type":"percentage","value":15}],"checkout_charge":{"value_type":"percentage","value":100}},{"id":1618280606,"name":"Delivery every 180 Days","description":null,"options":[{"name":"30 Day(s), 60 Day(s), 90 Day(s), 120 Day(s), 150 Day(s), 180 Day(s)","position":1,"value":"180 Day(s)"}],"recurring_deliveries":true,"price_adjustments":[{"order_count":null,"position":1,"value_type":"percentage","value":15}],"checkout_charge":{"value_type":"percentage","value":100}}],"app_id":"294517"}],"content":"\u003ch2\u003eThe Mushroom of Youth\u003c\/h2\u003e\n\u003cp\u003eHighly revered for anti-aging properties to retain your youthful vibrance. This legendary mushroom is known to have some of the highest levels of antioxidants. Helps balance the metabolic system and is a natural adaptogen.‡\u003c\/p\u003e"}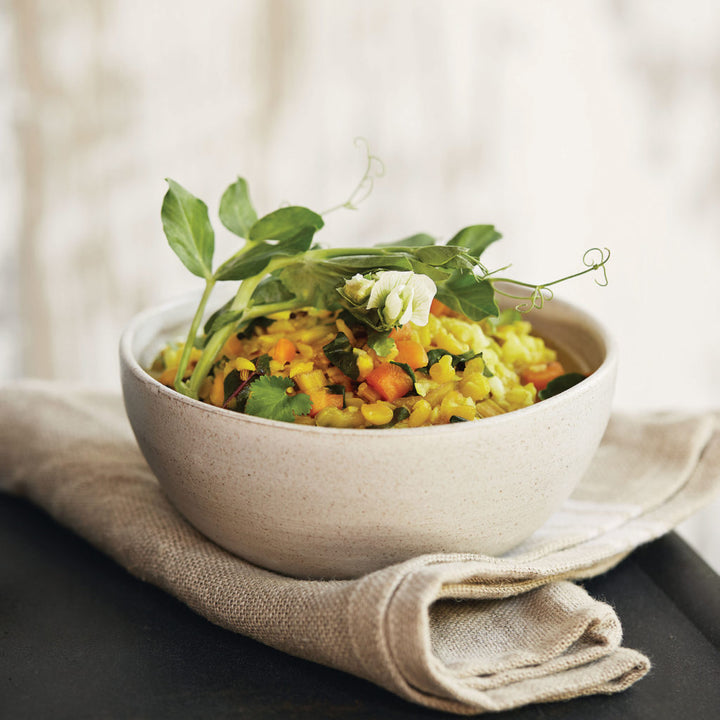 Ingredients
2 Tbsp coconut oil
1 tsp cumin seeds
1 tsp fennel seeds
1 tsp black mustard seeds
1 cup long grain brown rice
½ cup yellow split peas
1 tsp ground coriander
½ tsp ground turmeric
1 tsp freshly grated ginger
6 cups water
1 2×4-inch strip kombu
1 Tbsp Om CHAGA mushroom powder
Sea salt
1 cup finely chopped carrots
2 cups finely chopped cauliflower
4 medium Swiss chard leaves, finely chopped, stems and leaves chopped separately (about 2 cups total yield)
¼ cup chopped fresh cilantro (optional)
Directions
Kitchari, a famous mixture used in Ayurvedic medicine, usually includes a starch, in the form of grains, and a protein, in the form of legumes. The recipe is used to balance the body in myriad ways—to detoxify, ease digestion, balance weight, and support recovery from illness or physical hardship. Some people even make huge batches of kitchari at a time to use as a base for cleanses. Regardless of how you enjoy it, kitchari is considered the ultimate in feel-good porridges.
Warm the coconut oil in a heavy-bottomed pot over medium heat. Once hot, add the cumin seeds, fennel seeds, and black mustard seeds. Cook, stirring, until the mustard seeds begin to pop and the spices are fragrant, about 2–3 minutes. Stir in the brown rice, yellow peas, coriander, turmeric, and ginger and cook for 1 minute longer, stirring constantly so as not to burn the spices. Pour in 6 cups of water and add the kombu strip, Om CHAGA powder, and 1 1/2 teaspoons sea salt. Bring the mixture to a boil over high heat. Cover, reduce the heat to medium-low, and cook for 30 minutes.
Stir in the carrots, cauliflower, and chopped Swiss chard stems, adding more water as needed. Cover the pot again, and cook for 30 minutes longer, or until the vegetables, rice, and peas are very soft. Stir in the chard leaves and adjust the seasonings if needed, adding more water if a more soupy consistency is desired. Remove the soup from the heat and let rest until the chard is tender. Serve the soup warm with a little chopped cilantro.
Variation: Kitchari is immensely flexible in its ingredients and structure. You can use anywhere from 2 to 6 cups of any vegetable you enjoy in this recipe, such as zucchini and green beans. You can even swap out the rice for another starch and the peas for another legume.
Julie Morris is a California-based superfood chef, best-selling author of five cookbooks, and the co-founder of Luminberry – an online center for learning how to cook with superfoods. Having worked in the natural food industry for over a decade, Julie currently enjoys her time as a sought-after recipe developer and consultant for leading food companies and cutting-edge restaurants, and is a frequent media contributor featured in Wall Street Journal, GQ, Clean Eating, SELF, and many more.