{"error":"json not allowed for this object"}
{"id":1919002443872,"title":"Reishi Organic Mushroom Powder","handle":"reishi","description":"\u003ch2\u003eThe Balancing Mushroom\u003c\/h2\u003e\n\u003cp\u003eHarmonize your longevity, energy and spirit with this superior immunity tonic. Natural adaptogen to help balance mental and physical stress. Nourish your heart and soothe an overactive immune system. Enlighten and relax, find your Savasana.‡\u003c\/p\u003e","published_at":"2021-08-19T11:47:01-07:00","created_at":"2019-02-04T15:03:40-08:00","vendor":"Om Mushroom Superfood","type":"Powders","tags":["reishi","stress management","YGroup_reishi"],"price":1999,"price_min":1999,"price_max":4299,"available":true,"price_varies":true,"compare_at_price":null,"compare_at_price_min":0,"compare_at_price_max":0,"compare_at_price_varies":false,"variants":[{"id":42297461735582,"title":"30 Servings | 2.1 oz (60g) \/ Powder","option1":"30 Servings | 2.1 oz (60g)","option2":"Powder","option3":null,"sku":"60530","requires_shipping":true,"taxable":true,"featured_image":{"id":35048179171486,"product_id":1919002443872,"position":2,"created_at":"2022-12-12T12:53:53-08:00","updated_at":"2022-12-12T12:53:56-08:00","alt":"variant1","width":2400,"height":2400,"src":"\/\/ommushrooms.com\/cdn\/shop\/products\/Reishi_60g_Mockup_Front_559051ed-c158-492d-9c56-8fd0384a079d.jpg?v=1670878436","variant_ids":[42297461735582]},"available":true,"name":"Reishi Organic Mushroom Powder - 30 Servings | 2.1 oz (60g) \/ Powder","public_title":"30 Servings | 2.1 oz (60g) \/ Powder","options":["30 Servings | 2.1 oz (60g)","Powder"],"price":1999,"weight":91,"compare_at_price":null,"inventory_management":"shopify","barcode":"856210008455","featured_media":{"alt":"variant1","id":27502156054686,"position":2,"preview_image":{"aspect_ratio":1.0,"height":2400,"width":2400,"src":"\/\/ommushrooms.com\/cdn\/shop\/products\/Reishi_60g_Mockup_Front_559051ed-c158-492d-9c56-8fd0384a079d.jpg?v=1670878436"}},"requires_selling_plan":false,"selling_plan_allocations":[{"price_adjustments":[{"position":1,"price":1699}],"price":1699,"compare_at_price":1999,"per_delivery_price":1699,"selling_plan_id":1614184606,"selling_plan_group_id":"bfa34c106e9eafdc5ae3f1ced75011db178be5d6"},{"price_adjustments":[{"position":1,"price":1699}],"price":1699,"compare_at_price":1999,"per_delivery_price":1699,"selling_plan_id":1614250142,"selling_plan_group_id":"bfa34c106e9eafdc5ae3f1ced75011db178be5d6"},{"price_adjustments":[{"position":1,"price":1699}],"price":1699,"compare_at_price":1999,"per_delivery_price":1699,"selling_plan_id":1614348446,"selling_plan_group_id":"bfa34c106e9eafdc5ae3f1ced75011db178be5d6"},{"price_adjustments":[{"position":1,"price":1699}],"price":1699,"compare_at_price":1999,"per_delivery_price":1699,"selling_plan_id":1614479518,"selling_plan_group_id":"bfa34c106e9eafdc5ae3f1ced75011db178be5d6"},{"price_adjustments":[{"position":1,"price":1699}],"price":1699,"compare_at_price":1999,"per_delivery_price":1699,"selling_plan_id":1614610590,"selling_plan_group_id":"bfa34c106e9eafdc5ae3f1ced75011db178be5d6"},{"price_adjustments":[{"position":1,"price":1699}],"price":1699,"compare_at_price":1999,"per_delivery_price":1699,"selling_plan_id":1614774430,"selling_plan_group_id":"bfa34c106e9eafdc5ae3f1ced75011db178be5d6"}],"quantity_rule":{"min":1,"max":null,"increment":1}},{"id":18554016661600,"title":"50 Servings | 3.5 oz (100g) \/ Powder","option1":"50 Servings | 3.5 oz (100g)","option2":"Powder","option3":null,"sku":"60260","requires_shipping":true,"taxable":true,"featured_image":{"id":30676718747806,"product_id":1919002443872,"position":4,"created_at":"2021-09-15T12:47:56-07:00","updated_at":"2022-12-12T13:19:54-08:00","alt":"variant2","width":2400,"height":2400,"src":"\/\/ommushrooms.com\/cdn\/shop\/products\/Reishi100g-006_Front.jpg?v=1670879994","variant_ids":[18554016661600]},"available":false,"name":"Reishi Organic Mushroom Powder - 50 Servings | 3.5 oz (100g) \/ Powder","public_title":"50 Servings | 3.5 oz (100g) \/ Powder","options":["50 Servings | 3.5 oz (100g)","Powder"],"price":2699,"weight":91,"compare_at_price":null,"inventory_management":"shopify","barcode":"892392002027","featured_media":{"alt":"variant2","id":23048659796126,"position":4,"preview_image":{"aspect_ratio":1.0,"height":2400,"width":2400,"src":"\/\/ommushrooms.com\/cdn\/shop\/products\/Reishi100g-006_Front.jpg?v=1670879994"}},"requires_selling_plan":false,"selling_plan_allocations":[{"price_adjustments":[{"position":1,"price":2294}],"price":2294,"compare_at_price":2699,"per_delivery_price":2294,"selling_plan_id":1614184606,"selling_plan_group_id":"bfa34c106e9eafdc5ae3f1ced75011db178be5d6"},{"price_adjustments":[{"position":1,"price":2294}],"price":2294,"compare_at_price":2699,"per_delivery_price":2294,"selling_plan_id":1614250142,"selling_plan_group_id":"bfa34c106e9eafdc5ae3f1ced75011db178be5d6"},{"price_adjustments":[{"position":1,"price":2294}],"price":2294,"compare_at_price":2699,"per_delivery_price":2294,"selling_plan_id":1614348446,"selling_plan_group_id":"bfa34c106e9eafdc5ae3f1ced75011db178be5d6"},{"price_adjustments":[{"position":1,"price":2294}],"price":2294,"compare_at_price":2699,"per_delivery_price":2294,"selling_plan_id":1614479518,"selling_plan_group_id":"bfa34c106e9eafdc5ae3f1ced75011db178be5d6"},{"price_adjustments":[{"position":1,"price":2294}],"price":2294,"compare_at_price":2699,"per_delivery_price":2294,"selling_plan_id":1614610590,"selling_plan_group_id":"bfa34c106e9eafdc5ae3f1ced75011db178be5d6"},{"price_adjustments":[{"position":1,"price":2294}],"price":2294,"compare_at_price":2699,"per_delivery_price":2294,"selling_plan_id":1614774430,"selling_plan_group_id":"bfa34c106e9eafdc5ae3f1ced75011db178be5d6"}],"quantity_rule":{"min":1,"max":null,"increment":1}},{"id":18554016628832,"title":"100 Servings | 7.05 oz (200g) \/ Powder","option1":"100 Servings | 7.05 oz (200g)","option2":"Powder","option3":null,"sku":"60275","requires_shipping":true,"taxable":true,"featured_image":{"id":31046698238110,"product_id":1919002443872,"position":1,"created_at":"2021-10-08T16:26:18-07:00","updated_at":"2021-11-18T13:50:37-08:00","alt":"variant3","width":2400,"height":2400,"src":"\/\/ommushrooms.com\/cdn\/shop\/products\/Reishi_200g_Front.jpg?v=1637272237","variant_ids":[18554016628832]},"available":false,"name":"Reishi Organic Mushroom Powder - 100 Servings | 7.05 oz (200g) \/ Powder","public_title":"100 Servings | 7.05 oz (200g) \/ Powder","options":["100 Servings | 7.05 oz (200g)","Powder"],"price":4299,"weight":181,"compare_at_price":null,"inventory_management":"shopify","barcode":"850030553270","featured_media":{"alt":"variant3","id":23425872003230,"position":1,"preview_image":{"aspect_ratio":1.0,"height":2400,"width":2400,"src":"\/\/ommushrooms.com\/cdn\/shop\/products\/Reishi_200g_Front.jpg?v=1637272237"}},"requires_selling_plan":false,"selling_plan_allocations":[{"price_adjustments":[{"position":1,"price":3654}],"price":3654,"compare_at_price":4299,"per_delivery_price":3654,"selling_plan_id":1614184606,"selling_plan_group_id":"bfa34c106e9eafdc5ae3f1ced75011db178be5d6"},{"price_adjustments":[{"position":1,"price":3654}],"price":3654,"compare_at_price":4299,"per_delivery_price":3654,"selling_plan_id":1614250142,"selling_plan_group_id":"bfa34c106e9eafdc5ae3f1ced75011db178be5d6"},{"price_adjustments":[{"position":1,"price":3654}],"price":3654,"compare_at_price":4299,"per_delivery_price":3654,"selling_plan_id":1614348446,"selling_plan_group_id":"bfa34c106e9eafdc5ae3f1ced75011db178be5d6"},{"price_adjustments":[{"position":1,"price":3654}],"price":3654,"compare_at_price":4299,"per_delivery_price":3654,"selling_plan_id":1614479518,"selling_plan_group_id":"bfa34c106e9eafdc5ae3f1ced75011db178be5d6"},{"price_adjustments":[{"position":1,"price":3654}],"price":3654,"compare_at_price":4299,"per_delivery_price":3654,"selling_plan_id":1614610590,"selling_plan_group_id":"bfa34c106e9eafdc5ae3f1ced75011db178be5d6"},{"price_adjustments":[{"position":1,"price":3654}],"price":3654,"compare_at_price":4299,"per_delivery_price":3654,"selling_plan_id":1614774430,"selling_plan_group_id":"bfa34c106e9eafdc5ae3f1ced75011db178be5d6"}],"quantity_rule":{"min":1,"max":null,"increment":1}}],"images":["\/\/ommushrooms.com\/cdn\/shop\/products\/Reishi_200g_Front.jpg?v=1637272237","\/\/ommushrooms.com\/cdn\/shop\/products\/Reishi_60g_Mockup_Front_559051ed-c158-492d-9c56-8fd0384a079d.jpg?v=1670878436","\/\/ommushrooms.com\/cdn\/shop\/products\/Om_Reishi_60g_Mockup_Back_15405-003.jpg?v=1670879994","\/\/ommushrooms.com\/cdn\/shop\/products\/Reishi100g-006_Front.jpg?v=1670879994","\/\/ommushrooms.com\/cdn\/shop\/products\/Reishi100g-006_Back.jpg?v=1670879994","\/\/ommushrooms.com\/cdn\/shop\/products\/Reishi_200g_Back.jpg?v=1670879994","\/\/ommushrooms.com\/cdn\/shop\/products\/Om_Reishi_Tile2.jpg?v=1670879994","\/\/ommushrooms.com\/cdn\/shop\/products\/Om_Reishi_Tile3.jpg?v=1670879994","\/\/ommushrooms.com\/cdn\/shop\/products\/Om_Reishi_Tile6_5236be8c-a669-4e38-a771-34c67fb552b0.jpg?v=1670879994","\/\/ommushrooms.com\/cdn\/shop\/products\/Om_Reishi_Tile1.jpg?v=1670879994","\/\/ommushrooms.com\/cdn\/shop\/products\/Om_Reishi200g_Tile1_7630b6f8-6a5d-4039-85c4-fe1a18e97990.jpg?v=1670879994","\/\/ommushrooms.com\/cdn\/shop\/products\/Om_Reishi_Tile7.jpg?v=1670879994","\/\/ommushrooms.com\/cdn\/shop\/products\/Om_Reishi_Tile5_2e63a025-1223-42a7-9598-df5614f4d361.jpg?v=1670879994"],"featured_image":"\/\/ommushrooms.com\/cdn\/shop\/products\/Reishi_200g_Front.jpg?v=1637272237","options":["Size","Format"],"media":[{"alt":"variant3","id":23425872003230,"position":1,"preview_image":{"aspect_ratio":1.0,"height":2400,"width":2400,"src":"\/\/ommushrooms.com\/cdn\/shop\/products\/Reishi_200g_Front.jpg?v=1637272237"},"aspect_ratio":1.0,"height":2400,"media_type":"image","src":"\/\/ommushrooms.com\/cdn\/shop\/products\/Reishi_200g_Front.jpg?v=1637272237","width":2400},{"alt":"variant1","id":27502156054686,"position":2,"preview_image":{"aspect_ratio":1.0,"height":2400,"width":2400,"src":"\/\/ommushrooms.com\/cdn\/shop\/products\/Reishi_60g_Mockup_Front_559051ed-c158-492d-9c56-8fd0384a079d.jpg?v=1670878436"},"aspect_ratio":1.0,"height":2400,"media_type":"image","src":"\/\/ommushrooms.com\/cdn\/shop\/products\/Reishi_60g_Mockup_Front_559051ed-c158-492d-9c56-8fd0384a079d.jpg?v=1670878436","width":2400},{"alt":"variant1","id":27502253703326,"position":3,"preview_image":{"aspect_ratio":1.0,"height":2400,"width":2400,"src":"\/\/ommushrooms.com\/cdn\/shop\/products\/Om_Reishi_60g_Mockup_Back_15405-003.jpg?v=1670879994"},"aspect_ratio":1.0,"height":2400,"media_type":"image","src":"\/\/ommushrooms.com\/cdn\/shop\/products\/Om_Reishi_60g_Mockup_Back_15405-003.jpg?v=1670879994","width":2400},{"alt":"variant2","id":23048659796126,"position":4,"preview_image":{"aspect_ratio":1.0,"height":2400,"width":2400,"src":"\/\/ommushrooms.com\/cdn\/shop\/products\/Reishi100g-006_Front.jpg?v=1670879994"},"aspect_ratio":1.0,"height":2400,"media_type":"image","src":"\/\/ommushrooms.com\/cdn\/shop\/products\/Reishi100g-006_Front.jpg?v=1670879994","width":2400},{"alt":"variant2","id":23048659763358,"position":5,"preview_image":{"aspect_ratio":1.0,"height":2400,"width":2400,"src":"\/\/ommushrooms.com\/cdn\/shop\/products\/Reishi100g-006_Back.jpg?v=1670879994"},"aspect_ratio":1.0,"height":2400,"media_type":"image","src":"\/\/ommushrooms.com\/cdn\/shop\/products\/Reishi100g-006_Back.jpg?v=1670879994","width":2400},{"alt":"variant3","id":23425871970462,"position":6,"preview_image":{"aspect_ratio":1.0,"height":2400,"width":2400,"src":"\/\/ommushrooms.com\/cdn\/shop\/products\/Reishi_200g_Back.jpg?v=1670879994"},"aspect_ratio":1.0,"height":2400,"media_type":"image","src":"\/\/ommushrooms.com\/cdn\/shop\/products\/Reishi_200g_Back.jpg?v=1670879994","width":2400},{"alt":null,"id":12099301245086,"position":7,"preview_image":{"aspect_ratio":1.0,"height":2560,"width":2560,"src":"\/\/ommushrooms.com\/cdn\/shop\/products\/Om_Reishi_Tile2.jpg?v=1670879994"},"aspect_ratio":1.0,"height":2560,"media_type":"image","src":"\/\/ommushrooms.com\/cdn\/shop\/products\/Om_Reishi_Tile2.jpg?v=1670879994","width":2560},{"alt":null,"id":12099314024606,"position":8,"preview_image":{"aspect_ratio":1.0,"height":2560,"width":2560,"src":"\/\/ommushrooms.com\/cdn\/shop\/products\/Om_Reishi_Tile3.jpg?v=1670879994"},"aspect_ratio":1.0,"height":2560,"media_type":"image","src":"\/\/ommushrooms.com\/cdn\/shop\/products\/Om_Reishi_Tile3.jpg?v=1670879994","width":2560},{"alt":null,"id":11653785911454,"position":9,"preview_image":{"aspect_ratio":1.0,"height":2560,"width":2560,"src":"\/\/ommushrooms.com\/cdn\/shop\/products\/Om_Reishi_Tile6_5236be8c-a669-4e38-a771-34c67fb552b0.jpg?v=1670879994"},"aspect_ratio":1.0,"height":2560,"media_type":"image","src":"\/\/ommushrooms.com\/cdn\/shop\/products\/Om_Reishi_Tile6_5236be8c-a669-4e38-a771-34c67fb552b0.jpg?v=1670879994","width":2560},{"alt":"variant2","id":11653785583774,"position":10,"preview_image":{"aspect_ratio":1.0,"height":2560,"width":2560,"src":"\/\/ommushrooms.com\/cdn\/shop\/products\/Om_Reishi_Tile1.jpg?v=1670879994"},"aspect_ratio":1.0,"height":2560,"media_type":"image","src":"\/\/ommushrooms.com\/cdn\/shop\/products\/Om_Reishi_Tile1.jpg?v=1670879994","width":2560},{"alt":"variant3","id":23425871511710,"position":11,"preview_image":{"aspect_ratio":1.0,"height":2400,"width":2400,"src":"\/\/ommushrooms.com\/cdn\/shop\/products\/Om_Reishi200g_Tile1_7630b6f8-6a5d-4039-85c4-fe1a18e97990.jpg?v=1670879994"},"aspect_ratio":1.0,"height":2400,"media_type":"image","src":"\/\/ommushrooms.com\/cdn\/shop\/products\/Om_Reishi200g_Tile1_7630b6f8-6a5d-4039-85c4-fe1a18e97990.jpg?v=1670879994","width":2400},{"alt":null,"id":12099306684574,"position":12,"preview_image":{"aspect_ratio":1.0,"height":2560,"width":2560,"src":"\/\/ommushrooms.com\/cdn\/shop\/products\/Om_Reishi_Tile7.jpg?v=1670879994"},"aspect_ratio":1.0,"height":2560,"media_type":"image","src":"\/\/ommushrooms.com\/cdn\/shop\/products\/Om_Reishi_Tile7.jpg?v=1670879994","width":2560},{"alt":"variant1","id":11653785944222,"position":13,"preview_image":{"aspect_ratio":1.0,"height":2560,"width":2560,"src":"\/\/ommushrooms.com\/cdn\/shop\/products\/Om_Reishi_Tile5_2e63a025-1223-42a7-9598-df5614f4d361.jpg?v=1670879994"},"aspect_ratio":1.0,"height":2560,"media_type":"image","src":"\/\/ommushrooms.com\/cdn\/shop\/products\/Om_Reishi_Tile5_2e63a025-1223-42a7-9598-df5614f4d361.jpg?v=1670879994","width":2560}],"requires_selling_plan":false,"selling_plan_groups":[{"id":"bfa34c106e9eafdc5ae3f1ced75011db178be5d6","name":"Reishi Organic Mushroom Powder","options":[{"name":"30 Day(s), 60 Day(s), 90 Day(s), 120 Day(s), 150 Day(s), 180 Day(s)","position":1,"values":["30 Day(s)","60 Day(s)","90 Day(s)","120 Day(s)","150 Day(s)","180 Day(s)"]}],"selling_plans":[{"id":1614184606,"name":"Delivery every 30 Days","description":null,"options":[{"name":"30 Day(s), 60 Day(s), 90 Day(s), 120 Day(s), 150 Day(s), 180 Day(s)","position":1,"value":"30 Day(s)"}],"recurring_deliveries":true,"price_adjustments":[{"order_count":null,"position":1,"value_type":"percentage","value":15}],"checkout_charge":{"value_type":"percentage","value":100}},{"id":1614250142,"name":"Delivery every 60 Days","description":null,"options":[{"name":"30 Day(s), 60 Day(s), 90 Day(s), 120 Day(s), 150 Day(s), 180 Day(s)","position":1,"value":"60 Day(s)"}],"recurring_deliveries":true,"price_adjustments":[{"order_count":null,"position":1,"value_type":"percentage","value":15}],"checkout_charge":{"value_type":"percentage","value":100}},{"id":1614348446,"name":"Delivery every 90 Days","description":null,"options":[{"name":"30 Day(s), 60 Day(s), 90 Day(s), 120 Day(s), 150 Day(s), 180 Day(s)","position":1,"value":"90 Day(s)"}],"recurring_deliveries":true,"price_adjustments":[{"order_count":null,"position":1,"value_type":"percentage","value":15}],"checkout_charge":{"value_type":"percentage","value":100}},{"id":1614479518,"name":"Delivery every 120 Days","description":null,"options":[{"name":"30 Day(s), 60 Day(s), 90 Day(s), 120 Day(s), 150 Day(s), 180 Day(s)","position":1,"value":"120 Day(s)"}],"recurring_deliveries":true,"price_adjustments":[{"order_count":null,"position":1,"value_type":"percentage","value":15}],"checkout_charge":{"value_type":"percentage","value":100}},{"id":1614610590,"name":"Delivery every 150 Days","description":null,"options":[{"name":"30 Day(s), 60 Day(s), 90 Day(s), 120 Day(s), 150 Day(s), 180 Day(s)","position":1,"value":"150 Day(s)"}],"recurring_deliveries":true,"price_adjustments":[{"order_count":null,"position":1,"value_type":"percentage","value":15}],"checkout_charge":{"value_type":"percentage","value":100}},{"id":1614774430,"name":"Delivery every 180 Days","description":null,"options":[{"name":"30 Day(s), 60 Day(s), 90 Day(s), 120 Day(s), 150 Day(s), 180 Day(s)","position":1,"value":"180 Day(s)"}],"recurring_deliveries":true,"price_adjustments":[{"order_count":null,"position":1,"value_type":"percentage","value":15}],"checkout_charge":{"value_type":"percentage","value":100}}],"app_id":"294517"}],"content":"\u003ch2\u003eThe Balancing Mushroom\u003c\/h2\u003e\n\u003cp\u003eHarmonize your longevity, energy and spirit with this superior immunity tonic. Natural adaptogen to help balance mental and physical stress. Nourish your heart and soothe an overactive immune system. Enlighten and relax, find your Savasana.‡\u003c\/p\u003e"}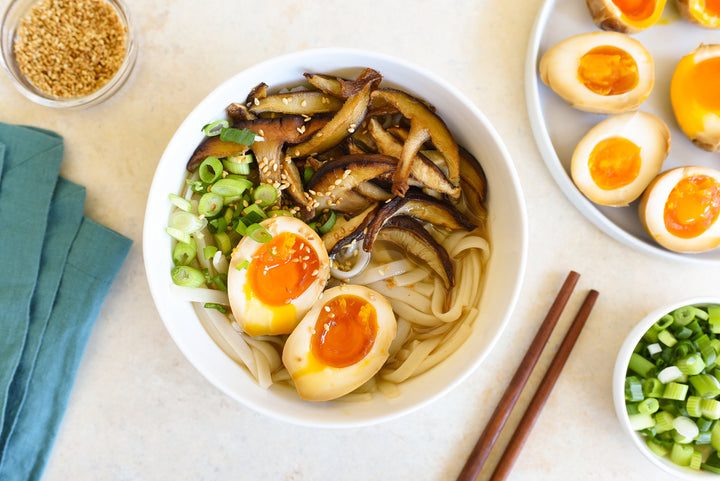 Active Time: 25 minutes
Servings: Servings: 4-8
Difficulty Level: 2/5
Recipe Type(s): vegetarian, gluten-free
Ingredients
4-8 large eggs
½ cup tamari
3 tablespoons mirin
2 teaspoons Om Reishi Organic Mushroom Powder
1 garlic clove
1 star anise
Directions
In a small saucepan, simmer tamari, mirin, Om Reishi, garlic and star anise for 5 minutes.
Remove from heat then let cool. Transfer to a sealable container or plastic bag.
In a medium saucepan, bring enough water to cover eggs to a boil
Add eggs to boiling water, reduce heat and simmer for 7 minutes.
Remove eggs from heat, strain and rinse with cool water until cool enough to touch.
Gently peel cooled eggs and place in cooled marinade, making sure they are completely covered.
Marinate eggs overnight or up to 2 days in the refrigerator
Cut eggs in half and enjoy them by themselves or in your favorite soup.
We enjoy them atop Om Mighty Broth with ramen noodles, mushrooms, green onions and toasted sesame seeds.