{"id":1919002542176,"title":"Lion's Mane Organic Mushroom Powder","handle":"lions-mane","description":"\u003ch2\u003eThe Smartest Mushroom in the Kingdom\u003c\/h2\u003e\n\u003cp\u003eWhen it comes to the smartest mushroom in the kingdom, it doesn't get better than Lion's Mane. This vegan mushroom may look like the flowing mane of a lion, but it's packed with powerful compounds such as beta-glucans and polysaccharides that help support your immune system, memory, focus, and nerve health. Om\u003csup\u003e®\u003c\/sup\u003e Lion's Mane Mushroom Powder is certified organic, Non-GMO Project Verified, vegan, kosher, gluten-free, keto \u0026amp; paleo friendly, and has no sugar added making it the perfect daily supplement for anyone looking to boost their health naturally. This brain health superfood mixes well with smoothies, protein shakes, or your favorite daily beverage such as coffee or tea which makes it a smart way to help fuel your brain. Just brilliant.‡\u003c\/p\u003e","published_at":"2021-08-19T11:46:51-07:00","created_at":"2019-02-04T15:03:50-08:00","vendor":"Om Mushroom Superfood","type":"Powders","tags":["cognitive support","lion's mane","wizard","YGroup_lions-mane"],"price":1999,"price_min":1999,"price_max":4299,"available":true,"price_varies":true,"compare_at_price":null,"compare_at_price_min":0,"compare_at_price_max":0,"compare_at_price_varies":false,"variants":[{"id":42297456591006,"title":"30 Servings | 2.1 oz (60g) \/ Powder","option1":"30 Servings | 2.1 oz (60g)","option2":"Powder","option3":null,"sku":"60520","requires_shipping":true,"taxable":true,"featured_image":{"id":35048155414686,"product_id":1919002542176,"position":2,"created_at":"2022-12-12T12:44:18-08:00","updated_at":"2022-12-12T12:44:22-08:00","alt":"variant1","width":2400,"height":2400,"src":"\/\/ommushrooms.com\/cdn\/shop\/products\/LionsMane_60g_Mockup_Front_51b47810-1587-47b5-a8b0-21ac7cc1f2fa.jpg?v=1670877862","variant_ids":[42297456591006]},"available":true,"name":"Lion's Mane Organic Mushroom Powder - 30 Servings | 2.1 oz (60g) \/ Powder","public_title":"30 Servings | 2.1 oz (60g) \/ Powder","options":["30 Servings | 2.1 oz (60g)","Powder"],"price":1999,"weight":91,"compare_at_price":null,"inventory_management":"shopify","barcode":"856210008448","featured_media":{"alt":"variant1","id":27502132101278,"position":2,"preview_image":{"aspect_ratio":1.0,"height":2400,"width":2400,"src":"\/\/ommushrooms.com\/cdn\/shop\/products\/LionsMane_60g_Mockup_Front_51b47810-1587-47b5-a8b0-21ac7cc1f2fa.jpg?v=1670877862"}},"requires_selling_plan":false,"selling_plan_allocations":[{"price_adjustments":[{"position":1,"price":1699}],"price":1699,"compare_at_price":1999,"per_delivery_price":1699,"selling_plan_id":1617723550,"selling_plan_group_id":"f9a41fdf378f6221e991973be152b8381122f707"},{"price_adjustments":[{"position":1,"price":1699}],"price":1699,"compare_at_price":1999,"per_delivery_price":1699,"selling_plan_id":1617756318,"selling_plan_group_id":"f9a41fdf378f6221e991973be152b8381122f707"},{"price_adjustments":[{"position":1,"price":1699}],"price":1699,"compare_at_price":1999,"per_delivery_price":1699,"selling_plan_id":1617789086,"selling_plan_group_id":"f9a41fdf378f6221e991973be152b8381122f707"},{"price_adjustments":[{"position":1,"price":1699}],"price":1699,"compare_at_price":1999,"per_delivery_price":1699,"selling_plan_id":1617821854,"selling_plan_group_id":"f9a41fdf378f6221e991973be152b8381122f707"},{"price_adjustments":[{"position":1,"price":1699}],"price":1699,"compare_at_price":1999,"per_delivery_price":1699,"selling_plan_id":1617887390,"selling_plan_group_id":"f9a41fdf378f6221e991973be152b8381122f707"},{"price_adjustments":[{"position":1,"price":1699}],"price":1699,"compare_at_price":1999,"per_delivery_price":1699,"selling_plan_id":1617952926,"selling_plan_group_id":"f9a41fdf378f6221e991973be152b8381122f707"}],"quantity_rule":{"min":1,"max":null,"increment":1}},{"id":18554016464992,"title":"50 Servings | 3.5 oz (100g) \/ Powder","option1":"50 Servings | 3.5 oz (100g)","option2":"Powder","option3":null,"sku":"60200","requires_shipping":true,"taxable":true,"featured_image":{"id":30676660551838,"product_id":1919002542176,"position":4,"created_at":"2021-09-15T12:44:14-07:00","updated_at":"2022-12-12T13:16:54-08:00","alt":"variant2 landing-hide","width":2400,"height":2400,"src":"\/\/ommushrooms.com\/cdn\/shop\/products\/LionsMane100g-006_Front.jpg?v=1670879814","variant_ids":[18554016464992]},"available":true,"name":"Lion's Mane Organic Mushroom Powder - 50 Servings | 3.5 oz (100g) \/ Powder","public_title":"50 Servings | 3.5 oz (100g) \/ Powder","options":["50 Servings | 3.5 oz (100g)","Powder"],"price":2699,"weight":91,"compare_at_price":null,"inventory_management":"shopify","barcode":"892392002096","featured_media":{"alt":"variant2 landing-hide","id":23048600715422,"position":4,"preview_image":{"aspect_ratio":1.0,"height":2400,"width":2400,"src":"\/\/ommushrooms.com\/cdn\/shop\/products\/LionsMane100g-006_Front.jpg?v=1670879814"}},"requires_selling_plan":false,"selling_plan_allocations":[{"price_adjustments":[{"position":1,"price":2294}],"price":2294,"compare_at_price":2699,"per_delivery_price":2294,"selling_plan_id":1617723550,"selling_plan_group_id":"f9a41fdf378f6221e991973be152b8381122f707"},{"price_adjustments":[{"position":1,"price":2294}],"price":2294,"compare_at_price":2699,"per_delivery_price":2294,"selling_plan_id":1617756318,"selling_plan_group_id":"f9a41fdf378f6221e991973be152b8381122f707"},{"price_adjustments":[{"position":1,"price":2294}],"price":2294,"compare_at_price":2699,"per_delivery_price":2294,"selling_plan_id":1617789086,"selling_plan_group_id":"f9a41fdf378f6221e991973be152b8381122f707"},{"price_adjustments":[{"position":1,"price":2294}],"price":2294,"compare_at_price":2699,"per_delivery_price":2294,"selling_plan_id":1617821854,"selling_plan_group_id":"f9a41fdf378f6221e991973be152b8381122f707"},{"price_adjustments":[{"position":1,"price":2294}],"price":2294,"compare_at_price":2699,"per_delivery_price":2294,"selling_plan_id":1617887390,"selling_plan_group_id":"f9a41fdf378f6221e991973be152b8381122f707"},{"price_adjustments":[{"position":1,"price":2294}],"price":2294,"compare_at_price":2699,"per_delivery_price":2294,"selling_plan_id":1617952926,"selling_plan_group_id":"f9a41fdf378f6221e991973be152b8381122f707"}],"quantity_rule":{"min":1,"max":null,"increment":1}},{"id":18554016432224,"title":"100 Servings | 7.05 oz (200g) \/ Powder","option1":"100 Servings | 7.05 oz (200g)","option2":"Powder","option3":null,"sku":"60215","requires_shipping":true,"taxable":true,"featured_image":{"id":31046651871390,"product_id":1919002542176,"position":1,"created_at":"2021-10-08T16:22:53-07:00","updated_at":"2021-11-18T13:50:52-08:00","alt":"variant3","width":2400,"height":2400,"src":"\/\/ommushrooms.com\/cdn\/shop\/products\/LionsMane_200g_Front.jpg?v=1637272252","variant_ids":[18554016432224]},"available":true,"name":"Lion's Mane Organic Mushroom Powder - 100 Servings | 7.05 oz (200g) \/ Powder","public_title":"100 Servings | 7.05 oz (200g) \/ Powder","options":["100 Servings | 7.05 oz (200g)","Powder"],"price":4299,"weight":181,"compare_at_price":null,"inventory_management":"shopify","barcode":"850030553256","featured_media":{"alt":"variant3","id":23425825570974,"position":1,"preview_image":{"aspect_ratio":1.0,"height":2400,"width":2400,"src":"\/\/ommushrooms.com\/cdn\/shop\/products\/LionsMane_200g_Front.jpg?v=1637272252"}},"requires_selling_plan":false,"selling_plan_allocations":[{"price_adjustments":[{"position":1,"price":3654}],"price":3654,"compare_at_price":4299,"per_delivery_price":3654,"selling_plan_id":1617723550,"selling_plan_group_id":"f9a41fdf378f6221e991973be152b8381122f707"},{"price_adjustments":[{"position":1,"price":3654}],"price":3654,"compare_at_price":4299,"per_delivery_price":3654,"selling_plan_id":1617756318,"selling_plan_group_id":"f9a41fdf378f6221e991973be152b8381122f707"},{"price_adjustments":[{"position":1,"price":3654}],"price":3654,"compare_at_price":4299,"per_delivery_price":3654,"selling_plan_id":1617789086,"selling_plan_group_id":"f9a41fdf378f6221e991973be152b8381122f707"},{"price_adjustments":[{"position":1,"price":3654}],"price":3654,"compare_at_price":4299,"per_delivery_price":3654,"selling_plan_id":1617821854,"selling_plan_group_id":"f9a41fdf378f6221e991973be152b8381122f707"},{"price_adjustments":[{"position":1,"price":3654}],"price":3654,"compare_at_price":4299,"per_delivery_price":3654,"selling_plan_id":1617887390,"selling_plan_group_id":"f9a41fdf378f6221e991973be152b8381122f707"},{"price_adjustments":[{"position":1,"price":3654}],"price":3654,"compare_at_price":4299,"per_delivery_price":3654,"selling_plan_id":1617952926,"selling_plan_group_id":"f9a41fdf378f6221e991973be152b8381122f707"}],"quantity_rule":{"min":1,"max":null,"increment":1}}],"images":["\/\/ommushrooms.com\/cdn\/shop\/products\/LionsMane_200g_Front.jpg?v=1637272252","\/\/ommushrooms.com\/cdn\/shop\/products\/LionsMane_60g_Mockup_Front_51b47810-1587-47b5-a8b0-21ac7cc1f2fa.jpg?v=1670877862","\/\/ommushrooms.com\/cdn\/shop\/products\/Om_LionsMane_60g_Mockup_Back_15455-003.jpg?v=1670879814","\/\/ommushrooms.com\/cdn\/shop\/products\/LionsMane100g-006_Front.jpg?v=1670879814","\/\/ommushrooms.com\/cdn\/shop\/products\/LionsMane100g-006_Back.jpg?v=1670879814","\/\/ommushrooms.com\/cdn\/shop\/products\/LionsMane_200g_Back.jpg?v=1670879814","\/\/ommushrooms.com\/cdn\/shop\/products\/Om_LionsMane_Tile1_c990bdae-e81e-4507-8f49-475b15cc7e31.jpg?v=1670879814","\/\/ommushrooms.com\/cdn\/shop\/products\/Om_SFP_LionsMane.png?v=1670879814","\/\/ommushrooms.com\/cdn\/shop\/products\/Om_LionsMane_Tile1.jpg?v=1670879814","\/\/ommushrooms.com\/cdn\/shop\/products\/Om_LionsMane200g_Tile1_56fdad34-dd8f-4866-9c9c-a51e24520c1f.jpg?v=1670879814","\/\/ommushrooms.com\/cdn\/shop\/products\/Om_LionsMane_Tile2.jpg?v=1670879814","\/\/ommushrooms.com\/cdn\/shop\/products\/Om_LionsMane_Tile7.jpg?v=1670879814","\/\/ommushrooms.com\/cdn\/shop\/products\/Om_LionsMane_Tile3.jpg?v=1670879814","\/\/ommushrooms.com\/cdn\/shop\/products\/Om_Tile6_a71e5ad4-9e8e-4f6d-a3bb-8cd0252735fe.jpg?v=1670879814","\/\/ommushrooms.com\/cdn\/shop\/products\/Om_LionsMane_Tile5.jpg?v=1670879798"],"featured_image":"\/\/ommushrooms.com\/cdn\/shop\/products\/LionsMane_200g_Front.jpg?v=1637272252","options":["Size","Format"],"media":[{"alt":"variant3","id":23425825570974,"position":1,"preview_image":{"aspect_ratio":1.0,"height":2400,"width":2400,"src":"\/\/ommushrooms.com\/cdn\/shop\/products\/LionsMane_200g_Front.jpg?v=1637272252"},"aspect_ratio":1.0,"height":2400,"media_type":"image","src":"\/\/ommushrooms.com\/cdn\/shop\/products\/LionsMane_200g_Front.jpg?v=1637272252","width":2400},{"alt":"variant1","id":27502132101278,"position":2,"preview_image":{"aspect_ratio":1.0,"height":2400,"width":2400,"src":"\/\/ommushrooms.com\/cdn\/shop\/products\/LionsMane_60g_Mockup_Front_51b47810-1587-47b5-a8b0-21ac7cc1f2fa.jpg?v=1670877862"},"aspect_ratio":1.0,"height":2400,"media_type":"image","src":"\/\/ommushrooms.com\/cdn\/shop\/products\/LionsMane_60g_Mockup_Front_51b47810-1587-47b5-a8b0-21ac7cc1f2fa.jpg?v=1670877862","width":2400},{"alt":"variant1","id":27502239482014,"position":3,"preview_image":{"aspect_ratio":1.0,"height":2400,"width":2400,"src":"\/\/ommushrooms.com\/cdn\/shop\/products\/Om_LionsMane_60g_Mockup_Back_15455-003.jpg?v=1670879814"},"aspect_ratio":1.0,"height":2400,"media_type":"image","src":"\/\/ommushrooms.com\/cdn\/shop\/products\/Om_LionsMane_60g_Mockup_Back_15455-003.jpg?v=1670879814","width":2400},{"alt":"variant2 landing-hide","id":23048600715422,"position":4,"preview_image":{"aspect_ratio":1.0,"height":2400,"width":2400,"src":"\/\/ommushrooms.com\/cdn\/shop\/products\/LionsMane100g-006_Front.jpg?v=1670879814"},"aspect_ratio":1.0,"height":2400,"media_type":"image","src":"\/\/ommushrooms.com\/cdn\/shop\/products\/LionsMane100g-006_Front.jpg?v=1670879814","width":2400},{"alt":"variant2","id":23048600682654,"position":5,"preview_image":{"aspect_ratio":1.0,"height":2400,"width":2400,"src":"\/\/ommushrooms.com\/cdn\/shop\/products\/LionsMane100g-006_Back.jpg?v=1670879814"},"aspect_ratio":1.0,"height":2400,"media_type":"image","src":"\/\/ommushrooms.com\/cdn\/shop\/products\/LionsMane100g-006_Back.jpg?v=1670879814","width":2400},{"alt":"variant3","id":23425825538206,"position":6,"preview_image":{"aspect_ratio":1.0,"height":2400,"width":2400,"src":"\/\/ommushrooms.com\/cdn\/shop\/products\/LionsMane_200g_Back.jpg?v=1670879814"},"aspect_ratio":1.0,"height":2400,"media_type":"image","src":"\/\/ommushrooms.com\/cdn\/shop\/products\/LionsMane_200g_Back.jpg?v=1670879814","width":2400},{"alt":"pdp-hide variant2 first","id":21432824463518,"position":7,"preview_image":{"aspect_ratio":1.0,"height":2244,"width":2244,"src":"\/\/ommushrooms.com\/cdn\/shop\/products\/Om_LionsMane_Tile1_c990bdae-e81e-4507-8f49-475b15cc7e31.jpg?v=1670879814"},"aspect_ratio":1.0,"height":2244,"media_type":"image","src":"\/\/ommushrooms.com\/cdn\/shop\/products\/Om_LionsMane_Tile1_c990bdae-e81e-4507-8f49-475b15cc7e31.jpg?v=1670879814","width":2244},{"alt":"pdp-hide","id":21432826331294,"position":8,"preview_image":{"aspect_ratio":1.0,"height":2400,"width":2400,"src":"\/\/ommushrooms.com\/cdn\/shop\/products\/Om_SFP_LionsMane.png?v=1670879814"},"aspect_ratio":1.0,"height":2400,"media_type":"image","src":"\/\/ommushrooms.com\/cdn\/shop\/products\/Om_SFP_LionsMane.png?v=1670879814","width":2400},{"alt":"variant2 landing-hide","id":11653778538654,"position":9,"preview_image":{"aspect_ratio":1.0,"height":2560,"width":2560,"src":"\/\/ommushrooms.com\/cdn\/shop\/products\/Om_LionsMane_Tile1.jpg?v=1670879814"},"aspect_ratio":1.0,"height":2560,"media_type":"image","src":"\/\/ommushrooms.com\/cdn\/shop\/products\/Om_LionsMane_Tile1.jpg?v=1670879814","width":2560},{"alt":"variant3","id":23425825112222,"position":10,"preview_image":{"aspect_ratio":1.0,"height":2400,"width":2400,"src":"\/\/ommushrooms.com\/cdn\/shop\/products\/Om_LionsMane200g_Tile1_56fdad34-dd8f-4866-9c9c-a51e24520c1f.jpg?v=1670879814"},"aspect_ratio":1.0,"height":2400,"media_type":"image","src":"\/\/ommushrooms.com\/cdn\/shop\/products\/Om_LionsMane200g_Tile1_56fdad34-dd8f-4866-9c9c-a51e24520c1f.jpg?v=1670879814","width":2400},{"alt":null,"id":12098883190942,"position":11,"preview_image":{"aspect_ratio":1.0,"height":2560,"width":2560,"src":"\/\/ommushrooms.com\/cdn\/shop\/products\/Om_LionsMane_Tile2.jpg?v=1670879814"},"aspect_ratio":1.0,"height":2560,"media_type":"image","src":"\/\/ommushrooms.com\/cdn\/shop\/products\/Om_LionsMane_Tile2.jpg?v=1670879814","width":2560},{"alt":null,"id":12098900820126,"position":12,"preview_image":{"aspect_ratio":1.0,"height":2560,"width":2560,"src":"\/\/ommushrooms.com\/cdn\/shop\/products\/Om_LionsMane_Tile7.jpg?v=1670879814"},"aspect_ratio":1.0,"height":2560,"media_type":"image","src":"\/\/ommushrooms.com\/cdn\/shop\/products\/Om_LionsMane_Tile7.jpg?v=1670879814","width":2560},{"alt":null,"id":12098906325150,"position":13,"preview_image":{"aspect_ratio":1.0,"height":2560,"width":2560,"src":"\/\/ommushrooms.com\/cdn\/shop\/products\/Om_LionsMane_Tile3.jpg?v=1670879814"},"aspect_ratio":1.0,"height":2560,"media_type":"image","src":"\/\/ommushrooms.com\/cdn\/shop\/products\/Om_LionsMane_Tile3.jpg?v=1670879814","width":2560},{"alt":null,"id":11653778833566,"position":14,"preview_image":{"aspect_ratio":1.0,"height":2560,"width":2560,"src":"\/\/ommushrooms.com\/cdn\/shop\/products\/Om_Tile6_a71e5ad4-9e8e-4f6d-a3bb-8cd0252735fe.jpg?v=1670879814"},"aspect_ratio":1.0,"height":2560,"media_type":"image","src":"\/\/ommushrooms.com\/cdn\/shop\/products\/Om_Tile6_a71e5ad4-9e8e-4f6d-a3bb-8cd0252735fe.jpg?v=1670879814","width":2560},{"alt":null,"id":11653778866334,"position":15,"preview_image":{"aspect_ratio":1.0,"height":2560,"width":2560,"src":"\/\/ommushrooms.com\/cdn\/shop\/products\/Om_LionsMane_Tile5.jpg?v=1670879798"},"aspect_ratio":1.0,"height":2560,"media_type":"image","src":"\/\/ommushrooms.com\/cdn\/shop\/products\/Om_LionsMane_Tile5.jpg?v=1670879798","width":2560}],"requires_selling_plan":false,"selling_plan_groups":[{"id":"f9a41fdf378f6221e991973be152b8381122f707","name":"Lion's Mane Organic Mushroom Powder","options":[{"name":"30 Day(s), 60 Day(s), 90 Day(s), 120 Day(s), 150 Day(s), 180 Day(s)","position":1,"values":["30 Day(s)","60 Day(s)","90 Day(s)","120 Day(s)","150 Day(s)","180 Day(s)"]}],"selling_plans":[{"id":1617723550,"name":"Delivery every 30 Days","description":null,"options":[{"name":"30 Day(s), 60 Day(s), 90 Day(s), 120 Day(s), 150 Day(s), 180 Day(s)","position":1,"value":"30 Day(s)"}],"recurring_deliveries":true,"price_adjustments":[{"order_count":null,"position":1,"value_type":"percentage","value":15}],"checkout_charge":{"value_type":"percentage","value":100}},{"id":1617756318,"name":"Delivery every 60 Days","description":null,"options":[{"name":"30 Day(s), 60 Day(s), 90 Day(s), 120 Day(s), 150 Day(s), 180 Day(s)","position":1,"value":"60 Day(s)"}],"recurring_deliveries":true,"price_adjustments":[{"order_count":null,"position":1,"value_type":"percentage","value":15}],"checkout_charge":{"value_type":"percentage","value":100}},{"id":1617789086,"name":"Delivery every 90 Days","description":null,"options":[{"name":"30 Day(s), 60 Day(s), 90 Day(s), 120 Day(s), 150 Day(s), 180 Day(s)","position":1,"value":"90 Day(s)"}],"recurring_deliveries":true,"price_adjustments":[{"order_count":null,"position":1,"value_type":"percentage","value":15}],"checkout_charge":{"value_type":"percentage","value":100}},{"id":1617821854,"name":"Delivery every 120 Days","description":null,"options":[{"name":"30 Day(s), 60 Day(s), 90 Day(s), 120 Day(s), 150 Day(s), 180 Day(s)","position":1,"value":"120 Day(s)"}],"recurring_deliveries":true,"price_adjustments":[{"order_count":null,"position":1,"value_type":"percentage","value":15}],"checkout_charge":{"value_type":"percentage","value":100}},{"id":1617887390,"name":"Delivery every 150 Days","description":null,"options":[{"name":"30 Day(s), 60 Day(s), 90 Day(s), 120 Day(s), 150 Day(s), 180 Day(s)","position":1,"value":"150 Day(s)"}],"recurring_deliveries":true,"price_adjustments":[{"order_count":null,"position":1,"value_type":"percentage","value":15}],"checkout_charge":{"value_type":"percentage","value":100}},{"id":1617952926,"name":"Delivery every 180 Days","description":null,"options":[{"name":"30 Day(s), 60 Day(s), 90 Day(s), 120 Day(s), 150 Day(s), 180 Day(s)","position":1,"value":"180 Day(s)"}],"recurring_deliveries":true,"price_adjustments":[{"order_count":null,"position":1,"value_type":"percentage","value":15}],"checkout_charge":{"value_type":"percentage","value":100}}],"app_id":"294517"}],"content":"\u003ch2\u003eThe Smartest Mushroom in the Kingdom\u003c\/h2\u003e\n\u003cp\u003eWhen it comes to the smartest mushroom in the kingdom, it doesn't get better than Lion's Mane. This vegan mushroom may look like the flowing mane of a lion, but it's packed with powerful compounds such as beta-glucans and polysaccharides that help support your immune system, memory, focus, and nerve health. Om\u003csup\u003e®\u003c\/sup\u003e Lion's Mane Mushroom Powder is certified organic, Non-GMO Project Verified, vegan, kosher, gluten-free, keto \u0026amp; paleo friendly, and has no sugar added making it the perfect daily supplement for anyone looking to boost their health naturally. This brain health superfood mixes well with smoothies, protein shakes, or your favorite daily beverage such as coffee or tea which makes it a smart way to help fuel your brain. Just brilliant.‡\u003c\/p\u003e"}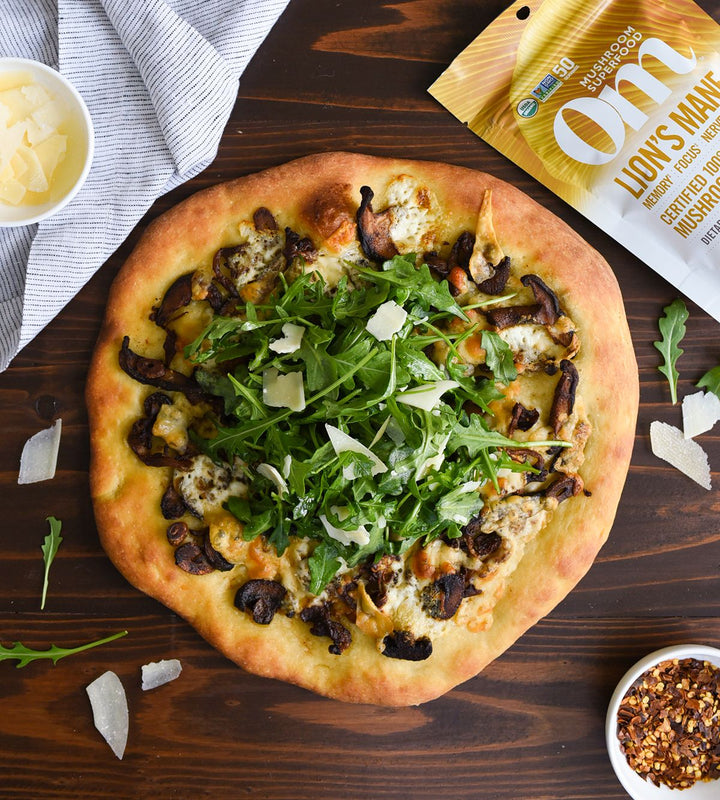 Triple Mushroom Smart Pizza
Active Time: 45 minutes
Servings: 2
Difficulty Level: 3/5
Recipe Type(s): Vegetarian
Ingredients
7 oz. mushrooms, sliced
3 garlic cloves, sliced
4 tablespoons + 1 teaspoon olive oil, divided
2 teaspoons Om Lion's Mane Organic Whole Food Mushroom Superfood Powder
1-pound pizza dough
2 teaspoons truffle oil
2 cups of arugula
¼ cup mascarpone cheese
½ cup shaved parmesan cheese, divided
Pinch of flakey sea salt
Directions
Preheat the oven to 475°F degrees.
In a large pan over medium heat, add 3 tablespoons olive oil then sauté mushrooms and garlic for 5-10 minutes until golden on both sides.
Meanwhile, mix Lion's Mane powder with 1 tablespoon olive oil.
Add Lion's Mane mixture to cooked mushrooms and stir until coated.
Expand pizza dough according to its instructions and place on greased baking sheet.
Brush pizza dough with 1 teaspoon olive oil, making sure it is coated.
Add mushrooms and bake for 10 minutes.
Remove pizza from oven top with teaspoon-sized dollops of mascarpone cheese and sprinkle with 6 tablespoons of parmesan cheese.
Return pizza to oven and bake another 8-10 minutes until crust is lightly golden.
Just before serving, toss arugula with truffle oil, 2 tablespoons of parmesan cheese and a pinch of flakey sea salt.
Serve arugula salad on top of pizza and enjoy!