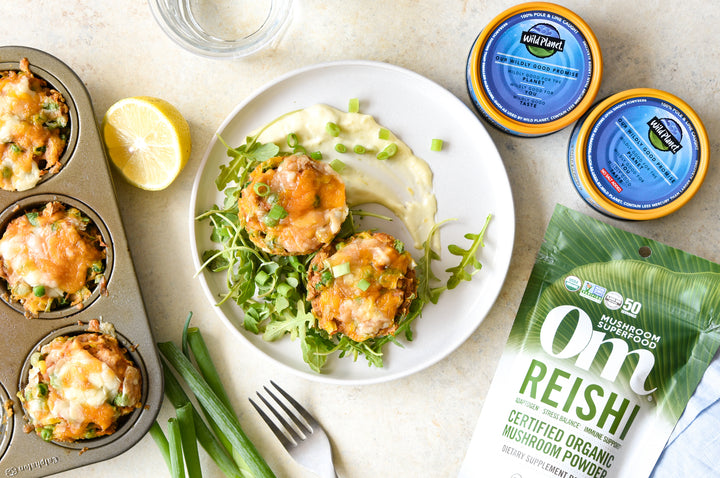 Active Time: 30 minutes
Servings: 2
Difficulty Level: 3/5
gluten-free, nut-free, option for dairy free if you leave out cheese
Ingredients
2 eggs
1/2 cup 1:1 gluten-free flour bread
1 teaspoon baking powder
3 teaspoons Om Mushrooms Reishi Powder
1/2 teaspoon white pepper
1/2 cup finely chopped green onion
1/2 cup frozen peas, defrosted
1/2 cup frozen corn, defrosted
1/4 cup shredded carrot (1 small carrot)
2, 5oz cans Wild Planet Albacore Wild Tuna, drained
1/4 cup parmesan cheese, optional
1 cup cheddar cheese, optional
Lemon Aioli, Optional
1/2 cup mayo
1 tablespoon lemon juice
2 teaspoons lemon zest
2 teaspoons minced green onion
1/4 teaspoon sea salt
Directions
Preheat oven to 350 F and grease a 6-cup muffin tin.
In a mixing bowl, whisk together eggs, flour, baking powder, Om Mushroom Powder, sea salt, and white pepper.
Stir in green onion, peas, corn, and carrot.
Add Wild Planet Albacore Wild Tuna and stir gently to combine.
Divide mixture among greased muffin cups and, if using, sprinkle with parmesan cheese then cheddar cheese.
Bake 15-20 minutes until golden.
Meanwhile, if desired, make lemon aioli by stirring together all ingredients. Refrigerate until ready to use.
Remove tuna cups from oven and carefully remove them from the muffin tin.
Enjoy tuna cups hot or cold with lemon aioli. Great for meal prep lunches!