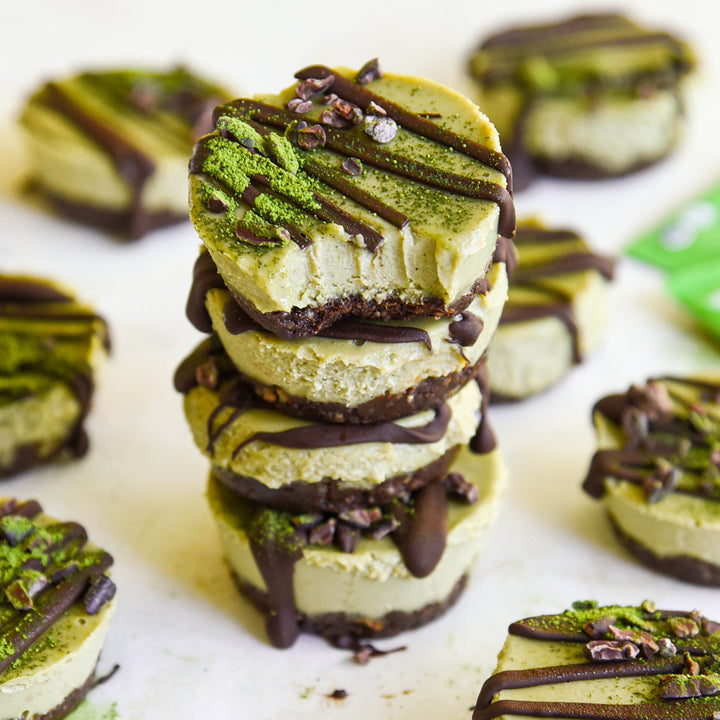 Ingredients
Crust

Cheesecake
1 1/2 cups raw cashews
1/2 lemon juiced
1/3 cup coconut oil, melted
2/3 cup full fat coconut milk from can
1/2 cup maple syrup
3 packets Om Mushroom Matcha Latte Blend
Directions
Cover cashews in glass bowl and cover with water. Soak in refrigerator 4 hours-overnight. Drain off water and rinse cashews.
Meanwhile, pulse walnuts in a food processor until crumbly. Add remaining crust ingredients and blend until a loose dough forms.
Lightly grease 12 muffin cups and, option to make removing the cheesecakes easier, cut strips of parchment paper and lay them in the cups. This creates little tabs that makes removing them easier to pop out once frozen.
Divide crust among muffin cups and press firmly.
To a blender add soaked/rinsed cashews and all other cheesecake ingredients then blend until smooth.
Divide the filling evenly among muffin cups then tap to remove any air bubbles.
Freeze 4+ hours until frozen then remove from muffin cups.
Option to garnish each with a drizzle of melted chocolate, cacao nibs and matcha powder.
Store in the freezer and let stand at room temperature a few minutes before serving.