{"id":1919002673248,"title":"Chaga Organic Mushroom Powder","handle":"chaga","description":"\u003ch2\u003eThe Mushroom of Youth\u003c\/h2\u003e\n\u003cp\u003eHighly revered for anti-aging properties to retain your youthful vibrance. This legendary mushroom is known to have some of the highest levels of antioxidants. Helps balance the metabolic system and is a natural adaptogen.‡\u003c\/p\u003e","published_at":"2021-08-19T11:46:55-07:00","created_at":"2019-02-04T15:04:08-08:00","vendor":"Om Mushroom Superfood","type":"Powders","tags":["beauty and radiance","chaga","hair skin and nails","wizard","YGroup_chaga"],"price":1999,"price_min":1999,"price_max":4299,"available":true,"price_varies":true,"compare_at_price":null,"compare_at_price_min":0,"compare_at_price_max":0,"compare_at_price_varies":false,"variants":[{"id":42297475039390,"title":"30 Servings | 2.1 oz (60g) \/ Powder","option1":"30 Servings | 2.1 oz (60g)","option2":"Powder","option3":null,"sku":"60550","requires_shipping":true,"taxable":true,"featured_image":{"id":35048224096414,"product_id":1919002673248,"position":2,"created_at":"2022-12-12T13:08:33-08:00","updated_at":"2022-12-12T13:09:06-08:00","alt":"variant1","width":2400,"height":2400,"src":"\/\/ommushrooms.com\/cdn\/shop\/products\/Om_Chaga_60g_Mockup_Front_15485-003.jpg?v=1670879346","variant_ids":[42297475039390]},"available":true,"name":"Chaga Organic Mushroom Powder - 30 Servings | 2.1 oz (60g) \/ Powder","public_title":"30 Servings | 2.1 oz (60g) \/ Powder","options":["30 Servings | 2.1 oz (60g)","Powder"],"price":1999,"weight":91,"compare_at_price":null,"inventory_management":"shopify","barcode":"856210008479","featured_media":{"alt":"variant1","id":27502206058654,"position":2,"preview_image":{"aspect_ratio":1.0,"height":2400,"width":2400,"src":"\/\/ommushrooms.com\/cdn\/shop\/products\/Om_Chaga_60g_Mockup_Front_15485-003.jpg?v=1670879346"}},"requires_selling_plan":false,"selling_plan_allocations":[{"price_adjustments":[{"position":1,"price":1699}],"price":1699,"compare_at_price":1999,"per_delivery_price":1699,"selling_plan_id":1617985694,"selling_plan_group_id":"979b384c4825f5e2a9173bc9d05530219930e52a"},{"price_adjustments":[{"position":1,"price":1699}],"price":1699,"compare_at_price":1999,"per_delivery_price":1699,"selling_plan_id":1618083998,"selling_plan_group_id":"979b384c4825f5e2a9173bc9d05530219930e52a"},{"price_adjustments":[{"position":1,"price":1699}],"price":1699,"compare_at_price":1999,"per_delivery_price":1699,"selling_plan_id":1618149534,"selling_plan_group_id":"979b384c4825f5e2a9173bc9d05530219930e52a"},{"price_adjustments":[{"position":1,"price":1699}],"price":1699,"compare_at_price":1999,"per_delivery_price":1699,"selling_plan_id":1618215070,"selling_plan_group_id":"979b384c4825f5e2a9173bc9d05530219930e52a"},{"price_adjustments":[{"position":1,"price":1699}],"price":1699,"compare_at_price":1999,"per_delivery_price":1699,"selling_plan_id":1618247838,"selling_plan_group_id":"979b384c4825f5e2a9173bc9d05530219930e52a"},{"price_adjustments":[{"position":1,"price":1699}],"price":1699,"compare_at_price":1999,"per_delivery_price":1699,"selling_plan_id":1618280606,"selling_plan_group_id":"979b384c4825f5e2a9173bc9d05530219930e52a"}],"quantity_rule":{"min":1,"max":null,"increment":1}},{"id":18554015809632,"title":"50 Servings | 3.5 oz (100g) \/ Powder","option1":"50 Servings | 3.5 oz (100g)","option2":"Powder","option3":null,"sku":"60140","requires_shipping":true,"taxable":true,"featured_image":{"id":30676469022878,"product_id":1919002673248,"position":4,"created_at":"2021-09-15T12:30:27-07:00","updated_at":"2022-12-12T13:09:06-08:00","alt":"variant2","width":2400,"height":2400,"src":"\/\/ommushrooms.com\/cdn\/shop\/products\/Chaga100g-006_Front.jpg?v=1670879346","variant_ids":[18554015809632]},"available":true,"name":"Chaga Organic Mushroom Powder - 50 Servings | 3.5 oz (100g) \/ Powder","public_title":"50 Servings | 3.5 oz (100g) \/ Powder","options":["50 Servings | 3.5 oz (100g)","Powder"],"price":2699,"weight":91,"compare_at_price":null,"inventory_management":"shopify","barcode":"857727004091","featured_media":{"alt":"variant2","id":23048408039582,"position":4,"preview_image":{"aspect_ratio":1.0,"height":2400,"width":2400,"src":"\/\/ommushrooms.com\/cdn\/shop\/products\/Chaga100g-006_Front.jpg?v=1670879346"}},"requires_selling_plan":false,"selling_plan_allocations":[{"price_adjustments":[{"position":1,"price":2294}],"price":2294,"compare_at_price":2699,"per_delivery_price":2294,"selling_plan_id":1617985694,"selling_plan_group_id":"979b384c4825f5e2a9173bc9d05530219930e52a"},{"price_adjustments":[{"position":1,"price":2294}],"price":2294,"compare_at_price":2699,"per_delivery_price":2294,"selling_plan_id":1618083998,"selling_plan_group_id":"979b384c4825f5e2a9173bc9d05530219930e52a"},{"price_adjustments":[{"position":1,"price":2294}],"price":2294,"compare_at_price":2699,"per_delivery_price":2294,"selling_plan_id":1618149534,"selling_plan_group_id":"979b384c4825f5e2a9173bc9d05530219930e52a"},{"price_adjustments":[{"position":1,"price":2294}],"price":2294,"compare_at_price":2699,"per_delivery_price":2294,"selling_plan_id":1618215070,"selling_plan_group_id":"979b384c4825f5e2a9173bc9d05530219930e52a"},{"price_adjustments":[{"position":1,"price":2294}],"price":2294,"compare_at_price":2699,"per_delivery_price":2294,"selling_plan_id":1618247838,"selling_plan_group_id":"979b384c4825f5e2a9173bc9d05530219930e52a"},{"price_adjustments":[{"position":1,"price":2294}],"price":2294,"compare_at_price":2699,"per_delivery_price":2294,"selling_plan_id":1618280606,"selling_plan_group_id":"979b384c4825f5e2a9173bc9d05530219930e52a"}],"quantity_rule":{"min":1,"max":null,"increment":1}},{"id":18554015776864,"title":"100 Servings | 7.05 oz (200g) \/ Powder","option1":"100 Servings | 7.05 oz (200g)","option2":"Powder","option3":null,"sku":"60155","requires_shipping":true,"taxable":true,"featured_image":{"id":31046292832414,"product_id":1919002673248,"position":1,"created_at":"2021-10-08T15:57:37-07:00","updated_at":"2021-11-18T13:49:47-08:00","alt":"variant3","width":2400,"height":2400,"src":"\/\/ommushrooms.com\/cdn\/shop\/products\/Chaga_200g_Front.jpg?v=1637272187","variant_ids":[18554015776864]},"available":true,"name":"Chaga Organic Mushroom Powder - 100 Servings | 7.05 oz (200g) \/ Powder","public_title":"100 Servings | 7.05 oz (200g) \/ Powder","options":["100 Servings | 7.05 oz (200g)","Powder"],"price":4299,"weight":181,"compare_at_price":null,"inventory_management":"shopify","barcode":"850030553232","featured_media":{"alt":"variant3","id":23425460633758,"position":1,"preview_image":{"aspect_ratio":1.0,"height":2400,"width":2400,"src":"\/\/ommushrooms.com\/cdn\/shop\/products\/Chaga_200g_Front.jpg?v=1637272187"}},"requires_selling_plan":false,"selling_plan_allocations":[{"price_adjustments":[{"position":1,"price":3654}],"price":3654,"compare_at_price":4299,"per_delivery_price":3654,"selling_plan_id":1617985694,"selling_plan_group_id":"979b384c4825f5e2a9173bc9d05530219930e52a"},{"price_adjustments":[{"position":1,"price":3654}],"price":3654,"compare_at_price":4299,"per_delivery_price":3654,"selling_plan_id":1618083998,"selling_plan_group_id":"979b384c4825f5e2a9173bc9d05530219930e52a"},{"price_adjustments":[{"position":1,"price":3654}],"price":3654,"compare_at_price":4299,"per_delivery_price":3654,"selling_plan_id":1618149534,"selling_plan_group_id":"979b384c4825f5e2a9173bc9d05530219930e52a"},{"price_adjustments":[{"position":1,"price":3654}],"price":3654,"compare_at_price":4299,"per_delivery_price":3654,"selling_plan_id":1618215070,"selling_plan_group_id":"979b384c4825f5e2a9173bc9d05530219930e52a"},{"price_adjustments":[{"position":1,"price":3654}],"price":3654,"compare_at_price":4299,"per_delivery_price":3654,"selling_plan_id":1618247838,"selling_plan_group_id":"979b384c4825f5e2a9173bc9d05530219930e52a"},{"price_adjustments":[{"position":1,"price":3654}],"price":3654,"compare_at_price":4299,"per_delivery_price":3654,"selling_plan_id":1618280606,"selling_plan_group_id":"979b384c4825f5e2a9173bc9d05530219930e52a"}],"quantity_rule":{"min":1,"max":null,"increment":1}}],"images":["\/\/ommushrooms.com\/cdn\/shop\/products\/Chaga_200g_Front.jpg?v=1637272187","\/\/ommushrooms.com\/cdn\/shop\/products\/Om_Chaga_60g_Mockup_Front_15485-003.jpg?v=1670879346","\/\/ommushrooms.com\/cdn\/shop\/products\/Om_Chaga_60g_Mockup_Back_15485-003.jpg?v=1670879346","\/\/ommushrooms.com\/cdn\/shop\/products\/Chaga100g-006_Front.jpg?v=1670879346","\/\/ommushrooms.com\/cdn\/shop\/products\/Chaga100g-006_Back.jpg?v=1670879346","\/\/ommushrooms.com\/cdn\/shop\/products\/Chaga_200g_Back.jpg?v=1670879346","\/\/ommushrooms.com\/cdn\/shop\/products\/Om_Chaga_Tile2.jpg?v=1670879346","\/\/ommushrooms.com\/cdn\/shop\/products\/Om_Chaga_Tile7.jpg?v=1670879346","\/\/ommushrooms.com\/cdn\/shop\/products\/Om_Chaga_Tile3.jpg?v=1670879346","\/\/ommushrooms.com\/cdn\/shop\/products\/Om_Chaga_Tile1.jpg?v=1670879346","\/\/ommushrooms.com\/cdn\/shop\/products\/Om_Chaga200g_Tile1_7250a7ac-ee8e-401e-89b4-22f785e4f76a.jpg?v=1670879346","\/\/ommushrooms.com\/cdn\/shop\/products\/Om_Chaga_Tile6_c501c4f2-8a3b-447b-a62c-a5f2622b0d3d.jpg?v=1670879346","\/\/ommushrooms.com\/cdn\/shop\/products\/Om_Chaga_Tile5_fbb4bdd5-e0ec-4696-8790-68a2e97c97ad.jpg?v=1670879346"],"featured_image":"\/\/ommushrooms.com\/cdn\/shop\/products\/Chaga_200g_Front.jpg?v=1637272187","options":["Size","Format"],"media":[{"alt":"variant3","id":23425460633758,"position":1,"preview_image":{"aspect_ratio":1.0,"height":2400,"width":2400,"src":"\/\/ommushrooms.com\/cdn\/shop\/products\/Chaga_200g_Front.jpg?v=1637272187"},"aspect_ratio":1.0,"height":2400,"media_type":"image","src":"\/\/ommushrooms.com\/cdn\/shop\/products\/Chaga_200g_Front.jpg?v=1637272187","width":2400},{"alt":"variant1","id":27502206058654,"position":2,"preview_image":{"aspect_ratio":1.0,"height":2400,"width":2400,"src":"\/\/ommushrooms.com\/cdn\/shop\/products\/Om_Chaga_60g_Mockup_Front_15485-003.jpg?v=1670879346"},"aspect_ratio":1.0,"height":2400,"media_type":"image","src":"\/\/ommushrooms.com\/cdn\/shop\/products\/Om_Chaga_60g_Mockup_Front_15485-003.jpg?v=1670879346","width":2400},{"alt":"variant1","id":27502206025886,"position":3,"preview_image":{"aspect_ratio":1.0,"height":2400,"width":2400,"src":"\/\/ommushrooms.com\/cdn\/shop\/products\/Om_Chaga_60g_Mockup_Back_15485-003.jpg?v=1670879346"},"aspect_ratio":1.0,"height":2400,"media_type":"image","src":"\/\/ommushrooms.com\/cdn\/shop\/products\/Om_Chaga_60g_Mockup_Back_15485-003.jpg?v=1670879346","width":2400},{"alt":"variant2","id":23048408039582,"position":4,"preview_image":{"aspect_ratio":1.0,"height":2400,"width":2400,"src":"\/\/ommushrooms.com\/cdn\/shop\/products\/Chaga100g-006_Front.jpg?v=1670879346"},"aspect_ratio":1.0,"height":2400,"media_type":"image","src":"\/\/ommushrooms.com\/cdn\/shop\/products\/Chaga100g-006_Front.jpg?v=1670879346","width":2400},{"alt":"variant2","id":23048414920862,"position":5,"preview_image":{"aspect_ratio":1.0,"height":2400,"width":2400,"src":"\/\/ommushrooms.com\/cdn\/shop\/products\/Chaga100g-006_Back.jpg?v=1670879346"},"aspect_ratio":1.0,"height":2400,"media_type":"image","src":"\/\/ommushrooms.com\/cdn\/shop\/products\/Chaga100g-006_Back.jpg?v=1670879346","width":2400},{"alt":"variant3","id":23425452900510,"position":6,"preview_image":{"aspect_ratio":1.0,"height":2400,"width":2400,"src":"\/\/ommushrooms.com\/cdn\/shop\/products\/Chaga_200g_Back.jpg?v=1670879346"},"aspect_ratio":1.0,"height":2400,"media_type":"image","src":"\/\/ommushrooms.com\/cdn\/shop\/products\/Chaga_200g_Back.jpg?v=1670879346","width":2400},{"alt":null,"id":12083998982302,"position":7,"preview_image":{"aspect_ratio":1.0,"height":2560,"width":2560,"src":"\/\/ommushrooms.com\/cdn\/shop\/products\/Om_Chaga_Tile2.jpg?v=1670879346"},"aspect_ratio":1.0,"height":2560,"media_type":"image","src":"\/\/ommushrooms.com\/cdn\/shop\/products\/Om_Chaga_Tile2.jpg?v=1670879346","width":2560},{"alt":null,"id":12084024180894,"position":8,"preview_image":{"aspect_ratio":1.0,"height":2560,"width":2560,"src":"\/\/ommushrooms.com\/cdn\/shop\/products\/Om_Chaga_Tile7.jpg?v=1670879346"},"aspect_ratio":1.0,"height":2560,"media_type":"image","src":"\/\/ommushrooms.com\/cdn\/shop\/products\/Om_Chaga_Tile7.jpg?v=1670879346","width":2560},{"alt":null,"id":12084010713246,"position":9,"preview_image":{"aspect_ratio":1.0,"height":2560,"width":2560,"src":"\/\/ommushrooms.com\/cdn\/shop\/products\/Om_Chaga_Tile3.jpg?v=1670879346"},"aspect_ratio":1.0,"height":2560,"media_type":"image","src":"\/\/ommushrooms.com\/cdn\/shop\/products\/Om_Chaga_Tile3.jpg?v=1670879346","width":2560},{"alt":"variant2","id":11653761400990,"position":10,"preview_image":{"aspect_ratio":1.0,"height":2560,"width":2560,"src":"\/\/ommushrooms.com\/cdn\/shop\/products\/Om_Chaga_Tile1.jpg?v=1670879346"},"aspect_ratio":1.0,"height":2560,"media_type":"image","src":"\/\/ommushrooms.com\/cdn\/shop\/products\/Om_Chaga_Tile1.jpg?v=1670879346","width":2560},{"alt":"variant3","id":23425441300638,"position":11,"preview_image":{"aspect_ratio":1.0,"height":2400,"width":2400,"src":"\/\/ommushrooms.com\/cdn\/shop\/products\/Om_Chaga200g_Tile1_7250a7ac-ee8e-401e-89b4-22f785e4f76a.jpg?v=1670879346"},"aspect_ratio":1.0,"height":2400,"media_type":"image","src":"\/\/ommushrooms.com\/cdn\/shop\/products\/Om_Chaga200g_Tile1_7250a7ac-ee8e-401e-89b4-22f785e4f76a.jpg?v=1670879346","width":2400},{"alt":null,"id":11653761663134,"position":12,"preview_image":{"aspect_ratio":1.0,"height":2560,"width":2560,"src":"\/\/ommushrooms.com\/cdn\/shop\/products\/Om_Chaga_Tile6_c501c4f2-8a3b-447b-a62c-a5f2622b0d3d.jpg?v=1670879346"},"aspect_ratio":1.0,"height":2560,"media_type":"image","src":"\/\/ommushrooms.com\/cdn\/shop\/products\/Om_Chaga_Tile6_c501c4f2-8a3b-447b-a62c-a5f2622b0d3d.jpg?v=1670879346","width":2560},{"alt":"variant1","id":11653761695902,"position":13,"preview_image":{"aspect_ratio":1.0,"height":2560,"width":2560,"src":"\/\/ommushrooms.com\/cdn\/shop\/products\/Om_Chaga_Tile5_fbb4bdd5-e0ec-4696-8790-68a2e97c97ad.jpg?v=1670879346"},"aspect_ratio":1.0,"height":2560,"media_type":"image","src":"\/\/ommushrooms.com\/cdn\/shop\/products\/Om_Chaga_Tile5_fbb4bdd5-e0ec-4696-8790-68a2e97c97ad.jpg?v=1670879346","width":2560}],"requires_selling_plan":false,"selling_plan_groups":[{"id":"979b384c4825f5e2a9173bc9d05530219930e52a","name":"Chaga Organic Mushroom Superfood Powder","options":[{"name":"30 Day(s), 60 Day(s), 90 Day(s), 120 Day(s), 150 Day(s), 180 Day(s)","position":1,"values":["30 Day(s)","60 Day(s)","90 Day(s)","120 Day(s)","150 Day(s)","180 Day(s)"]}],"selling_plans":[{"id":1617985694,"name":"Delivery every 30 Days","description":null,"options":[{"name":"30 Day(s), 60 Day(s), 90 Day(s), 120 Day(s), 150 Day(s), 180 Day(s)","position":1,"value":"30 Day(s)"}],"recurring_deliveries":true,"price_adjustments":[{"order_count":null,"position":1,"value_type":"percentage","value":15}],"checkout_charge":{"value_type":"percentage","value":100}},{"id":1618083998,"name":"Delivery every 60 Days","description":null,"options":[{"name":"30 Day(s), 60 Day(s), 90 Day(s), 120 Day(s), 150 Day(s), 180 Day(s)","position":1,"value":"60 Day(s)"}],"recurring_deliveries":true,"price_adjustments":[{"order_count":null,"position":1,"value_type":"percentage","value":15}],"checkout_charge":{"value_type":"percentage","value":100}},{"id":1618149534,"name":"Delivery every 90 Days","description":null,"options":[{"name":"30 Day(s), 60 Day(s), 90 Day(s), 120 Day(s), 150 Day(s), 180 Day(s)","position":1,"value":"90 Day(s)"}],"recurring_deliveries":true,"price_adjustments":[{"order_count":null,"position":1,"value_type":"percentage","value":15}],"checkout_charge":{"value_type":"percentage","value":100}},{"id":1618215070,"name":"Delivery every 120 Days","description":null,"options":[{"name":"30 Day(s), 60 Day(s), 90 Day(s), 120 Day(s), 150 Day(s), 180 Day(s)","position":1,"value":"120 Day(s)"}],"recurring_deliveries":true,"price_adjustments":[{"order_count":null,"position":1,"value_type":"percentage","value":15}],"checkout_charge":{"value_type":"percentage","value":100}},{"id":1618247838,"name":"Delivery every 150 Days","description":null,"options":[{"name":"30 Day(s), 60 Day(s), 90 Day(s), 120 Day(s), 150 Day(s), 180 Day(s)","position":1,"value":"150 Day(s)"}],"recurring_deliveries":true,"price_adjustments":[{"order_count":null,"position":1,"value_type":"percentage","value":15}],"checkout_charge":{"value_type":"percentage","value":100}},{"id":1618280606,"name":"Delivery every 180 Days","description":null,"options":[{"name":"30 Day(s), 60 Day(s), 90 Day(s), 120 Day(s), 150 Day(s), 180 Day(s)","position":1,"value":"180 Day(s)"}],"recurring_deliveries":true,"price_adjustments":[{"order_count":null,"position":1,"value_type":"percentage","value":15}],"checkout_charge":{"value_type":"percentage","value":100}}],"app_id":"294517"}],"content":"\u003ch2\u003eThe Mushroom of Youth\u003c\/h2\u003e\n\u003cp\u003eHighly revered for anti-aging properties to retain your youthful vibrance. This legendary mushroom is known to have some of the highest levels of antioxidants. Helps balance the metabolic system and is a natural adaptogen.‡\u003c\/p\u003e"}
{"id":1919002640480,"title":"Cordyceps Organic Mushroom Powder","handle":"cordyceps","description":"\u003ch2\u003eThe Performance Mushroom\u003c\/h2\u003e\n\u003cp\u003eOriginally discovered by Tibetan herdsman at high altitudes, Cordyceps optimizes oxygen uptake and delivery to increase vitality and endurance. Awaken energy, improve cardio and ignite your inner strength.‡\u003c\/p\u003e","published_at":"2021-08-19T11:46:53-07:00","created_at":"2019-02-04T15:04:05-08:00","vendor":"Om Mushroom Superfood","type":"Powders","tags":["cordyceps","energy and fitness","wizard","YGroup_cordyceps"],"price":1999,"price_min":1999,"price_max":4299,"available":true,"price_varies":true,"compare_at_price":null,"compare_at_price_min":0,"compare_at_price_max":0,"compare_at_price_varies":false,"variants":[{"id":42297386139806,"title":"30 Servings | 2.1 oz (60g) \/ Powder","option1":"30 Servings | 2.1 oz (60g)","option2":"Powder","option3":null,"sku":"60540","requires_shipping":true,"taxable":true,"featured_image":{"id":35047911096478,"product_id":1919002640480,"position":2,"created_at":"2022-12-12T11:46:26-08:00","updated_at":"2023-07-18T14:46:44-07:00","alt":"variant1","width":2400,"height":2400,"src":"\/\/ommushrooms.com\/cdn\/shop\/products\/Cordyceps_60g_Mockup_Front_faa086c0-5fb7-4b03-84d6-06bcae8170a6.jpg?v=1689716804","variant_ids":[42297386139806]},"available":true,"name":"Cordyceps Organic Mushroom Powder - 30 Servings | 2.1 oz (60g) \/ Powder","public_title":"30 Servings | 2.1 oz (60g) \/ Powder","options":["30 Servings | 2.1 oz (60g)","Powder"],"price":1999,"weight":91,"compare_at_price":null,"inventory_management":"shopify","barcode":"856210008462","featured_media":{"alt":"variant1","id":27501880705182,"position":2,"preview_image":{"aspect_ratio":1.0,"height":2400,"width":2400,"src":"\/\/ommushrooms.com\/cdn\/shop\/products\/Cordyceps_60g_Mockup_Front_faa086c0-5fb7-4b03-84d6-06bcae8170a6.jpg?v=1689716804"}},"requires_selling_plan":false,"selling_plan_allocations":[{"price_adjustments":[{"position":1,"price":1699}],"price":1699,"compare_at_price":1999,"per_delivery_price":1699,"selling_plan_id":1621295262,"selling_plan_group_id":"35084af693f61be0db03295f79d41e72f3aeb987"},{"price_adjustments":[{"position":1,"price":1699}],"price":1699,"compare_at_price":1999,"per_delivery_price":1699,"selling_plan_id":1621393566,"selling_plan_group_id":"35084af693f61be0db03295f79d41e72f3aeb987"},{"price_adjustments":[{"position":1,"price":1699}],"price":1699,"compare_at_price":1999,"per_delivery_price":1699,"selling_plan_id":1621426334,"selling_plan_group_id":"35084af693f61be0db03295f79d41e72f3aeb987"},{"price_adjustments":[{"position":1,"price":1699}],"price":1699,"compare_at_price":1999,"per_delivery_price":1699,"selling_plan_id":1621491870,"selling_plan_group_id":"35084af693f61be0db03295f79d41e72f3aeb987"},{"price_adjustments":[{"position":1,"price":1699}],"price":1699,"compare_at_price":1999,"per_delivery_price":1699,"selling_plan_id":1621557406,"selling_plan_group_id":"35084af693f61be0db03295f79d41e72f3aeb987"},{"price_adjustments":[{"position":1,"price":1699}],"price":1699,"compare_at_price":1999,"per_delivery_price":1699,"selling_plan_id":1621622942,"selling_plan_group_id":"35084af693f61be0db03295f79d41e72f3aeb987"}],"quantity_rule":{"min":1,"max":null,"increment":1}},{"id":18554015907936,"title":"50 Servings | 3.5 oz (100g) \/ Powder","option1":"50 Servings | 3.5 oz (100g)","option2":"Powder","option3":null,"sku":"60170","requires_shipping":true,"taxable":true,"featured_image":{"id":30676497662110,"product_id":1919002640480,"position":4,"created_at":"2021-09-15T12:32:35-07:00","updated_at":"2023-07-18T14:46:44-07:00","alt":"variant2","width":2400,"height":2400,"src":"\/\/ommushrooms.com\/cdn\/shop\/products\/Cordyceps100g-006_Front.jpg?v=1689716804","variant_ids":[18554015907936]},"available":true,"name":"Cordyceps Organic Mushroom Powder - 50 Servings | 3.5 oz (100g) \/ Powder","public_title":"50 Servings | 3.5 oz (100g) \/ Powder","options":["50 Servings | 3.5 oz (100g)","Powder"],"price":2699,"weight":91,"compare_at_price":null,"inventory_management":"shopify","barcode":"892392002003","featured_media":{"alt":"variant2","id":23048436842654,"position":4,"preview_image":{"aspect_ratio":1.0,"height":2400,"width":2400,"src":"\/\/ommushrooms.com\/cdn\/shop\/products\/Cordyceps100g-006_Front.jpg?v=1689716804"}},"requires_selling_plan":false,"selling_plan_allocations":[{"price_adjustments":[{"position":1,"price":2294}],"price":2294,"compare_at_price":2699,"per_delivery_price":2294,"selling_plan_id":1621295262,"selling_plan_group_id":"35084af693f61be0db03295f79d41e72f3aeb987"},{"price_adjustments":[{"position":1,"price":2294}],"price":2294,"compare_at_price":2699,"per_delivery_price":2294,"selling_plan_id":1621393566,"selling_plan_group_id":"35084af693f61be0db03295f79d41e72f3aeb987"},{"price_adjustments":[{"position":1,"price":2294}],"price":2294,"compare_at_price":2699,"per_delivery_price":2294,"selling_plan_id":1621426334,"selling_plan_group_id":"35084af693f61be0db03295f79d41e72f3aeb987"},{"price_adjustments":[{"position":1,"price":2294}],"price":2294,"compare_at_price":2699,"per_delivery_price":2294,"selling_plan_id":1621491870,"selling_plan_group_id":"35084af693f61be0db03295f79d41e72f3aeb987"},{"price_adjustments":[{"position":1,"price":2294}],"price":2294,"compare_at_price":2699,"per_delivery_price":2294,"selling_plan_id":1621557406,"selling_plan_group_id":"35084af693f61be0db03295f79d41e72f3aeb987"},{"price_adjustments":[{"position":1,"price":2294}],"price":2294,"compare_at_price":2699,"per_delivery_price":2294,"selling_plan_id":1621622942,"selling_plan_group_id":"35084af693f61be0db03295f79d41e72f3aeb987"}],"quantity_rule":{"min":1,"max":null,"increment":1}},{"id":18554015875168,"title":"100 Servings | 7.05 oz (200g) \/ Powder","option1":"100 Servings | 7.05 oz (200g)","option2":"Powder","option3":null,"sku":"60185","requires_shipping":true,"taxable":true,"featured_image":{"id":31046326223006,"product_id":1919002640480,"position":1,"created_at":"2021-10-08T16:00:29-07:00","updated_at":"2021-11-18T13:50:16-08:00","alt":"variant3","width":2400,"height":2400,"src":"\/\/ommushrooms.com\/cdn\/shop\/products\/Cordyceps_200g_Front.jpg?v=1637272216","variant_ids":[18554015875168]},"available":true,"name":"Cordyceps Organic Mushroom Powder - 100 Servings | 7.05 oz (200g) \/ Powder","public_title":"100 Servings | 7.05 oz (200g) \/ Powder","options":["100 Servings | 7.05 oz (200g)","Powder"],"price":4299,"weight":181,"compare_at_price":null,"inventory_management":"shopify","barcode":"850030553249","featured_media":{"alt":"variant3","id":23425496154270,"position":1,"preview_image":{"aspect_ratio":1.0,"height":2400,"width":2400,"src":"\/\/ommushrooms.com\/cdn\/shop\/products\/Cordyceps_200g_Front.jpg?v=1637272216"}},"requires_selling_plan":false,"selling_plan_allocations":[{"price_adjustments":[{"position":1,"price":3654}],"price":3654,"compare_at_price":4299,"per_delivery_price":3654,"selling_plan_id":1621295262,"selling_plan_group_id":"35084af693f61be0db03295f79d41e72f3aeb987"},{"price_adjustments":[{"position":1,"price":3654}],"price":3654,"compare_at_price":4299,"per_delivery_price":3654,"selling_plan_id":1621393566,"selling_plan_group_id":"35084af693f61be0db03295f79d41e72f3aeb987"},{"price_adjustments":[{"position":1,"price":3654}],"price":3654,"compare_at_price":4299,"per_delivery_price":3654,"selling_plan_id":1621426334,"selling_plan_group_id":"35084af693f61be0db03295f79d41e72f3aeb987"},{"price_adjustments":[{"position":1,"price":3654}],"price":3654,"compare_at_price":4299,"per_delivery_price":3654,"selling_plan_id":1621491870,"selling_plan_group_id":"35084af693f61be0db03295f79d41e72f3aeb987"},{"price_adjustments":[{"position":1,"price":3654}],"price":3654,"compare_at_price":4299,"per_delivery_price":3654,"selling_plan_id":1621557406,"selling_plan_group_id":"35084af693f61be0db03295f79d41e72f3aeb987"},{"price_adjustments":[{"position":1,"price":3654}],"price":3654,"compare_at_price":4299,"per_delivery_price":3654,"selling_plan_id":1621622942,"selling_plan_group_id":"35084af693f61be0db03295f79d41e72f3aeb987"}],"quantity_rule":{"min":1,"max":null,"increment":1}}],"images":["\/\/ommushrooms.com\/cdn\/shop\/products\/Cordyceps_200g_Front.jpg?v=1637272216","\/\/ommushrooms.com\/cdn\/shop\/products\/Cordyceps_60g_Mockup_Front_faa086c0-5fb7-4b03-84d6-06bcae8170a6.jpg?v=1689716804","\/\/ommushrooms.com\/cdn\/shop\/products\/Om_Cordyceps_60g_Mockup_Back_15475-003.jpg?v=1689716804","\/\/ommushrooms.com\/cdn\/shop\/products\/Cordyceps100g-006_Front.jpg?v=1689716804","\/\/ommushrooms.com\/cdn\/shop\/products\/Cordyceps100g-006_Back.jpg?v=1689716804","\/\/ommushrooms.com\/cdn\/shop\/products\/Cordyceps_200g_Back.jpg?v=1689716804","\/\/ommushrooms.com\/cdn\/shop\/products\/Om_Cordy200g_Tile1_89ab8089-6399-49f2-b7d9-27974a78a802.jpg?v=1689716804","\/\/ommushrooms.com\/cdn\/shop\/products\/Om_Cordy_Tile2.jpg?v=1670880043","\/\/ommushrooms.com\/cdn\/shop\/products\/Om_Cordy_Tile7.jpg?v=1670880043","\/\/ommushrooms.com\/cdn\/shop\/products\/Om_Cordy_Tile4_5234684e-71ad-4c51-860e-b5dcb1b6c0be.jpg?v=1670880043","\/\/ommushrooms.com\/cdn\/shop\/products\/OM_Cordy_Tile6_819bd0b9-6e19-4330-b41c-93dc85b2e87e.jpg?v=1670880043","\/\/ommushrooms.com\/cdn\/shop\/products\/Om_Cordy_Tile1.jpg?v=1670880043","\/\/ommushrooms.com\/cdn\/shop\/products\/Om_Cordy200g_Tile1_740cecb8-5859-4d1f-8c3d-aaa0ce6babd2.jpg?v=1670880043","\/\/ommushrooms.com\/cdn\/shop\/products\/Om_Cordy_Tile5_9cf90058-36ef-4cc2-a7fa-6b68fcc7d70c.jpg?v=1670880043"],"featured_image":"\/\/ommushrooms.com\/cdn\/shop\/products\/Cordyceps_200g_Front.jpg?v=1637272216","options":["Size","Format"],"media":[{"alt":"variant3","id":23425496154270,"position":1,"preview_image":{"aspect_ratio":1.0,"height":2400,"width":2400,"src":"\/\/ommushrooms.com\/cdn\/shop\/products\/Cordyceps_200g_Front.jpg?v=1637272216"},"aspect_ratio":1.0,"height":2400,"media_type":"image","src":"\/\/ommushrooms.com\/cdn\/shop\/products\/Cordyceps_200g_Front.jpg?v=1637272216","width":2400},{"alt":"variant1","id":27501880705182,"position":2,"preview_image":{"aspect_ratio":1.0,"height":2400,"width":2400,"src":"\/\/ommushrooms.com\/cdn\/shop\/products\/Cordyceps_60g_Mockup_Front_faa086c0-5fb7-4b03-84d6-06bcae8170a6.jpg?v=1689716804"},"aspect_ratio":1.0,"height":2400,"media_type":"image","src":"\/\/ommushrooms.com\/cdn\/shop\/products\/Cordyceps_60g_Mockup_Front_faa086c0-5fb7-4b03-84d6-06bcae8170a6.jpg?v=1689716804","width":2400},{"alt":"variant1","id":27502256390302,"position":3,"preview_image":{"aspect_ratio":1.0,"height":2400,"width":2400,"src":"\/\/ommushrooms.com\/cdn\/shop\/products\/Om_Cordyceps_60g_Mockup_Back_15475-003.jpg?v=1689716804"},"aspect_ratio":1.0,"height":2400,"media_type":"image","src":"\/\/ommushrooms.com\/cdn\/shop\/products\/Om_Cordyceps_60g_Mockup_Back_15475-003.jpg?v=1689716804","width":2400},{"alt":"variant2","id":23048436842654,"position":4,"preview_image":{"aspect_ratio":1.0,"height":2400,"width":2400,"src":"\/\/ommushrooms.com\/cdn\/shop\/products\/Cordyceps100g-006_Front.jpg?v=1689716804"},"aspect_ratio":1.0,"height":2400,"media_type":"image","src":"\/\/ommushrooms.com\/cdn\/shop\/products\/Cordyceps100g-006_Front.jpg?v=1689716804","width":2400},{"alt":"variant2","id":23048436809886,"position":5,"preview_image":{"aspect_ratio":1.0,"height":2400,"width":2400,"src":"\/\/ommushrooms.com\/cdn\/shop\/products\/Cordyceps100g-006_Back.jpg?v=1689716804"},"aspect_ratio":1.0,"height":2400,"media_type":"image","src":"\/\/ommushrooms.com\/cdn\/shop\/products\/Cordyceps100g-006_Back.jpg?v=1689716804","width":2400},{"alt":"variant3","id":23425496121502,"position":6,"preview_image":{"aspect_ratio":1.0,"height":2400,"width":2400,"src":"\/\/ommushrooms.com\/cdn\/shop\/products\/Cordyceps_200g_Back.jpg?v=1689716804"},"aspect_ratio":1.0,"height":2400,"media_type":"image","src":"\/\/ommushrooms.com\/cdn\/shop\/products\/Cordyceps_200g_Back.jpg?v=1689716804","width":2400},{"alt":"hide facebook","id":23955436503198,"position":7,"preview_image":{"aspect_ratio":1.0,"height":2400,"width":2400,"src":"\/\/ommushrooms.com\/cdn\/shop\/products\/Om_Cordy200g_Tile1_89ab8089-6399-49f2-b7d9-27974a78a802.jpg?v=1689716804"},"aspect_ratio":1.0,"height":2400,"media_type":"image","src":"\/\/ommushrooms.com\/cdn\/shop\/products\/Om_Cordy200g_Tile1_89ab8089-6399-49f2-b7d9-27974a78a802.jpg?v=1689716804","width":2400},{"alt":null,"id":12098562162846,"position":8,"preview_image":{"aspect_ratio":1.0,"height":2560,"width":2560,"src":"\/\/ommushrooms.com\/cdn\/shop\/products\/Om_Cordy_Tile2.jpg?v=1670880043"},"aspect_ratio":1.0,"height":2560,"media_type":"image","src":"\/\/ommushrooms.com\/cdn\/shop\/products\/Om_Cordy_Tile2.jpg?v=1670880043","width":2560},{"alt":null,"id":12098571010206,"position":9,"preview_image":{"aspect_ratio":1.0,"height":2560,"width":2560,"src":"\/\/ommushrooms.com\/cdn\/shop\/products\/Om_Cordy_Tile7.jpg?v=1670880043"},"aspect_ratio":1.0,"height":2560,"media_type":"image","src":"\/\/ommushrooms.com\/cdn\/shop\/products\/Om_Cordy_Tile7.jpg?v=1670880043","width":2560},{"alt":null,"id":12098569404574,"position":10,"preview_image":{"aspect_ratio":1.0,"height":2560,"width":2560,"src":"\/\/ommushrooms.com\/cdn\/shop\/products\/Om_Cordy_Tile4_5234684e-71ad-4c51-860e-b5dcb1b6c0be.jpg?v=1670880043"},"aspect_ratio":1.0,"height":2560,"media_type":"image","src":"\/\/ommushrooms.com\/cdn\/shop\/products\/Om_Cordy_Tile4_5234684e-71ad-4c51-860e-b5dcb1b6c0be.jpg?v=1670880043","width":2560},{"alt":null,"id":11653766774942,"position":11,"preview_image":{"aspect_ratio":1.0,"height":2560,"width":2560,"src":"\/\/ommushrooms.com\/cdn\/shop\/products\/OM_Cordy_Tile6_819bd0b9-6e19-4330-b41c-93dc85b2e87e.jpg?v=1670880043"},"aspect_ratio":1.0,"height":2560,"media_type":"image","src":"\/\/ommushrooms.com\/cdn\/shop\/products\/OM_Cordy_Tile6_819bd0b9-6e19-4330-b41c-93dc85b2e87e.jpg?v=1670880043","width":2560},{"alt":"variant2","id":11653766512798,"position":12,"preview_image":{"aspect_ratio":1.0,"height":2560,"width":2560,"src":"\/\/ommushrooms.com\/cdn\/shop\/products\/Om_Cordy_Tile1.jpg?v=1670880043"},"aspect_ratio":1.0,"height":2560,"media_type":"image","src":"\/\/ommushrooms.com\/cdn\/shop\/products\/Om_Cordy_Tile1.jpg?v=1670880043","width":2560},{"alt":"variant3","id":23425497530526,"position":13,"preview_image":{"aspect_ratio":1.0,"height":2400,"width":2400,"src":"\/\/ommushrooms.com\/cdn\/shop\/products\/Om_Cordy200g_Tile1_740cecb8-5859-4d1f-8c3d-aaa0ce6babd2.jpg?v=1670880043"},"aspect_ratio":1.0,"height":2400,"media_type":"image","src":"\/\/ommushrooms.com\/cdn\/shop\/products\/Om_Cordy200g_Tile1_740cecb8-5859-4d1f-8c3d-aaa0ce6babd2.jpg?v=1670880043","width":2400},{"alt":"variant1","id":11653766807710,"position":14,"preview_image":{"aspect_ratio":1.0,"height":2560,"width":2560,"src":"\/\/ommushrooms.com\/cdn\/shop\/products\/Om_Cordy_Tile5_9cf90058-36ef-4cc2-a7fa-6b68fcc7d70c.jpg?v=1670880043"},"aspect_ratio":1.0,"height":2560,"media_type":"image","src":"\/\/ommushrooms.com\/cdn\/shop\/products\/Om_Cordy_Tile5_9cf90058-36ef-4cc2-a7fa-6b68fcc7d70c.jpg?v=1670880043","width":2560}],"requires_selling_plan":false,"selling_plan_groups":[{"id":"35084af693f61be0db03295f79d41e72f3aeb987","name":"Cordyceps Organic Mushroom Powder","options":[{"name":"30 Day(s), 60 Day(s), 90 Day(s), 120 Day(s), 150 Day(s), 180 Day(s)","position":1,"values":["30 Day(s)","60 Day(s)","90 Day(s)","120 Day(s)","150 Day(s)","180 Day(s)"]}],"selling_plans":[{"id":1621295262,"name":"Delivery every 30 Days","description":null,"options":[{"name":"30 Day(s), 60 Day(s), 90 Day(s), 120 Day(s), 150 Day(s), 180 Day(s)","position":1,"value":"30 Day(s)"}],"recurring_deliveries":true,"price_adjustments":[{"order_count":null,"position":1,"value_type":"percentage","value":15}],"checkout_charge":{"value_type":"percentage","value":100}},{"id":1621393566,"name":"Delivery every 60 Days","description":null,"options":[{"name":"30 Day(s), 60 Day(s), 90 Day(s), 120 Day(s), 150 Day(s), 180 Day(s)","position":1,"value":"60 Day(s)"}],"recurring_deliveries":true,"price_adjustments":[{"order_count":null,"position":1,"value_type":"percentage","value":15}],"checkout_charge":{"value_type":"percentage","value":100}},{"id":1621426334,"name":"Delivery every 90 Days","description":null,"options":[{"name":"30 Day(s), 60 Day(s), 90 Day(s), 120 Day(s), 150 Day(s), 180 Day(s)","position":1,"value":"90 Day(s)"}],"recurring_deliveries":true,"price_adjustments":[{"order_count":null,"position":1,"value_type":"percentage","value":15}],"checkout_charge":{"value_type":"percentage","value":100}},{"id":1621491870,"name":"Delivery every 120 Days","description":null,"options":[{"name":"30 Day(s), 60 Day(s), 90 Day(s), 120 Day(s), 150 Day(s), 180 Day(s)","position":1,"value":"120 Day(s)"}],"recurring_deliveries":true,"price_adjustments":[{"order_count":null,"position":1,"value_type":"percentage","value":15}],"checkout_charge":{"value_type":"percentage","value":100}},{"id":1621557406,"name":"Delivery every 150 Days","description":null,"options":[{"name":"30 Day(s), 60 Day(s), 90 Day(s), 120 Day(s), 150 Day(s), 180 Day(s)","position":1,"value":"150 Day(s)"}],"recurring_deliveries":true,"price_adjustments":[{"order_count":null,"position":1,"value_type":"percentage","value":15}],"checkout_charge":{"value_type":"percentage","value":100}},{"id":1621622942,"name":"Delivery every 180 Days","description":null,"options":[{"name":"30 Day(s), 60 Day(s), 90 Day(s), 120 Day(s), 150 Day(s), 180 Day(s)","position":1,"value":"180 Day(s)"}],"recurring_deliveries":true,"price_adjustments":[{"order_count":null,"position":1,"value_type":"percentage","value":15}],"checkout_charge":{"value_type":"percentage","value":100}}],"app_id":"294517"}],"content":"\u003ch2\u003eThe Performance Mushroom\u003c\/h2\u003e\n\u003cp\u003eOriginally discovered by Tibetan herdsman at high altitudes, Cordyceps optimizes oxygen uptake and delivery to increase vitality and endurance. Awaken energy, improve cardio and ignite your inner strength.‡\u003c\/p\u003e"}
{"id":1919002574944,"title":"Immune Organic Mushroom Powder","handle":"immune","description":"\u003ch2\u003eFull Bodyguard 4 Your Immune System\u003c\/h2\u003e\n\u003cp\u003eGet your "fight on" with our blend of 4 unique species of organic mushrooms creating powerful immune benefits. Harness your natural defense with powerful beta glucans, digestive enzymes, fiber, prebiotics, antioxidants and other nutrients to keep your body battle ready.‡\u003c\/p\u003e","published_at":"2021-08-19T12:00:04-07:00","created_at":"2019-02-04T15:03:56-08:00","vendor":"Om Mushroom Superfood","type":"Powders","tags":["agaricus blazei","immune support","maitake","reishi","turkey tail","wizard","YGroup_immune"],"price":2699,"price_min":2699,"price_max":4299,"available":false,"price_varies":true,"compare_at_price":null,"compare_at_price_min":0,"compare_at_price_max":0,"compare_at_price_varies":false,"variants":[{"id":18554016366688,"title":"50 Servings | 3.5 oz (100g) \/ Powder","option1":"50 Servings | 3.5 oz (100g)","option2":"Powder","option3":null,"sku":"60080","requires_shipping":true,"taxable":true,"featured_image":{"id":30676538917022,"product_id":1919002574944,"position":2,"created_at":"2021-09-15T12:35:31-07:00","updated_at":"2023-07-18T14:48:15-07:00","alt":"variant1","width":2400,"height":2400,"src":"\/\/ommushrooms.com\/cdn\/shop\/products\/Immune100g-006_Front.jpg?v=1689716895","variant_ids":[18554016366688]},"available":false,"name":"Immune Organic Mushroom Powder - 50 Servings | 3.5 oz (100g) \/ Powder","public_title":"50 Servings | 3.5 oz (100g) \/ Powder","options":["50 Servings | 3.5 oz (100g)","Powder"],"price":2699,"weight":91,"compare_at_price":null,"inventory_management":"shopify","barcode":"892392002744","featured_media":{"alt":"variant1","id":23048478621854,"position":2,"preview_image":{"aspect_ratio":1.0,"height":2400,"width":2400,"src":"\/\/ommushrooms.com\/cdn\/shop\/products\/Immune100g-006_Front.jpg?v=1689716895"}},"requires_selling_plan":false,"selling_plan_allocations":[{"price_adjustments":[{"position":1,"price":2294}],"price":2294,"compare_at_price":2699,"per_delivery_price":2294,"selling_plan_id":1619689630,"selling_plan_group_id":"39f3f081a83ab29ca9de2c8c8f48413b958f2793"},{"price_adjustments":[{"position":1,"price":2294}],"price":2294,"compare_at_price":2699,"per_delivery_price":2294,"selling_plan_id":1619722398,"selling_plan_group_id":"39f3f081a83ab29ca9de2c8c8f48413b958f2793"},{"price_adjustments":[{"position":1,"price":2294}],"price":2294,"compare_at_price":2699,"per_delivery_price":2294,"selling_plan_id":1619787934,"selling_plan_group_id":"39f3f081a83ab29ca9de2c8c8f48413b958f2793"},{"price_adjustments":[{"position":1,"price":2294}],"price":2294,"compare_at_price":2699,"per_delivery_price":2294,"selling_plan_id":1619853470,"selling_plan_group_id":"39f3f081a83ab29ca9de2c8c8f48413b958f2793"},{"price_adjustments":[{"position":1,"price":2294}],"price":2294,"compare_at_price":2699,"per_delivery_price":2294,"selling_plan_id":1619919006,"selling_plan_group_id":"39f3f081a83ab29ca9de2c8c8f48413b958f2793"},{"price_adjustments":[{"position":1,"price":2294}],"price":2294,"compare_at_price":2699,"per_delivery_price":2294,"selling_plan_id":1619984542,"selling_plan_group_id":"39f3f081a83ab29ca9de2c8c8f48413b958f2793"}],"quantity_rule":{"min":1,"max":null,"increment":1}},{"id":18554016333920,"title":"100 Servings | 7.05 oz (200g) \/ Powder","option1":"100 Servings | 7.05 oz (200g)","option2":"Powder","option3":null,"sku":"60095","requires_shipping":true,"taxable":true,"featured_image":{"id":31046620512414,"product_id":1919002574944,"position":1,"created_at":"2021-10-08T16:20:56-07:00","updated_at":"2021-11-18T13:50:56-08:00","alt":"variant2","width":2400,"height":2400,"src":"\/\/ommushrooms.com\/cdn\/shop\/products\/Immune_200g_Front.jpg?v=1637272256","variant_ids":[18554016333920]},"available":false,"name":"Immune Organic Mushroom Powder - 100 Servings | 7.05 oz (200g) \/ Powder","public_title":"100 Servings | 7.05 oz (200g) \/ Powder","options":["100 Servings | 7.05 oz (200g)","Powder"],"price":4299,"weight":181,"compare_at_price":null,"inventory_management":"shopify","barcode":"850030553218","featured_media":{"alt":"variant2","id":23425792802974,"position":1,"preview_image":{"aspect_ratio":1.0,"height":2400,"width":2400,"src":"\/\/ommushrooms.com\/cdn\/shop\/products\/Immune_200g_Front.jpg?v=1637272256"}},"requires_selling_plan":false,"selling_plan_allocations":[{"price_adjustments":[{"position":1,"price":3654}],"price":3654,"compare_at_price":4299,"per_delivery_price":3654,"selling_plan_id":1619689630,"selling_plan_group_id":"39f3f081a83ab29ca9de2c8c8f48413b958f2793"},{"price_adjustments":[{"position":1,"price":3654}],"price":3654,"compare_at_price":4299,"per_delivery_price":3654,"selling_plan_id":1619722398,"selling_plan_group_id":"39f3f081a83ab29ca9de2c8c8f48413b958f2793"},{"price_adjustments":[{"position":1,"price":3654}],"price":3654,"compare_at_price":4299,"per_delivery_price":3654,"selling_plan_id":1619787934,"selling_plan_group_id":"39f3f081a83ab29ca9de2c8c8f48413b958f2793"},{"price_adjustments":[{"position":1,"price":3654}],"price":3654,"compare_at_price":4299,"per_delivery_price":3654,"selling_plan_id":1619853470,"selling_plan_group_id":"39f3f081a83ab29ca9de2c8c8f48413b958f2793"},{"price_adjustments":[{"position":1,"price":3654}],"price":3654,"compare_at_price":4299,"per_delivery_price":3654,"selling_plan_id":1619919006,"selling_plan_group_id":"39f3f081a83ab29ca9de2c8c8f48413b958f2793"},{"price_adjustments":[{"position":1,"price":3654}],"price":3654,"compare_at_price":4299,"per_delivery_price":3654,"selling_plan_id":1619984542,"selling_plan_group_id":"39f3f081a83ab29ca9de2c8c8f48413b958f2793"}],"quantity_rule":{"min":1,"max":null,"increment":1}}],"images":["\/\/ommushrooms.com\/cdn\/shop\/products\/Immune_200g_Front.jpg?v=1637272256","\/\/ommushrooms.com\/cdn\/shop\/products\/Immune100g-006_Front.jpg?v=1689716895","\/\/ommushrooms.com\/cdn\/shop\/products\/Immune100g-006_Back.jpg?v=1689716895","\/\/ommushrooms.com\/cdn\/shop\/products\/Immune_200g_Back.jpg?v=1689716895","\/\/ommushrooms.com\/cdn\/shop\/products\/Om_Immune200g_Tile1_1561dc33-fdea-45bf-a588-b8160868a6ae.jpg?v=1689716895","\/\/ommushrooms.com\/cdn\/shop\/products\/Om_Immune500g_Tile2.jpg?v=1670877408","\/\/ommushrooms.com\/cdn\/shop\/products\/Om_Immune_Tile7.jpg?v=1670877408","\/\/ommushrooms.com\/cdn\/shop\/products\/Om_Immune_Tile3.jpg?v=1670877408","\/\/ommushrooms.com\/cdn\/shop\/products\/Om_Immune_Tile1.jpg?v=1670877408","\/\/ommushrooms.com\/cdn\/shop\/products\/Om_Immune_Tile6_aef5d9e4-d518-4670-ba5a-a6e3427ac648.jpg?v=1670877408","\/\/ommushrooms.com\/cdn\/shop\/products\/Om_Immune_Tile5_5d8ffb66-aa91-4590-bd42-5f4f08e37d5c.jpg?v=1670877408"],"featured_image":"\/\/ommushrooms.com\/cdn\/shop\/products\/Immune_200g_Front.jpg?v=1637272256","options":["Size","Format"],"media":[{"alt":"variant2","id":23425792802974,"position":1,"preview_image":{"aspect_ratio":1.0,"height":2400,"width":2400,"src":"\/\/ommushrooms.com\/cdn\/shop\/products\/Immune_200g_Front.jpg?v=1637272256"},"aspect_ratio":1.0,"height":2400,"media_type":"image","src":"\/\/ommushrooms.com\/cdn\/shop\/products\/Immune_200g_Front.jpg?v=1637272256","width":2400},{"alt":"variant1","id":23048478621854,"position":2,"preview_image":{"aspect_ratio":1.0,"height":2400,"width":2400,"src":"\/\/ommushrooms.com\/cdn\/shop\/products\/Immune100g-006_Front.jpg?v=1689716895"},"aspect_ratio":1.0,"height":2400,"media_type":"image","src":"\/\/ommushrooms.com\/cdn\/shop\/products\/Immune100g-006_Front.jpg?v=1689716895","width":2400},{"alt":"variant1","id":23048478589086,"position":3,"preview_image":{"aspect_ratio":1.0,"height":2400,"width":2400,"src":"\/\/ommushrooms.com\/cdn\/shop\/products\/Immune100g-006_Back.jpg?v=1689716895"},"aspect_ratio":1.0,"height":2400,"media_type":"image","src":"\/\/ommushrooms.com\/cdn\/shop\/products\/Immune100g-006_Back.jpg?v=1689716895","width":2400},{"alt":"variant2","id":23425792770206,"position":4,"preview_image":{"aspect_ratio":1.0,"height":2400,"width":2400,"src":"\/\/ommushrooms.com\/cdn\/shop\/products\/Immune_200g_Back.jpg?v=1689716895"},"aspect_ratio":1.0,"height":2400,"media_type":"image","src":"\/\/ommushrooms.com\/cdn\/shop\/products\/Immune_200g_Back.jpg?v=1689716895","width":2400},{"alt":"variant2","id":23425793818782,"position":5,"preview_image":{"aspect_ratio":1.0,"height":2400,"width":2400,"src":"\/\/ommushrooms.com\/cdn\/shop\/products\/Om_Immune200g_Tile1_1561dc33-fdea-45bf-a588-b8160868a6ae.jpg?v=1689716895"},"aspect_ratio":1.0,"height":2400,"media_type":"image","src":"\/\/ommushrooms.com\/cdn\/shop\/products\/Om_Immune200g_Tile1_1561dc33-fdea-45bf-a588-b8160868a6ae.jpg?v=1689716895","width":2400},{"alt":null,"id":13104653566110,"position":6,"preview_image":{"aspect_ratio":1.0,"height":2560,"width":2560,"src":"\/\/ommushrooms.com\/cdn\/shop\/products\/Om_Immune500g_Tile2.jpg?v=1670877408"},"aspect_ratio":1.0,"height":2560,"media_type":"image","src":"\/\/ommushrooms.com\/cdn\/shop\/products\/Om_Immune500g_Tile2.jpg?v=1670877408","width":2560},{"alt":null,"id":12098731835550,"position":7,"preview_image":{"aspect_ratio":1.0,"height":2560,"width":2560,"src":"\/\/ommushrooms.com\/cdn\/shop\/products\/Om_Immune_Tile7.jpg?v=1670877408"},"aspect_ratio":1.0,"height":2560,"media_type":"image","src":"\/\/ommushrooms.com\/cdn\/shop\/products\/Om_Immune_Tile7.jpg?v=1670877408","width":2560},{"alt":null,"id":12098732949662,"position":8,"preview_image":{"aspect_ratio":1.0,"height":2560,"width":2560,"src":"\/\/ommushrooms.com\/cdn\/shop\/products\/Om_Immune_Tile3.jpg?v=1670877408"},"aspect_ratio":1.0,"height":2560,"media_type":"image","src":"\/\/ommushrooms.com\/cdn\/shop\/products\/Om_Immune_Tile3.jpg?v=1670877408","width":2560},{"alt":"variant1","id":11653774147742,"position":9,"preview_image":{"aspect_ratio":1.0,"height":2560,"width":2560,"src":"\/\/ommushrooms.com\/cdn\/shop\/products\/Om_Immune_Tile1.jpg?v=1670877408"},"aspect_ratio":1.0,"height":2560,"media_type":"image","src":"\/\/ommushrooms.com\/cdn\/shop\/products\/Om_Immune_Tile1.jpg?v=1670877408","width":2560},{"alt":null,"id":11653774508190,"position":10,"preview_image":{"aspect_ratio":1.0,"height":2560,"width":2560,"src":"\/\/ommushrooms.com\/cdn\/shop\/products\/Om_Immune_Tile6_aef5d9e4-d518-4670-ba5a-a6e3427ac648.jpg?v=1670877408"},"aspect_ratio":1.0,"height":2560,"media_type":"image","src":"\/\/ommushrooms.com\/cdn\/shop\/products\/Om_Immune_Tile6_aef5d9e4-d518-4670-ba5a-a6e3427ac648.jpg?v=1670877408","width":2560},{"alt":"variant1","id":11653774540958,"position":11,"preview_image":{"aspect_ratio":1.0,"height":2560,"width":2560,"src":"\/\/ommushrooms.com\/cdn\/shop\/products\/Om_Immune_Tile5_5d8ffb66-aa91-4590-bd42-5f4f08e37d5c.jpg?v=1670877408"},"aspect_ratio":1.0,"height":2560,"media_type":"image","src":"\/\/ommushrooms.com\/cdn\/shop\/products\/Om_Immune_Tile5_5d8ffb66-aa91-4590-bd42-5f4f08e37d5c.jpg?v=1670877408","width":2560}],"requires_selling_plan":false,"selling_plan_groups":[{"id":"39f3f081a83ab29ca9de2c8c8f48413b958f2793","name":"Immune: Your Immune Defense","options":[{"name":"30 Day(s), 60 Day(s), 90 Day(s), 120 Day(s), 150 Day(s), 180 Day(s)","position":1,"values":["30 Day(s)","60 Day(s)","90 Day(s)","120 Day(s)","150 Day(s)","180 Day(s)"]}],"selling_plans":[{"id":1619689630,"name":"Delivery every 30 Days","description":null,"options":[{"name":"30 Day(s), 60 Day(s), 90 Day(s), 120 Day(s), 150 Day(s), 180 Day(s)","position":1,"value":"30 Day(s)"}],"recurring_deliveries":true,"price_adjustments":[{"order_count":null,"position":1,"value_type":"percentage","value":15}],"checkout_charge":{"value_type":"percentage","value":100}},{"id":1619722398,"name":"Delivery every 60 Days","description":null,"options":[{"name":"30 Day(s), 60 Day(s), 90 Day(s), 120 Day(s), 150 Day(s), 180 Day(s)","position":1,"value":"60 Day(s)"}],"recurring_deliveries":true,"price_adjustments":[{"order_count":null,"position":1,"value_type":"percentage","value":15}],"checkout_charge":{"value_type":"percentage","value":100}},{"id":1619787934,"name":"Delivery every 90 Days","description":null,"options":[{"name":"30 Day(s), 60 Day(s), 90 Day(s), 120 Day(s), 150 Day(s), 180 Day(s)","position":1,"value":"90 Day(s)"}],"recurring_deliveries":true,"price_adjustments":[{"order_count":null,"position":1,"value_type":"percentage","value":15}],"checkout_charge":{"value_type":"percentage","value":100}},{"id":1619853470,"name":"Delivery every 120 Days","description":null,"options":[{"name":"30 Day(s), 60 Day(s), 90 Day(s), 120 Day(s), 150 Day(s), 180 Day(s)","position":1,"value":"120 Day(s)"}],"recurring_deliveries":true,"price_adjustments":[{"order_count":null,"position":1,"value_type":"percentage","value":15}],"checkout_charge":{"value_type":"percentage","value":100}},{"id":1619919006,"name":"Delivery every 150 Days","description":null,"options":[{"name":"30 Day(s), 60 Day(s), 90 Day(s), 120 Day(s), 150 Day(s), 180 Day(s)","position":1,"value":"150 Day(s)"}],"recurring_deliveries":true,"price_adjustments":[{"order_count":null,"position":1,"value_type":"percentage","value":15}],"checkout_charge":{"value_type":"percentage","value":100}},{"id":1619984542,"name":"Delivery every 180 Days","description":null,"options":[{"name":"30 Day(s), 60 Day(s), 90 Day(s), 120 Day(s), 150 Day(s), 180 Day(s)","position":1,"value":"180 Day(s)"}],"recurring_deliveries":true,"price_adjustments":[{"order_count":null,"position":1,"value_type":"percentage","value":15}],"checkout_charge":{"value_type":"percentage","value":100}}],"app_id":"294517"}],"content":"\u003ch2\u003eFull Bodyguard 4 Your Immune System\u003c\/h2\u003e\n\u003cp\u003eGet your "fight on" with our blend of 4 unique species of organic mushrooms creating powerful immune benefits. Harness your natural defense with powerful beta glucans, digestive enzymes, fiber, prebiotics, antioxidants and other nutrients to keep your body battle ready.‡\u003c\/p\u003e"}
{"id":1919002542176,"title":"Lion's Mane Organic Mushroom Powder","handle":"lions-mane","description":"\u003ch2\u003eThe Smartest Mushroom in the Kingdom\u003c\/h2\u003e\n\u003cp\u003eWhen it comes to the smartest mushroom in the kingdom, it doesn't get better than Lion's Mane. This vegan mushroom may look like the flowing mane of a lion, but it's packed with powerful compounds such as beta-glucans and polysaccharides that help support your immune system, memory, focus, and nerve health. Om\u003csup\u003e®\u003c\/sup\u003e Lion's Mane Mushroom Powder is certified organic, Non-GMO Project Verified, vegan, kosher, gluten-free, keto \u0026amp; paleo friendly, and has no sugar added making it the perfect daily supplement for anyone looking to boost their health naturally. This brain health superfood mixes well with smoothies, protein shakes, or your favorite daily beverage such as coffee or tea which makes it a smart way to help fuel your brain. Just brilliant.‡\u003c\/p\u003e","published_at":"2021-08-19T11:46:51-07:00","created_at":"2019-02-04T15:03:50-08:00","vendor":"Om Mushroom Superfood","type":"Powders","tags":["cognitive support","lion's mane","wizard","YGroup_lions-mane"],"price":1999,"price_min":1999,"price_max":4299,"available":true,"price_varies":true,"compare_at_price":null,"compare_at_price_min":0,"compare_at_price_max":0,"compare_at_price_varies":false,"variants":[{"id":42297456591006,"title":"30 Servings | 2.1 oz (60g) \/ Powder","option1":"30 Servings | 2.1 oz (60g)","option2":"Powder","option3":null,"sku":"60520","requires_shipping":true,"taxable":true,"featured_image":{"id":35048155414686,"product_id":1919002542176,"position":2,"created_at":"2022-12-12T12:44:18-08:00","updated_at":"2022-12-12T12:44:22-08:00","alt":"variant1","width":2400,"height":2400,"src":"\/\/ommushrooms.com\/cdn\/shop\/products\/LionsMane_60g_Mockup_Front_51b47810-1587-47b5-a8b0-21ac7cc1f2fa.jpg?v=1670877862","variant_ids":[42297456591006]},"available":true,"name":"Lion's Mane Organic Mushroom Powder - 30 Servings | 2.1 oz (60g) \/ Powder","public_title":"30 Servings | 2.1 oz (60g) \/ Powder","options":["30 Servings | 2.1 oz (60g)","Powder"],"price":1999,"weight":91,"compare_at_price":null,"inventory_management":"shopify","barcode":"856210008448","featured_media":{"alt":"variant1","id":27502132101278,"position":2,"preview_image":{"aspect_ratio":1.0,"height":2400,"width":2400,"src":"\/\/ommushrooms.com\/cdn\/shop\/products\/LionsMane_60g_Mockup_Front_51b47810-1587-47b5-a8b0-21ac7cc1f2fa.jpg?v=1670877862"}},"requires_selling_plan":false,"selling_plan_allocations":[{"price_adjustments":[{"position":1,"price":1699}],"price":1699,"compare_at_price":1999,"per_delivery_price":1699,"selling_plan_id":1617723550,"selling_plan_group_id":"f9a41fdf378f6221e991973be152b8381122f707"},{"price_adjustments":[{"position":1,"price":1699}],"price":1699,"compare_at_price":1999,"per_delivery_price":1699,"selling_plan_id":1617756318,"selling_plan_group_id":"f9a41fdf378f6221e991973be152b8381122f707"},{"price_adjustments":[{"position":1,"price":1699}],"price":1699,"compare_at_price":1999,"per_delivery_price":1699,"selling_plan_id":1617789086,"selling_plan_group_id":"f9a41fdf378f6221e991973be152b8381122f707"},{"price_adjustments":[{"position":1,"price":1699}],"price":1699,"compare_at_price":1999,"per_delivery_price":1699,"selling_plan_id":1617821854,"selling_plan_group_id":"f9a41fdf378f6221e991973be152b8381122f707"},{"price_adjustments":[{"position":1,"price":1699}],"price":1699,"compare_at_price":1999,"per_delivery_price":1699,"selling_plan_id":1617887390,"selling_plan_group_id":"f9a41fdf378f6221e991973be152b8381122f707"},{"price_adjustments":[{"position":1,"price":1699}],"price":1699,"compare_at_price":1999,"per_delivery_price":1699,"selling_plan_id":1617952926,"selling_plan_group_id":"f9a41fdf378f6221e991973be152b8381122f707"}],"quantity_rule":{"min":1,"max":null,"increment":1}},{"id":18554016464992,"title":"50 Servings | 3.5 oz (100g) \/ Powder","option1":"50 Servings | 3.5 oz (100g)","option2":"Powder","option3":null,"sku":"60200","requires_shipping":true,"taxable":true,"featured_image":{"id":30676660551838,"product_id":1919002542176,"position":4,"created_at":"2021-09-15T12:44:14-07:00","updated_at":"2022-12-12T13:16:54-08:00","alt":"variant2 landing-hide","width":2400,"height":2400,"src":"\/\/ommushrooms.com\/cdn\/shop\/products\/LionsMane100g-006_Front.jpg?v=1670879814","variant_ids":[18554016464992]},"available":true,"name":"Lion's Mane Organic Mushroom Powder - 50 Servings | 3.5 oz (100g) \/ Powder","public_title":"50 Servings | 3.5 oz (100g) \/ Powder","options":["50 Servings | 3.5 oz (100g)","Powder"],"price":2699,"weight":91,"compare_at_price":null,"inventory_management":"shopify","barcode":"892392002096","featured_media":{"alt":"variant2 landing-hide","id":23048600715422,"position":4,"preview_image":{"aspect_ratio":1.0,"height":2400,"width":2400,"src":"\/\/ommushrooms.com\/cdn\/shop\/products\/LionsMane100g-006_Front.jpg?v=1670879814"}},"requires_selling_plan":false,"selling_plan_allocations":[{"price_adjustments":[{"position":1,"price":2294}],"price":2294,"compare_at_price":2699,"per_delivery_price":2294,"selling_plan_id":1617723550,"selling_plan_group_id":"f9a41fdf378f6221e991973be152b8381122f707"},{"price_adjustments":[{"position":1,"price":2294}],"price":2294,"compare_at_price":2699,"per_delivery_price":2294,"selling_plan_id":1617756318,"selling_plan_group_id":"f9a41fdf378f6221e991973be152b8381122f707"},{"price_adjustments":[{"position":1,"price":2294}],"price":2294,"compare_at_price":2699,"per_delivery_price":2294,"selling_plan_id":1617789086,"selling_plan_group_id":"f9a41fdf378f6221e991973be152b8381122f707"},{"price_adjustments":[{"position":1,"price":2294}],"price":2294,"compare_at_price":2699,"per_delivery_price":2294,"selling_plan_id":1617821854,"selling_plan_group_id":"f9a41fdf378f6221e991973be152b8381122f707"},{"price_adjustments":[{"position":1,"price":2294}],"price":2294,"compare_at_price":2699,"per_delivery_price":2294,"selling_plan_id":1617887390,"selling_plan_group_id":"f9a41fdf378f6221e991973be152b8381122f707"},{"price_adjustments":[{"position":1,"price":2294}],"price":2294,"compare_at_price":2699,"per_delivery_price":2294,"selling_plan_id":1617952926,"selling_plan_group_id":"f9a41fdf378f6221e991973be152b8381122f707"}],"quantity_rule":{"min":1,"max":null,"increment":1}},{"id":18554016432224,"title":"100 Servings | 7.05 oz (200g) \/ Powder","option1":"100 Servings | 7.05 oz (200g)","option2":"Powder","option3":null,"sku":"60215","requires_shipping":true,"taxable":true,"featured_image":{"id":31046651871390,"product_id":1919002542176,"position":1,"created_at":"2021-10-08T16:22:53-07:00","updated_at":"2021-11-18T13:50:52-08:00","alt":"variant3","width":2400,"height":2400,"src":"\/\/ommushrooms.com\/cdn\/shop\/products\/LionsMane_200g_Front.jpg?v=1637272252","variant_ids":[18554016432224]},"available":true,"name":"Lion's Mane Organic Mushroom Powder - 100 Servings | 7.05 oz (200g) \/ Powder","public_title":"100 Servings | 7.05 oz (200g) \/ Powder","options":["100 Servings | 7.05 oz (200g)","Powder"],"price":4299,"weight":181,"compare_at_price":null,"inventory_management":"shopify","barcode":"850030553256","featured_media":{"alt":"variant3","id":23425825570974,"position":1,"preview_image":{"aspect_ratio":1.0,"height":2400,"width":2400,"src":"\/\/ommushrooms.com\/cdn\/shop\/products\/LionsMane_200g_Front.jpg?v=1637272252"}},"requires_selling_plan":false,"selling_plan_allocations":[{"price_adjustments":[{"position":1,"price":3654}],"price":3654,"compare_at_price":4299,"per_delivery_price":3654,"selling_plan_id":1617723550,"selling_plan_group_id":"f9a41fdf378f6221e991973be152b8381122f707"},{"price_adjustments":[{"position":1,"price":3654}],"price":3654,"compare_at_price":4299,"per_delivery_price":3654,"selling_plan_id":1617756318,"selling_plan_group_id":"f9a41fdf378f6221e991973be152b8381122f707"},{"price_adjustments":[{"position":1,"price":3654}],"price":3654,"compare_at_price":4299,"per_delivery_price":3654,"selling_plan_id":1617789086,"selling_plan_group_id":"f9a41fdf378f6221e991973be152b8381122f707"},{"price_adjustments":[{"position":1,"price":3654}],"price":3654,"compare_at_price":4299,"per_delivery_price":3654,"selling_plan_id":1617821854,"selling_plan_group_id":"f9a41fdf378f6221e991973be152b8381122f707"},{"price_adjustments":[{"position":1,"price":3654}],"price":3654,"compare_at_price":4299,"per_delivery_price":3654,"selling_plan_id":1617887390,"selling_plan_group_id":"f9a41fdf378f6221e991973be152b8381122f707"},{"price_adjustments":[{"position":1,"price":3654}],"price":3654,"compare_at_price":4299,"per_delivery_price":3654,"selling_plan_id":1617952926,"selling_plan_group_id":"f9a41fdf378f6221e991973be152b8381122f707"}],"quantity_rule":{"min":1,"max":null,"increment":1}}],"images":["\/\/ommushrooms.com\/cdn\/shop\/products\/LionsMane_200g_Front.jpg?v=1637272252","\/\/ommushrooms.com\/cdn\/shop\/products\/LionsMane_60g_Mockup_Front_51b47810-1587-47b5-a8b0-21ac7cc1f2fa.jpg?v=1670877862","\/\/ommushrooms.com\/cdn\/shop\/products\/Om_LionsMane_60g_Mockup_Back_15455-003.jpg?v=1670879814","\/\/ommushrooms.com\/cdn\/shop\/products\/LionsMane100g-006_Front.jpg?v=1670879814","\/\/ommushrooms.com\/cdn\/shop\/products\/LionsMane100g-006_Back.jpg?v=1670879814","\/\/ommushrooms.com\/cdn\/shop\/products\/LionsMane_200g_Back.jpg?v=1670879814","\/\/ommushrooms.com\/cdn\/shop\/products\/Om_LionsMane_Tile1_c990bdae-e81e-4507-8f49-475b15cc7e31.jpg?v=1670879814","\/\/ommushrooms.com\/cdn\/shop\/products\/Om_SFP_LionsMane.png?v=1670879814","\/\/ommushrooms.com\/cdn\/shop\/products\/Om_LionsMane_Tile1.jpg?v=1670879814","\/\/ommushrooms.com\/cdn\/shop\/products\/Om_LionsMane200g_Tile1_56fdad34-dd8f-4866-9c9c-a51e24520c1f.jpg?v=1670879814","\/\/ommushrooms.com\/cdn\/shop\/products\/Om_LionsMane_Tile2.jpg?v=1670879814","\/\/ommushrooms.com\/cdn\/shop\/products\/Om_LionsMane_Tile7.jpg?v=1670879814","\/\/ommushrooms.com\/cdn\/shop\/products\/Om_LionsMane_Tile3.jpg?v=1670879814","\/\/ommushrooms.com\/cdn\/shop\/products\/Om_Tile6_a71e5ad4-9e8e-4f6d-a3bb-8cd0252735fe.jpg?v=1670879814","\/\/ommushrooms.com\/cdn\/shop\/products\/Om_LionsMane_Tile5.jpg?v=1670879798"],"featured_image":"\/\/ommushrooms.com\/cdn\/shop\/products\/LionsMane_200g_Front.jpg?v=1637272252","options":["Size","Format"],"media":[{"alt":"variant3","id":23425825570974,"position":1,"preview_image":{"aspect_ratio":1.0,"height":2400,"width":2400,"src":"\/\/ommushrooms.com\/cdn\/shop\/products\/LionsMane_200g_Front.jpg?v=1637272252"},"aspect_ratio":1.0,"height":2400,"media_type":"image","src":"\/\/ommushrooms.com\/cdn\/shop\/products\/LionsMane_200g_Front.jpg?v=1637272252","width":2400},{"alt":"variant1","id":27502132101278,"position":2,"preview_image":{"aspect_ratio":1.0,"height":2400,"width":2400,"src":"\/\/ommushrooms.com\/cdn\/shop\/products\/LionsMane_60g_Mockup_Front_51b47810-1587-47b5-a8b0-21ac7cc1f2fa.jpg?v=1670877862"},"aspect_ratio":1.0,"height":2400,"media_type":"image","src":"\/\/ommushrooms.com\/cdn\/shop\/products\/LionsMane_60g_Mockup_Front_51b47810-1587-47b5-a8b0-21ac7cc1f2fa.jpg?v=1670877862","width":2400},{"alt":"variant1","id":27502239482014,"position":3,"preview_image":{"aspect_ratio":1.0,"height":2400,"width":2400,"src":"\/\/ommushrooms.com\/cdn\/shop\/products\/Om_LionsMane_60g_Mockup_Back_15455-003.jpg?v=1670879814"},"aspect_ratio":1.0,"height":2400,"media_type":"image","src":"\/\/ommushrooms.com\/cdn\/shop\/products\/Om_LionsMane_60g_Mockup_Back_15455-003.jpg?v=1670879814","width":2400},{"alt":"variant2 landing-hide","id":23048600715422,"position":4,"preview_image":{"aspect_ratio":1.0,"height":2400,"width":2400,"src":"\/\/ommushrooms.com\/cdn\/shop\/products\/LionsMane100g-006_Front.jpg?v=1670879814"},"aspect_ratio":1.0,"height":2400,"media_type":"image","src":"\/\/ommushrooms.com\/cdn\/shop\/products\/LionsMane100g-006_Front.jpg?v=1670879814","width":2400},{"alt":"variant2","id":23048600682654,"position":5,"preview_image":{"aspect_ratio":1.0,"height":2400,"width":2400,"src":"\/\/ommushrooms.com\/cdn\/shop\/products\/LionsMane100g-006_Back.jpg?v=1670879814"},"aspect_ratio":1.0,"height":2400,"media_type":"image","src":"\/\/ommushrooms.com\/cdn\/shop\/products\/LionsMane100g-006_Back.jpg?v=1670879814","width":2400},{"alt":"variant3","id":23425825538206,"position":6,"preview_image":{"aspect_ratio":1.0,"height":2400,"width":2400,"src":"\/\/ommushrooms.com\/cdn\/shop\/products\/LionsMane_200g_Back.jpg?v=1670879814"},"aspect_ratio":1.0,"height":2400,"media_type":"image","src":"\/\/ommushrooms.com\/cdn\/shop\/products\/LionsMane_200g_Back.jpg?v=1670879814","width":2400},{"alt":"pdp-hide variant2 first","id":21432824463518,"position":7,"preview_image":{"aspect_ratio":1.0,"height":2244,"width":2244,"src":"\/\/ommushrooms.com\/cdn\/shop\/products\/Om_LionsMane_Tile1_c990bdae-e81e-4507-8f49-475b15cc7e31.jpg?v=1670879814"},"aspect_ratio":1.0,"height":2244,"media_type":"image","src":"\/\/ommushrooms.com\/cdn\/shop\/products\/Om_LionsMane_Tile1_c990bdae-e81e-4507-8f49-475b15cc7e31.jpg?v=1670879814","width":2244},{"alt":"pdp-hide","id":21432826331294,"position":8,"preview_image":{"aspect_ratio":1.0,"height":2400,"width":2400,"src":"\/\/ommushrooms.com\/cdn\/shop\/products\/Om_SFP_LionsMane.png?v=1670879814"},"aspect_ratio":1.0,"height":2400,"media_type":"image","src":"\/\/ommushrooms.com\/cdn\/shop\/products\/Om_SFP_LionsMane.png?v=1670879814","width":2400},{"alt":"variant2 landing-hide","id":11653778538654,"position":9,"preview_image":{"aspect_ratio":1.0,"height":2560,"width":2560,"src":"\/\/ommushrooms.com\/cdn\/shop\/products\/Om_LionsMane_Tile1.jpg?v=1670879814"},"aspect_ratio":1.0,"height":2560,"media_type":"image","src":"\/\/ommushrooms.com\/cdn\/shop\/products\/Om_LionsMane_Tile1.jpg?v=1670879814","width":2560},{"alt":"variant3","id":23425825112222,"position":10,"preview_image":{"aspect_ratio":1.0,"height":2400,"width":2400,"src":"\/\/ommushrooms.com\/cdn\/shop\/products\/Om_LionsMane200g_Tile1_56fdad34-dd8f-4866-9c9c-a51e24520c1f.jpg?v=1670879814"},"aspect_ratio":1.0,"height":2400,"media_type":"image","src":"\/\/ommushrooms.com\/cdn\/shop\/products\/Om_LionsMane200g_Tile1_56fdad34-dd8f-4866-9c9c-a51e24520c1f.jpg?v=1670879814","width":2400},{"alt":null,"id":12098883190942,"position":11,"preview_image":{"aspect_ratio":1.0,"height":2560,"width":2560,"src":"\/\/ommushrooms.com\/cdn\/shop\/products\/Om_LionsMane_Tile2.jpg?v=1670879814"},"aspect_ratio":1.0,"height":2560,"media_type":"image","src":"\/\/ommushrooms.com\/cdn\/shop\/products\/Om_LionsMane_Tile2.jpg?v=1670879814","width":2560},{"alt":null,"id":12098900820126,"position":12,"preview_image":{"aspect_ratio":1.0,"height":2560,"width":2560,"src":"\/\/ommushrooms.com\/cdn\/shop\/products\/Om_LionsMane_Tile7.jpg?v=1670879814"},"aspect_ratio":1.0,"height":2560,"media_type":"image","src":"\/\/ommushrooms.com\/cdn\/shop\/products\/Om_LionsMane_Tile7.jpg?v=1670879814","width":2560},{"alt":null,"id":12098906325150,"position":13,"preview_image":{"aspect_ratio":1.0,"height":2560,"width":2560,"src":"\/\/ommushrooms.com\/cdn\/shop\/products\/Om_LionsMane_Tile3.jpg?v=1670879814"},"aspect_ratio":1.0,"height":2560,"media_type":"image","src":"\/\/ommushrooms.com\/cdn\/shop\/products\/Om_LionsMane_Tile3.jpg?v=1670879814","width":2560},{"alt":null,"id":11653778833566,"position":14,"preview_image":{"aspect_ratio":1.0,"height":2560,"width":2560,"src":"\/\/ommushrooms.com\/cdn\/shop\/products\/Om_Tile6_a71e5ad4-9e8e-4f6d-a3bb-8cd0252735fe.jpg?v=1670879814"},"aspect_ratio":1.0,"height":2560,"media_type":"image","src":"\/\/ommushrooms.com\/cdn\/shop\/products\/Om_Tile6_a71e5ad4-9e8e-4f6d-a3bb-8cd0252735fe.jpg?v=1670879814","width":2560},{"alt":null,"id":11653778866334,"position":15,"preview_image":{"aspect_ratio":1.0,"height":2560,"width":2560,"src":"\/\/ommushrooms.com\/cdn\/shop\/products\/Om_LionsMane_Tile5.jpg?v=1670879798"},"aspect_ratio":1.0,"height":2560,"media_type":"image","src":"\/\/ommushrooms.com\/cdn\/shop\/products\/Om_LionsMane_Tile5.jpg?v=1670879798","width":2560}],"requires_selling_plan":false,"selling_plan_groups":[{"id":"f9a41fdf378f6221e991973be152b8381122f707","name":"Lion's Mane Organic Mushroom Powder","options":[{"name":"30 Day(s), 60 Day(s), 90 Day(s), 120 Day(s), 150 Day(s), 180 Day(s)","position":1,"values":["30 Day(s)","60 Day(s)","90 Day(s)","120 Day(s)","150 Day(s)","180 Day(s)"]}],"selling_plans":[{"id":1617723550,"name":"Delivery every 30 Days","description":null,"options":[{"name":"30 Day(s), 60 Day(s), 90 Day(s), 120 Day(s), 150 Day(s), 180 Day(s)","position":1,"value":"30 Day(s)"}],"recurring_deliveries":true,"price_adjustments":[{"order_count":null,"position":1,"value_type":"percentage","value":15}],"checkout_charge":{"value_type":"percentage","value":100}},{"id":1617756318,"name":"Delivery every 60 Days","description":null,"options":[{"name":"30 Day(s), 60 Day(s), 90 Day(s), 120 Day(s), 150 Day(s), 180 Day(s)","position":1,"value":"60 Day(s)"}],"recurring_deliveries":true,"price_adjustments":[{"order_count":null,"position":1,"value_type":"percentage","value":15}],"checkout_charge":{"value_type":"percentage","value":100}},{"id":1617789086,"name":"Delivery every 90 Days","description":null,"options":[{"name":"30 Day(s), 60 Day(s), 90 Day(s), 120 Day(s), 150 Day(s), 180 Day(s)","position":1,"value":"90 Day(s)"}],"recurring_deliveries":true,"price_adjustments":[{"order_count":null,"position":1,"value_type":"percentage","value":15}],"checkout_charge":{"value_type":"percentage","value":100}},{"id":1617821854,"name":"Delivery every 120 Days","description":null,"options":[{"name":"30 Day(s), 60 Day(s), 90 Day(s), 120 Day(s), 150 Day(s), 180 Day(s)","position":1,"value":"120 Day(s)"}],"recurring_deliveries":true,"price_adjustments":[{"order_count":null,"position":1,"value_type":"percentage","value":15}],"checkout_charge":{"value_type":"percentage","value":100}},{"id":1617887390,"name":"Delivery every 150 Days","description":null,"options":[{"name":"30 Day(s), 60 Day(s), 90 Day(s), 120 Day(s), 150 Day(s), 180 Day(s)","position":1,"value":"150 Day(s)"}],"recurring_deliveries":true,"price_adjustments":[{"order_count":null,"position":1,"value_type":"percentage","value":15}],"checkout_charge":{"value_type":"percentage","value":100}},{"id":1617952926,"name":"Delivery every 180 Days","description":null,"options":[{"name":"30 Day(s), 60 Day(s), 90 Day(s), 120 Day(s), 150 Day(s), 180 Day(s)","position":1,"value":"180 Day(s)"}],"recurring_deliveries":true,"price_adjustments":[{"order_count":null,"position":1,"value_type":"percentage","value":15}],"checkout_charge":{"value_type":"percentage","value":100}}],"app_id":"294517"}],"content":"\u003ch2\u003eThe Smartest Mushroom in the Kingdom\u003c\/h2\u003e\n\u003cp\u003eWhen it comes to the smartest mushroom in the kingdom, it doesn't get better than Lion's Mane. This vegan mushroom may look like the flowing mane of a lion, but it's packed with powerful compounds such as beta-glucans and polysaccharides that help support your immune system, memory, focus, and nerve health. Om\u003csup\u003e®\u003c\/sup\u003e Lion's Mane Mushroom Powder is certified organic, Non-GMO Project Verified, vegan, kosher, gluten-free, keto \u0026amp; paleo friendly, and has no sugar added making it the perfect daily supplement for anyone looking to boost their health naturally. This brain health superfood mixes well with smoothies, protein shakes, or your favorite daily beverage such as coffee or tea which makes it a smart way to help fuel your brain. Just brilliant.‡\u003c\/p\u003e"}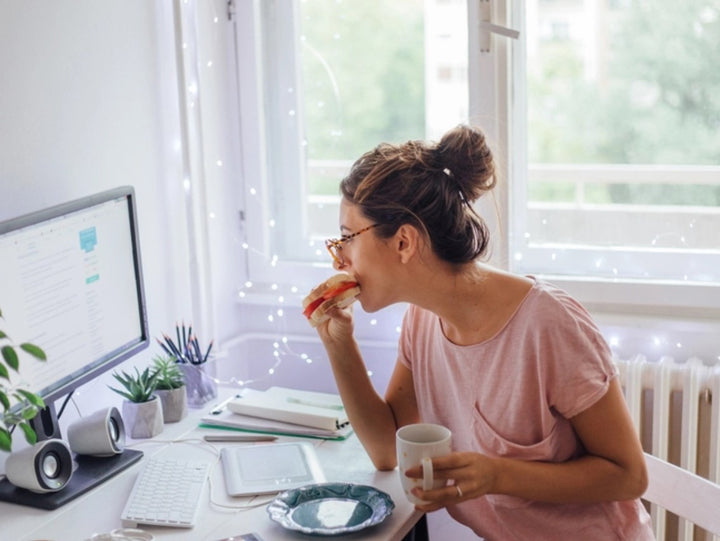 Whether you're new to working from home or already a home office veteran, one thing still stands true: snacking is probably a vital part of your daily routine. If you're spending a lot of time at home, the only thing stopping you from making a trip to the kitchen and opening your fridge is sheer willpower. That said, there's nothing wrong with a good snack or two if you're choosing foods that are healthy, easy to make, and nutrient-dense. And (gluten-free) brownie points if they have immune-supporting qualities!
In this post, we'll dive into a few of our favorite immune-supporting snack ideas you don't have to feel guilty about. All of these can easily be made gluten-free, dairy-free and refined sugar-free. Add a boost of creativity and planning ahead, and make these recipe ideas last you all week long – guilt-free!
Make a Powerful Pantry Granola
The best part about granola? All of the unlimited possibilities that can come out of the ingredients you already have in your pantry. To boost its superpowers, toss some nuts and dried fruits such as apricots or goji berries with nutritious raw honey and a generous spoonful of your favorite Om powder — whether you're in the mood for a beauty fix, more energy or greater cognitive support. The naturally earthy flavors of the superfood mushrooms will balance out the sweetness of the honey. And, if you're feeling adventurous, consider adding an extra kick with some crunchy homemade pumpkin spice pumpkin seeds.
Supercharge Your Guacamole
As if guacamole couldn't get any better: avocados are an awesome source of potassium and vitamin B, which can help support a health immune response. To help you get started, you can make your guacamole even more healthy by using this jalapeno + avocado sauce to kickstart your guac recipe and modify as you see fit, depending on what you've got left in the fridge! Or, check out this recipe for "power guac" if you're in the mood for something that's a little bit easier. 
DIY Yogurt Parfait
Greek yogurt is a super healthy snack that you can turn to at any point in the day. It's a great breakfast food and an awesome alternative to other artificially flavored, sugary yogurts. If you're avoiding dairy, you can find plenty of dairy-free yogurt alternatives as well, with nut-milk based options commonly sold in most supermarkets. If you're looking to spice things up a bit, make a yogurt parfait! Layer your yogurt into a bowl with honey, nuts, and fruit on top to create a snack that can just as easily pass for a dessert – without the sugar! Mix in a serving of organic Lion's mane powder to supercharge your breakfast and give you a brain boost. Hit an afternoon slump? Try adding Cordyceps mushroom powder for a dose of natural energy.
Add Some Chutzpah to Your Hummus
Store-bought hummus is so yesterday — you can easily make your own at home! All it takes is a few common, simple ingredients to make it come to life. Chickpeas (the core hummus ingredient) are a rich source of vitamins, minerals and fiber, so they help with digestion and an excellent replacement for meat-based sources of protein. All you need is a food processor and you'll be on your way to creamy, savory goodness that you can use as a dip with all of your favorite veggies. If you're looking to make something with a kick, our recipe for spicy hummus has an additional boost of Om Chaga mushroom powder that can help support your immune system as well as improve your hair, skin and nails.
Adding mushroom superfoods into your DIY snacks will get them to go the extra mile when it comes to supporting your immunity. The Om Mushroom Immunity blend, in particular, is specifically formulated with a powerful combination of four organic mushroom species and beta-glucans known for their full spectrum immune benefits. When it comes to snacking, don't just keep things healthy: supercharge your snacks!
References: