{"id":4524261736544,"title":"Mushroom Matcha Latte Blend","handle":"mushroom-powered-matcha-latte-blend","description":"\u003ch2\u003eMatcha Latte Blend\u003c\/h2\u003e\n\u003cp\u003eFocus, de-stress and find balance with our soothing Organic Matcha Green Tea from the heart of Nishio, Japan, where the finest ceremonial grade green tea has been grown for over 800 years. Combined with organic Lion's Mane, Reishi, Turkey Tail and Chaga superfood mushrooms, plus Tulsi (Holy Basil) for balance and vibrant health.‡\u003c\/p\u003e\n\u003cp\u003eTry it cold with almond milk. Super Tasty!\u003c\/p\u003e","published_at":"2021-08-19T11:59:50-07:00","created_at":"2020-02-26T20:10:14-08:00","vendor":"Om Mushroom Superfood","type":"Functional Beverages","tags":["chaga","cognitive support","drink mixes","lion's mane","reishi","stress balance","stress management","turkey tail","YGroup_matcha-latte"],"price":2199,"price_min":2199,"price_max":3999,"available":true,"price_varies":true,"compare_at_price":null,"compare_at_price_min":0,"compare_at_price_max":0,"compare_at_price_varies":false,"variants":[{"id":36824090017950,"title":"10 Servings \/ Single Serving Packets \/ Matcha Latte","option1":"10 Servings","option2":"Single Serving Packets","option3":"Matcha Latte","sku":"60750","requires_shipping":true,"taxable":true,"featured_image":{"id":36214443606174,"product_id":4524261736544,"position":2,"created_at":"2023-09-26T14:48:53-07:00","updated_at":"2023-09-26T14:48:57-07:00","alt":"variant1","width":2400,"height":2400,"src":"\/\/ommushrooms.com\/cdn\/shop\/files\/MatchaLatte_ClosedBoxSachet.jpg?v=1695764937","variant_ids":[36824090017950]},"available":true,"name":"Mushroom Matcha Latte Blend - 10 Servings \/ Single Serving Packets \/ Matcha Latte","public_title":"10 Servings \/ Single Serving Packets \/ Matcha Latte","options":["10 Servings","Single Serving Packets","Matcha Latte"],"price":2199,"weight":91,"compare_at_price":null,"inventory_management":"shopify","barcode":"856210008943","featured_media":{"alt":"variant1","id":28711119585438,"position":2,"preview_image":{"aspect_ratio":1.0,"height":2400,"width":2400,"src":"\/\/ommushrooms.com\/cdn\/shop\/files\/MatchaLatte_ClosedBoxSachet.jpg?v=1695764937"}},"requires_selling_plan":false,"selling_plan_allocations":[{"price_adjustments":[{"position":1,"price":1869}],"price":1869,"compare_at_price":2199,"per_delivery_price":1869,"selling_plan_id":1616019614,"selling_plan_group_id":"3bd6f1a5f794b0c577695b02637981e5420b0418"},{"price_adjustments":[{"position":1,"price":1869}],"price":1869,"compare_at_price":2199,"per_delivery_price":1869,"selling_plan_id":1616085150,"selling_plan_group_id":"3bd6f1a5f794b0c577695b02637981e5420b0418"},{"price_adjustments":[{"position":1,"price":1869}],"price":1869,"compare_at_price":2199,"per_delivery_price":1869,"selling_plan_id":1616117918,"selling_plan_group_id":"3bd6f1a5f794b0c577695b02637981e5420b0418"},{"price_adjustments":[{"position":1,"price":1869}],"price":1869,"compare_at_price":2199,"per_delivery_price":1869,"selling_plan_id":1616150686,"selling_plan_group_id":"3bd6f1a5f794b0c577695b02637981e5420b0418"},{"price_adjustments":[{"position":1,"price":1869}],"price":1869,"compare_at_price":2199,"per_delivery_price":1869,"selling_plan_id":1616183454,"selling_plan_group_id":"3bd6f1a5f794b0c577695b02637981e5420b0418"},{"price_adjustments":[{"position":1,"price":1869}],"price":1869,"compare_at_price":2199,"per_delivery_price":1869,"selling_plan_id":1616281758,"selling_plan_group_id":"3bd6f1a5f794b0c577695b02637981e5420b0418"}],"quantity_rule":{"min":1,"max":null,"increment":1}},{"id":40698921681054,"title":"30 Servings | 8.47 oz (240g) \/ Canister \/ Matcha Latte","option1":"30 Servings | 8.47 oz (240g)","option2":"Canister","option3":"Matcha Latte","sku":"60756","requires_shipping":true,"taxable":true,"featured_image":{"id":30472199733406,"product_id":4524261736544,"position":3,"created_at":"2021-08-31T15:02:39-07:00","updated_at":"2023-09-26T14:48:57-07:00","alt":"variant2","width":2400,"height":2400,"src":"\/\/ommushrooms.com\/cdn\/shop\/products\/Multiserve_MatchaLatte.jpg?v=1695764937","variant_ids":[40698921681054]},"available":true,"name":"Mushroom Matcha Latte Blend - 30 Servings | 8.47 oz (240g) \/ Canister \/ Matcha Latte","public_title":"30 Servings | 8.47 oz (240g) \/ Canister \/ Matcha Latte","options":["30 Servings | 8.47 oz (240g)","Canister","Matcha Latte"],"price":3999,"weight":227,"compare_at_price":null,"inventory_management":"shopify","barcode":"850011996904","featured_media":{"alt":"variant2","id":22839226957982,"position":3,"preview_image":{"aspect_ratio":1.0,"height":2400,"width":2400,"src":"\/\/ommushrooms.com\/cdn\/shop\/products\/Multiserve_MatchaLatte.jpg?v=1695764937"}},"requires_selling_plan":false,"selling_plan_allocations":[{"price_adjustments":[{"position":1,"price":3399}],"price":3399,"compare_at_price":3999,"per_delivery_price":3399,"selling_plan_id":1616019614,"selling_plan_group_id":"3bd6f1a5f794b0c577695b02637981e5420b0418"},{"price_adjustments":[{"position":1,"price":3399}],"price":3399,"compare_at_price":3999,"per_delivery_price":3399,"selling_plan_id":1616085150,"selling_plan_group_id":"3bd6f1a5f794b0c577695b02637981e5420b0418"},{"price_adjustments":[{"position":1,"price":3399}],"price":3399,"compare_at_price":3999,"per_delivery_price":3399,"selling_plan_id":1616117918,"selling_plan_group_id":"3bd6f1a5f794b0c577695b02637981e5420b0418"},{"price_adjustments":[{"position":1,"price":3399}],"price":3399,"compare_at_price":3999,"per_delivery_price":3399,"selling_plan_id":1616150686,"selling_plan_group_id":"3bd6f1a5f794b0c577695b02637981e5420b0418"},{"price_adjustments":[{"position":1,"price":3399}],"price":3399,"compare_at_price":3999,"per_delivery_price":3399,"selling_plan_id":1616183454,"selling_plan_group_id":"3bd6f1a5f794b0c577695b02637981e5420b0418"},{"price_adjustments":[{"position":1,"price":3399}],"price":3399,"compare_at_price":3999,"per_delivery_price":3399,"selling_plan_id":1616281758,"selling_plan_group_id":"3bd6f1a5f794b0c577695b02637981e5420b0418"}],"quantity_rule":{"min":1,"max":null,"increment":1}}],"images":["\/\/ommushrooms.com\/cdn\/shop\/products\/Multiserve_MatchaLatteBlend_featured.jpg?v=1631226324","\/\/ommushrooms.com\/cdn\/shop\/files\/MatchaLatte_ClosedBoxSachet.jpg?v=1695764937","\/\/ommushrooms.com\/cdn\/shop\/products\/Multiserve_MatchaLatte.jpg?v=1695764937","\/\/ommushrooms.com\/cdn\/shop\/products\/matchalatteback.jpg?v=1695764937","\/\/ommushrooms.com\/cdn\/shop\/products\/Multiserve_MatchaLatteBlend_SFP.jpg?v=1695764937","\/\/ommushrooms.com\/cdn\/shop\/products\/Om_Matcha_Tile2_6e7623cc-60ef-4978-8030-3518b935f4cd.jpg?v=1695764937","\/\/ommushrooms.com\/cdn\/shop\/products\/Matcha_Tile4.jpg?v=1695764937","\/\/ommushrooms.com\/cdn\/shop\/products\/Om_Matcha_Tile5.jpg?v=1695764937","\/\/ommushrooms.com\/cdn\/shop\/products\/Matcha_Tile6.jpg?v=1695764937","\/\/ommushrooms.com\/cdn\/shop\/products\/Om_Matcha_Tile1.jpg?v=1695764937","\/\/ommushrooms.com\/cdn\/shop\/products\/OM_HotDrinks_Tile7_Matcha_75ce8e66-ed50-4298-b907-1bca54964513.jpg?v=1695764937","\/\/ommushrooms.com\/cdn\/shop\/products\/Matcha-Latte6-1080x1080.jpg?v=1695764937"],"featured_image":"\/\/ommushrooms.com\/cdn\/shop\/products\/Multiserve_MatchaLatteBlend_featured.jpg?v=1631226324","options":["Size","Format","Beverage"],"media":[{"alt":"hide","id":22966619308190,"position":1,"preview_image":{"aspect_ratio":1.0,"height":2400,"width":2400,"src":"\/\/ommushrooms.com\/cdn\/shop\/products\/Multiserve_MatchaLatteBlend_featured.jpg?v=1631226324"},"aspect_ratio":1.0,"height":2400,"media_type":"image","src":"\/\/ommushrooms.com\/cdn\/shop\/products\/Multiserve_MatchaLatteBlend_featured.jpg?v=1631226324","width":2400},{"alt":"variant1","id":28711119585438,"position":2,"preview_image":{"aspect_ratio":1.0,"height":2400,"width":2400,"src":"\/\/ommushrooms.com\/cdn\/shop\/files\/MatchaLatte_ClosedBoxSachet.jpg?v=1695764937"},"aspect_ratio":1.0,"height":2400,"media_type":"image","src":"\/\/ommushrooms.com\/cdn\/shop\/files\/MatchaLatte_ClosedBoxSachet.jpg?v=1695764937","width":2400},{"alt":"variant2","id":22839226957982,"position":3,"preview_image":{"aspect_ratio":1.0,"height":2400,"width":2400,"src":"\/\/ommushrooms.com\/cdn\/shop\/products\/Multiserve_MatchaLatte.jpg?v=1695764937"},"aspect_ratio":1.0,"height":2400,"media_type":"image","src":"\/\/ommushrooms.com\/cdn\/shop\/products\/Multiserve_MatchaLatte.jpg?v=1695764937","width":2400},{"alt":"variant1","id":11653732630686,"position":4,"preview_image":{"aspect_ratio":1.0,"height":1600,"width":1600,"src":"\/\/ommushrooms.com\/cdn\/shop\/products\/matchalatteback.jpg?v=1695764937"},"aspect_ratio":1.0,"height":1600,"media_type":"image","src":"\/\/ommushrooms.com\/cdn\/shop\/products\/matchalatteback.jpg?v=1695764937","width":1600},{"alt":"variant2","id":22965295513758,"position":5,"preview_image":{"aspect_ratio":1.0,"height":2400,"width":2400,"src":"\/\/ommushrooms.com\/cdn\/shop\/products\/Multiserve_MatchaLatteBlend_SFP.jpg?v=1695764937"},"aspect_ratio":1.0,"height":2400,"media_type":"image","src":"\/\/ommushrooms.com\/cdn\/shop\/products\/Multiserve_MatchaLatteBlend_SFP.jpg?v=1695764937","width":2400},{"alt":null,"id":13051288813726,"position":6,"preview_image":{"aspect_ratio":1.0,"height":2560,"width":2560,"src":"\/\/ommushrooms.com\/cdn\/shop\/products\/Om_Matcha_Tile2_6e7623cc-60ef-4978-8030-3518b935f4cd.jpg?v=1695764937"},"aspect_ratio":1.0,"height":2560,"media_type":"image","src":"\/\/ommushrooms.com\/cdn\/shop\/products\/Om_Matcha_Tile2_6e7623cc-60ef-4978-8030-3518b935f4cd.jpg?v=1695764937","width":2560},{"alt":null,"id":11653732499614,"position":7,"preview_image":{"aspect_ratio":1.0,"height":2560,"width":2560,"src":"\/\/ommushrooms.com\/cdn\/shop\/products\/Matcha_Tile4.jpg?v=1695764937"},"aspect_ratio":1.0,"height":2560,"media_type":"image","src":"\/\/ommushrooms.com\/cdn\/shop\/products\/Matcha_Tile4.jpg?v=1695764937","width":2560},{"alt":null,"id":12127978651806,"position":8,"preview_image":{"aspect_ratio":1.0,"height":2560,"width":2560,"src":"\/\/ommushrooms.com\/cdn\/shop\/products\/Om_Matcha_Tile5.jpg?v=1695764937"},"aspect_ratio":1.0,"height":2560,"media_type":"image","src":"\/\/ommushrooms.com\/cdn\/shop\/products\/Om_Matcha_Tile5.jpg?v=1695764937","width":2560},{"alt":null,"id":11653732532382,"position":9,"preview_image":{"aspect_ratio":1.0,"height":2560,"width":2560,"src":"\/\/ommushrooms.com\/cdn\/shop\/products\/Matcha_Tile6.jpg?v=1695764937"},"aspect_ratio":1.0,"height":2560,"media_type":"image","src":"\/\/ommushrooms.com\/cdn\/shop\/products\/Matcha_Tile6.jpg?v=1695764937","width":2560},{"alt":null,"id":13051288748190,"position":10,"preview_image":{"aspect_ratio":1.0,"height":2560,"width":2560,"src":"\/\/ommushrooms.com\/cdn\/shop\/products\/Om_Matcha_Tile1.jpg?v=1695764937"},"aspect_ratio":1.0,"height":2560,"media_type":"image","src":"\/\/ommushrooms.com\/cdn\/shop\/products\/Om_Matcha_Tile1.jpg?v=1695764937","width":2560},{"alt":null,"id":11653732565150,"position":11,"preview_image":{"aspect_ratio":1.0,"height":2560,"width":2560,"src":"\/\/ommushrooms.com\/cdn\/shop\/products\/OM_HotDrinks_Tile7_Matcha_75ce8e66-ed50-4298-b907-1bca54964513.jpg?v=1695764937"},"aspect_ratio":1.0,"height":2560,"media_type":"image","src":"\/\/ommushrooms.com\/cdn\/shop\/products\/OM_HotDrinks_Tile7_Matcha_75ce8e66-ed50-4298-b907-1bca54964513.jpg?v=1695764937","width":2560},{"alt":"hide","id":23955757498526,"position":12,"preview_image":{"aspect_ratio":1.0,"height":1080,"width":1080,"src":"\/\/ommushrooms.com\/cdn\/shop\/products\/Matcha-Latte6-1080x1080.jpg?v=1695764937"},"aspect_ratio":1.0,"height":1080,"media_type":"image","src":"\/\/ommushrooms.com\/cdn\/shop\/products\/Matcha-Latte6-1080x1080.jpg?v=1695764937","width":1080}],"requires_selling_plan":false,"selling_plan_groups":[{"id":"3bd6f1a5f794b0c577695b02637981e5420b0418","name":"Matcha Latte Blend","options":[{"name":"30 Day(s), 60 Day(s), 90 Day(s), 120 Day(s), 150 Day(s), 180 Day(s)","position":1,"values":["30 Day(s)","60 Day(s)","90 Day(s)","120 Day(s)","150 Day(s)","180 Day(s)"]}],"selling_plans":[{"id":1616019614,"name":"Delivery every 30 Days","description":null,"options":[{"name":"30 Day(s), 60 Day(s), 90 Day(s), 120 Day(s), 150 Day(s), 180 Day(s)","position":1,"value":"30 Day(s)"}],"recurring_deliveries":true,"price_adjustments":[{"order_count":null,"position":1,"value_type":"percentage","value":15}],"checkout_charge":{"value_type":"percentage","value":100}},{"id":1616085150,"name":"Delivery every 60 Days","description":null,"options":[{"name":"30 Day(s), 60 Day(s), 90 Day(s), 120 Day(s), 150 Day(s), 180 Day(s)","position":1,"value":"60 Day(s)"}],"recurring_deliveries":true,"price_adjustments":[{"order_count":null,"position":1,"value_type":"percentage","value":15}],"checkout_charge":{"value_type":"percentage","value":100}},{"id":1616117918,"name":"Delivery every 90 Days","description":null,"options":[{"name":"30 Day(s), 60 Day(s), 90 Day(s), 120 Day(s), 150 Day(s), 180 Day(s)","position":1,"value":"90 Day(s)"}],"recurring_deliveries":true,"price_adjustments":[{"order_count":null,"position":1,"value_type":"percentage","value":15}],"checkout_charge":{"value_type":"percentage","value":100}},{"id":1616150686,"name":"Delivery every 120 Days","description":null,"options":[{"name":"30 Day(s), 60 Day(s), 90 Day(s), 120 Day(s), 150 Day(s), 180 Day(s)","position":1,"value":"120 Day(s)"}],"recurring_deliveries":true,"price_adjustments":[{"order_count":null,"position":1,"value_type":"percentage","value":15}],"checkout_charge":{"value_type":"percentage","value":100}},{"id":1616183454,"name":"Delivery every 150 Days","description":null,"options":[{"name":"30 Day(s), 60 Day(s), 90 Day(s), 120 Day(s), 150 Day(s), 180 Day(s)","position":1,"value":"150 Day(s)"}],"recurring_deliveries":true,"price_adjustments":[{"order_count":null,"position":1,"value_type":"percentage","value":15}],"checkout_charge":{"value_type":"percentage","value":100}},{"id":1616281758,"name":"Delivery every 180 Days","description":null,"options":[{"name":"30 Day(s), 60 Day(s), 90 Day(s), 120 Day(s), 150 Day(s), 180 Day(s)","position":1,"value":"180 Day(s)"}],"recurring_deliveries":true,"price_adjustments":[{"order_count":null,"position":1,"value_type":"percentage","value":15}],"checkout_charge":{"value_type":"percentage","value":100}}],"app_id":"294517"}],"content":"\u003ch2\u003eMatcha Latte Blend\u003c\/h2\u003e\n\u003cp\u003eFocus, de-stress and find balance with our soothing Organic Matcha Green Tea from the heart of Nishio, Japan, where the finest ceremonial grade green tea has been grown for over 800 years. Combined with organic Lion's Mane, Reishi, Turkey Tail and Chaga superfood mushrooms, plus Tulsi (Holy Basil) for balance and vibrant health.‡\u003c\/p\u003e\n\u003cp\u003eTry it cold with almond milk. Super Tasty!\u003c\/p\u003e"}
{"id":1919002443872,"title":"Reishi Organic Mushroom Powder","handle":"reishi","description":"\u003ch2\u003eThe Balancing Mushroom\u003c\/h2\u003e\n\u003cp\u003eHarmonize your longevity, energy and spirit with this superior immunity tonic. Natural adaptogen to help balance mental and physical stress. Nourish your heart and soothe an overactive immune system. Enlighten and relax, find your Savasana.‡\u003c\/p\u003e","published_at":"2021-08-19T11:47:01-07:00","created_at":"2019-02-04T15:03:40-08:00","vendor":"Om Mushroom Superfood","type":"Powders","tags":["reishi","stress management","YGroup_reishi"],"price":1999,"price_min":1999,"price_max":4299,"available":true,"price_varies":true,"compare_at_price":null,"compare_at_price_min":0,"compare_at_price_max":0,"compare_at_price_varies":false,"variants":[{"id":42297461735582,"title":"30 Servings | 2.1 oz (60g) \/ Powder","option1":"30 Servings | 2.1 oz (60g)","option2":"Powder","option3":null,"sku":"60530","requires_shipping":true,"taxable":true,"featured_image":{"id":35048179171486,"product_id":1919002443872,"position":2,"created_at":"2022-12-12T12:53:53-08:00","updated_at":"2022-12-12T12:53:56-08:00","alt":"variant1","width":2400,"height":2400,"src":"\/\/ommushrooms.com\/cdn\/shop\/products\/Reishi_60g_Mockup_Front_559051ed-c158-492d-9c56-8fd0384a079d.jpg?v=1670878436","variant_ids":[42297461735582]},"available":true,"name":"Reishi Organic Mushroom Powder - 30 Servings | 2.1 oz (60g) \/ Powder","public_title":"30 Servings | 2.1 oz (60g) \/ Powder","options":["30 Servings | 2.1 oz (60g)","Powder"],"price":1999,"weight":91,"compare_at_price":null,"inventory_management":"shopify","barcode":"856210008455","featured_media":{"alt":"variant1","id":27502156054686,"position":2,"preview_image":{"aspect_ratio":1.0,"height":2400,"width":2400,"src":"\/\/ommushrooms.com\/cdn\/shop\/products\/Reishi_60g_Mockup_Front_559051ed-c158-492d-9c56-8fd0384a079d.jpg?v=1670878436"}},"requires_selling_plan":false,"selling_plan_allocations":[{"price_adjustments":[{"position":1,"price":1699}],"price":1699,"compare_at_price":1999,"per_delivery_price":1699,"selling_plan_id":1614184606,"selling_plan_group_id":"bfa34c106e9eafdc5ae3f1ced75011db178be5d6"},{"price_adjustments":[{"position":1,"price":1699}],"price":1699,"compare_at_price":1999,"per_delivery_price":1699,"selling_plan_id":1614250142,"selling_plan_group_id":"bfa34c106e9eafdc5ae3f1ced75011db178be5d6"},{"price_adjustments":[{"position":1,"price":1699}],"price":1699,"compare_at_price":1999,"per_delivery_price":1699,"selling_plan_id":1614348446,"selling_plan_group_id":"bfa34c106e9eafdc5ae3f1ced75011db178be5d6"},{"price_adjustments":[{"position":1,"price":1699}],"price":1699,"compare_at_price":1999,"per_delivery_price":1699,"selling_plan_id":1614479518,"selling_plan_group_id":"bfa34c106e9eafdc5ae3f1ced75011db178be5d6"},{"price_adjustments":[{"position":1,"price":1699}],"price":1699,"compare_at_price":1999,"per_delivery_price":1699,"selling_plan_id":1614610590,"selling_plan_group_id":"bfa34c106e9eafdc5ae3f1ced75011db178be5d6"},{"price_adjustments":[{"position":1,"price":1699}],"price":1699,"compare_at_price":1999,"per_delivery_price":1699,"selling_plan_id":1614774430,"selling_plan_group_id":"bfa34c106e9eafdc5ae3f1ced75011db178be5d6"}],"quantity_rule":{"min":1,"max":null,"increment":1}},{"id":18554016661600,"title":"50 Servings | 3.5 oz (100g) \/ Powder","option1":"50 Servings | 3.5 oz (100g)","option2":"Powder","option3":null,"sku":"60260","requires_shipping":true,"taxable":true,"featured_image":{"id":30676718747806,"product_id":1919002443872,"position":4,"created_at":"2021-09-15T12:47:56-07:00","updated_at":"2022-12-12T13:19:54-08:00","alt":"variant2","width":2400,"height":2400,"src":"\/\/ommushrooms.com\/cdn\/shop\/products\/Reishi100g-006_Front.jpg?v=1670879994","variant_ids":[18554016661600]},"available":true,"name":"Reishi Organic Mushroom Powder - 50 Servings | 3.5 oz (100g) \/ Powder","public_title":"50 Servings | 3.5 oz (100g) \/ Powder","options":["50 Servings | 3.5 oz (100g)","Powder"],"price":2699,"weight":91,"compare_at_price":null,"inventory_management":"shopify","barcode":"892392002027","featured_media":{"alt":"variant2","id":23048659796126,"position":4,"preview_image":{"aspect_ratio":1.0,"height":2400,"width":2400,"src":"\/\/ommushrooms.com\/cdn\/shop\/products\/Reishi100g-006_Front.jpg?v=1670879994"}},"requires_selling_plan":false,"selling_plan_allocations":[{"price_adjustments":[{"position":1,"price":2294}],"price":2294,"compare_at_price":2699,"per_delivery_price":2294,"selling_plan_id":1614184606,"selling_plan_group_id":"bfa34c106e9eafdc5ae3f1ced75011db178be5d6"},{"price_adjustments":[{"position":1,"price":2294}],"price":2294,"compare_at_price":2699,"per_delivery_price":2294,"selling_plan_id":1614250142,"selling_plan_group_id":"bfa34c106e9eafdc5ae3f1ced75011db178be5d6"},{"price_adjustments":[{"position":1,"price":2294}],"price":2294,"compare_at_price":2699,"per_delivery_price":2294,"selling_plan_id":1614348446,"selling_plan_group_id":"bfa34c106e9eafdc5ae3f1ced75011db178be5d6"},{"price_adjustments":[{"position":1,"price":2294}],"price":2294,"compare_at_price":2699,"per_delivery_price":2294,"selling_plan_id":1614479518,"selling_plan_group_id":"bfa34c106e9eafdc5ae3f1ced75011db178be5d6"},{"price_adjustments":[{"position":1,"price":2294}],"price":2294,"compare_at_price":2699,"per_delivery_price":2294,"selling_plan_id":1614610590,"selling_plan_group_id":"bfa34c106e9eafdc5ae3f1ced75011db178be5d6"},{"price_adjustments":[{"position":1,"price":2294}],"price":2294,"compare_at_price":2699,"per_delivery_price":2294,"selling_plan_id":1614774430,"selling_plan_group_id":"bfa34c106e9eafdc5ae3f1ced75011db178be5d6"}],"quantity_rule":{"min":1,"max":null,"increment":1}},{"id":18554016628832,"title":"100 Servings | 7.05 oz (200g) \/ Powder","option1":"100 Servings | 7.05 oz (200g)","option2":"Powder","option3":null,"sku":"60275","requires_shipping":true,"taxable":true,"featured_image":{"id":31046698238110,"product_id":1919002443872,"position":1,"created_at":"2021-10-08T16:26:18-07:00","updated_at":"2021-11-18T13:50:37-08:00","alt":"variant3","width":2400,"height":2400,"src":"\/\/ommushrooms.com\/cdn\/shop\/products\/Reishi_200g_Front.jpg?v=1637272237","variant_ids":[18554016628832]},"available":false,"name":"Reishi Organic Mushroom Powder - 100 Servings | 7.05 oz (200g) \/ Powder","public_title":"100 Servings | 7.05 oz (200g) \/ Powder","options":["100 Servings | 7.05 oz (200g)","Powder"],"price":4299,"weight":181,"compare_at_price":null,"inventory_management":"shopify","barcode":"850030553270","featured_media":{"alt":"variant3","id":23425872003230,"position":1,"preview_image":{"aspect_ratio":1.0,"height":2400,"width":2400,"src":"\/\/ommushrooms.com\/cdn\/shop\/products\/Reishi_200g_Front.jpg?v=1637272237"}},"requires_selling_plan":false,"selling_plan_allocations":[{"price_adjustments":[{"position":1,"price":3654}],"price":3654,"compare_at_price":4299,"per_delivery_price":3654,"selling_plan_id":1614184606,"selling_plan_group_id":"bfa34c106e9eafdc5ae3f1ced75011db178be5d6"},{"price_adjustments":[{"position":1,"price":3654}],"price":3654,"compare_at_price":4299,"per_delivery_price":3654,"selling_plan_id":1614250142,"selling_plan_group_id":"bfa34c106e9eafdc5ae3f1ced75011db178be5d6"},{"price_adjustments":[{"position":1,"price":3654}],"price":3654,"compare_at_price":4299,"per_delivery_price":3654,"selling_plan_id":1614348446,"selling_plan_group_id":"bfa34c106e9eafdc5ae3f1ced75011db178be5d6"},{"price_adjustments":[{"position":1,"price":3654}],"price":3654,"compare_at_price":4299,"per_delivery_price":3654,"selling_plan_id":1614479518,"selling_plan_group_id":"bfa34c106e9eafdc5ae3f1ced75011db178be5d6"},{"price_adjustments":[{"position":1,"price":3654}],"price":3654,"compare_at_price":4299,"per_delivery_price":3654,"selling_plan_id":1614610590,"selling_plan_group_id":"bfa34c106e9eafdc5ae3f1ced75011db178be5d6"},{"price_adjustments":[{"position":1,"price":3654}],"price":3654,"compare_at_price":4299,"per_delivery_price":3654,"selling_plan_id":1614774430,"selling_plan_group_id":"bfa34c106e9eafdc5ae3f1ced75011db178be5d6"}],"quantity_rule":{"min":1,"max":null,"increment":1}}],"images":["\/\/ommushrooms.com\/cdn\/shop\/products\/Reishi_200g_Front.jpg?v=1637272237","\/\/ommushrooms.com\/cdn\/shop\/products\/Reishi_60g_Mockup_Front_559051ed-c158-492d-9c56-8fd0384a079d.jpg?v=1670878436","\/\/ommushrooms.com\/cdn\/shop\/products\/Om_Reishi_60g_Mockup_Back_15405-003.jpg?v=1670879994","\/\/ommushrooms.com\/cdn\/shop\/products\/Reishi100g-006_Front.jpg?v=1670879994","\/\/ommushrooms.com\/cdn\/shop\/products\/Reishi100g-006_Back.jpg?v=1670879994","\/\/ommushrooms.com\/cdn\/shop\/products\/Reishi_200g_Back.jpg?v=1670879994","\/\/ommushrooms.com\/cdn\/shop\/products\/Om_Reishi_Tile2.jpg?v=1670879994","\/\/ommushrooms.com\/cdn\/shop\/products\/Om_Reishi_Tile3.jpg?v=1670879994","\/\/ommushrooms.com\/cdn\/shop\/products\/Om_Reishi_Tile6_5236be8c-a669-4e38-a771-34c67fb552b0.jpg?v=1670879994","\/\/ommushrooms.com\/cdn\/shop\/products\/Om_Reishi_Tile1.jpg?v=1670879994","\/\/ommushrooms.com\/cdn\/shop\/products\/Om_Reishi200g_Tile1_7630b6f8-6a5d-4039-85c4-fe1a18e97990.jpg?v=1670879994","\/\/ommushrooms.com\/cdn\/shop\/products\/Om_Reishi_Tile7.jpg?v=1670879994","\/\/ommushrooms.com\/cdn\/shop\/products\/Om_Reishi_Tile5_2e63a025-1223-42a7-9598-df5614f4d361.jpg?v=1670879994"],"featured_image":"\/\/ommushrooms.com\/cdn\/shop\/products\/Reishi_200g_Front.jpg?v=1637272237","options":["Size","Format"],"media":[{"alt":"variant3","id":23425872003230,"position":1,"preview_image":{"aspect_ratio":1.0,"height":2400,"width":2400,"src":"\/\/ommushrooms.com\/cdn\/shop\/products\/Reishi_200g_Front.jpg?v=1637272237"},"aspect_ratio":1.0,"height":2400,"media_type":"image","src":"\/\/ommushrooms.com\/cdn\/shop\/products\/Reishi_200g_Front.jpg?v=1637272237","width":2400},{"alt":"variant1","id":27502156054686,"position":2,"preview_image":{"aspect_ratio":1.0,"height":2400,"width":2400,"src":"\/\/ommushrooms.com\/cdn\/shop\/products\/Reishi_60g_Mockup_Front_559051ed-c158-492d-9c56-8fd0384a079d.jpg?v=1670878436"},"aspect_ratio":1.0,"height":2400,"media_type":"image","src":"\/\/ommushrooms.com\/cdn\/shop\/products\/Reishi_60g_Mockup_Front_559051ed-c158-492d-9c56-8fd0384a079d.jpg?v=1670878436","width":2400},{"alt":"variant1","id":27502253703326,"position":3,"preview_image":{"aspect_ratio":1.0,"height":2400,"width":2400,"src":"\/\/ommushrooms.com\/cdn\/shop\/products\/Om_Reishi_60g_Mockup_Back_15405-003.jpg?v=1670879994"},"aspect_ratio":1.0,"height":2400,"media_type":"image","src":"\/\/ommushrooms.com\/cdn\/shop\/products\/Om_Reishi_60g_Mockup_Back_15405-003.jpg?v=1670879994","width":2400},{"alt":"variant2","id":23048659796126,"position":4,"preview_image":{"aspect_ratio":1.0,"height":2400,"width":2400,"src":"\/\/ommushrooms.com\/cdn\/shop\/products\/Reishi100g-006_Front.jpg?v=1670879994"},"aspect_ratio":1.0,"height":2400,"media_type":"image","src":"\/\/ommushrooms.com\/cdn\/shop\/products\/Reishi100g-006_Front.jpg?v=1670879994","width":2400},{"alt":"variant2","id":23048659763358,"position":5,"preview_image":{"aspect_ratio":1.0,"height":2400,"width":2400,"src":"\/\/ommushrooms.com\/cdn\/shop\/products\/Reishi100g-006_Back.jpg?v=1670879994"},"aspect_ratio":1.0,"height":2400,"media_type":"image","src":"\/\/ommushrooms.com\/cdn\/shop\/products\/Reishi100g-006_Back.jpg?v=1670879994","width":2400},{"alt":"variant3","id":23425871970462,"position":6,"preview_image":{"aspect_ratio":1.0,"height":2400,"width":2400,"src":"\/\/ommushrooms.com\/cdn\/shop\/products\/Reishi_200g_Back.jpg?v=1670879994"},"aspect_ratio":1.0,"height":2400,"media_type":"image","src":"\/\/ommushrooms.com\/cdn\/shop\/products\/Reishi_200g_Back.jpg?v=1670879994","width":2400},{"alt":null,"id":12099301245086,"position":7,"preview_image":{"aspect_ratio":1.0,"height":2560,"width":2560,"src":"\/\/ommushrooms.com\/cdn\/shop\/products\/Om_Reishi_Tile2.jpg?v=1670879994"},"aspect_ratio":1.0,"height":2560,"media_type":"image","src":"\/\/ommushrooms.com\/cdn\/shop\/products\/Om_Reishi_Tile2.jpg?v=1670879994","width":2560},{"alt":null,"id":12099314024606,"position":8,"preview_image":{"aspect_ratio":1.0,"height":2560,"width":2560,"src":"\/\/ommushrooms.com\/cdn\/shop\/products\/Om_Reishi_Tile3.jpg?v=1670879994"},"aspect_ratio":1.0,"height":2560,"media_type":"image","src":"\/\/ommushrooms.com\/cdn\/shop\/products\/Om_Reishi_Tile3.jpg?v=1670879994","width":2560},{"alt":null,"id":11653785911454,"position":9,"preview_image":{"aspect_ratio":1.0,"height":2560,"width":2560,"src":"\/\/ommushrooms.com\/cdn\/shop\/products\/Om_Reishi_Tile6_5236be8c-a669-4e38-a771-34c67fb552b0.jpg?v=1670879994"},"aspect_ratio":1.0,"height":2560,"media_type":"image","src":"\/\/ommushrooms.com\/cdn\/shop\/products\/Om_Reishi_Tile6_5236be8c-a669-4e38-a771-34c67fb552b0.jpg?v=1670879994","width":2560},{"alt":"variant2","id":11653785583774,"position":10,"preview_image":{"aspect_ratio":1.0,"height":2560,"width":2560,"src":"\/\/ommushrooms.com\/cdn\/shop\/products\/Om_Reishi_Tile1.jpg?v=1670879994"},"aspect_ratio":1.0,"height":2560,"media_type":"image","src":"\/\/ommushrooms.com\/cdn\/shop\/products\/Om_Reishi_Tile1.jpg?v=1670879994","width":2560},{"alt":"variant3","id":23425871511710,"position":11,"preview_image":{"aspect_ratio":1.0,"height":2400,"width":2400,"src":"\/\/ommushrooms.com\/cdn\/shop\/products\/Om_Reishi200g_Tile1_7630b6f8-6a5d-4039-85c4-fe1a18e97990.jpg?v=1670879994"},"aspect_ratio":1.0,"height":2400,"media_type":"image","src":"\/\/ommushrooms.com\/cdn\/shop\/products\/Om_Reishi200g_Tile1_7630b6f8-6a5d-4039-85c4-fe1a18e97990.jpg?v=1670879994","width":2400},{"alt":null,"id":12099306684574,"position":12,"preview_image":{"aspect_ratio":1.0,"height":2560,"width":2560,"src":"\/\/ommushrooms.com\/cdn\/shop\/products\/Om_Reishi_Tile7.jpg?v=1670879994"},"aspect_ratio":1.0,"height":2560,"media_type":"image","src":"\/\/ommushrooms.com\/cdn\/shop\/products\/Om_Reishi_Tile7.jpg?v=1670879994","width":2560},{"alt":"variant1","id":11653785944222,"position":13,"preview_image":{"aspect_ratio":1.0,"height":2560,"width":2560,"src":"\/\/ommushrooms.com\/cdn\/shop\/products\/Om_Reishi_Tile5_2e63a025-1223-42a7-9598-df5614f4d361.jpg?v=1670879994"},"aspect_ratio":1.0,"height":2560,"media_type":"image","src":"\/\/ommushrooms.com\/cdn\/shop\/products\/Om_Reishi_Tile5_2e63a025-1223-42a7-9598-df5614f4d361.jpg?v=1670879994","width":2560}],"requires_selling_plan":false,"selling_plan_groups":[{"id":"bfa34c106e9eafdc5ae3f1ced75011db178be5d6","name":"Reishi Organic Mushroom Powder","options":[{"name":"30 Day(s), 60 Day(s), 90 Day(s), 120 Day(s), 150 Day(s), 180 Day(s)","position":1,"values":["30 Day(s)","60 Day(s)","90 Day(s)","120 Day(s)","150 Day(s)","180 Day(s)"]}],"selling_plans":[{"id":1614184606,"name":"Delivery every 30 Days","description":null,"options":[{"name":"30 Day(s), 60 Day(s), 90 Day(s), 120 Day(s), 150 Day(s), 180 Day(s)","position":1,"value":"30 Day(s)"}],"recurring_deliveries":true,"price_adjustments":[{"order_count":null,"position":1,"value_type":"percentage","value":15}],"checkout_charge":{"value_type":"percentage","value":100}},{"id":1614250142,"name":"Delivery every 60 Days","description":null,"options":[{"name":"30 Day(s), 60 Day(s), 90 Day(s), 120 Day(s), 150 Day(s), 180 Day(s)","position":1,"value":"60 Day(s)"}],"recurring_deliveries":true,"price_adjustments":[{"order_count":null,"position":1,"value_type":"percentage","value":15}],"checkout_charge":{"value_type":"percentage","value":100}},{"id":1614348446,"name":"Delivery every 90 Days","description":null,"options":[{"name":"30 Day(s), 60 Day(s), 90 Day(s), 120 Day(s), 150 Day(s), 180 Day(s)","position":1,"value":"90 Day(s)"}],"recurring_deliveries":true,"price_adjustments":[{"order_count":null,"position":1,"value_type":"percentage","value":15}],"checkout_charge":{"value_type":"percentage","value":100}},{"id":1614479518,"name":"Delivery every 120 Days","description":null,"options":[{"name":"30 Day(s), 60 Day(s), 90 Day(s), 120 Day(s), 150 Day(s), 180 Day(s)","position":1,"value":"120 Day(s)"}],"recurring_deliveries":true,"price_adjustments":[{"order_count":null,"position":1,"value_type":"percentage","value":15}],"checkout_charge":{"value_type":"percentage","value":100}},{"id":1614610590,"name":"Delivery every 150 Days","description":null,"options":[{"name":"30 Day(s), 60 Day(s), 90 Day(s), 120 Day(s), 150 Day(s), 180 Day(s)","position":1,"value":"150 Day(s)"}],"recurring_deliveries":true,"price_adjustments":[{"order_count":null,"position":1,"value_type":"percentage","value":15}],"checkout_charge":{"value_type":"percentage","value":100}},{"id":1614774430,"name":"Delivery every 180 Days","description":null,"options":[{"name":"30 Day(s), 60 Day(s), 90 Day(s), 120 Day(s), 150 Day(s), 180 Day(s)","position":1,"value":"180 Day(s)"}],"recurring_deliveries":true,"price_adjustments":[{"order_count":null,"position":1,"value_type":"percentage","value":15}],"checkout_charge":{"value_type":"percentage","value":100}}],"app_id":"294517"}],"content":"\u003ch2\u003eThe Balancing Mushroom\u003c\/h2\u003e\n\u003cp\u003eHarmonize your longevity, energy and spirit with this superior immunity tonic. Natural adaptogen to help balance mental and physical stress. Nourish your heart and soothe an overactive immune system. Enlighten and relax, find your Savasana.‡\u003c\/p\u003e"}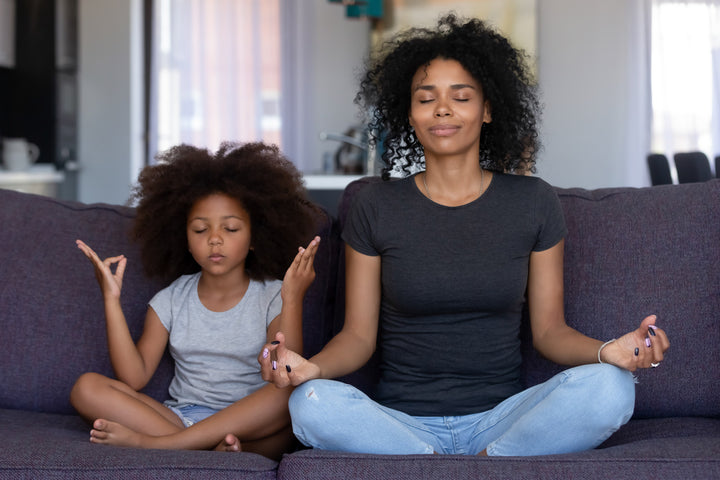 Research shows that eight in 10 Americans are stressed, with parenthood being the chief culprit. These days, with the whole family stuck at home, mothers are bearing the brunt of increased responsibilities, whether or not they have partners. Childcare is just one stressor in addition to other domestic chores like cooking, cleaning and the mental load of keeping up with medical appointments, homeschooling and other countless tasks. For the millions of women trying to keep up with their paid work, the juggle between domestic responsibilities and career obligations is even more complex now, with some women quitting their jobs altogether to care for their children. And we haven't even mentioned the stress over health or finances.
It's no wonder that reports show 28 percent of parents have experienced "trauma-related mental health disorder" during this time of widespread illness and home quarantines. Most tips for self-care — think bath bombs or candles — may seem laughable or simply too time-consuming for stressed parents looking for relief, but there are ways to relieve stress that won't take up the whole day. From enlisting the help of family members to micro-meditation, here are some easy ways that stressed moms — and dads — can find balance at home.
Get by With a Little Help From Your Little Ones 
It goes without saying that mothers who have partners at home should have a conversation about shared responsibilities, so no one person ends up shouldering all the weight. Partnered or not, though, if children are old enough to help out, find ways to enlist them and delegate domestic tasks. From printing out chore sheets to using a gamified chore app to rotating dinner duties, there are plenty of ways to share the household labor as a family.
Ditch the Parent Guilt
Whether your kids' screen use is a little longer these days or your laundry pile is a little higher, give yourself permission to bend on some rules and don't feel guilty about it. Keep in mind that this, too, shall pass and most parents are feeling as stressed and overwhelmed as you are, regardless of whether they admit to it on social media. Cheryl Bemel, PhD, has this advice for guilt-ridden parents: Resist perfection. She says, "[We] don't damage our children by being imperfect: Instead, we teach them that we may not be able to 'fix' everything or to make it all better."
Try Micro-Meditation
Meditation has been proven to ease anxiety and mental stress in numerous studies. For overextended parents, meditation may seem like a time-consuming luxury for the childless, but this is where micro-meditation could work wonders. Micro-meditations can be done several times a day for 1 to 3 minutes each time instead of a longer time frame — time you might not have. Periodically throughout the day, simply become aware of your breath. It could be when you notice stress rising, or when you feel yourself becoming increasingly distracted. Take a moment to breathe into your belly and gently bring your mind back to the breath (without judgment!) if it wanders. Explore other ways to turn manic moments into mindful moments.
Infuse Your Morning Drink with Stress-Busting Superfoods 
Many stressed parents wouldn't dare begin their day (or get through it) without the jolt of coffee or tea. There are ways to make that cup work harder for you by infusing them with stress-busting superfoods like functional mushrooms and matcha. Om's Matcha Latte Blend combines Japanese matcha green tea with organic Lion's Mane, Reishi, Turkey Tail and Chaga to promote mental focus, increased immunity and stress relief. Reishi is also a recommended addition to drinks and recipes, due to its ability to balance levels of the stress hormones cortisol and adrenaline. 
Prioritize Rest and Down Time 
Finally, give yourself permission to rest. Too much stress can cause sleep problems, and too many missed nights of sleep can lead to stress, causing a cycle that takes a toll on your mental and physical health. Try your best to stick to a sleep schedule and prioritize moments of rest and relaxation throughout the day. If some tasks on your to-do list that you didn't get to by bedtime, give yourself permission to get to them in the morning, guilt-free.
Erica Garza is an author and essayist from Los Angeles. Her writing has appeared in TIME, Health, Glamour, Good Housekeeping, Women's Health and VICE.
References: