{"id":1919002640480,"title":"Cordyceps Organic Mushroom Powder","handle":"cordyceps","description":"\u003ch2\u003eThe Performance Mushroom\u003c\/h2\u003e\n\u003cp\u003eOriginally discovered by Tibetan herdsman at high altitudes, Cordyceps optimizes oxygen uptake and delivery to increase vitality and endurance. Awaken energy, improve cardio and ignite your inner strength.‡\u003c\/p\u003e","published_at":"2021-08-19T11:46:53-07:00","created_at":"2019-02-04T15:04:05-08:00","vendor":"Om Mushroom Superfood","type":"Powders","tags":["cordyceps","energy and fitness","wizard","YGroup_cordyceps"],"price":1999,"price_min":1999,"price_max":4299,"available":true,"price_varies":true,"compare_at_price":null,"compare_at_price_min":0,"compare_at_price_max":0,"compare_at_price_varies":false,"variants":[{"id":42297386139806,"title":"30 Servings | 2.1 oz (60g) \/ Powder","option1":"30 Servings | 2.1 oz (60g)","option2":"Powder","option3":null,"sku":"60540","requires_shipping":true,"taxable":true,"featured_image":{"id":35047911096478,"product_id":1919002640480,"position":2,"created_at":"2022-12-12T11:46:26-08:00","updated_at":"2023-07-18T14:46:44-07:00","alt":"variant1","width":2400,"height":2400,"src":"\/\/ommushrooms.com\/cdn\/shop\/products\/Cordyceps_60g_Mockup_Front_faa086c0-5fb7-4b03-84d6-06bcae8170a6.jpg?v=1689716804","variant_ids":[42297386139806]},"available":true,"name":"Cordyceps Organic Mushroom Powder - 30 Servings | 2.1 oz (60g) \/ Powder","public_title":"30 Servings | 2.1 oz (60g) \/ Powder","options":["30 Servings | 2.1 oz (60g)","Powder"],"price":1999,"weight":91,"compare_at_price":null,"inventory_management":"shopify","barcode":"856210008462","featured_media":{"alt":"variant1","id":27501880705182,"position":2,"preview_image":{"aspect_ratio":1.0,"height":2400,"width":2400,"src":"\/\/ommushrooms.com\/cdn\/shop\/products\/Cordyceps_60g_Mockup_Front_faa086c0-5fb7-4b03-84d6-06bcae8170a6.jpg?v=1689716804"}},"requires_selling_plan":false,"selling_plan_allocations":[{"price_adjustments":[{"position":1,"price":1699}],"price":1699,"compare_at_price":1999,"per_delivery_price":1699,"selling_plan_id":1621295262,"selling_plan_group_id":"35084af693f61be0db03295f79d41e72f3aeb987"},{"price_adjustments":[{"position":1,"price":1699}],"price":1699,"compare_at_price":1999,"per_delivery_price":1699,"selling_plan_id":1621393566,"selling_plan_group_id":"35084af693f61be0db03295f79d41e72f3aeb987"},{"price_adjustments":[{"position":1,"price":1699}],"price":1699,"compare_at_price":1999,"per_delivery_price":1699,"selling_plan_id":1621426334,"selling_plan_group_id":"35084af693f61be0db03295f79d41e72f3aeb987"},{"price_adjustments":[{"position":1,"price":1699}],"price":1699,"compare_at_price":1999,"per_delivery_price":1699,"selling_plan_id":1621491870,"selling_plan_group_id":"35084af693f61be0db03295f79d41e72f3aeb987"},{"price_adjustments":[{"position":1,"price":1699}],"price":1699,"compare_at_price":1999,"per_delivery_price":1699,"selling_plan_id":1621557406,"selling_plan_group_id":"35084af693f61be0db03295f79d41e72f3aeb987"},{"price_adjustments":[{"position":1,"price":1699}],"price":1699,"compare_at_price":1999,"per_delivery_price":1699,"selling_plan_id":1621622942,"selling_plan_group_id":"35084af693f61be0db03295f79d41e72f3aeb987"}],"quantity_rule":{"min":1,"max":null,"increment":1}},{"id":18554015907936,"title":"50 Servings | 3.5 oz (100g) \/ Powder","option1":"50 Servings | 3.5 oz (100g)","option2":"Powder","option3":null,"sku":"60170","requires_shipping":true,"taxable":true,"featured_image":{"id":30676497662110,"product_id":1919002640480,"position":4,"created_at":"2021-09-15T12:32:35-07:00","updated_at":"2023-07-18T14:46:44-07:00","alt":"variant2","width":2400,"height":2400,"src":"\/\/ommushrooms.com\/cdn\/shop\/products\/Cordyceps100g-006_Front.jpg?v=1689716804","variant_ids":[18554015907936]},"available":true,"name":"Cordyceps Organic Mushroom Powder - 50 Servings | 3.5 oz (100g) \/ Powder","public_title":"50 Servings | 3.5 oz (100g) \/ Powder","options":["50 Servings | 3.5 oz (100g)","Powder"],"price":2699,"weight":91,"compare_at_price":null,"inventory_management":"shopify","barcode":"892392002003","featured_media":{"alt":"variant2","id":23048436842654,"position":4,"preview_image":{"aspect_ratio":1.0,"height":2400,"width":2400,"src":"\/\/ommushrooms.com\/cdn\/shop\/products\/Cordyceps100g-006_Front.jpg?v=1689716804"}},"requires_selling_plan":false,"selling_plan_allocations":[{"price_adjustments":[{"position":1,"price":2294}],"price":2294,"compare_at_price":2699,"per_delivery_price":2294,"selling_plan_id":1621295262,"selling_plan_group_id":"35084af693f61be0db03295f79d41e72f3aeb987"},{"price_adjustments":[{"position":1,"price":2294}],"price":2294,"compare_at_price":2699,"per_delivery_price":2294,"selling_plan_id":1621393566,"selling_plan_group_id":"35084af693f61be0db03295f79d41e72f3aeb987"},{"price_adjustments":[{"position":1,"price":2294}],"price":2294,"compare_at_price":2699,"per_delivery_price":2294,"selling_plan_id":1621426334,"selling_plan_group_id":"35084af693f61be0db03295f79d41e72f3aeb987"},{"price_adjustments":[{"position":1,"price":2294}],"price":2294,"compare_at_price":2699,"per_delivery_price":2294,"selling_plan_id":1621491870,"selling_plan_group_id":"35084af693f61be0db03295f79d41e72f3aeb987"},{"price_adjustments":[{"position":1,"price":2294}],"price":2294,"compare_at_price":2699,"per_delivery_price":2294,"selling_plan_id":1621557406,"selling_plan_group_id":"35084af693f61be0db03295f79d41e72f3aeb987"},{"price_adjustments":[{"position":1,"price":2294}],"price":2294,"compare_at_price":2699,"per_delivery_price":2294,"selling_plan_id":1621622942,"selling_plan_group_id":"35084af693f61be0db03295f79d41e72f3aeb987"}],"quantity_rule":{"min":1,"max":null,"increment":1}},{"id":18554015875168,"title":"100 Servings | 7.05 oz (200g) \/ Powder","option1":"100 Servings | 7.05 oz (200g)","option2":"Powder","option3":null,"sku":"60185","requires_shipping":true,"taxable":true,"featured_image":{"id":31046326223006,"product_id":1919002640480,"position":1,"created_at":"2021-10-08T16:00:29-07:00","updated_at":"2021-11-18T13:50:16-08:00","alt":"variant3","width":2400,"height":2400,"src":"\/\/ommushrooms.com\/cdn\/shop\/products\/Cordyceps_200g_Front.jpg?v=1637272216","variant_ids":[18554015875168]},"available":true,"name":"Cordyceps Organic Mushroom Powder - 100 Servings | 7.05 oz (200g) \/ Powder","public_title":"100 Servings | 7.05 oz (200g) \/ Powder","options":["100 Servings | 7.05 oz (200g)","Powder"],"price":4299,"weight":181,"compare_at_price":null,"inventory_management":"shopify","barcode":"850030553249","featured_media":{"alt":"variant3","id":23425496154270,"position":1,"preview_image":{"aspect_ratio":1.0,"height":2400,"width":2400,"src":"\/\/ommushrooms.com\/cdn\/shop\/products\/Cordyceps_200g_Front.jpg?v=1637272216"}},"requires_selling_plan":false,"selling_plan_allocations":[{"price_adjustments":[{"position":1,"price":3654}],"price":3654,"compare_at_price":4299,"per_delivery_price":3654,"selling_plan_id":1621295262,"selling_plan_group_id":"35084af693f61be0db03295f79d41e72f3aeb987"},{"price_adjustments":[{"position":1,"price":3654}],"price":3654,"compare_at_price":4299,"per_delivery_price":3654,"selling_plan_id":1621393566,"selling_plan_group_id":"35084af693f61be0db03295f79d41e72f3aeb987"},{"price_adjustments":[{"position":1,"price":3654}],"price":3654,"compare_at_price":4299,"per_delivery_price":3654,"selling_plan_id":1621426334,"selling_plan_group_id":"35084af693f61be0db03295f79d41e72f3aeb987"},{"price_adjustments":[{"position":1,"price":3654}],"price":3654,"compare_at_price":4299,"per_delivery_price":3654,"selling_plan_id":1621491870,"selling_plan_group_id":"35084af693f61be0db03295f79d41e72f3aeb987"},{"price_adjustments":[{"position":1,"price":3654}],"price":3654,"compare_at_price":4299,"per_delivery_price":3654,"selling_plan_id":1621557406,"selling_plan_group_id":"35084af693f61be0db03295f79d41e72f3aeb987"},{"price_adjustments":[{"position":1,"price":3654}],"price":3654,"compare_at_price":4299,"per_delivery_price":3654,"selling_plan_id":1621622942,"selling_plan_group_id":"35084af693f61be0db03295f79d41e72f3aeb987"}],"quantity_rule":{"min":1,"max":null,"increment":1}}],"images":["\/\/ommushrooms.com\/cdn\/shop\/products\/Cordyceps_200g_Front.jpg?v=1637272216","\/\/ommushrooms.com\/cdn\/shop\/products\/Cordyceps_60g_Mockup_Front_faa086c0-5fb7-4b03-84d6-06bcae8170a6.jpg?v=1689716804","\/\/ommushrooms.com\/cdn\/shop\/products\/Om_Cordyceps_60g_Mockup_Back_15475-003.jpg?v=1689716804","\/\/ommushrooms.com\/cdn\/shop\/products\/Cordyceps100g-006_Front.jpg?v=1689716804","\/\/ommushrooms.com\/cdn\/shop\/products\/Cordyceps100g-006_Back.jpg?v=1689716804","\/\/ommushrooms.com\/cdn\/shop\/products\/Cordyceps_200g_Back.jpg?v=1689716804","\/\/ommushrooms.com\/cdn\/shop\/products\/Om_Cordy200g_Tile1_89ab8089-6399-49f2-b7d9-27974a78a802.jpg?v=1689716804","\/\/ommushrooms.com\/cdn\/shop\/products\/Om_Cordy_Tile2.jpg?v=1670880043","\/\/ommushrooms.com\/cdn\/shop\/products\/Om_Cordy_Tile7.jpg?v=1670880043","\/\/ommushrooms.com\/cdn\/shop\/products\/Om_Cordy_Tile4_5234684e-71ad-4c51-860e-b5dcb1b6c0be.jpg?v=1670880043","\/\/ommushrooms.com\/cdn\/shop\/products\/OM_Cordy_Tile6_819bd0b9-6e19-4330-b41c-93dc85b2e87e.jpg?v=1670880043","\/\/ommushrooms.com\/cdn\/shop\/products\/Om_Cordy_Tile1.jpg?v=1670880043","\/\/ommushrooms.com\/cdn\/shop\/products\/Om_Cordy200g_Tile1_740cecb8-5859-4d1f-8c3d-aaa0ce6babd2.jpg?v=1670880043","\/\/ommushrooms.com\/cdn\/shop\/products\/Om_Cordy_Tile5_9cf90058-36ef-4cc2-a7fa-6b68fcc7d70c.jpg?v=1670880043"],"featured_image":"\/\/ommushrooms.com\/cdn\/shop\/products\/Cordyceps_200g_Front.jpg?v=1637272216","options":["Size","Format"],"media":[{"alt":"variant3","id":23425496154270,"position":1,"preview_image":{"aspect_ratio":1.0,"height":2400,"width":2400,"src":"\/\/ommushrooms.com\/cdn\/shop\/products\/Cordyceps_200g_Front.jpg?v=1637272216"},"aspect_ratio":1.0,"height":2400,"media_type":"image","src":"\/\/ommushrooms.com\/cdn\/shop\/products\/Cordyceps_200g_Front.jpg?v=1637272216","width":2400},{"alt":"variant1","id":27501880705182,"position":2,"preview_image":{"aspect_ratio":1.0,"height":2400,"width":2400,"src":"\/\/ommushrooms.com\/cdn\/shop\/products\/Cordyceps_60g_Mockup_Front_faa086c0-5fb7-4b03-84d6-06bcae8170a6.jpg?v=1689716804"},"aspect_ratio":1.0,"height":2400,"media_type":"image","src":"\/\/ommushrooms.com\/cdn\/shop\/products\/Cordyceps_60g_Mockup_Front_faa086c0-5fb7-4b03-84d6-06bcae8170a6.jpg?v=1689716804","width":2400},{"alt":"variant1","id":27502256390302,"position":3,"preview_image":{"aspect_ratio":1.0,"height":2400,"width":2400,"src":"\/\/ommushrooms.com\/cdn\/shop\/products\/Om_Cordyceps_60g_Mockup_Back_15475-003.jpg?v=1689716804"},"aspect_ratio":1.0,"height":2400,"media_type":"image","src":"\/\/ommushrooms.com\/cdn\/shop\/products\/Om_Cordyceps_60g_Mockup_Back_15475-003.jpg?v=1689716804","width":2400},{"alt":"variant2","id":23048436842654,"position":4,"preview_image":{"aspect_ratio":1.0,"height":2400,"width":2400,"src":"\/\/ommushrooms.com\/cdn\/shop\/products\/Cordyceps100g-006_Front.jpg?v=1689716804"},"aspect_ratio":1.0,"height":2400,"media_type":"image","src":"\/\/ommushrooms.com\/cdn\/shop\/products\/Cordyceps100g-006_Front.jpg?v=1689716804","width":2400},{"alt":"variant2","id":23048436809886,"position":5,"preview_image":{"aspect_ratio":1.0,"height":2400,"width":2400,"src":"\/\/ommushrooms.com\/cdn\/shop\/products\/Cordyceps100g-006_Back.jpg?v=1689716804"},"aspect_ratio":1.0,"height":2400,"media_type":"image","src":"\/\/ommushrooms.com\/cdn\/shop\/products\/Cordyceps100g-006_Back.jpg?v=1689716804","width":2400},{"alt":"variant3","id":23425496121502,"position":6,"preview_image":{"aspect_ratio":1.0,"height":2400,"width":2400,"src":"\/\/ommushrooms.com\/cdn\/shop\/products\/Cordyceps_200g_Back.jpg?v=1689716804"},"aspect_ratio":1.0,"height":2400,"media_type":"image","src":"\/\/ommushrooms.com\/cdn\/shop\/products\/Cordyceps_200g_Back.jpg?v=1689716804","width":2400},{"alt":"hide facebook","id":23955436503198,"position":7,"preview_image":{"aspect_ratio":1.0,"height":2400,"width":2400,"src":"\/\/ommushrooms.com\/cdn\/shop\/products\/Om_Cordy200g_Tile1_89ab8089-6399-49f2-b7d9-27974a78a802.jpg?v=1689716804"},"aspect_ratio":1.0,"height":2400,"media_type":"image","src":"\/\/ommushrooms.com\/cdn\/shop\/products\/Om_Cordy200g_Tile1_89ab8089-6399-49f2-b7d9-27974a78a802.jpg?v=1689716804","width":2400},{"alt":null,"id":12098562162846,"position":8,"preview_image":{"aspect_ratio":1.0,"height":2560,"width":2560,"src":"\/\/ommushrooms.com\/cdn\/shop\/products\/Om_Cordy_Tile2.jpg?v=1670880043"},"aspect_ratio":1.0,"height":2560,"media_type":"image","src":"\/\/ommushrooms.com\/cdn\/shop\/products\/Om_Cordy_Tile2.jpg?v=1670880043","width":2560},{"alt":null,"id":12098571010206,"position":9,"preview_image":{"aspect_ratio":1.0,"height":2560,"width":2560,"src":"\/\/ommushrooms.com\/cdn\/shop\/products\/Om_Cordy_Tile7.jpg?v=1670880043"},"aspect_ratio":1.0,"height":2560,"media_type":"image","src":"\/\/ommushrooms.com\/cdn\/shop\/products\/Om_Cordy_Tile7.jpg?v=1670880043","width":2560},{"alt":null,"id":12098569404574,"position":10,"preview_image":{"aspect_ratio":1.0,"height":2560,"width":2560,"src":"\/\/ommushrooms.com\/cdn\/shop\/products\/Om_Cordy_Tile4_5234684e-71ad-4c51-860e-b5dcb1b6c0be.jpg?v=1670880043"},"aspect_ratio":1.0,"height":2560,"media_type":"image","src":"\/\/ommushrooms.com\/cdn\/shop\/products\/Om_Cordy_Tile4_5234684e-71ad-4c51-860e-b5dcb1b6c0be.jpg?v=1670880043","width":2560},{"alt":null,"id":11653766774942,"position":11,"preview_image":{"aspect_ratio":1.0,"height":2560,"width":2560,"src":"\/\/ommushrooms.com\/cdn\/shop\/products\/OM_Cordy_Tile6_819bd0b9-6e19-4330-b41c-93dc85b2e87e.jpg?v=1670880043"},"aspect_ratio":1.0,"height":2560,"media_type":"image","src":"\/\/ommushrooms.com\/cdn\/shop\/products\/OM_Cordy_Tile6_819bd0b9-6e19-4330-b41c-93dc85b2e87e.jpg?v=1670880043","width":2560},{"alt":"variant2","id":11653766512798,"position":12,"preview_image":{"aspect_ratio":1.0,"height":2560,"width":2560,"src":"\/\/ommushrooms.com\/cdn\/shop\/products\/Om_Cordy_Tile1.jpg?v=1670880043"},"aspect_ratio":1.0,"height":2560,"media_type":"image","src":"\/\/ommushrooms.com\/cdn\/shop\/products\/Om_Cordy_Tile1.jpg?v=1670880043","width":2560},{"alt":"variant3","id":23425497530526,"position":13,"preview_image":{"aspect_ratio":1.0,"height":2400,"width":2400,"src":"\/\/ommushrooms.com\/cdn\/shop\/products\/Om_Cordy200g_Tile1_740cecb8-5859-4d1f-8c3d-aaa0ce6babd2.jpg?v=1670880043"},"aspect_ratio":1.0,"height":2400,"media_type":"image","src":"\/\/ommushrooms.com\/cdn\/shop\/products\/Om_Cordy200g_Tile1_740cecb8-5859-4d1f-8c3d-aaa0ce6babd2.jpg?v=1670880043","width":2400},{"alt":"variant1","id":11653766807710,"position":14,"preview_image":{"aspect_ratio":1.0,"height":2560,"width":2560,"src":"\/\/ommushrooms.com\/cdn\/shop\/products\/Om_Cordy_Tile5_9cf90058-36ef-4cc2-a7fa-6b68fcc7d70c.jpg?v=1670880043"},"aspect_ratio":1.0,"height":2560,"media_type":"image","src":"\/\/ommushrooms.com\/cdn\/shop\/products\/Om_Cordy_Tile5_9cf90058-36ef-4cc2-a7fa-6b68fcc7d70c.jpg?v=1670880043","width":2560}],"requires_selling_plan":false,"selling_plan_groups":[{"id":"35084af693f61be0db03295f79d41e72f3aeb987","name":"Cordyceps Organic Mushroom Powder","options":[{"name":"30 Day(s), 60 Day(s), 90 Day(s), 120 Day(s), 150 Day(s), 180 Day(s)","position":1,"values":["30 Day(s)","60 Day(s)","90 Day(s)","120 Day(s)","150 Day(s)","180 Day(s)"]}],"selling_plans":[{"id":1621295262,"name":"Delivery every 30 Days","description":null,"options":[{"name":"30 Day(s), 60 Day(s), 90 Day(s), 120 Day(s), 150 Day(s), 180 Day(s)","position":1,"value":"30 Day(s)"}],"recurring_deliveries":true,"price_adjustments":[{"order_count":null,"position":1,"value_type":"percentage","value":15}],"checkout_charge":{"value_type":"percentage","value":100}},{"id":1621393566,"name":"Delivery every 60 Days","description":null,"options":[{"name":"30 Day(s), 60 Day(s), 90 Day(s), 120 Day(s), 150 Day(s), 180 Day(s)","position":1,"value":"60 Day(s)"}],"recurring_deliveries":true,"price_adjustments":[{"order_count":null,"position":1,"value_type":"percentage","value":15}],"checkout_charge":{"value_type":"percentage","value":100}},{"id":1621426334,"name":"Delivery every 90 Days","description":null,"options":[{"name":"30 Day(s), 60 Day(s), 90 Day(s), 120 Day(s), 150 Day(s), 180 Day(s)","position":1,"value":"90 Day(s)"}],"recurring_deliveries":true,"price_adjustments":[{"order_count":null,"position":1,"value_type":"percentage","value":15}],"checkout_charge":{"value_type":"percentage","value":100}},{"id":1621491870,"name":"Delivery every 120 Days","description":null,"options":[{"name":"30 Day(s), 60 Day(s), 90 Day(s), 120 Day(s), 150 Day(s), 180 Day(s)","position":1,"value":"120 Day(s)"}],"recurring_deliveries":true,"price_adjustments":[{"order_count":null,"position":1,"value_type":"percentage","value":15}],"checkout_charge":{"value_type":"percentage","value":100}},{"id":1621557406,"name":"Delivery every 150 Days","description":null,"options":[{"name":"30 Day(s), 60 Day(s), 90 Day(s), 120 Day(s), 150 Day(s), 180 Day(s)","position":1,"value":"150 Day(s)"}],"recurring_deliveries":true,"price_adjustments":[{"order_count":null,"position":1,"value_type":"percentage","value":15}],"checkout_charge":{"value_type":"percentage","value":100}},{"id":1621622942,"name":"Delivery every 180 Days","description":null,"options":[{"name":"30 Day(s), 60 Day(s), 90 Day(s), 120 Day(s), 150 Day(s), 180 Day(s)","position":1,"value":"180 Day(s)"}],"recurring_deliveries":true,"price_adjustments":[{"order_count":null,"position":1,"value_type":"percentage","value":15}],"checkout_charge":{"value_type":"percentage","value":100}}],"app_id":"294517"}],"content":"\u003ch2\u003eThe Performance Mushroom\u003c\/h2\u003e\n\u003cp\u003eOriginally discovered by Tibetan herdsman at high altitudes, Cordyceps optimizes oxygen uptake and delivery to increase vitality and endurance. Awaken energy, improve cardio and ignite your inner strength.‡\u003c\/p\u003e"}
{"error":"json not allowed for this object"}
{"error":"json not allowed for this object"}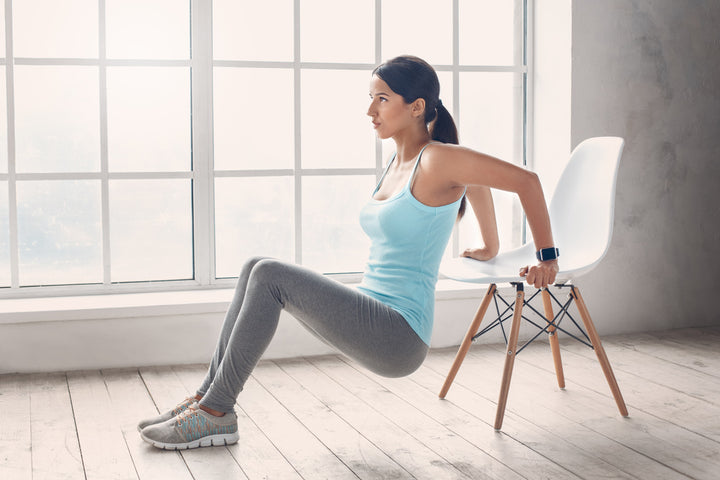 There are few better excuses to not workout than cold, dark weather. At first, it might feel nice to slink out of your exercise obligations because it's snowing or quite literally freezing outside — especially when your early-morning alarm goes off and you're hunting for excuses to press snooze.
However, if you're used to staying active, you'll eventually miss the endorphins. While you may not be able to convince yourself to lace up and hike or run as often as you'd like, you can offset that by staying active in other ways. And don't worry, it doesn't involve committing to an expensive gym membership if that's not your cup o' tea. Here are some ideas.
Have Adult Skate Nights
When was the last time you skated? Look for the nearest indoor rink and throw it back to roller disco days. Or hit your local ice rink. It may still be chilly, but at least it's a change of environment. Adding variety to your routine can be just the thing to make an active lifestyle fun again. You can make it a family affair or use it as an excuse to get your friends together. After all, the social component to exercise makes it a lot more appealing.
Take Studio Classes
Let's face it: One of the best reasons to join a gym is the group classes. All the other stuff is just kind of there. You might use it once or twice, but it's not the reason you signed up. Joining a trendy studio instead of a gym is kind of like cutting cable to stream only what you want to watch. The only problem with fitness studios? They're not exactly cheap.
That being said, most barre, cycle, and yoga studios offer a discounted introductory month to new members. Now's the time to check out the new place you've been eyeing. Even if you decide you don't want to commit, you can try out different studios for a month at a time during the winter months, keeping you active without subjecting your body to what feels like sub-zero temps.
Download At-Home Workout Apps
It's pretty hard to blame the weather for a skipped workout when so many apps will pester you to work out in your living room. Those little notifications on your phone ("Hi Kristen. It's been seven days since you logged a workout.") are annoying but admittedly also a little helpful.
Nike Training Club is a popular one, and it's free. So is Daily Workouts Fitness Trainer. They get bonus points for the non-price tag. But Apptiv ($15 per month) and SworkIt ($3 per month) are worth checking out. Think of it this way: What price would you put on not having to jog in the sleet, snow or rain?
Support Your Energy Levels
Hello, seasonal affective disorder. The longer, darker days can definitely inspire a womp-womp mood. You may be experiencing the winter blues. In that case, going the extra mile to support your mood and energy levels can work wonders for helping you stay motivated and active in the winter months. It's not the worst idea to turn to vitamins and supplements for an extra boost.
For example, Cordyceps mushrooms have been linked to increased energy as well as improved mood and cognitive function. You can find cordyceps in several of Om Mushroom Superfood's blends, including Energy+ drink mixes and both the Fit and Restore powders. Ultimately, the better you're able to support your mood and energy, the more motivated you'll be to stay active. And when you're more active, that — in turn — supports your mood and energy. It's a win-win.
Catherine Conelly is a former beauty and health editor turned freelance writer and digital marketer. She's written for Shape, Thrillist, PopSugar and StyleCaster. Her work has also appeared on Forbes, Entrepreneur, the Glassdoor blog, and Adidas Game Plan A.