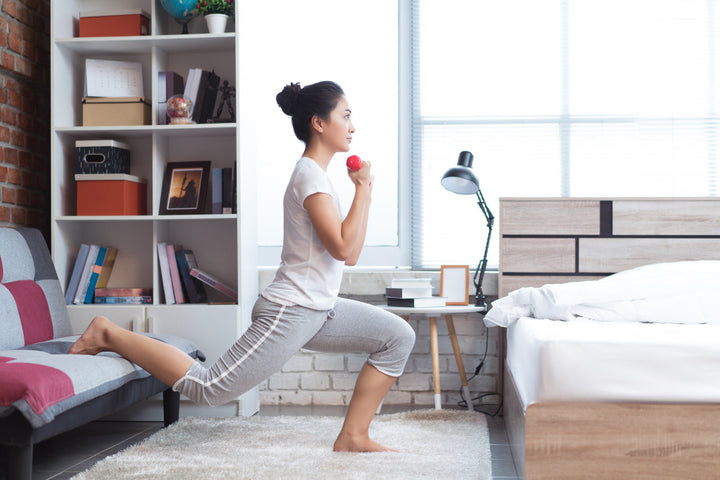 You don't have to be a fitness junkie to hear this: Working out at home can be hard! If anything, it may be even harder than committing to a gym or a class membership because you won't have a pricey membership or missed class fee to hold you accountable. Motivating yourself to get back into a fitness routine when you no longer have a gym accessible — or want to be budget-conscious — takes some serious effort. We wanted to offer a few pro tips to get you started on building a quick at-home workout routine, and help you stay healthy throughout both your training or your recovery (if you're at home due to illness or injury).
Create Accountability
Accountability is, arguably, one of the biggest challenges to working out at home. Before you even get started on gathering your at-home exercise props or supplements for your fitness routine, take some time to think about how you'll hold yourself accountable for your commitment.
If you live with roommates or a partner, see if they'd be willing to team up and exercise together. If they're committed to being a couch potato, ask them to help keep you accountable by implementing a "rewards and consequences" system. For example, for each workout you skip, you're responsible for double the dishes.
If you live on your own, try doing the same by creating incentives for completing your workouts and setting a time on your calendar for the days and time windows you want to devote to working out. If you find yourself feeling low on energy and having trouble getting started, consider a clean, sustainable energy boost — without the caffeine crash.
Turn to the Internet for At-Home Workouts
There are plenty of online workouts that you can turn to for motivation — without spending a dime! YouTube offers thousands of pre-recorded videos that target different areas and can be done in shorter time windows. However, it can be tough to figure out where to start if you've never worked out at home before and are used to having a class or a trainer provide instructions.
To make your search easier, decide ahead of time which areas you'll want to focus on in your workout. Do you want to tone your arms, build strength in the abs, or get a full-body flow going with either cardio or yoga? Are you interested in a grueling but quick high intensity interval training (HIIT) workout or a gentler, breathwork-focused session? By narrowing down the type of result you're looking for, you'll save yourself time and frustration trying to create a routine and can jump right into what matters most: the exercise itself.
Keep It Simple and Savvy
When it comes to working out at home, it can become easy to overcomplicate things or fall into a rabbit hole of thinking that you don't have the necessary supplies. While it can certainly be helpful to order a set of weights or a yoga mat, you can just as easily use some common household items as substitutes without breaking the bank. Try folding up an outdoor picnic blanket as a makeshift mat, or using wine bottles or canned goods as alternatives for smaller hand weights if you're doing workouts that focus on toning your arms. Instead of a core ball, you can use a throw pillow or even a stuffed animal. Cast-iron pans, which are naturally heavy, make great weights that you can lift on their own or pack into a backpack when you do push-ups or pull-ups.
Pre- and Post-Workout Supplements
It's just as important to remember that your workout doesn't start and end at only the exercise. Maintaining an at-home fitness routine also calls for keeping your body healthy and happy to make sure that all your hard work pays off in results that have you feeling — and looking — your best. Before a workout, make a pre-workout drink with Om's Energy+, which contains organic Cordyceps, Reishi and Lion's Mane as well as natural botanicals such as yerba mate, guarana and turmeric to help supercharge your workout. This tasty powder contains over 600% daily value of Vitamin C, and a comprehensive combination of B-vitamins.  It's available in 2 flavors, citrus orange, and lemon lime, and it dissolves easily into cold water.
Make sure you're taking care of your body, not just before and during your workout, but also in the time you're recovering. Your muscles will thank you, and you'll be energized, recovered and motivated to return to your exercise routine in no time. 
References: