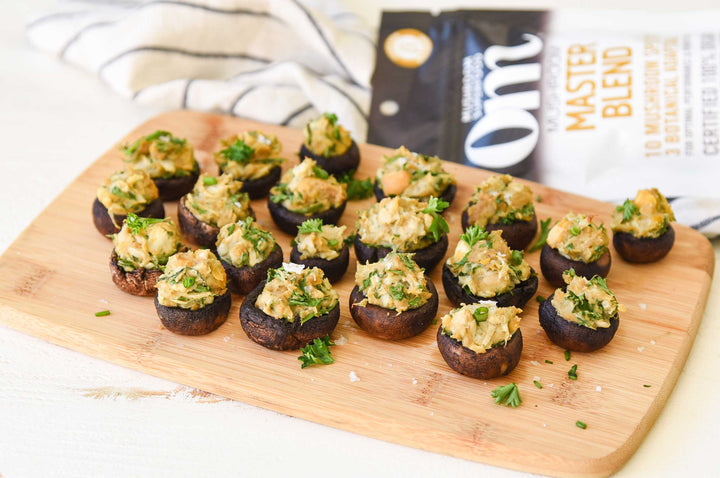 Ingredients
16-20 cremini (brown) mushrooms
1 teaspoon avocado oil
½ cup chickpeas, drained and divided
1 ½ teaspoon Om Mushrooms Master Blend
1 tablespoon tahini
¼ teaspoon sea salt
¼ cup artichoke hearts
3 tablespoons finely chopped chives
3 tablespoons finely chopped parsley
Directions
Preheat the oven to 400°F and line a baking sheet with parchment paper or foil.
Wipe down mushrooms with a dry towel to remove dirt then remove and discard stems.
Brush mushrooms with oil, arrange on the prepared baking sheet cup side up, and bake for 10 minutes.
Meanwhile, in a food processor, process ¼ cup chickpeas, Master Blend, tahini, and sea salt until smooth (it will be thick) and transfer to a medium size mixing bowl.
Add remaining ingredients to food processor and pulse 2-3 times to chop remaining chickpeas and artichoke hearts, then stir into chickpea mixture to create filling.
Remove the mushrooms from the oven and discard any liquid that pooled inside.
Divide the filling mixture among the mushroom cups and bake another 5-10 minutes until the mixture is heated through and golden on top.
Sprinkle with more chives, parsley, and flakey sea salt – and enjoy!