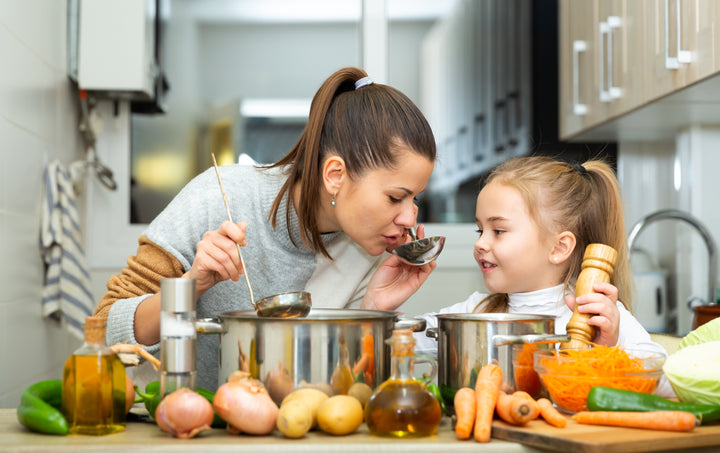 It's no secret: soup is delicious, comforting, nutritious and endlessly versatile. The problem is, this dish can take ages to make, no thanks to veggies that take a long time to chop and longer to cook, or slow-cooked broths that can even take days. For those among us who don't have hours to cook a meal in the midst of busy schedules, soup can feel off-limits. This couldn't be further than the truth, however — with a few clever hacks, you can put together a hearty, healthy, nutritious and delicious soup for the whole family in fewer than 30 minutes.
Start With a Bone Broth Mix
Speaking of broth, Om has a quick and easy solution for your soups: The Mighty Beef Bone Broth and Mighty Veggie Miso Broth are the perfect alternative to traditional stock cubes, and only take a couple of minutes to prepare. If you're unsure how to use bone broth (or its veggie counterpart), don't feel intimidated. Essentially, you can use it in any soup or stew recipe that calls for some sort of stock, like this miso-glazed salmon or this six mushroom soup for example. You can also just drink it alone mixed in hot water, as a tasty side to your meal. These broths contain organic Shiitake, Lion's Mane and Reishi, plus 7 grams of organic plant-based protein per serving in Veggie Miso, and 10 grams of organic grass fed, pasture-raised U.S. beef protein per serving in the Beef Bone Broth, making them an easy and time-saving way to add delicious nutrition to your cooking.
Cans Are Your Friend
One of the main reasons soups can take so long is that certain ingredients — like beets or dried beans, which also require pre-soaking — take a really long time to soften enough to blend into a creamy texture. That's where certain canned ingredients can be a real time-saver without compromising on taste. You'll love this pumpkin reishi soup that uses canned pumpkin purée or this vegan black bean soup made with cans of beans.
Utilize Those Leftovers
What's in your fridge? There might lie the answer to the quick and easy soups you crave. Cook too many lentils for last night's dinner? Turn them into a creamy red lentil soup. Have a bunch of unused veggies lying around? Leftover vegetable soup, here you come. Kids didn't quite finish that veggie curry? Blend it up with some coconut milk. The possibilities are endless.
Add Nutritious Carbs for a Hearty Upgrade
If you don't have time to make a veggie soup from scratch, you can simply mix up some of Om's Mighty Veggie Miso Broth, and add ramen noodles, finished off with a can of corn, some quick-sautéed mushrooms and a handful of cilantro — or whatever toppings strike your fancy. This 10-minute minestrone uses chopped up spaghetti and it doesn't get much easier as far as nourishing meals go. You could also add some cooked rice to Om's Mighty Beef Bone Broth. As a general rule, adding any sort of carb — like gnocchi or quinoa — to a soup is an instant way to make it more of a meal and less of a snack.
Premium Toppings
We've touched on toppings a little, but adding some spruced-up bits on top of your soup could be the best decision you make today. Not only do they make it a lot fancier, but many can be made in advance and kept several days so you don't have to make them when you're stressed after a long day. We love these coconut bacon bits that last up to a month and these Reishi ramen eggs that keep up to 2 days, but feel free to get creative!
Soup doesn't have to be intimidating; with just a few strategies under your belt, it can be one of the easiest and most nutritious dinners you can whip up. Plus, many of the ingredients used in soup are affordable, so you can feed the whole family without worrying about the cost. Win, win, win.
References: